chicago marathon: the recap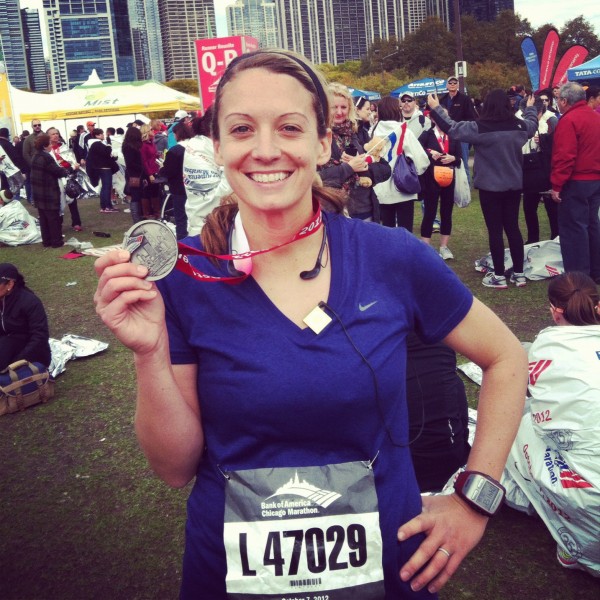 Six years ago Mr. B and I were strolling around downtown Chicago and happened to catch the end of the Chicago marathon.  At the time I had been living in Chicago (Naperville really) for over a year with Mr.B all while planning a long distance wedding. I was 15 pounds over weight and clueless about the running world. I remember standing behind the red covered barricade watching runners raise their hands in the air and rejoice as they crossed the finish line.  I remember asking myself, "Who in their right mind would ever want to run 26.2 miles?"  I quickly answered my own question: not me!
Fast forward six years later and I would be returning to the windy city having celebrated five years of marriage and running two 13.1's and one full marathon.  What was once a girl terrified of the unknown returned to Chicago stronger, smarter, and faster than she could have ever imagined. Running the Chicago marathon was not just a goal I set for myself, but a quest. A quest to prove to that frightened girl that life is what you make it. And that's exactly what I did when I crossed that finish line on Sunday. I grew up.
I hardly slept a wink on Saturday night. My mind was racing with thoughts of not hearing my alarm go off, not getting to the corral in time, and the worst, not finishing. Somewhere in between dreaming about my shuffle playlist and the beer at the finish line, I feel asleep. But not for long, my alarm went off at 5:40am.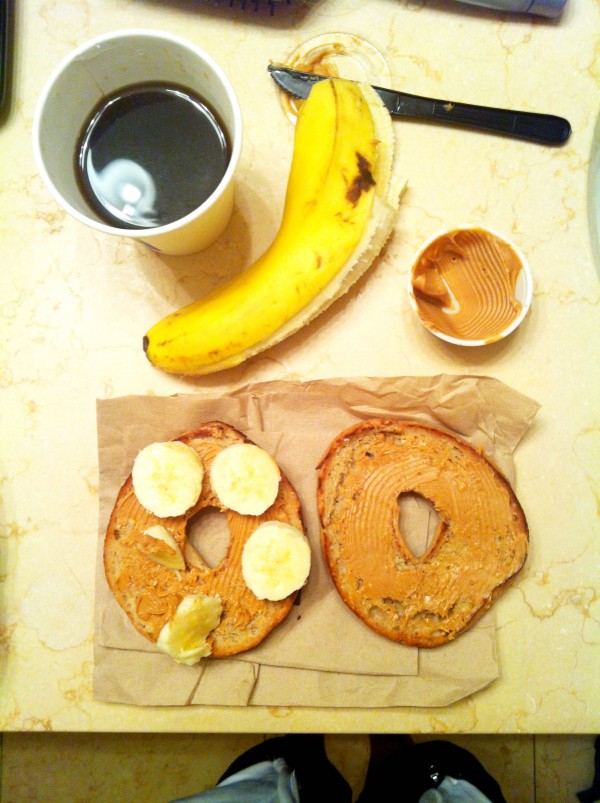 Those of you that check in on a regular basis know that I'm not exactly a morning person. Anything before 7AM just isn't my cup of tea.  You'd probably think I would have slowly rolled out of bed, however, I jumped out faster than you can say Sister Mary Francis.
The count down had begun.
I brewed coffee in the bathroom as to not wake Max, Chance, and Mr. B.  Listy, being the ever so supportive friend, who is now into her second trimester (Yep! She's pregnant!) decided not to run the marathon, but was kind enough to get up and wrestle race day preparations with me. We got dressed, ate breakfast, sipped coffee, took photos, and headed out the door.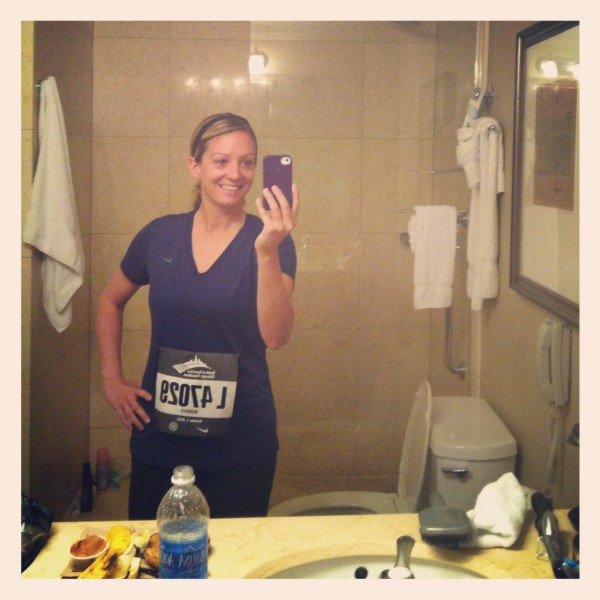 As we walked out of the hotel the streets were beginning to fill with runners of all shapes and sizes. We walked to the Congress Park Plaza Hotel (about a block and a half from our hotel) where Listy's friend Lynda was staying. We were all in wave 2, which started at 8am.
Unfortunately, each of us were in a different corral and they were being pretty strict about keeping people in their assigned area. Lynda was in J, Listy was in K, and yours truly in L. We said goodbye to Lynda and figured the two of us could squeeze into together. No such luck.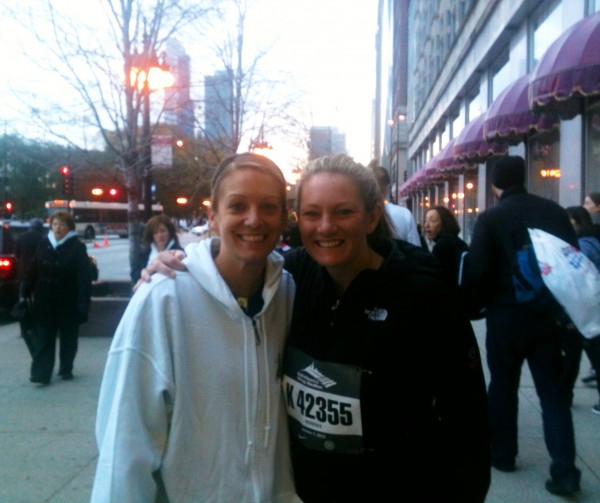 There were barricades in between each corral with volunteers monitoring the chaos. Annoying, yes, but understandable when you're trying to get 45, 000 eager runners through a start line. Thankfully once the race began, they removed the barricades and Listy made a break for it to meet me. We should totally be spies together, right? Right.
With Listy finally by my side, we began our walk towards the start line. It took a little over 20 minutes to get from the corral to the start. I was so glad I bought a POS white zip up jacket from CVS the night before to keep me warm up until I tossed it at the last minute. After all it was 38 degrees at 8am! We eventually made it to the start line and off we went.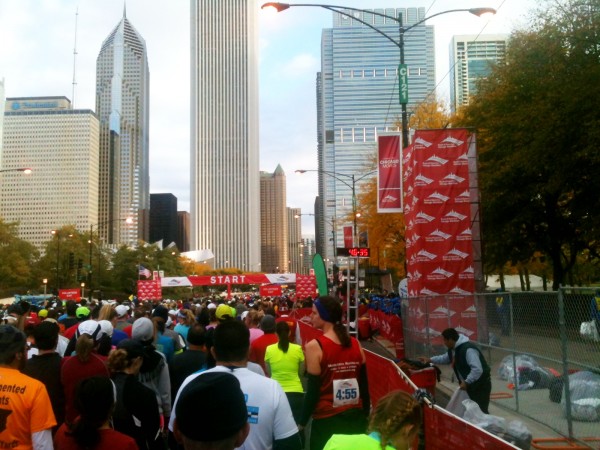 The first two miles were slow because of the congestion. Plus, it took a bit for my legs to warm up after standing for so long.  Listy ran the first two miles with me and then was off to meet Mr. B, Max, and Chance to try and catch me at miles 9, 16, and 22.  I was so sad to see my running buddy leave, but I knew she was rooting for me.
I bid adieu to Listy and made a quick stop to use the restroom, then spent the next few miles soaking up all the craziness of running under bridges and by my ol' stomping ground, the Board of Trade.  It was a very surreal moment running in the Loop. You should have seen the smile on my face.  I thought things would start to clear out by mile four, but I was mistaken. You really can't clear out 45, 000 other runners! Duh.
Miles 5 to 10 were an absolute blast.  After downtown we headed North towards Wrigleyville and then back towards the Chicago river. The sun started to come out and the spectators were really getting loud. People were shouting, high-fiving, and holding up hilarious signs like: Worst Parade Ever, Smile if You Peed Your Pants, You're Really Good at Exercising, and McKayla Maroney is not impressed. I was highly entertained.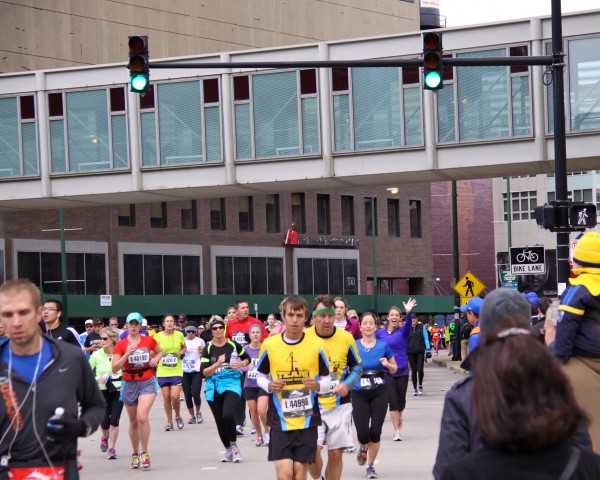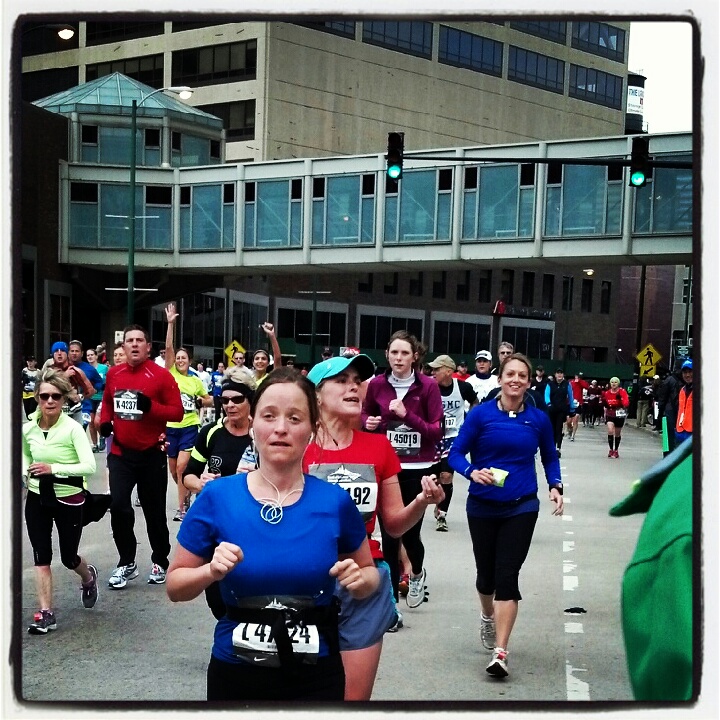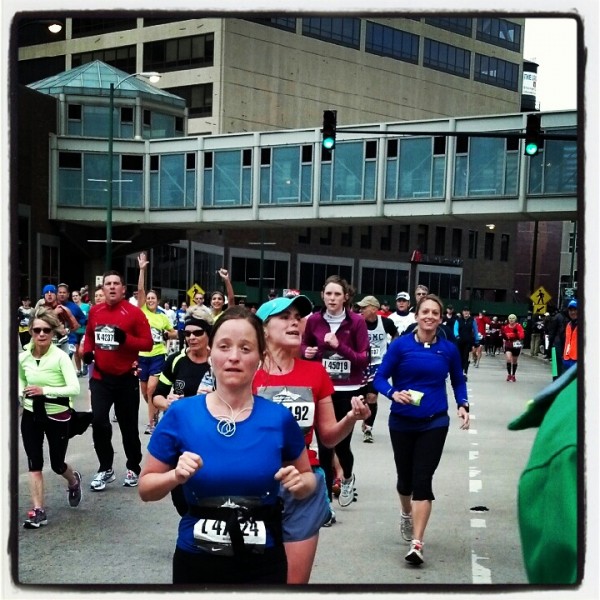 Per our game plan, I was looking forward to meeting the gang at mile 9, but I didn't see them until mile 12 because of traffic. My face lit up like a Christmas tree when they finally came into sight. I waved like a crazy person to make sure that they could see me through a sea of neon. I gave Mr. B a huge hug, kissed him, gave him my long sleeve t-shirt and off I went. Seeing them gave me a huge boost. So, I picked up my pace.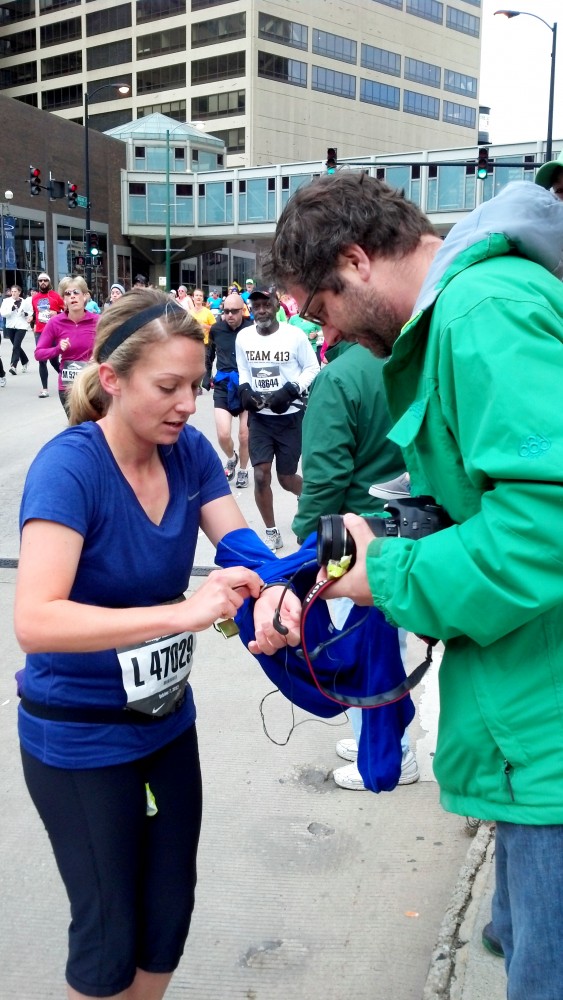 Miles 13 to 15 were even better! I felt strong and in control. My heart rate was barely at 170 so I figured I should pick up my pace even more. We were still winding through the city and getting ready to head west, when I entered the best cheer section. People were singing the LMFO song, I'm sexy and I know it. People were dancing on the sidewalks. People were playing bagpipes. It was bananas! I think I laughed the entire two miles.
Once we started heading west, I put my shuffle on because I knew this was the point in the  race where mentally and physically you start break down. I'm glad I did because there weren't very many spectators or much to look at from mile 16 to 19. Thankfully the gang was able to meet me at mile 16 to give me another mental boost! Here I am waving again like a crazy person.
A little before mile 20 people started dropping like flies. It was frustrating because I still had energy left and I was wasting it trying to dodge around people. I did my best to stay to the sides, but all human courtesy goes out the window when you're trying to survive. Note to other people: keep your elbows in!
Miles 20 and 21 were a blur. The race started to head back east, but not without heading a little ways south towards Cellular Field. I was starting to feel fatigued, but knew that if I got to mile 22 Listy would be running with me again. So I turned up the volume and pushed on.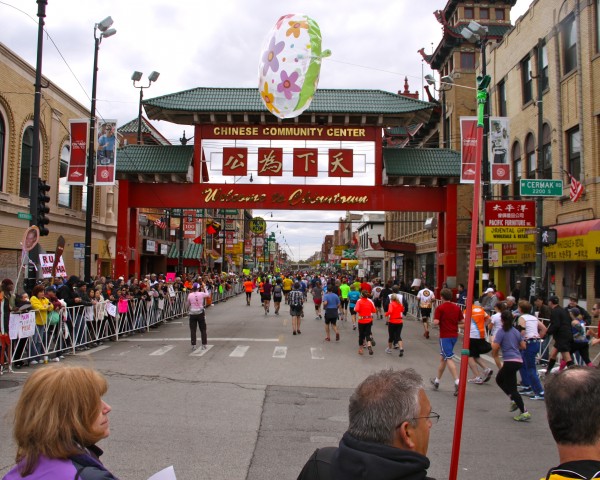 At mile 22 we entered into China Town, which I have never seen before. Not to be mean, but it was the last place I wanted to be because it smelled awful. Plus, I didn't end up finding Listy! This is where things got serious. I knew I only had four miles left and needed to boogie to keep my time under five hours. I told myself, you have to keep going. Lay it all out there because you may never get to do this again. And that's what I did.
I somehow managed and fought through miles 23 and 24. I took my last water stop at 24 because by this time my legs were screaming and if I stopped I wasn't going to start up again.
By mile 25 I could see the Sears Tower and knew I was less than 20 minutes away from finishing. I don't know how, but I started running faster. I did the right thing and paced myself perfectly throughout this entire race, and with smart pace management, I ended up finishing strong.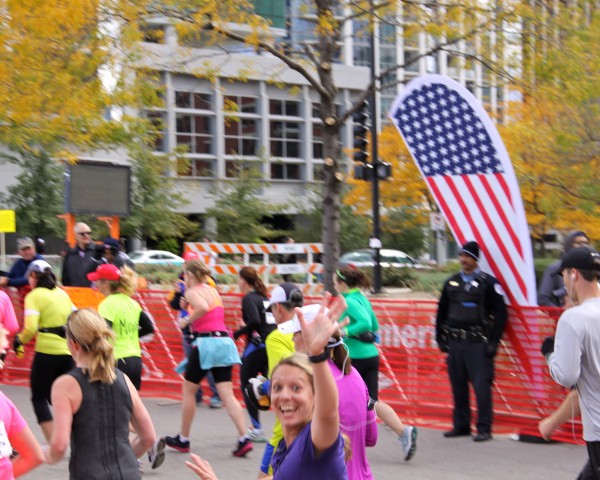 The final mile the song Home by Philip Phillips came on my shuffle and I about lost it. I even saw the gang right into the home stretch. It was a magical moment.
I crossed the finish line at 4:41 – a new PR. I shaved 26 minutes off my time from Dallas! My quest was complete.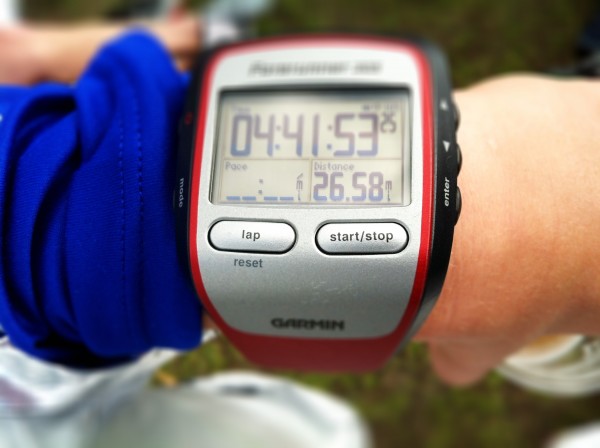 The race was an unforgettable experience. The city of Chicago did an amazing job. The volunteers were saints. The weather was perfect.  The support from Mr. B, Listy, Max, Chance, and everyone else was endearing. I couldn't have ask for anything more.
Until next time, Chicago.