foodie fridays: chicken and dumplings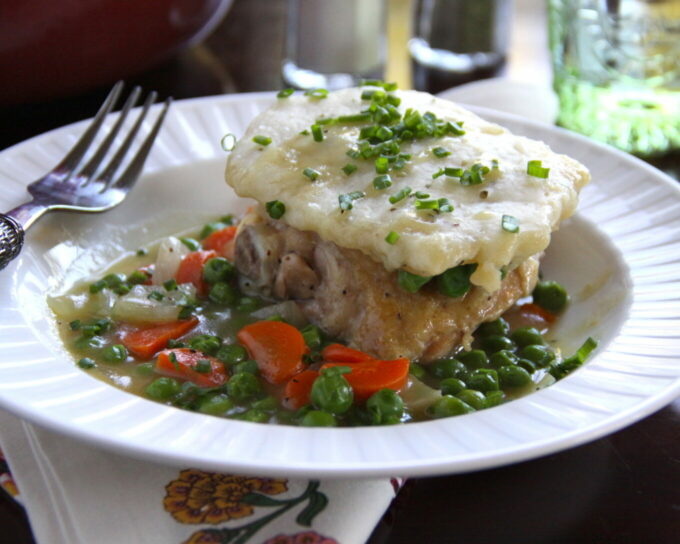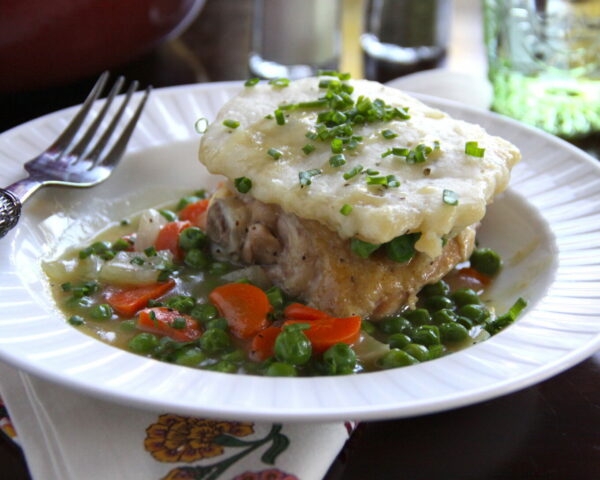 Comfort food.
Comfort food is personal. Some people prefer a large casserole dish of macaroni and cheese.  Some people prefer a big bowl of ice cream with chocolate syrup drizzled on top. And some people prefer a large, juicy cheeseburger with salty french fries on the side.
Many of our comfort food likings come from childhood memories. My favorite comfort foods revolve around my mother's recipes for foods cooked in big pots. She made beef chili, chicken noodle soup, and chicken and dumplings when my brothers and I were growing up.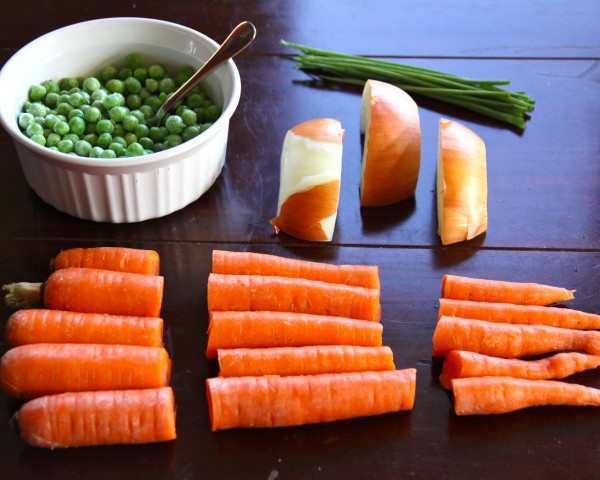 We have a family tradition for fixing chicken and dumplings. Back in the olden days, having chicken for dinner was considered a treat reserved for special occasions. People didn't eat it almost every night like we do today. For instance, if a priest or preacher would come to dinner on a Sunday night you can bet your sweet tookus you would be eating chicken. As a kid, I heard the story about how my great-grandmother would send my grandfather out to the back yard to catch and kill a chicken. I'll spare you the details, but let's just say, that's what I consider eating local.
Anyway, after my great-grandmother parboiled the chicken, my grandfather would have to help pluck the feathers. He said this was the worse than the actual killing of the chicken because of the smell. Yikes! Once he got through the plucking process, it was pretty easy going from there. All she had to do was cut up the chicken, throw it in a huge pot, add some veggies, make the dumplings, and viola! Chicken and dumplings.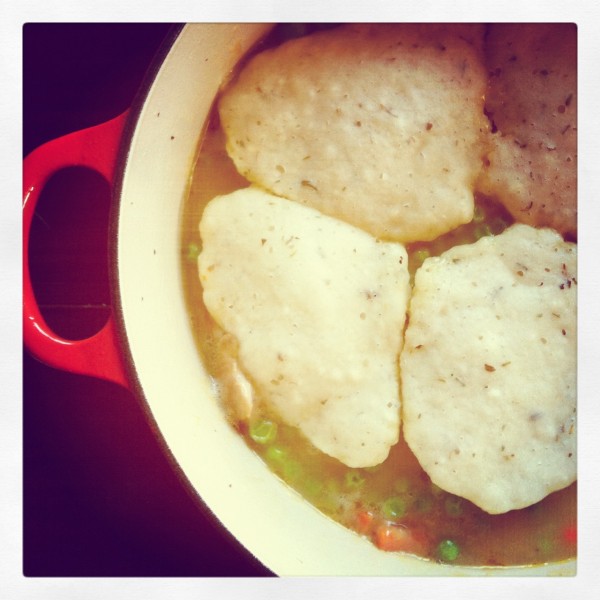 Okay, I'll be honest, I'm not killing a chicken today and cutting it up. Gross-town. For my modern version of the classic dish, I'm sticking with the prepackaged separated chicken thighs because they have tons of flavor and the dumplings lay nicely on top. My mother used cream of chicken soup as the base for the dish, but I thought I would lighten things up by adding chicken stock. I also felt carrots and peas needed to make an appearance because in a way, this dish resembles a chicken pot pie.
Once you have the base and veggies going, the dumplings are easy peasy. Next, mix flour, baking powder, milk, salt, and herbs de provence mix together. The dumpling batter should be thick like a pancake batter. Plop a good spoonful on top of each piece of chicken, cover with the lid, and in about ten minutes you'll have yourself a one pot wonder.
It's comfort food that is part convenience and part scratch. Now will someone pass me a fork, please?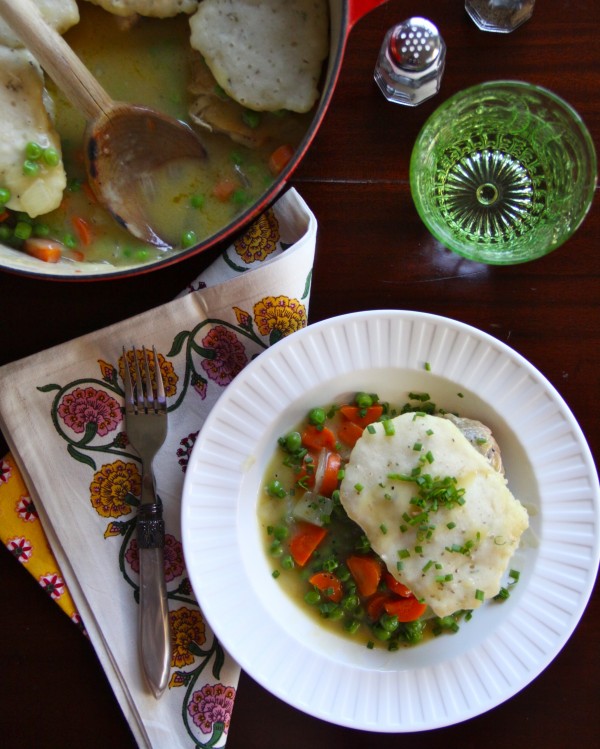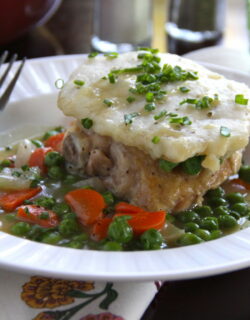 Chicken and Dumplings
Ingredients:
4 tablespoons olive oil
1 medium onion, diced
5 medium carrots, diced
1 14.5 ounces chicken broth
1 1/2 pounds, bone-in-skin-on chicken thighs
1 cup all-purpose flour
2 teaspoons baking powder
1/2 teaspoon kosher salt
1 teaspoon herbs de provence
1/2 cup plus 2 tablespoons milk
1 package frozen peas
2 tablespoon chives, minced, garnish
Directions:
In a Dutch oven , heat olive oil over medium- high heat. Sprinkle chicken thighs with salt and pepper. Place chicken thighs skin side down and sear just until golden brown about 3 minutes. Flip and sear other side about 2 minutes. Remove chicken thighs from Dutch oven, and set aside on plate. Turn Dutch oven to medium heat, add another tablespoon of olive oil and cook onion and carrots for about 5 minutes. Add 1/4 cup flour and cook, stirring, 30 seconds. Add chicken broth and bring to a boil, stirring constantly. Place chicken thighs back in the pot and reduce heat to medium-low. Cover with lid and cook, stirring occasionally for about 20 minutes.
While the chicken thighs simmer, you can make the dumplings. In a medium bowl, mix together remaining 3/4 cup flour, herbs de provence, baking powder, and 1/2 teaspoon salt. Gradually stir in 1/2 cup milk to make a soft batter. It should look like a pancake batter. Add two more tablespoons if too thick. Place peas in the pot. Take a spoon and dip into dumpling batter, plop approximately 2 to 3 TBS. batter on top of a piece of chicken. You will probably have to swoop the batter off the spoon with your finger. The batter will semi-float on top of the broth and chicken. Continue plopping bits of dough on top of the chicken thighs. You can plop some directly on top of the batter if you wish.
Now, turn the heat back down to a nice simmer and COVER the skillet with a tight-fitting lid. You are steaming the dumplings and making them rise. Steam for almost ten minutes. Temperature should be a very low simmer. DO NOT lift the lid. Turn heat off, lift lid, and those dumplings should have risen nice and fluffy with tender chicken and yummy broth. Whew! Serve it up and garnish with chives!
adapted from Maratha Stewart
All images and text ©