Chicken & Farro Skillet with Miso Cream Sauce
Chicken & Farro Skillet with Miso Cream Sauce is an easy weeknight meal or fancy enough to serve at an impromptu party!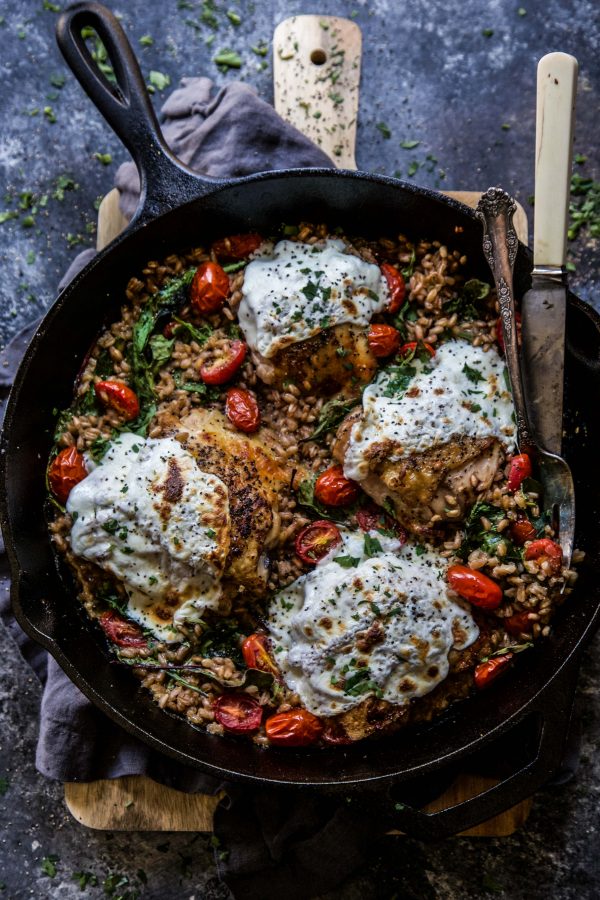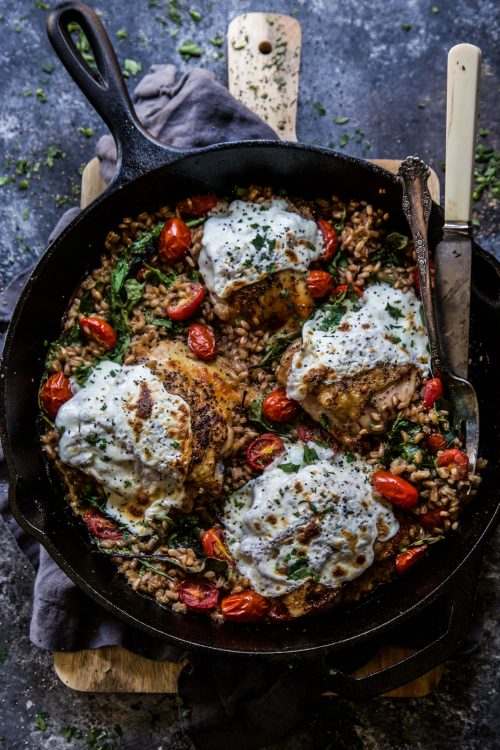 T-minus six days until Mother's Day!
Are you ready?
I'm almost ready. I hate that my mom lives in Kansas City and I can't give her a big hug on Sunday. BUT! I will see her the follow weekend because we will be home for my baby brother's wedding. Seriously, can't believe he is getting hitched. So pumped!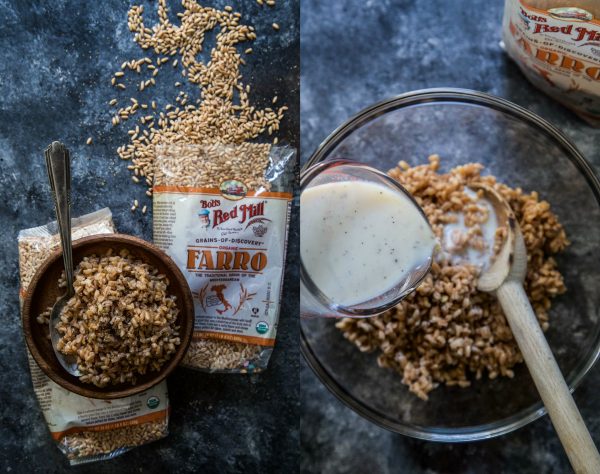 Anyway, as I put the final touches on my Mother's Day gift, I need to ask y'all something. I asked Mr.B if we should celebrate me being a dog mama on Sunday. He looked at me as if I was really being serious and replied, "Um, no. That's kind of weird babe."
My first initial thought was I see his point. But after thinking about it for a few seconds and looking at June Bug, I kind of think I need to be celebrated. Is that weird? Asking for a friend here because I don't know where to draw the line between what's acceptable and not.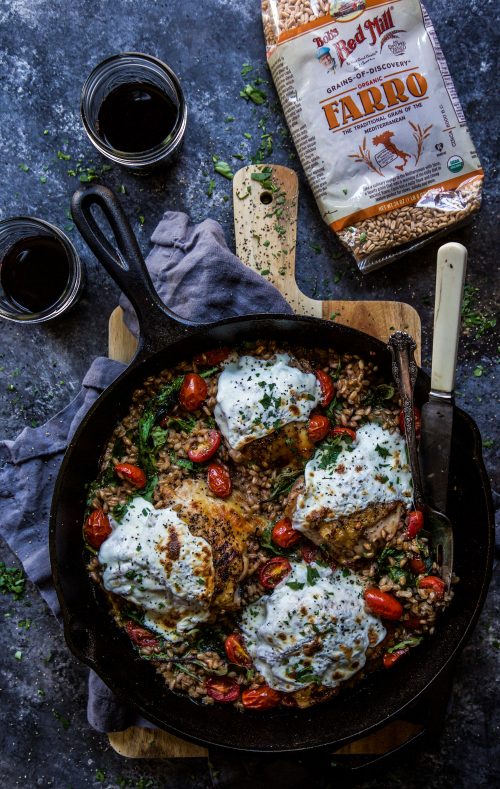 The other question is if it is acceptable to celebrate being a dog mama, what should ask for? A trip to Hawaii sounds very appropriate, but I don't want to push it to far this year. What if I have Mr. B and June bug make me dinner? I feel like that's an easy, yet tasty way we can all celebrate being a family.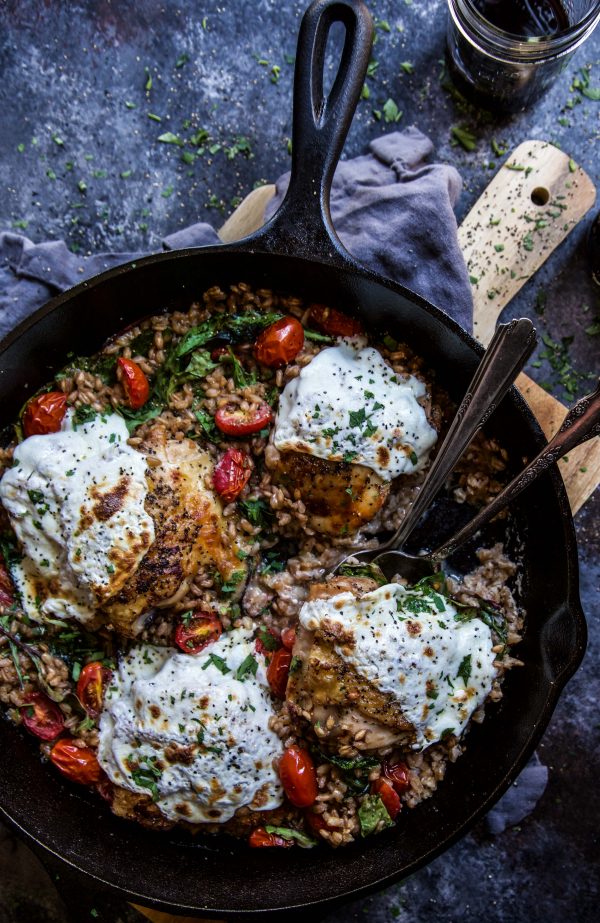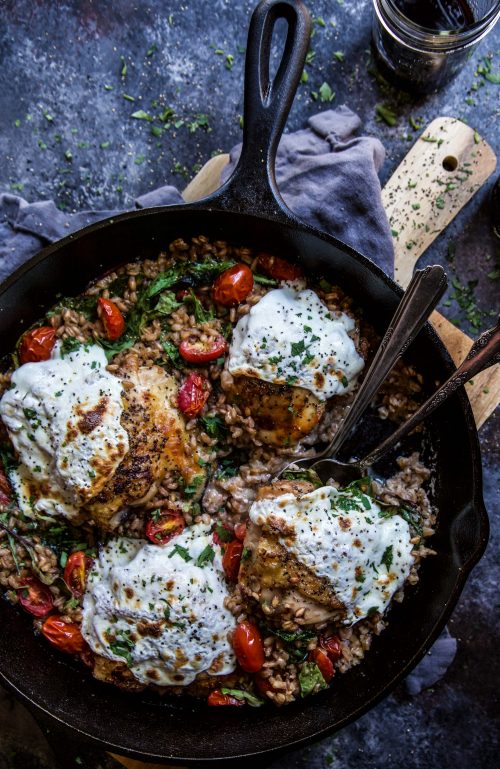 Plus, I know exactly what to make with a little help from Bob's Red Mill. Have you ever had farro? In case you haven't it's an ancient relative modern-day wheat. It's hearty with a rich, nutty flavor. Bob's Red Mill has farro available at your fingertips which makes for easy cooking when you have a craving for Chicken & Farro Skillet with Miso Cream Sauce.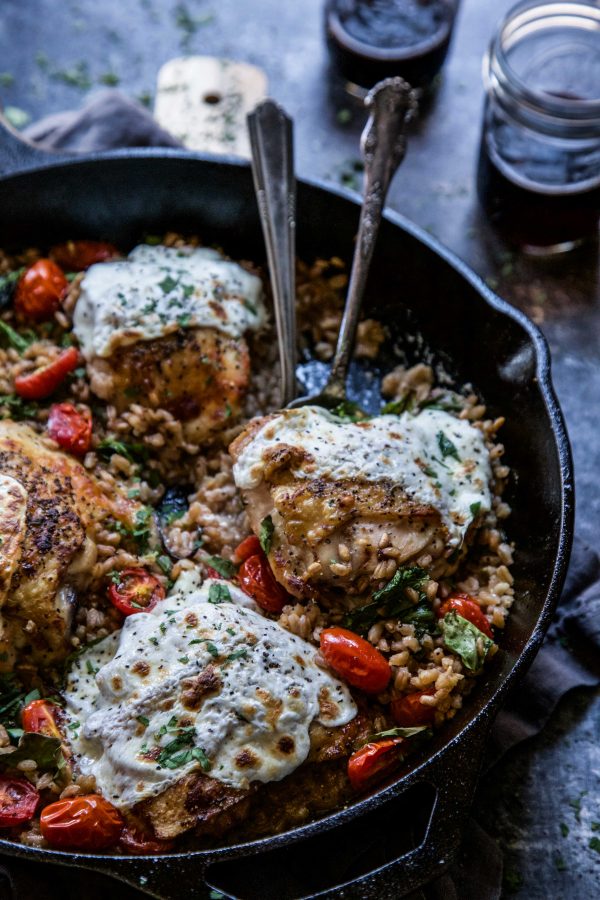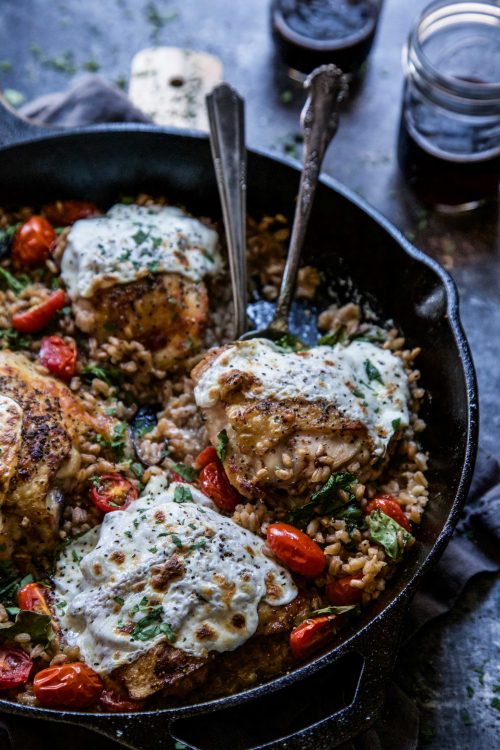 To make the farro simply boil it for 30 minutes until nice and fluffy. Then add it to any dish your heart desires! I highly recommend stirring in some miso cream sauce to make the farro a little luxurious. I mean, you've got to up the game when celebrating Mother's Day!
You can find farro on www.bobsredmill.com. Trust me it will be your new stand-in when it comes to making a dish feel extra special.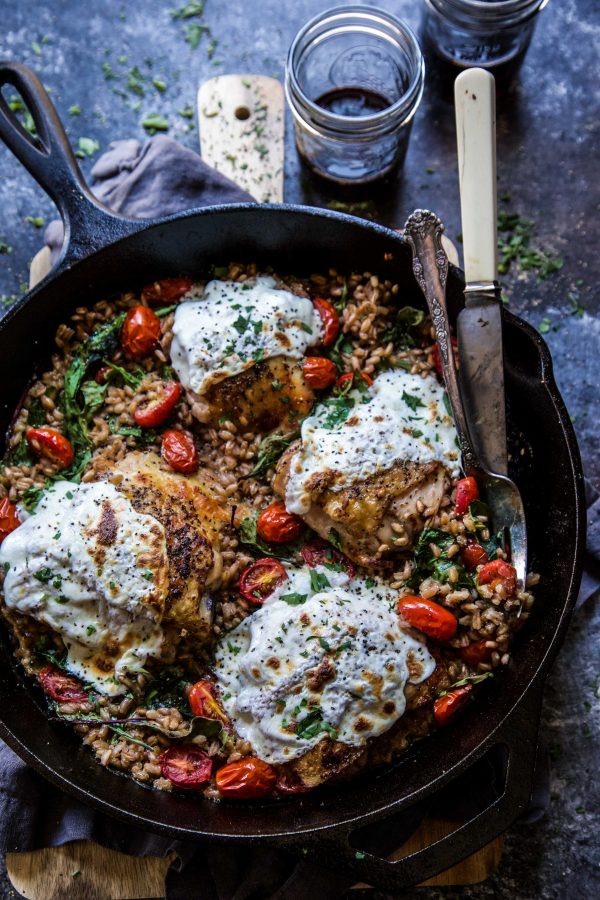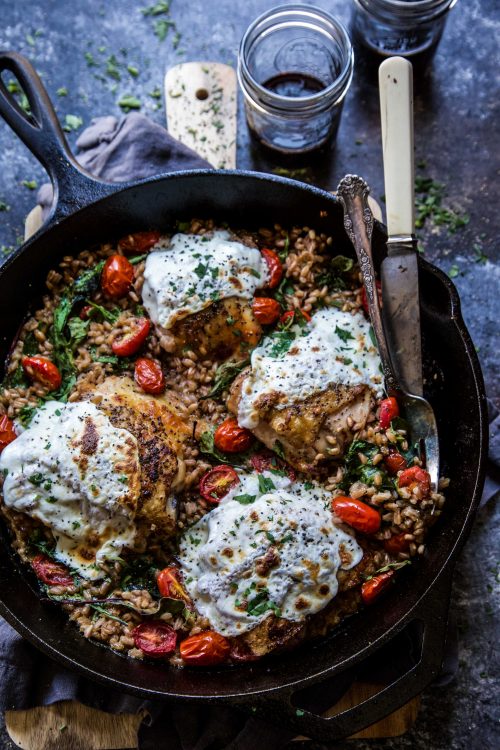 **This post is sponsored by Bob's Red Mill. As always, all opinions expressed are 100% my own.***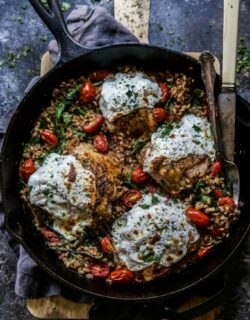 Chicken & Farro Skillet with Miso Cream Sauce
Ingredients:
2 tbsp olive oil
4 bone-in-skin-on chicken thighs
1 cup Bob's Red Mill farro
3 cups water
1 1/2 cups milk, divided
1/4 cup all-purpose flour
3 tbsp + 2 tsp white miso
1 1/2 cups unsalted chicken stock
salt and pepper to taste
3/4 cup grape tomatoes, halved
1 cups spinach
4 slices fresh mozzarella
Fresh parsley, for garnish
Directions:
Preheat an oven to 400 degrees. Season chicken thighs with salt and pepper on each side. Add olive oil to the cast-iron skillet and preheat to medium-high heat. Add the chicken thighs. Sear the chicken thighs for about three minutes on the first side. Flip and continue to sear for additional two minutes. Remove the skillet from the heat and place into the oven to cook for about 20 minutes or until the chicken is cooked through.
While the chicken cooks make the farro. In a large stock pot add farro and water. Stir to combine. Bring the farro to a boil and then reduce heat to a simmer for about 30 minutes. Drain off any liquid and pour into a bowl.
In the same pot as the farro add chicken stock and 1 cup milk. Bring to a boil. In a small bowl combine 1/2 cup milk, flour and miso until smooth. Once the milk comes to a boil whisk in the flour mixture, reduce heat to medium and then simmer until slightly thickened about four minutes. Salt and pepper to taste.
Pour the 3/4 cup miso cream sauce into the bowl the farro along with the tomatoes and spinach (you will have leftover miso so save the extra and use for later!). Toss to combine. Next, remove the skillet from the oven. Add the farro into the skillet nestling it around the chicken thighs. Place the mozzarella slices on top of the chicken and place the skillet back into the oven for about five minutes or until the cheese is golden and bubbly.
Remove the skillet from the oven and garnish everything with fresh parsley. Serve and enjoy!
All images and text ©