Spicy Shrimp with Fennel and Feta
Spicy Shrimp with Fennel and Feta is a quick, tasty meal ready in 30 minutes!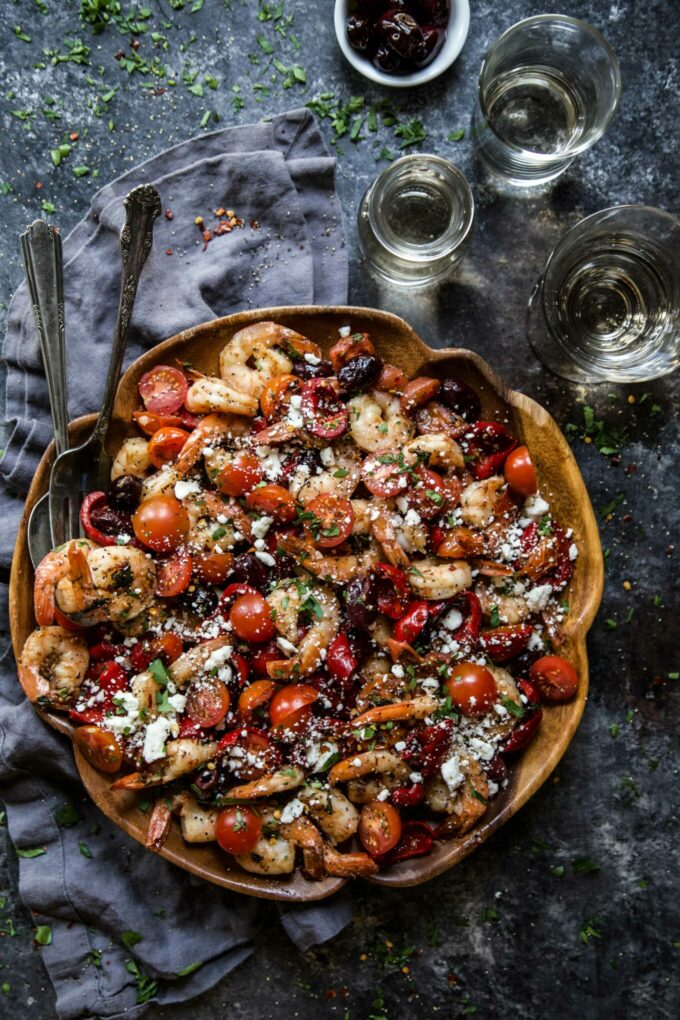 Are you still full?
Because I am.
Cinco de Mayo gets me every year. I go in with good intentions thinking I won't over indulge. Well, that lasted for like 2.2 nano seconds. What is it about a pile of chips and guac that makes me lose self-control?
And don't even get me started on queso. It's my krypto-night. If I'm ever lost just follow the cheese crumbs. Also, I'm pretty sure I ate 27 tacos and drank every cocktail that was of a pink hue. Please tell me I'm not alone in this situation?
Well, if you're still hungover from Cinco de Mayo like yours truly let me direct you to a dish that will get us back on the right track. I am all about one-skillet dishes. Less dishes, but still boasts flavor? Can you say wining?
Anyway, today's dish is rocking with spice. Say hello to Spicy Shrimp with Fennel and Feta. Simplicity is key here. Sauteed shrimp tossed with garlic, red pepper flakes, olives, peppers and white wine. This might be my new go-to during these warm weather months. And to boot this dish won't be naughty to the waist line.
Now, who needs a fork?
Spicy Shrimp with Fennel and Feta
Ingredients:
3 tbsp olive oil, divided
1 pound jumbo shrimp, peeled, deveined, tails removed
4 garlic cloves, minced
4 tsp fennel seeds, roughly chopped
1/4 tsp red pepper flakes
1/3 cup dry white wine
1 1/2 cups cherry tomatoes, halved, divided
1/3 cup kalamata olives, pitted
2 tbsp + 2 tsp fresh oregano, chopped, divided
1/3 cup crumbled feta, for garnish
1/4 cup Peppadew peppers, for garnish
Fresh parsley chopped, for garnish
salt and pepper to taste
Directions:
In a 12-inch skillet preheated to medium-high heat add 1 tbsp olive oil. Add half the shrimp in an even layer and cook about 1 minute per side. Remove the shrimp and place them into a large bowl.
Next, add another tbsp olive oil to the skillet and the remaining shrimp. Saute the shrimp for about 1 to 2 minutes on each side. Once cooked, remove the shrimp and place into the large bowl with the remaining shrimp.
Add another tbsp olive oil to the skillet along with the garlic, fennel, red pepper flakes and stir to combine. Saute for a minute and then add in the white wine. Stir until the white wine has slightly evaporated.
Next, add in 1 cup of the tomatoes, olives, salt and pepper. Keep stirring until the tomatoes have broken down about five minutes.
Remove the skillet from the heat. Add 2 tbsp oregano to the skillet along with the peppers. Stir to combine adding salt and pepper to make sure the seasoning is correct. Add the shrimp to the skillet and toss.
Pour the shrimp mixture into a serving dish and garnish with remaining tomatoes, feta, oregano, and parsley. Serve and enjoy!
All images and text ©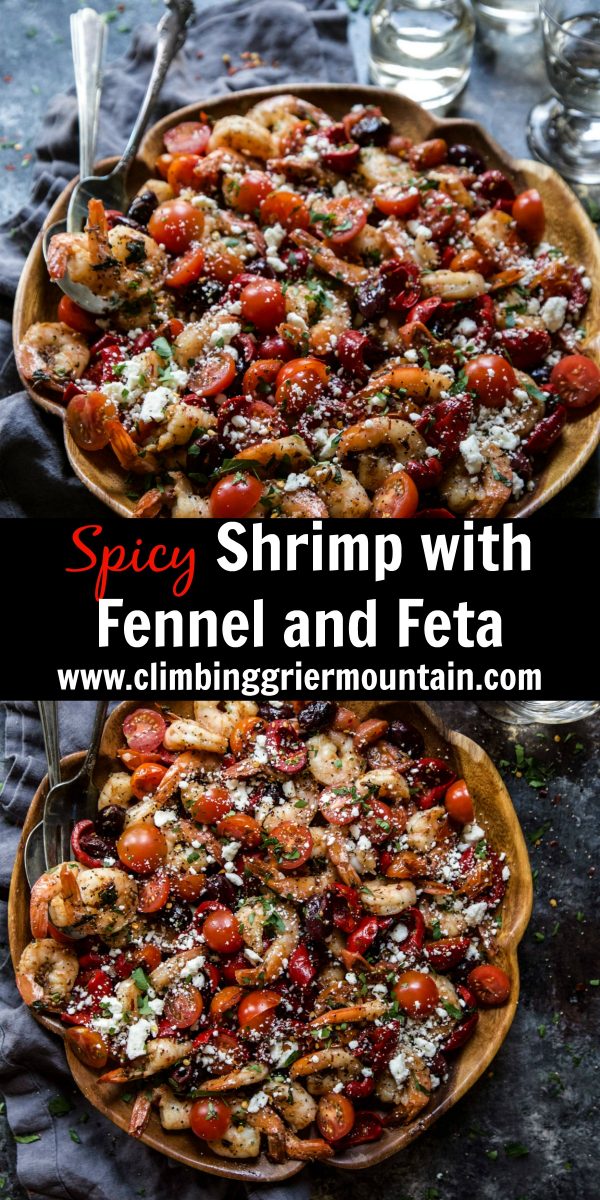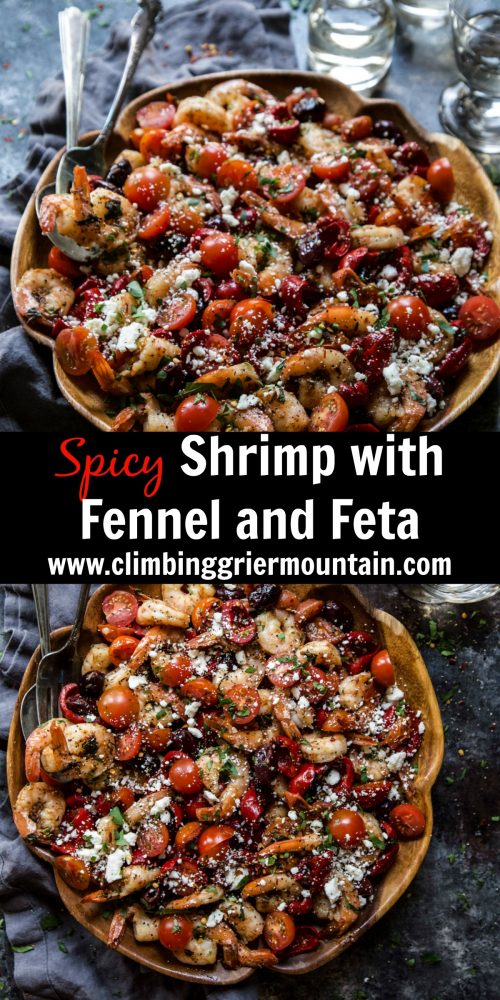 In conclusion, our Spicy Shrimp with Fennel and Feta is a tantalizing dish that combines the bold flavors of seafood, fennel, and feta for a memorable culinary experience. Enjoy!