Gochujang Papas Fritas with Chorizo
Gochujang Papas Fritas with Chorizo is a scrumptious side dish bursting with flavor!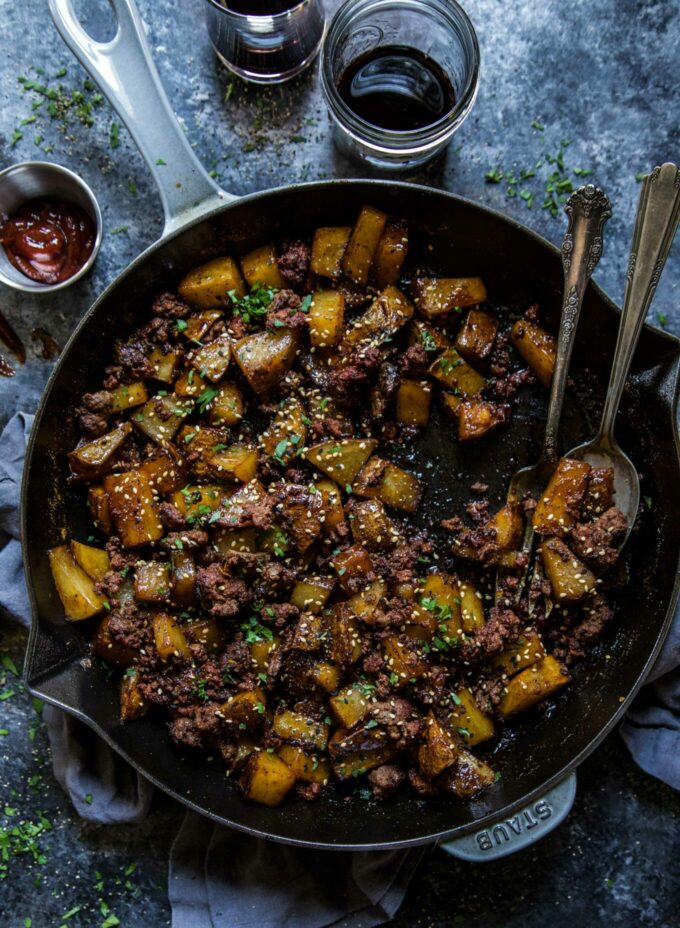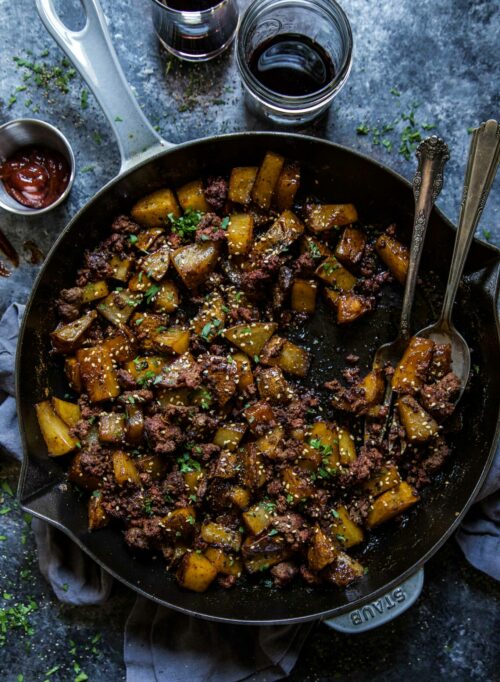 Spring cleaning.
YAY or NAY?
I would assume most of us vote "yay" because the after winter crusties are the worst. Doesn't it feel like your walls are covered in snow, mud, dust, and sickness? This is where I should tell you that I am a total germaphobe. Wait. Should I tell you that? I dunno.
I'm definitely one of those people that has to have their house spotless in order to feel balanced. Dirty floors make me want to scream along with doorhandles. Please tell me I am not alone on this matter? *crickets*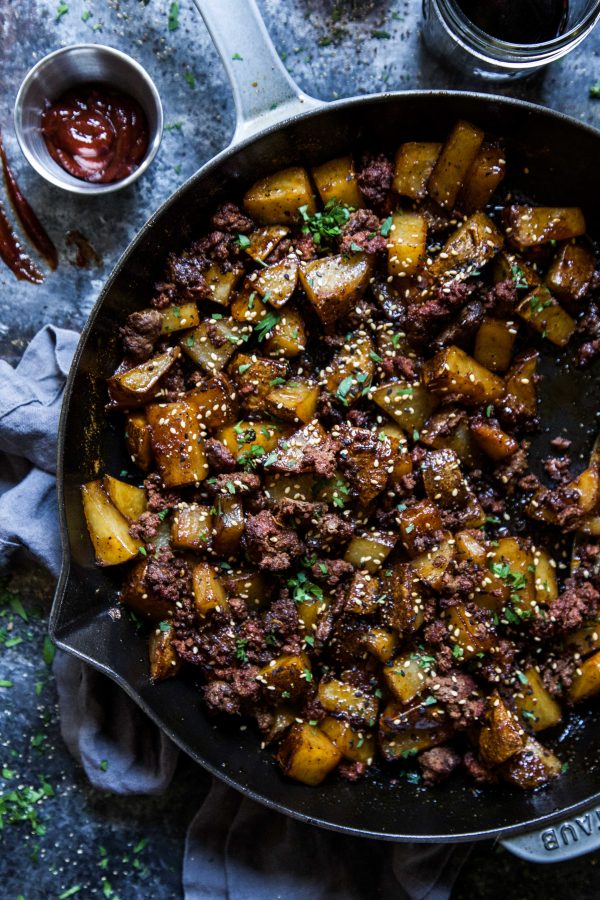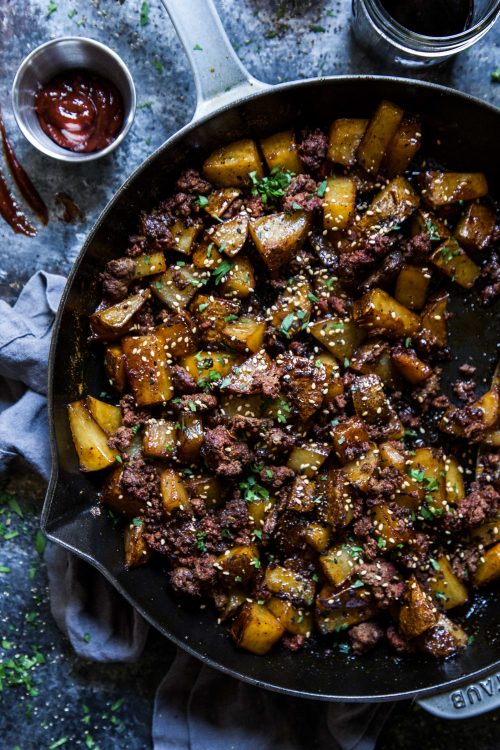 Also, dust. Why must it exist? I have a theory that dust cleaners don't actually work. I swear one day you wipe down a cabinet and the next it's dusty again. I think the dust and razor blades folks are in bed together. Just sayin.'
Anyway, enough cleaning talk. Moving along to a better subject home fries. Better yet, Gochujang Papas Fritas with Chorizo. Is there anything tastier than a bowl full of crispy potatoes covered in Korean chili paste, chorizo, and sesame seeds? Wait. If you added a runny egg on top, I might die.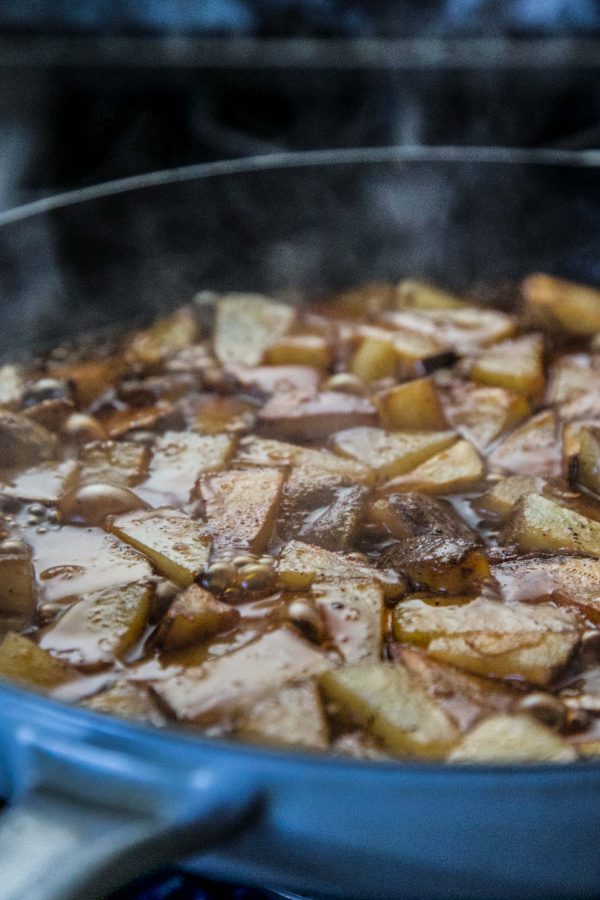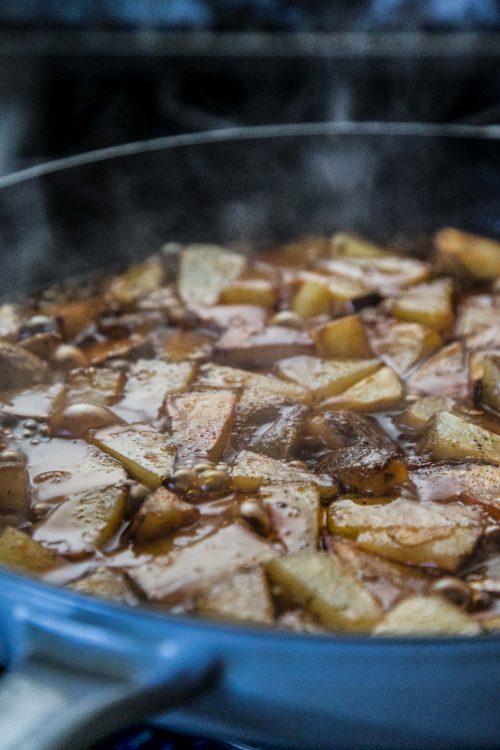 BUT! Before I depart this world you must make these papas fritas. They are a mash-up of Korean and Mexican flavors and will make your breakfast/brunch situation an 11/10. You could certainly omit the chorizo to keep these vegetarian. Maybe add a little cheese on top? You know, get wild.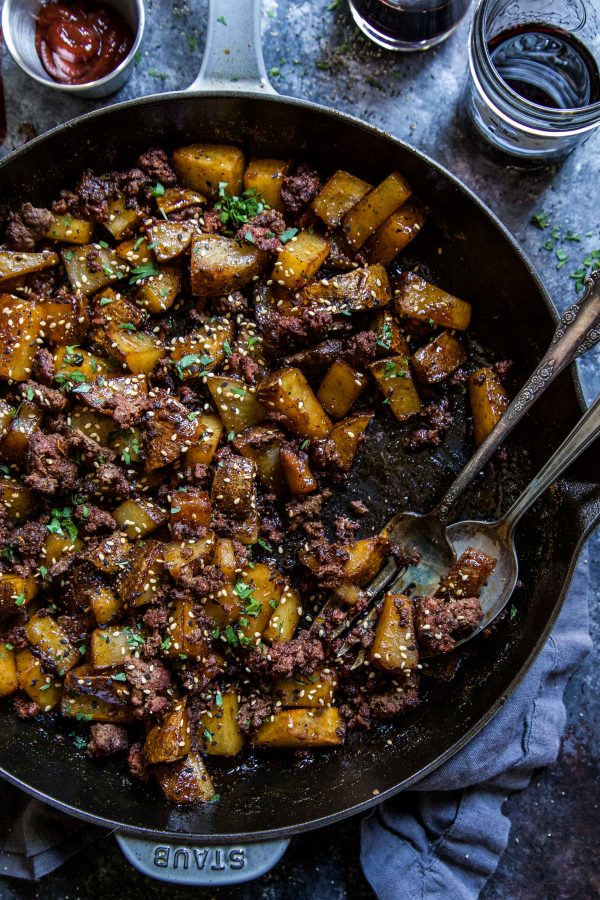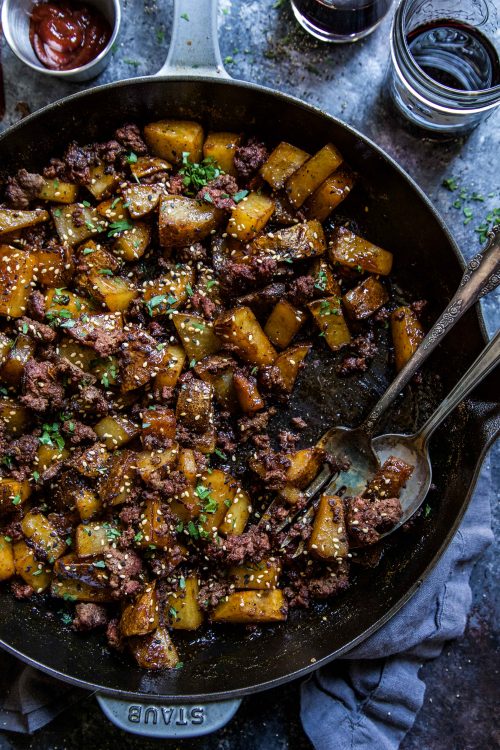 Or better yet, get wild spring cleaning those floors.
Really, Lauren?
Send help.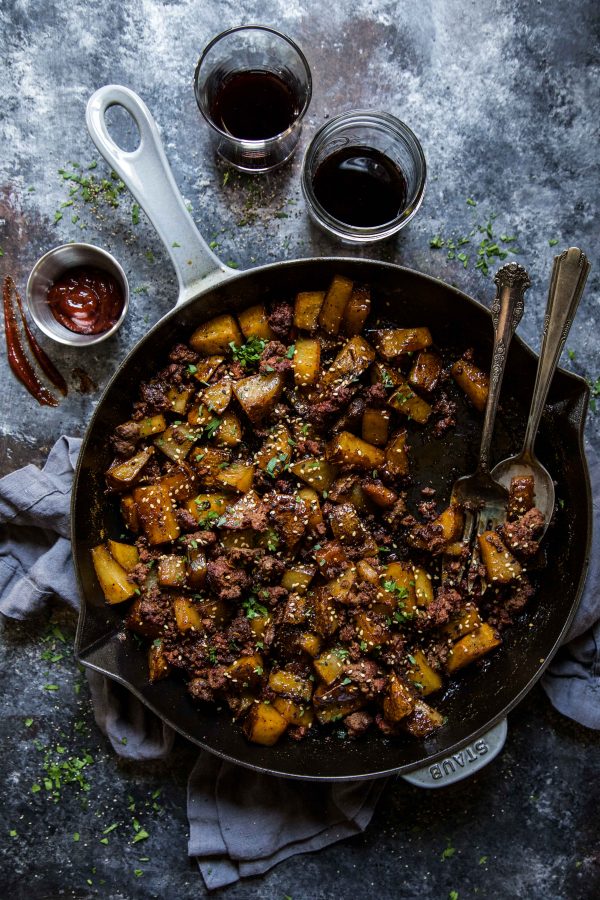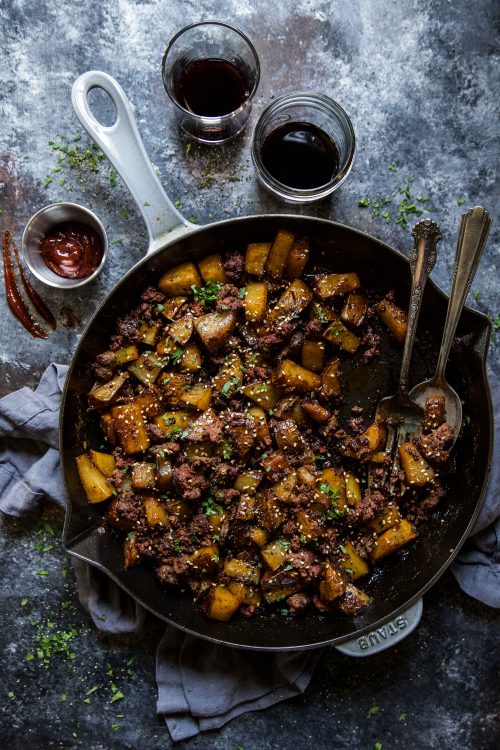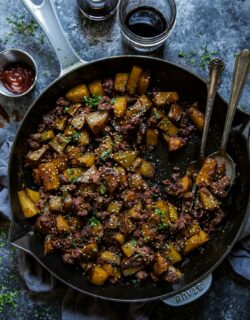 Gochujang Papas Fritas with Chorizo
Ingredients:
3 large russet potatoes, washed
3 tbsp + 2 tsp soy sauce
1/4 cup mirin
1 tbsp gochujang
1 tbsp granulated sugar
2 garlic cloves, grated
1 tbsp vegetable oil
2 tsp toasted sesame oil
2 tsp unseasoned rice vinegar
1 cup cooked ground chorizo
2 tsp sesame seeds, for garnish
2 tsp black sesame seeds, for garnish
Fresh chopped parsley, for garnish
1 tsp kosher salt
1/2 tsp ground pepper
Directions:
Preheat an to 375 degrees. Take a fork and pierce the potatoes all over. Place the potatoes on a baking sheet and bake for 30 minutes.
Remove the potatoes from the oven and let them cool before cutting into 3/4-inch cubes.
Next, in a small bowl combine 1/2 cup water, soy sauce, mirin, gochujang, sugar, garlic, salt and pepper.
Preheat a large cast-iron skillet to medium-high heat. Add the vegetable oil to the skillet along with the partially baked potato cubes. Cook the potatoes for about 7 to 8 minutes until slightly crispy.
Add in the soy sauce mixture and bring to a simmer. Reduce the heat to medium and stir occasionally until liquid has been mostly absorbed.
In another small bowl combine vinegar and toasted sesame oil. Add the mixture to the cast-iron skillet. Remove the skillet from the heat and then stir in the chorizo. Garnish with sesame seeds and fresh parsley.
All images and text ©