Chocolate Coconut Banana Bread Muffins
Chocolate Coconut Banana Bread Muffins are a delightful breakfast or dessert treat!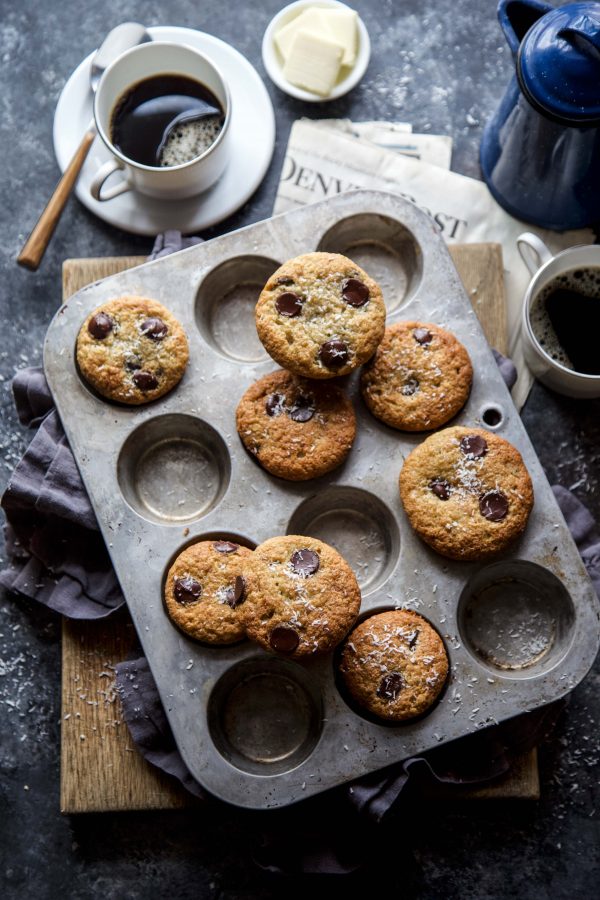 Thirty-seven.
Sounds a little strange to say out loud.
I'm not quite sure how I feel about turning another year older. Honestly, I feel like I'm really thirty-two. Can I turn thirty-two tomorrow? That would be swell.
Don't get me wrong with age comes wisdom. However, this year I definitely feel the forty mark creeping closer. Mr. B turns forty this year and I'm having a minor panic attack for him. He actually seems super chill about entering into another decade. God love him.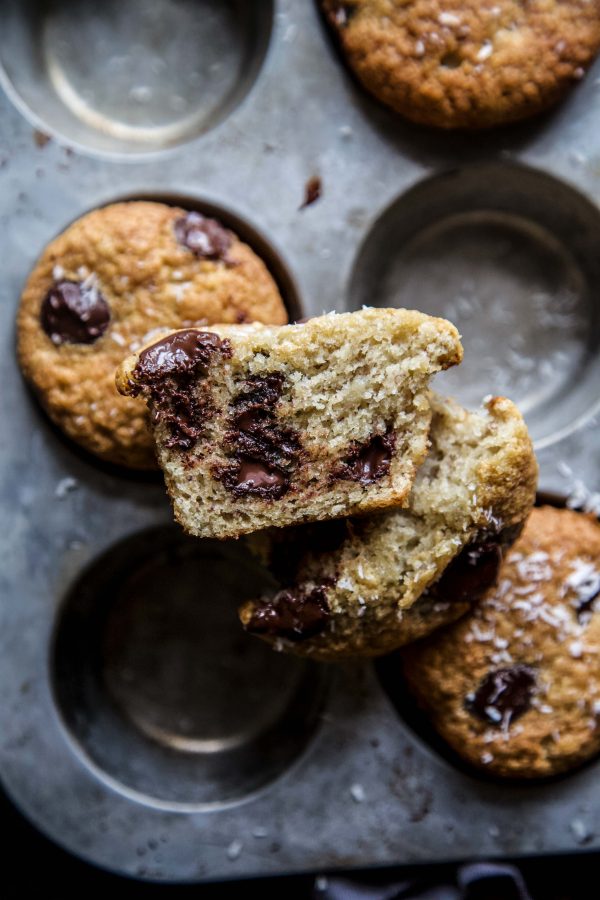 Anyway, rather than dread turning another year older, I must say it's wonderful to be in Utah with Mr.B and Charlie. We are here this week to ski, eat delicious food, and soak in mountain life. Not a bad way to spend the ol' birthday!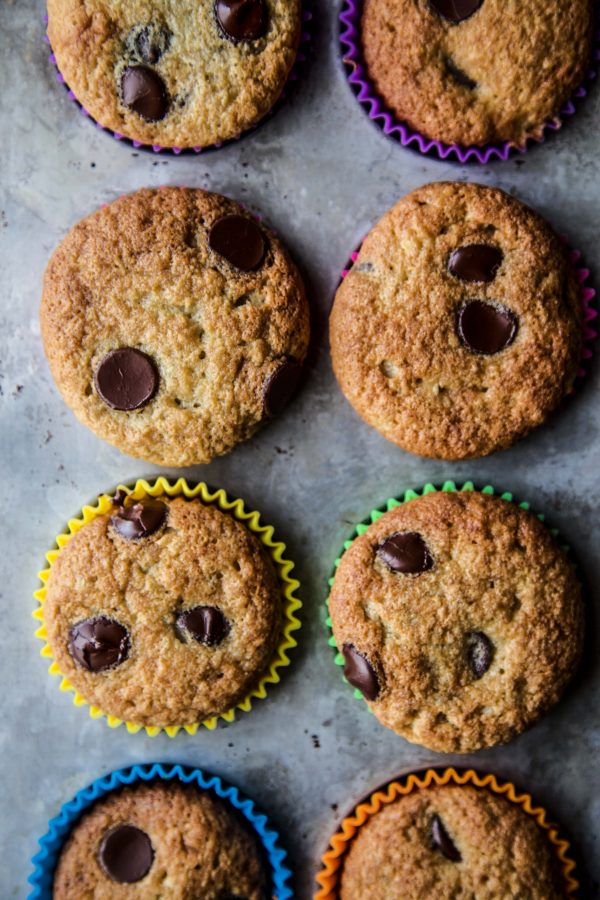 But before we head out to the slopes, let's chat real quick about these Chocolate Coconut Banana Bread Muffins! This recipe is twist on my classic banana bread. By the way if you haven't made my banana bread it's literally so freaking good! With this twist, I added in some coconut and dark chocolate chips. Mmmmmm….two of my favorite combinations.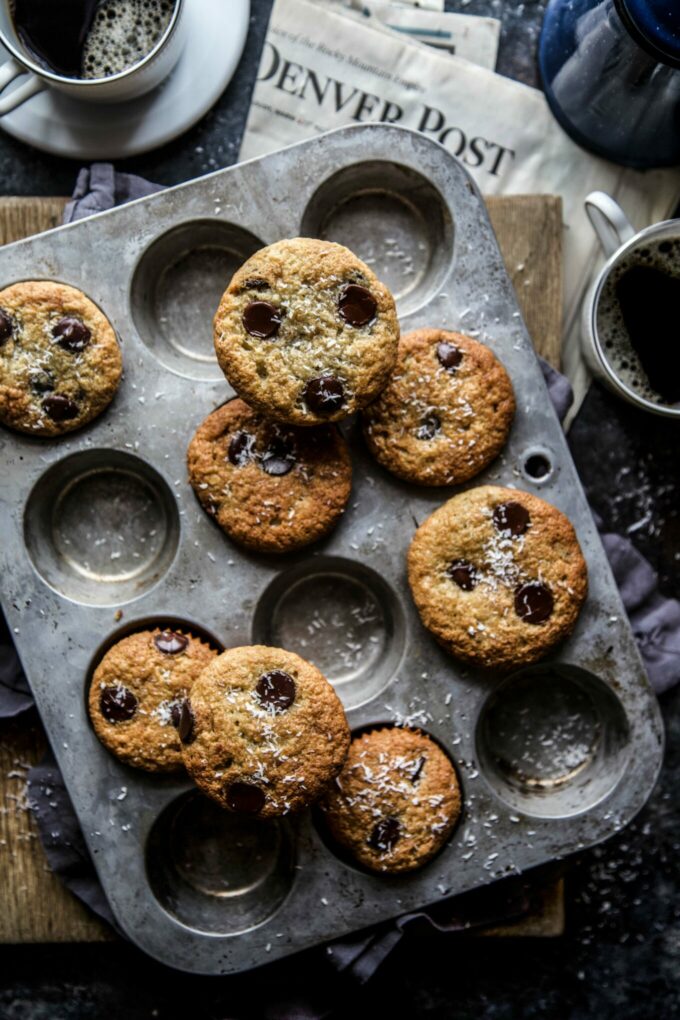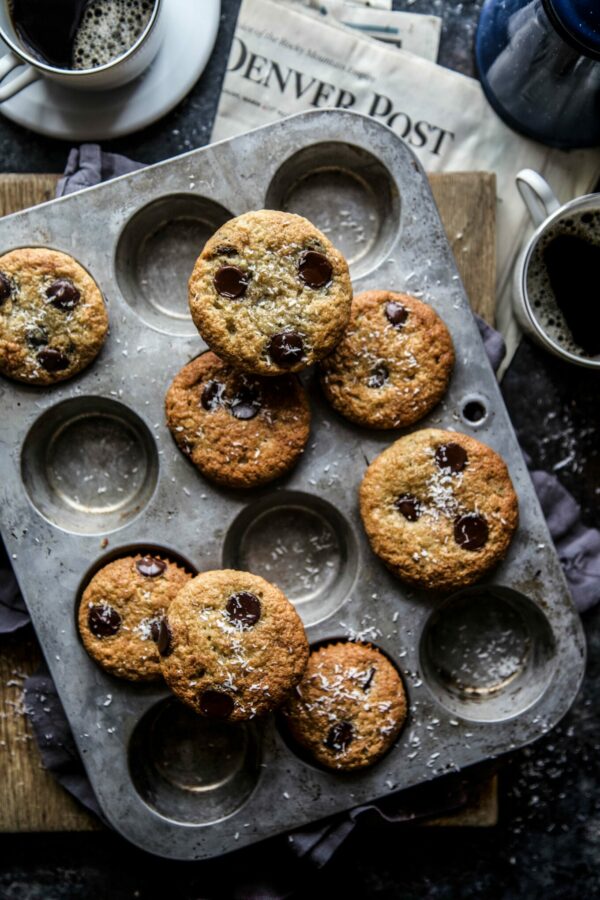 These Chocolate Coconut Banana Bread Muffins would be excellent as a quick breakfast option on the fly or even sassy enough for dessert. Either way make a big a$$ batch because these bad boys will fly off the shelves!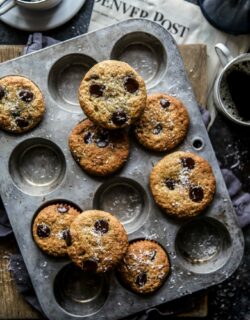 Chocolate Coconut Banana Bread Muffins
Ingredients:
1/4 cup unsalted butter, room temperature
3/4 cup granulated sugar
2 large egg yolks
2 large egg whites
2/3 cup mashed bananas – approximately 2 small or one large
1/4 cup sour cream
1/2 tsp. vanilla extract 
1 cup all-purpose flour
1/2 tsp. baking soda
1/4 tsp. salt
1/4 tsp. nutmeg
1/2 cup unsweetened coconut flakes
3/4 cup dark chocolate chips
Directions:
Preheat oven to 350 degrees. Spray a 12 cup muffin pan with non-stick cooking spray. In a mixer, cream butter and sugar. Beat the egg yolks and stir into sugar mixture. Add the sour cream and vanilla extract to sugar mixture. 
In a medium bowl, combine all-purpose flour, baking soda, salt, nutmeg, and unsweetened coconut flakes. Next, alternate the flour mixture along with the mashed bananas to the sugar mixture.
Beat the two egg whites until stiff, and fold into the batter gently. Lastly, fold in the chocolate chips. Using an ice cream scoop, scoop some of the batter into each cup of the muffin pan filling 3/4 of the way. Bake for about 22 to 25 minutes or until a toothpick inserted into the middle comes out clean.Remove from oven and let cool. 
All images and text ©