Creamed Spaghetti Squash with Fresh Herbs
Creamed Spaghetti Squash with Fresh Herbs is a decadent yet healthy-ish side dish that's easy to prepare during the week! Or fancy enough for a dinner party!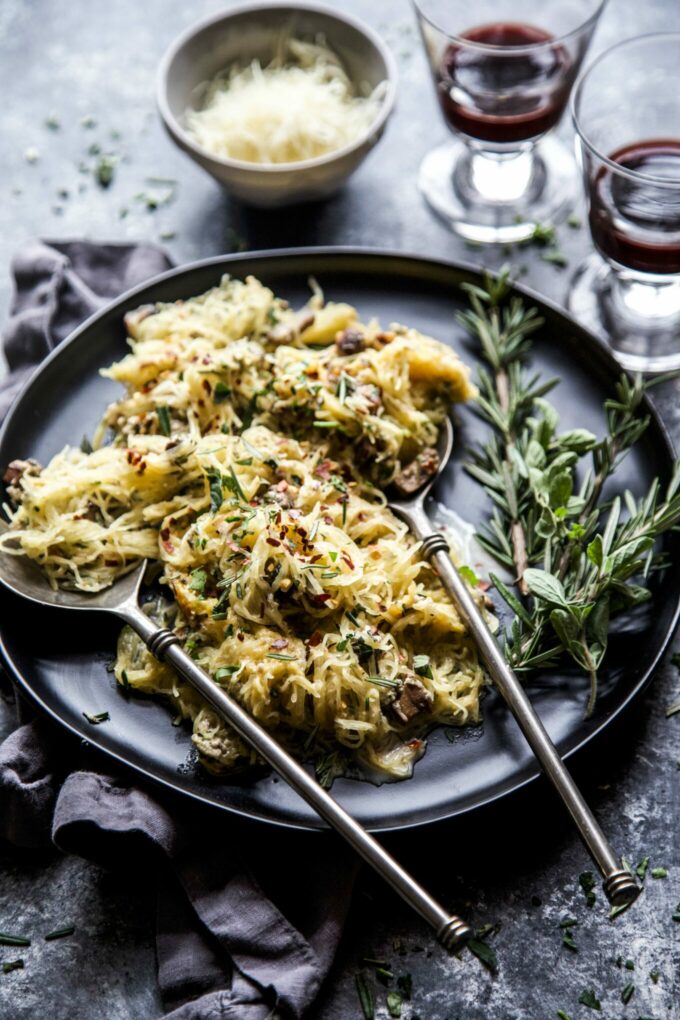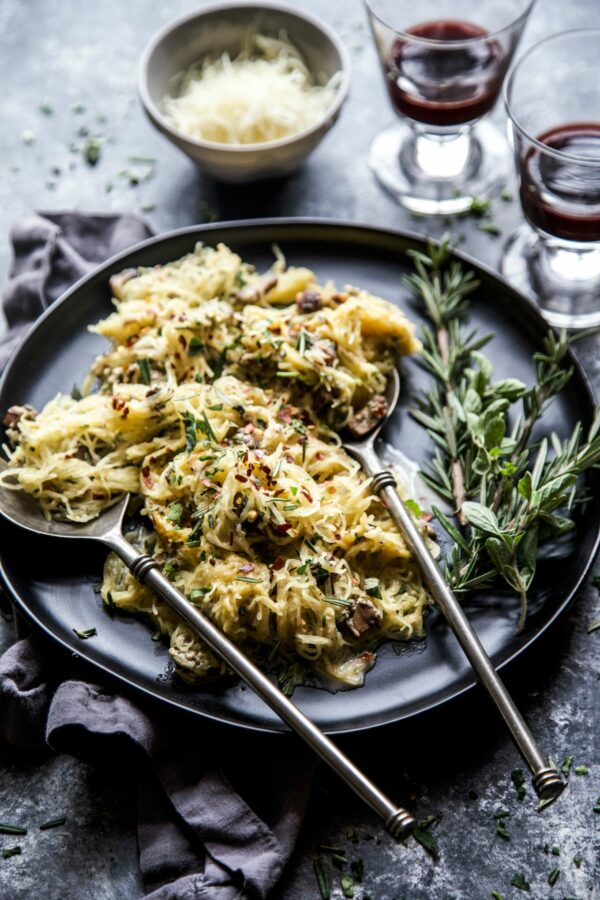 That was fast.
How is this the last week in February?
Even with the Leap Year I still feel like this month vanished like a fart in the wind. Question: do you celebrate Leap Year? Or is it one of those random things you acknowledge like #nationalpizzaday and then move on? I dunno.
What I do know, Target is ready for spring. I was walking through there the other day and I spotted flowers and garden sh$t. I became instantly giddy, but then I realized spring-spring won't happen until mid-May around Denver. Sighhhhh.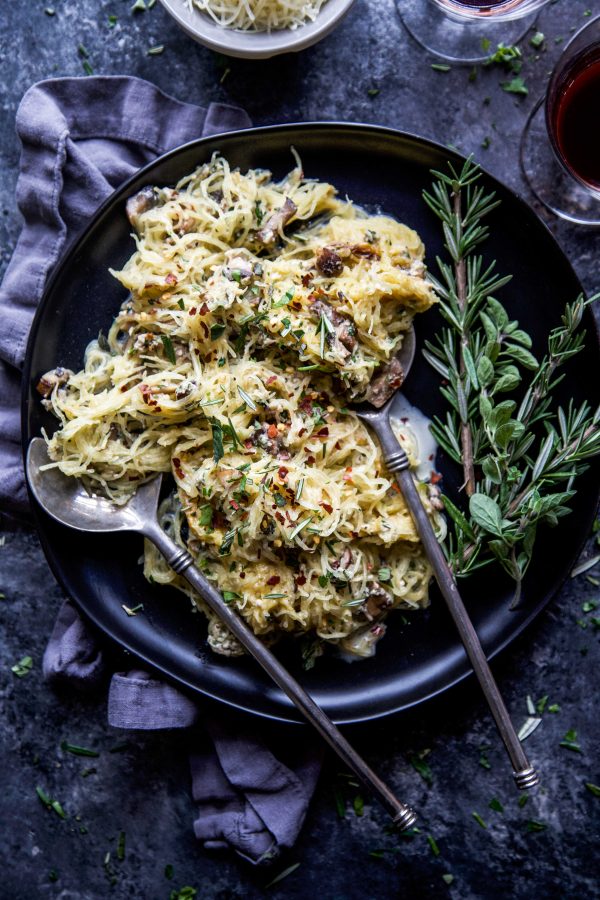 But! I will say that I am looking forward to gardening with Charlie. Growing up I had the best time getting dirty, feeling the mushy soil between my fingers, and giggling with my mama as she described how strawberries grew. Plus, the satisfaction of seeing something grow from start to finish is a wonderful experience for a child.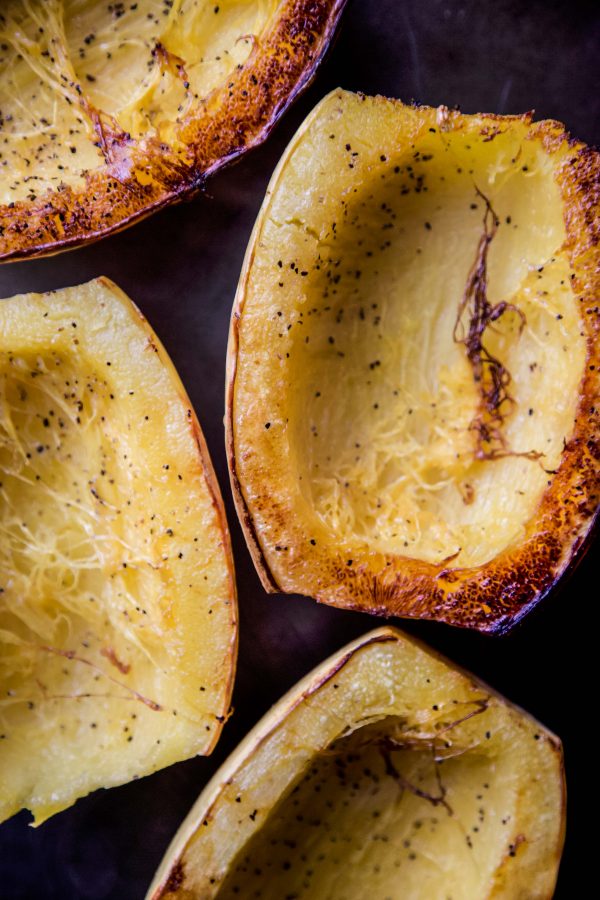 Speaking of gardens (fingers crossed we get our act together and have one this year), today's recipe is all about fresh ingredients. This Creamed Spaghetti Squash with Fresh Herbs might be my new side go-to. Prepping spaghetti squash is so easy and can be made ahead of time. With a mixture of herbs – basil, rosemary, thyme, and parsley the sauce comes together quickly.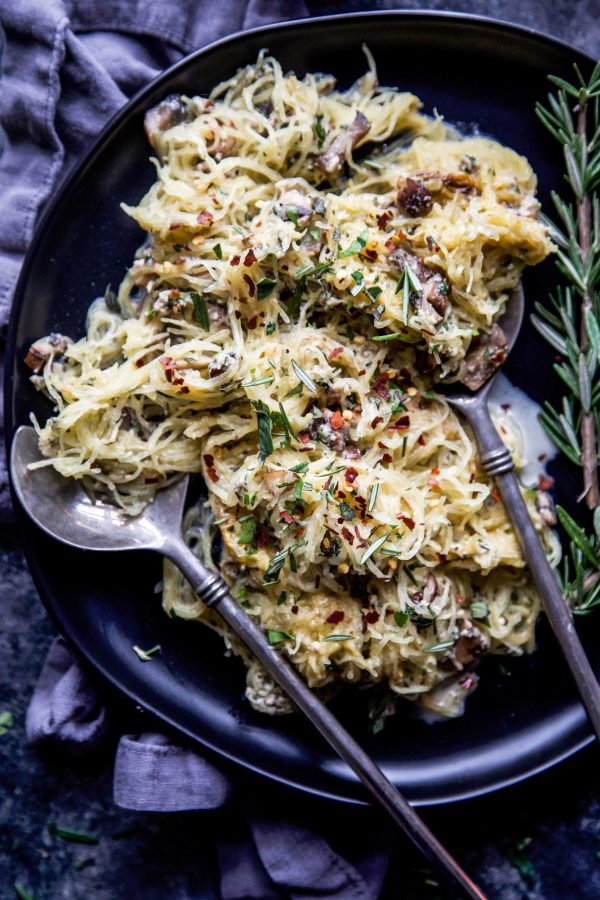 Stir in mushrooms, cream, and Parmesan for good measure. What you get is a luxurious, healthy-ish side dish that is great for the weeknight or fancy enough for a dinner party. Bonus: a majority of these ingredients you can grow in your garden! So, who's ready for spring??!!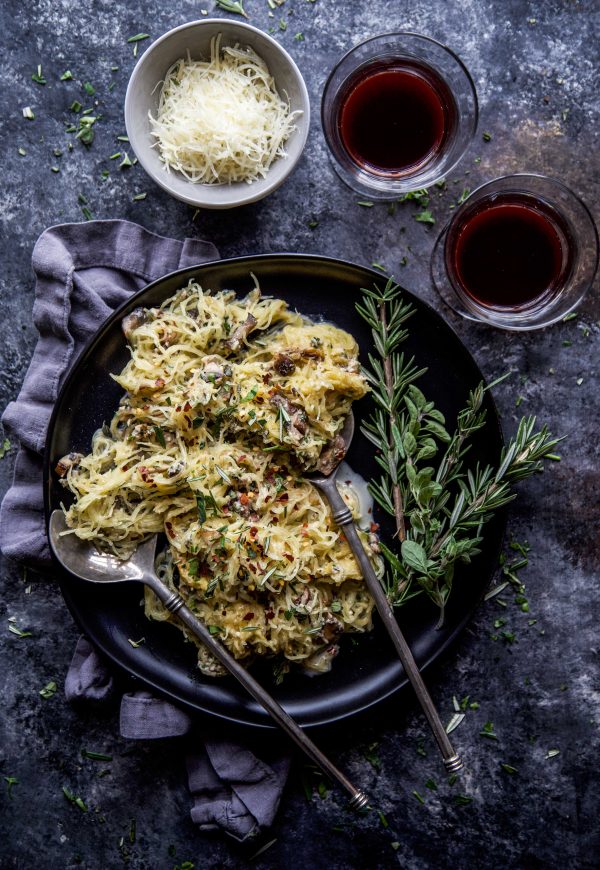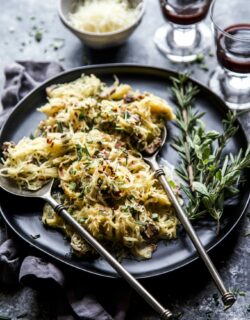 Creamed Spaghetti Squash with Fresh Herbs
Ingredients:
2 medium spaghetti squash, halved and seeds removed
1 tbsp olive oil
2 tbsp butter
1 cup chopped mushrooms
1 cup milk
1/3 cup Parmesan shredded cheese
2 oz goat cheese, crumbled
1/3 cup mixture of herbs – basil, rosemary, thyme, parsley
salt and pepper to taste
Directions:
Preheat oven to 425 degrees. Spray a large baking sheet with non-stick cooking spray.
Place both the squash in the microwave on high for three minutes. This will help you to cut through the squash. Remove the squash from the microwave and cut them in half lengthwise. Scoop out the seeds and discard. Season the squash with olive oil, salt, and pepper. Place the squash on the prepared baking sheet cut side down. Cook for about 30 to 35 minutes or until squash is tender.
Meanwhile, preheat a large skillet to medium heat and melt the butter. Next, add in the chopped mushrooms. Saute the mushrooms until browned about two to three minutes. Add the milk, Parmesan cheese, goat cheese, and herb  mixture. Bring to a gentle simmer over medium heat until smooth and creamy. If you need to add more milk to make it creamier go for it!
Remove the skillet from the heat. When the squash is done cooking, use a fork to scrape the squash into strands and then toss it with the cheese sauce. Serve immediately!
All images and text ©