Chocolate Snack Cake with Guinness Ganache Frosting
Get into the Irish spirit by noshing on this Chocolate Snack Cake with Guinness Ganache Frosting! Dark chocolate cake covered in a decadent boozy frosting is the best way to celebrate any occasion!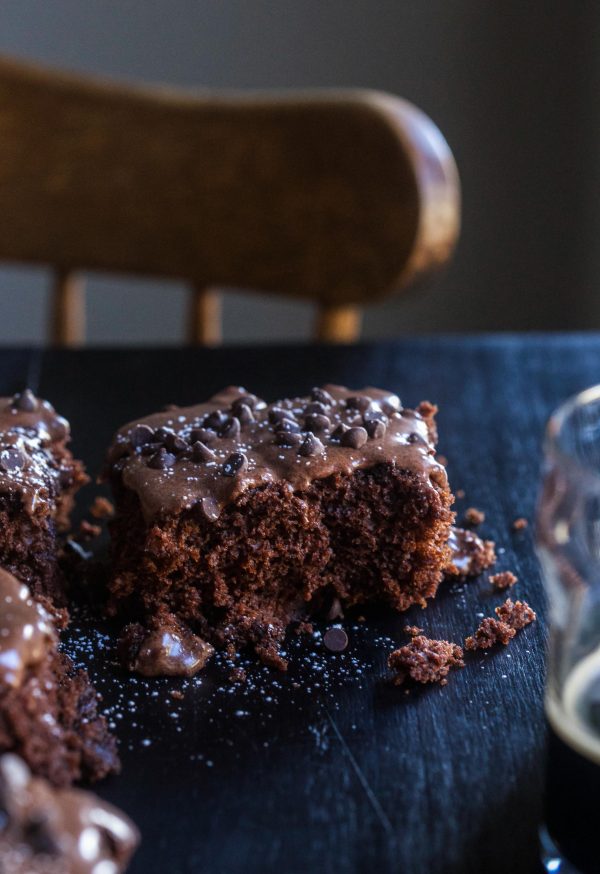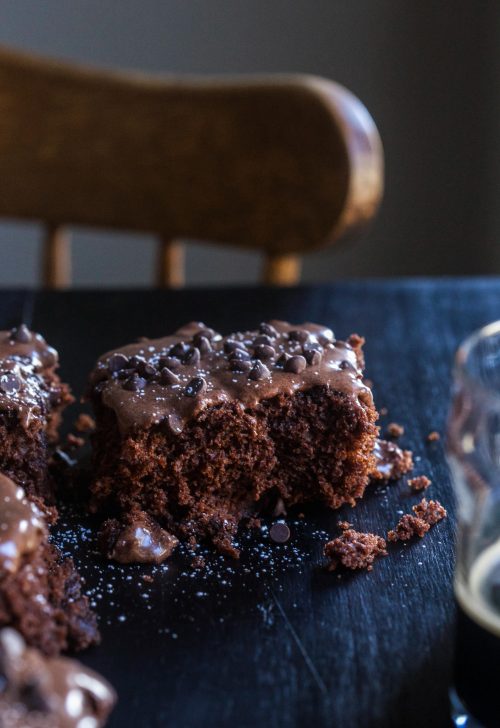 WAIT.
A cake that's a snack?
Um, yaaaaaas.
Because aren't you tired of snacking on plain ol' granola bars? I know I am. For curiosity sake, what do you snack on? I'm a big fan of spreading peanut butter onto apple slices or dipping carrots into lemon flavored hummus. I probably should take the time to slurp a protein smoothie, but that's a whole new ball game.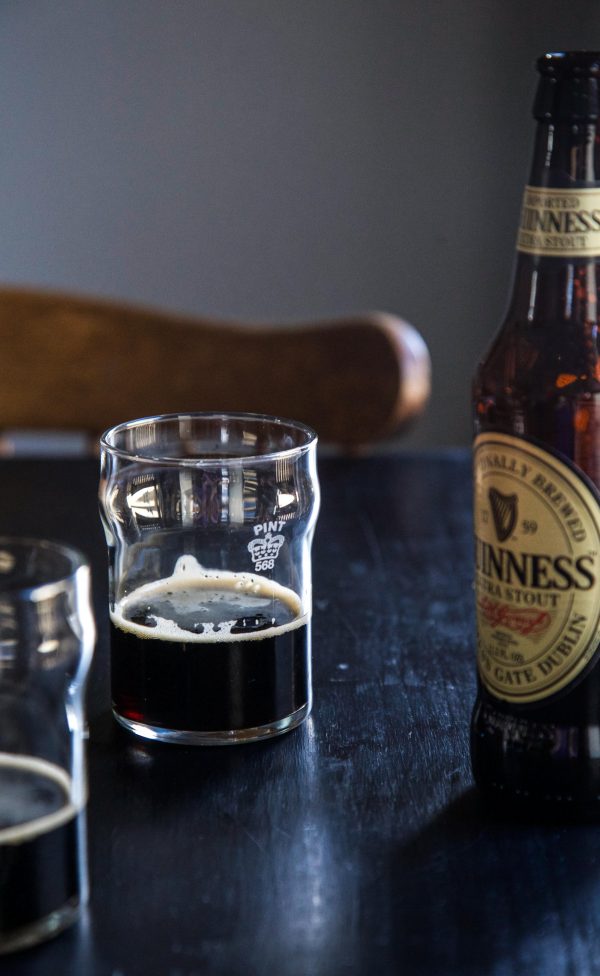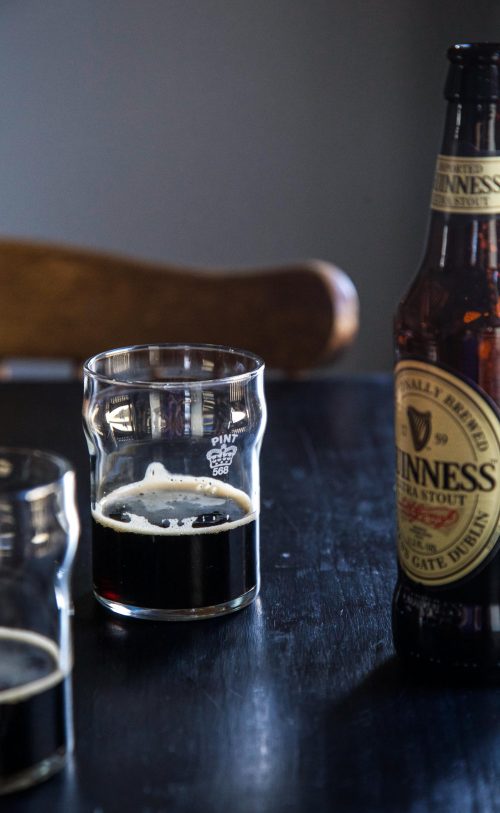 But! Speaking of smoothies, Mr. B and I stopped into GNC the other day to grab some amino acid recovery powder. We are not crazy workout people, but since we are entering into "older" age we just don't recover as fast. So we are hoping by incorporating this powder into a pre-workout smoothie, it will help reduce soreness the next day. Make sense? Are you still there?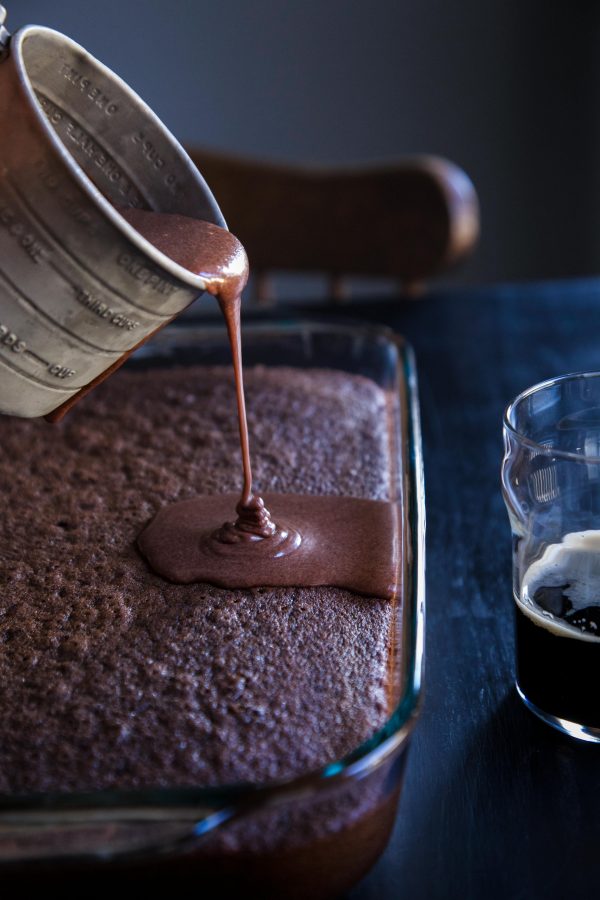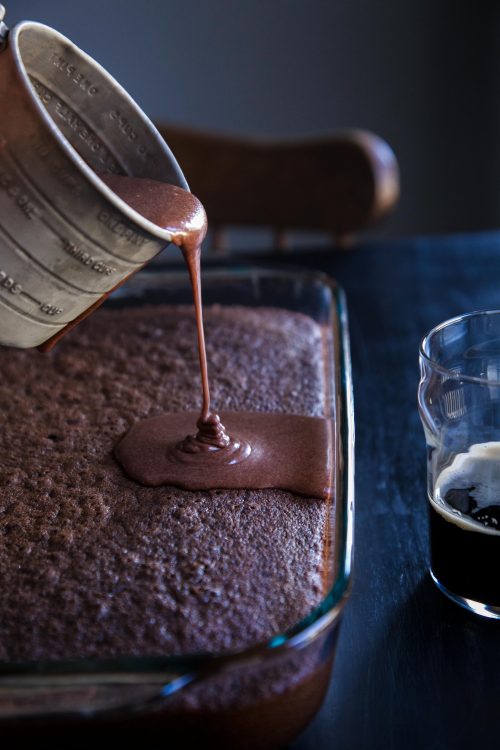 The point is of the detour, have you been inside a GNC store lately? It's like a pharmaceutical department store on steroids. There are forty kinds of protein powders, diet pills, energy shakes, and I'm pretty sure you if you need to be hulk size in three seconds there is a pill for that. I kept thinking to myself, who the hell is buying this shit? Oh, wait. So we kept our head down, purchased the amino acid powder and bolted.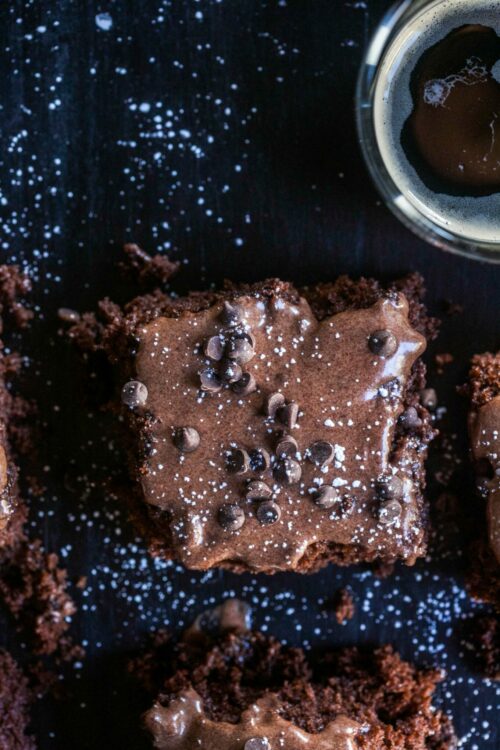 Well, the goal of this Chocolate Snack Cake with Guinness Ganache Frosting is to keep you from experiencing the inside of a GNC store to solve your snacking needs. It's also meant to get you into the Irish spirit. The Guinness Ganache Frosting alone should come in a snack sized packet. Would this not be the best thing to eat while watching the St. Patty's Day parade? Or after a Guinness Mac and Cheese Beef Skillet dinner? I think so!
Anyways, this cake is decadent, yet light and perfect for those emergency snack situations. You'll never eat a granola bar again.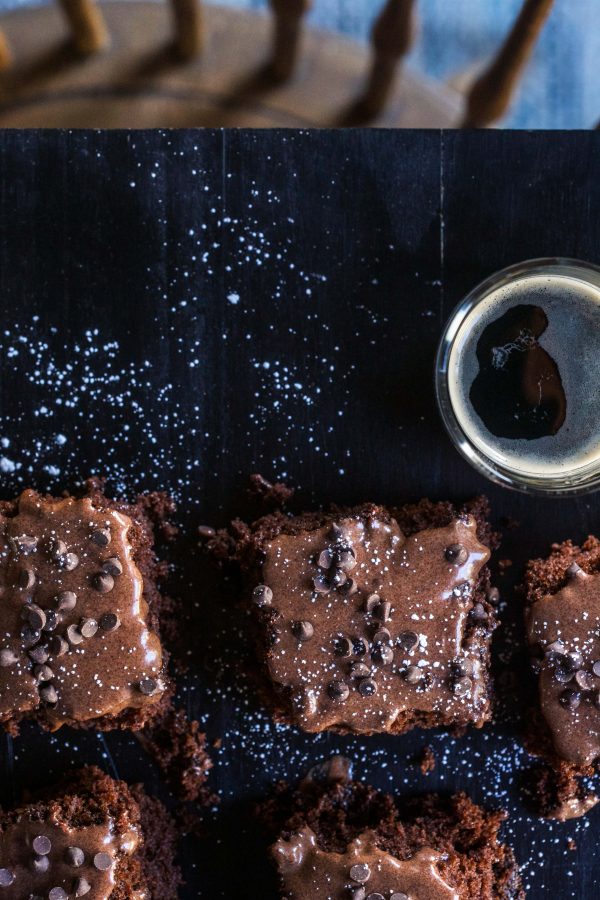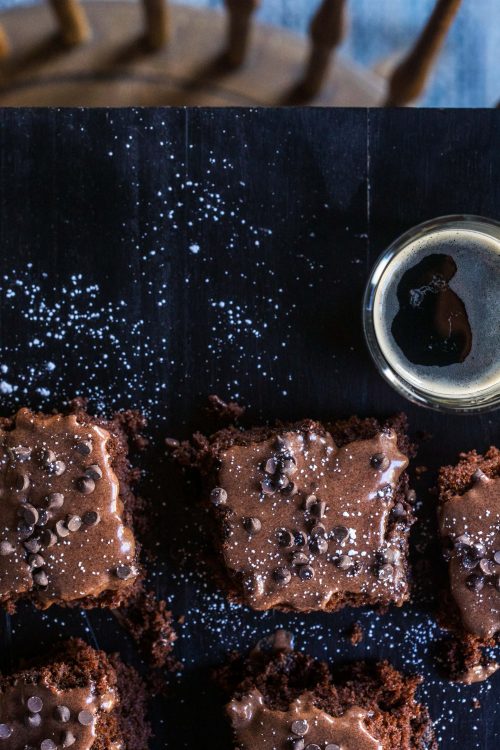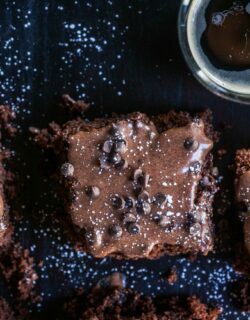 Chocolate Snack Cake with Guinness Ganache Frosting
Ingredients:
for the cake:
2 1/4 cups all-purpose flour
1 1/8 tsp baking soda
3/4 tsp kosher salt
3/4 cup unsweetened cocoa powder
1 tbsp instant ground coffee
1 cup brown sugar
2 1/2 tsp vanilla extract
12 tbsp unsalted butter, room temperature
1 3/4 cup granulated sugar
3 large eggs
mini dark chocolate chips, for garnish
for the guinness ganache frosting:
1 cup dark chocolate chips
1 cup heavy cream
1 1/2 tbsp corn syrup
1/3 cup Guinness
1 cup confectioners sugar
Directions:
for the cake:
Preheat your oven to 350 degrees. Spray a 13 x 9 baking dish with non-stick cooking spray and set aside.
In a large mixing bowl, mix together the flour, baking soda, and salt. In another large mixing bowl, whisk together cocoa powder, instant coffee, and 1 1/2 cups boiling water. Next, add in the brown sugar and buttermilk, whisk until no lumps remain. Let the mixture cool for a few minutes and then stir in the vanilla.
In a mixer fitted with a paddle attachment, beat the butter and sugar until creamy. Next, add the eggs one at a time. Once the eggs have been incorporated add the dry and cocoa mixture in thirds. Pour the batter into the prepared baking dish. Bake the cake for about 25 to 35 minutes or until when a toothpick inserted in the middle it comes out clean. Remove the cake from the oven and set on a wire rack to cool completely.
Once cooled, pour the Guinness ganache frosting over the cake. Garnish with mini chocolate chips and serve!
for the guinness ganache frosting:
In a small saucepan preheated to medium heat, add the chocolate chips, cream, corn syrup, and Guinness. Stir to combine. Once the chocolate has melted, remove it from the heat and let cool for about 20 minutes. Once cooled, mix in the powdered sugar until smooth.
recipe adapted from Food and Wine magazine
All images and text ©