ciabatta fennel hash with sunny-side up egg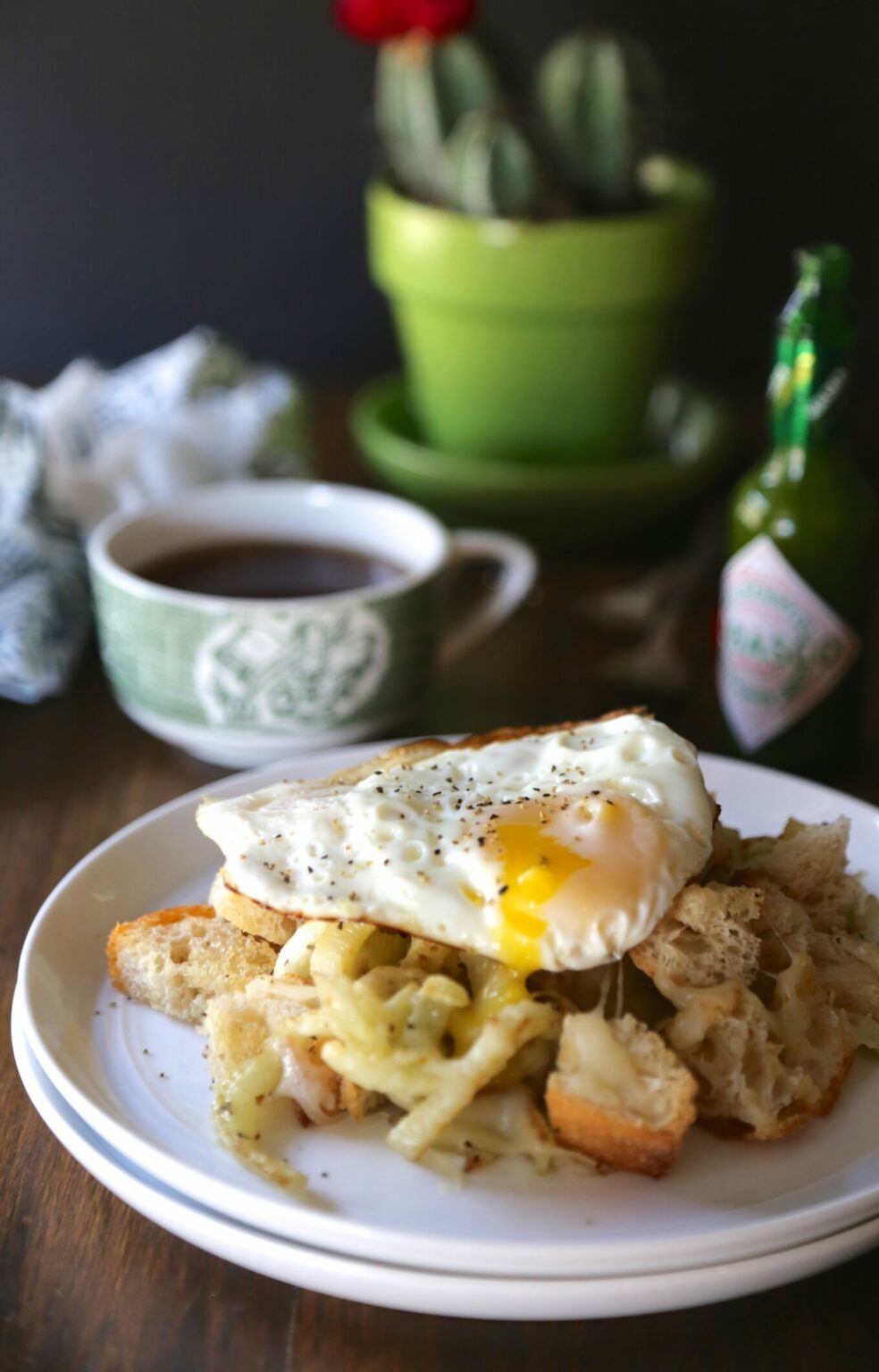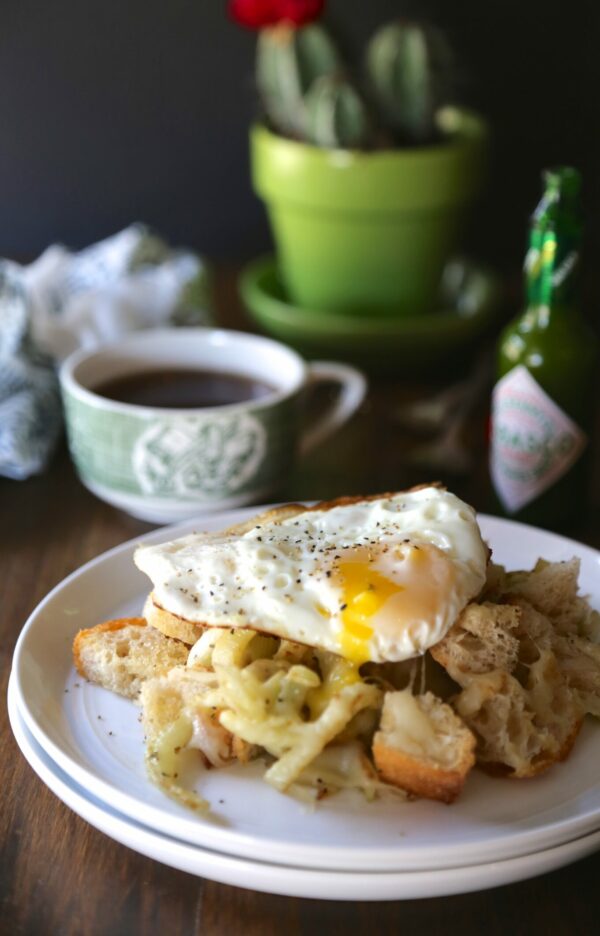 Brunch.
What's your style?
Are you the stay at home Michelin star chef on the weekend? Mixing up blueberry waffles and freshly squeezed orange juice with a side of perfectly crisp bacon. Or, do play "what you got" on Sunday morning hoping to pull something out of the fridge that's brunch worthy? Or, do you seek brunch solitude in your local, won't take you an hour to get served diner?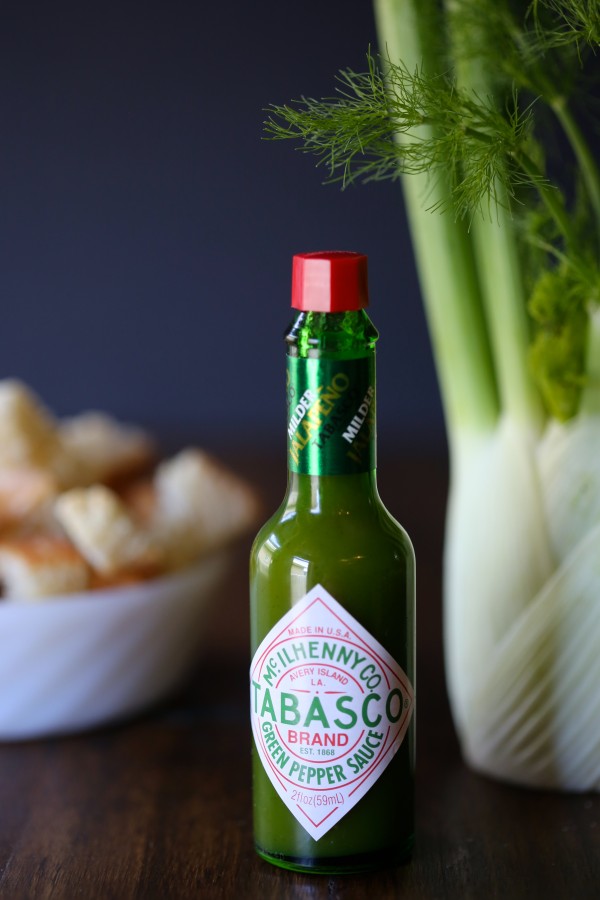 I feel like depending on what shenanigans happen the night before, I have a bit of each brunch style. Even though, I tend to lean towards the latter more often because sitting at a table, sipping coffee, and people watching is one of favorite past times on the weekends. It's the simple things, right?
But! If I am at home cooking up a storm, I tend to make two things: tacos or hashes. Tacos are a no brainer – meat, cheese, egg, and tortilla. If I am feeling frisky, my go-to is a hash. Now, if you are just joining us, this week I am talking all things Tabasco. I have teamed up with the hot sauce condiment king to take part in their 10 Ingredient Tabasco Challenge.
What does that mean? Well, over the course of five days, I am creating five recipes using only ten ingredients!! Get.OUT.of.TOWN! Check out the ingredients below:
So, with hash on my brain last weekend, I decided to make a spin on the traditional "potato" hash. This Ciabatta Fennel Hash with Sunny-Side Up Egg & Tabasco is super easy. I took the ciabatta and made potato like croutons, covered them with sauteed fennel, topped with an eyeball egg (says my six year-old self) and smothered it in Tabasco.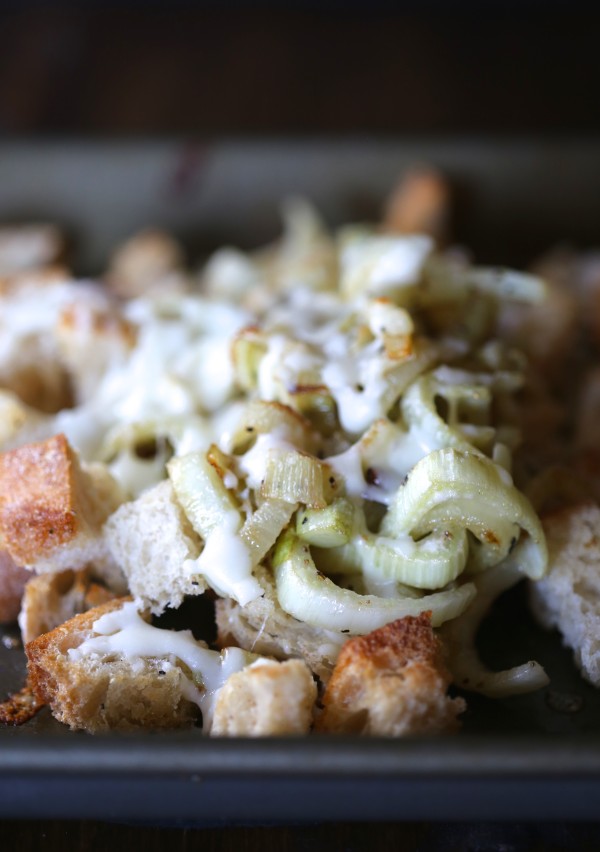 I'm telling you, this hash is the best way to start the weekend. Of course, besides watching hipsters wait two hours for a brunch table. I kid. Maybe.
Looking for more ways to use Tabasco in your cooking? Make sure to check out this weeks creations along with the rest of Tabasco chefs:
Crispy Chicken Slider with Fried Egg & Chipotle Tabasco
Fried Rice Veggie Bowls with Tabasco
Grilled Chicken Flatbread with Honey Caramelized Fennel & Tabasco
***This post was sponsored by Tabasco. As always, all opinions expressed are 100% my own.***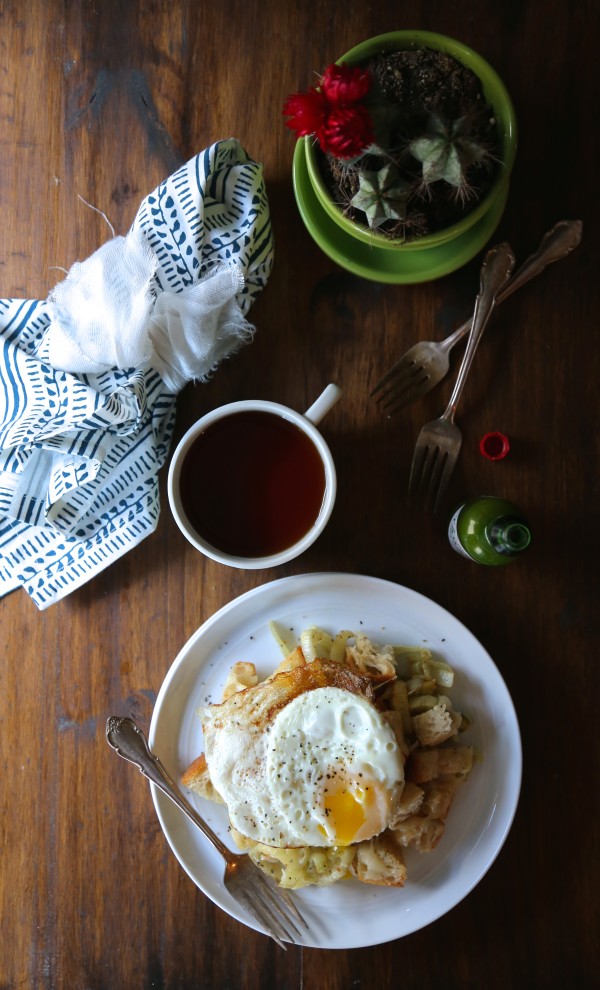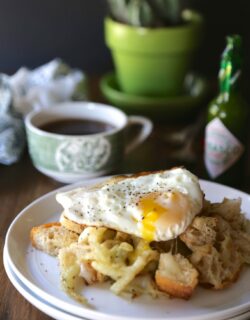 Ciabatta Fennel Hash with Sunny-Side Up Egg & Green Tabasco
Ingredients:
4 cups ciabatta, day old, cubed
1/4 cup olive oil
1/2 teaspoon salt
1/2 teaspoon pepper (+ more for garnish)
2 cups fennel, sliced
1 teaspoon Green Tabasco
1 cup mozzarella shredded
4 eggs
Directions:
Preheat oven to 400 degrees. Place ciabatta cubes onto baking sheet. Toss with 1 tablespoon olive oil, 1/4 teaspoon salt and pepper. Bake for about 5 minutes. You want the bread to be crisp, but soft in the middle. Remove from oven and cool slightly.
In a large skillet preheated to medium-high heat, add 2 tablespoons olive oil, fennel, Green Tabasco, 1/4 teaspoon salt and pepper. Saute until the fennel has softened about six minutes. Remove fennel from skillet and set aside.
In the same skillet, add a little more 1 tablespoon olive oil and crack four eggs into the skillet. Cook until the centers are slightly opaque about three minutes.
To serve, place about cup of the ciabatta cubes into a serving bowl. Top with fennel, 1/4 cup of mozzarella, and sunny-side up egg. Garnish with black pepper.
All images and text ©