Crab Topped Cajun Burger with Pimento Cheese Gravy
Crab Topped Cajun Burger with Pimento Cheese Gravy is a delicious, spicy burger that's easy to make and perfect for backyard summer potlucks!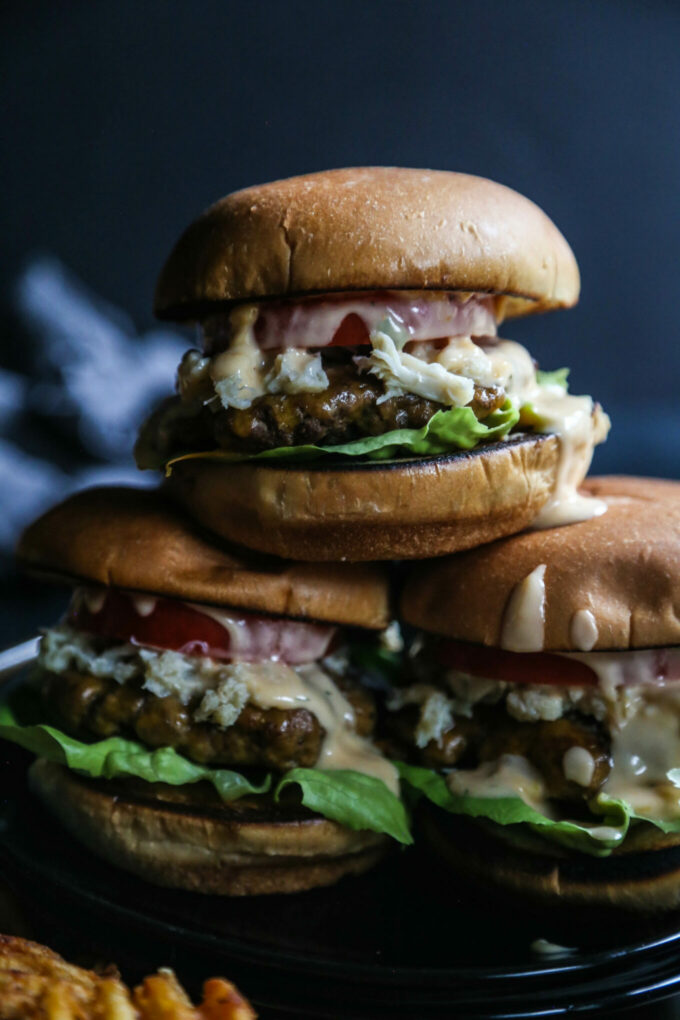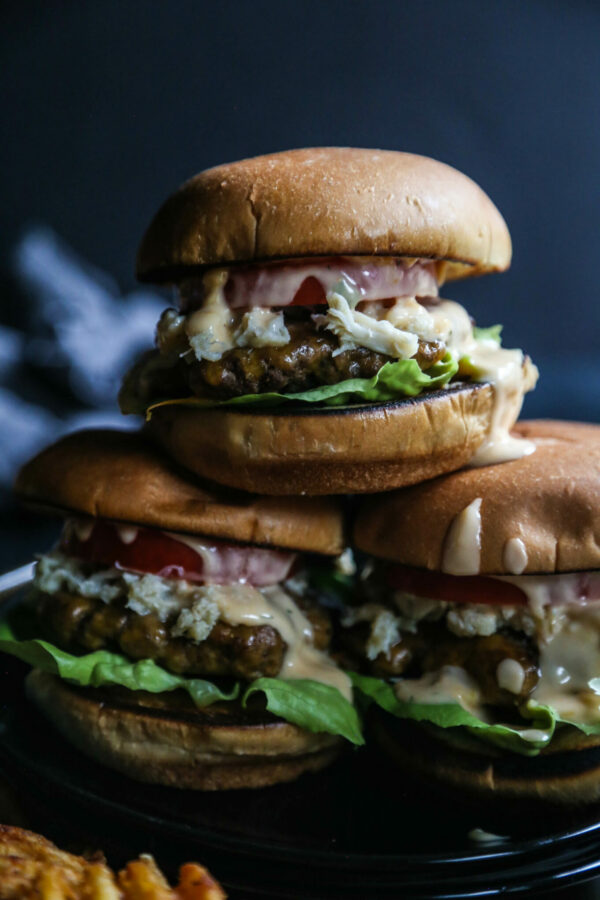 A month ago, I had the privilege of heading south to visit Avery Island, Louisiana.
If you love hot sauce as much as yours truly, then you are fully aware that this is the home of the one and only, Tabasco. This trip was unlike anything I've ever experienced. Yes, I am a die-hard Tabasco lover, but there's more to Tabasco than meets the tip of your tongue.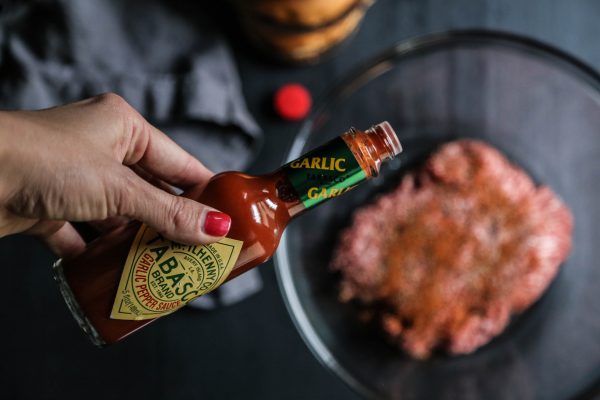 Let's start with a brief history of the McIlhenny family. Edmund Mcllhenny made the first bottle of Tabasco back in 1868. Not only is Tabasco a family-run operation (going on six generations), but the same sauce that was bottled in 1868 is still the same flavor we put on our pizza, fried chicken, and grits today!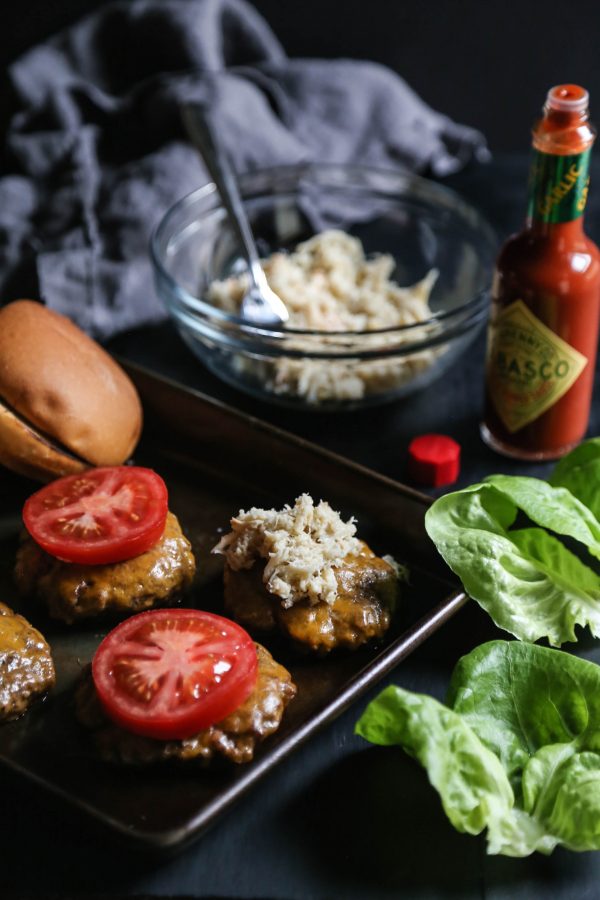 But for the Mcllhenny family, it's more than just a bottle of Tabasco. This is their passion. You witness it firsthand the minute you step onto Avery Island, which is a privately owned island. This island is home to their corporate headquarters and the bottling facility which produces over 400,000 bottles a day. Also, spread out on the island are a greenhouse, fields of Tabasco growing plants, an aging house, and a mixing plant. Over 100 employees live on the island. Typical Louisiana landscapes such as bayous, giant oak trees, and a bird sanctuary are beautiful. One of the oldest plantations in the area, the Marsh House, is used for family events and where we shacked up for the short two days.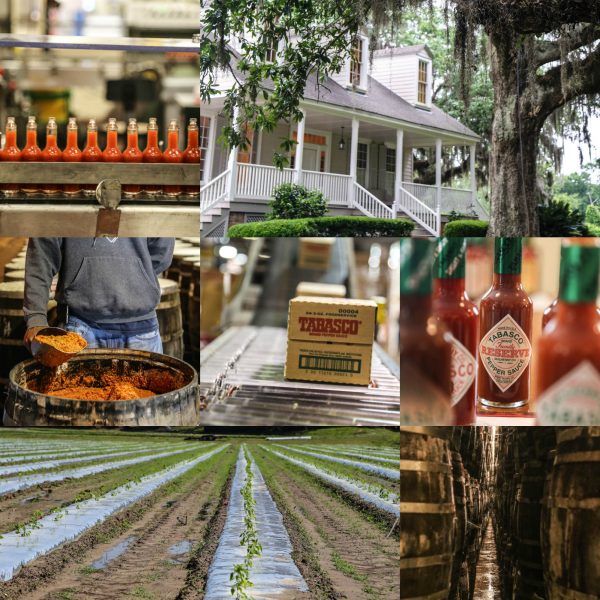 To say the Mcllhenny family has their passion dialed in is an understatement. Every moment spent on Avery Island was filled with excitement, hospitality,, and information about what goes into making Tabasco. We enjoyed a private meal prepped by Top Chef Constant Chef Issac Toups, and he inspired yours truly to make crab-fat rice! Tabasco-themed cocktails were poured and we even enjoyed a killer traditional Louisiana crawfish boil all with a member of the Mcllhenney family by our side. How's that for client interaction?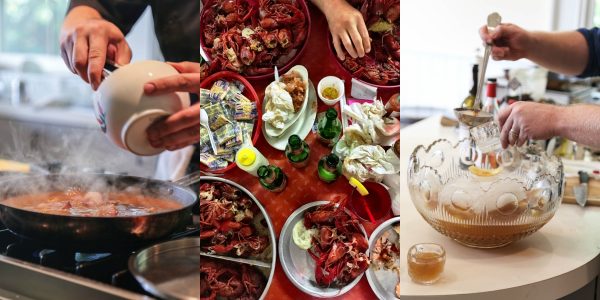 I left Louisiana after two full educational and scrumptious days with a new perspective on Tabasco. Not only did the Mcllhenny family deepen my passion and love for the hot sauce, it inspired me to be passionate about what I do here on CGM. Well, the stars certainly did align because I have a killer recipe to share with y'all today that will hopefully make my Louisiana counterparts happy.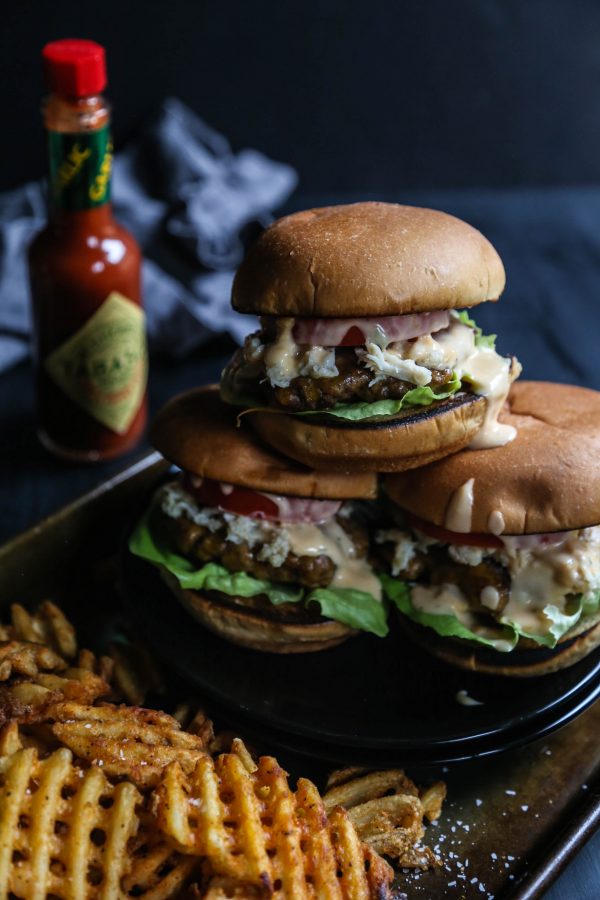 This Crab Topped Cajun Burger with Pimento Cheese Gravy reminds me of Southern flavors from top to bottom. If we had crawfish here in Colorado, I probably would have put that on top of this juicy burger, but alas, we are limited to crab. I tossed the crab with some Garlic Tabasco, which I didn't even know that they had until we did a tasting. I highly recommend it because this version just adds that extra zing to bring the crab to life.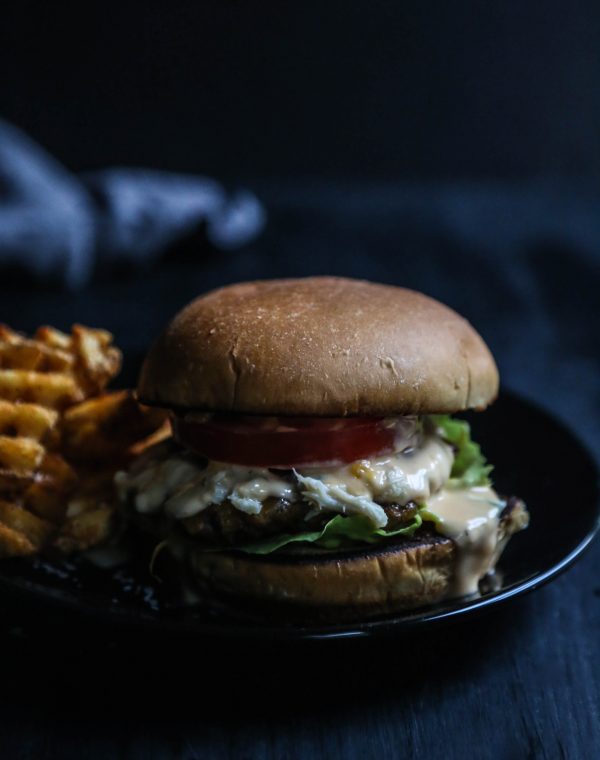 Next, a simple burger mixed with a variety of Cajun seasonings topped with a good ol' hunk of cheddar and then 'fully dressed' as they say in the South. Or if you are a Northerner – lettuce and tomato. But what makes this burger a real Southern delight is the pimento cheese gravy. I'd like to think the Mcllhenney family would give this gravy two bottles up because nothing goes better with Tabasco than good old-fashioned gravy….with a little pimento cheese stirred in.
A BIG thank you to the Mcllhenney family for the wonderful hospitality and for opening their livelihood and home to us food bloggers. My taste buds will forever be loyal.
***This post was sponsored by Tabasco. As always, all opinions expressed are 100% my own!**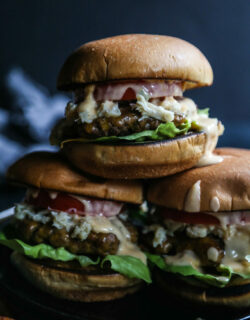 Crab Topped Cajun Burger with Pimento Cheese Gravy
Ingredients:
For the Cajun Burger:
1 pound ground beef
2 teaspoons Garlic Tabasco
1 teaspoon Cajun seasoning
4 slices cheddar cheese
1 cup lump crab
4 brioche buns
4 butter lettuce leaves
4 tomato slices
salt and pepper to taste
For the Pimento Gravy:
3 tablespoons unsalted butter
3 tablespoons all-purpose flour
1 1/4 cups chicken stock
1/4 cup pimento cheese
salt and pepper to taste
Directions:
For the Cajun Burger:
In a large bowl, combine ground beef, 1 teaspoon Garlic Tabasco, Cajun seasoning, salt and pepper. Form the meat mixture into four hamburger patties. Heat your grill to medium-high heat and place the patties on the grill. Grill the burgers for five minutes on the first side, flip, and continue to cook for about three minutes. With about a minute left, place a slice of cheese on each burger and let it melt. Once the cheese has melted, remove the hamburger patties and place them on the plate to rest.
Meanwhile, place the crab meat into a bowl and add the remaining teaspoon of Tabasco along with salt and pepper. Mix to combine. To prepare the burger, take a brioche bottom bun and place a piece of the butter lettuce on top. Next, place the hamburger patty on top followed by a tomato slice, 1/4 cup crab, a drizzle of pimento gravy, and top with bun. Repeat process with remaining three burgers. Enjoy!
For the Pimento Gravy:
In a medium saucepan preheated to medium heat, melt the butter. Add the flour and whisk continually creating a roux. Next, pour in the chicken stock and stir until thickened about three minutes. Remove from heat and stir in the pimento cheese. Add salt and pepper if desired.
All images and text ©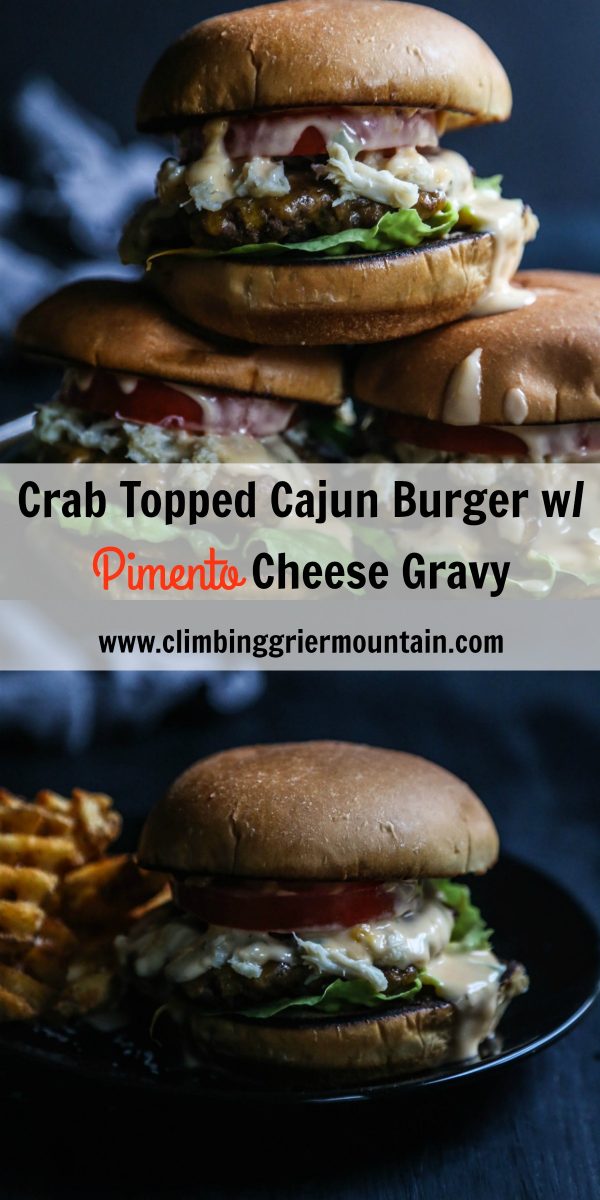 In conclusion, the Crab Topped Cajun Burger with Pimento Cheese Gravy is a tantalizing blend of Southern flavors. Savor the spicy kick and creamy cheese gravy, creating a delectable burger experience worth savoring.