creamy scrambled-egg toasts with bacon & whole grain mustard cream sauce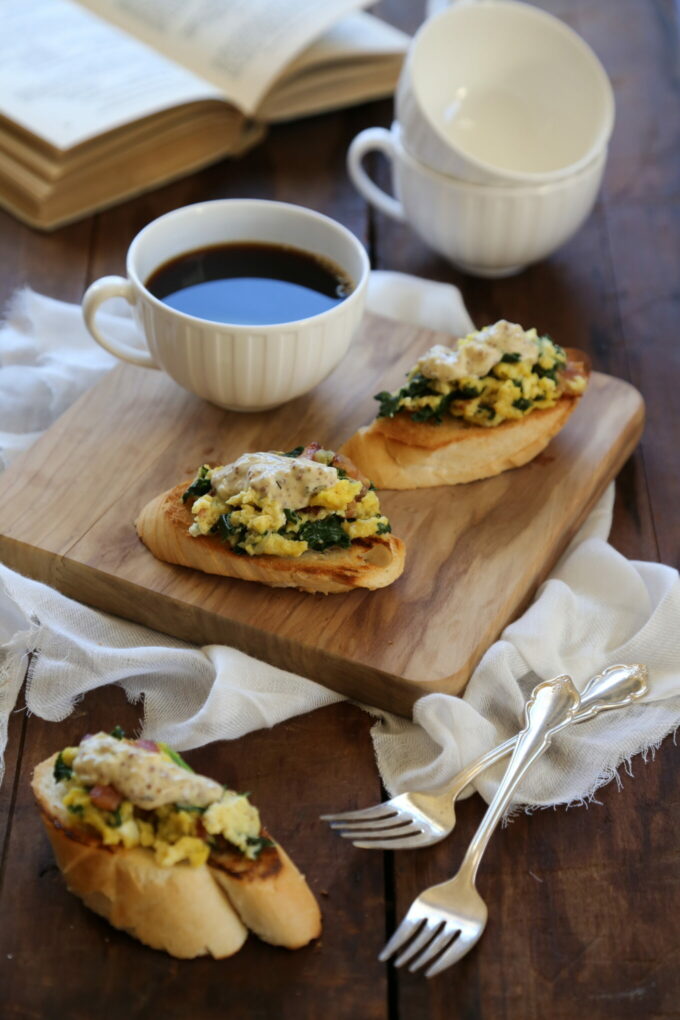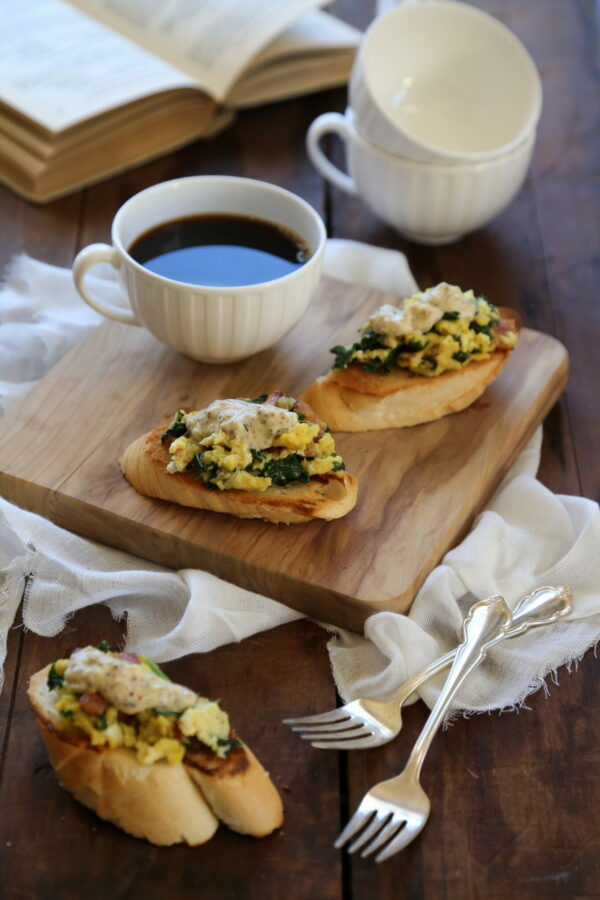 I love the soothing ritual of brunch.
Waking up on the weekend sans alarm, slowly working up an appetite, and deciding whether to stroll down to the local diner or whip up a tasty treat at home. That is all I want to think about on a Saturday morning.
Depending on our mood, Mr. B and I will either dine out or dine in. One of our favorite spots to dine out in Denver is a small, rustic-themed, farm-to-table restaurant called Duo. There is usually (read: always) a wait, so we forgo the two-top and head into the half-seated bar area. We pull up a bar stool and chit-chat about adult things, "Did you see the Buzz Feeds list for 19 reasons maybe socializing isn't for you?" He orders the buttermilk fried chicken sandwich and yours truly the Sunday-egg hash.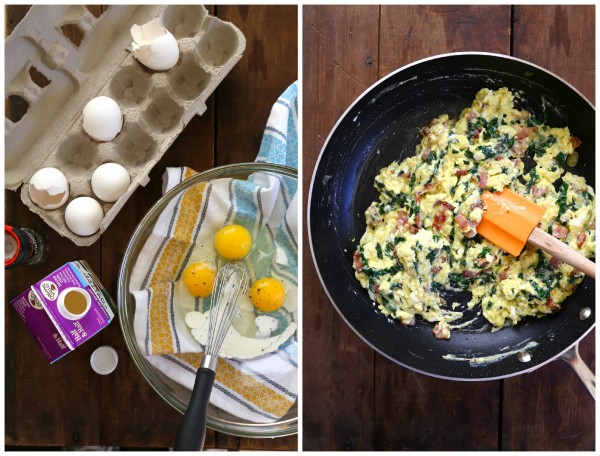 In addition to the poached egg on top of the crispy potatoes, the mustard cream sauce drizzled over the hash makes this dish brunch worthy. There's something about spicy mustard gently stirred into cream that makes this a  decadent and luxurious sauce. I don't know about you, but after a week at the grind, it feels good to have a sauce that rejoices in your hard work.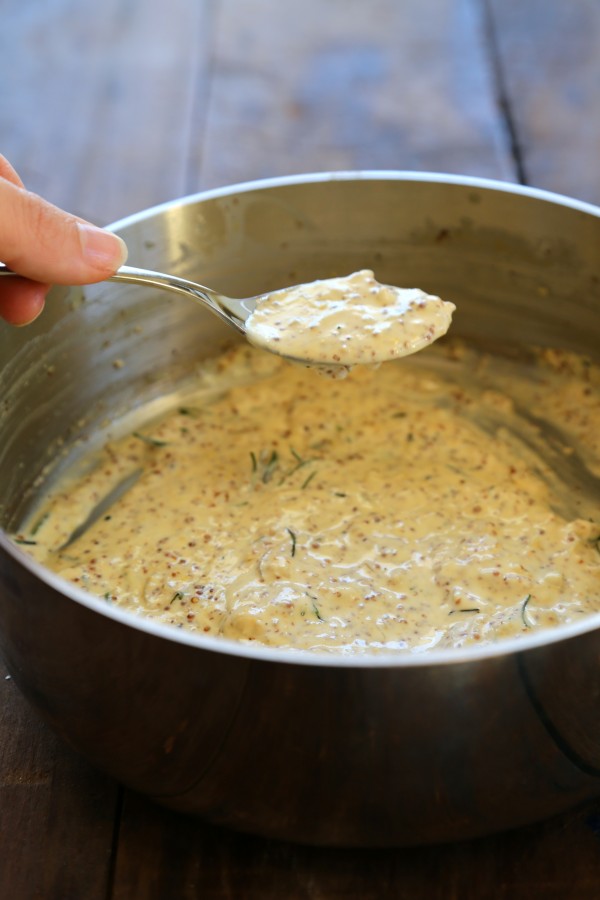 Today's recipe is a spin on the Sunday hash. I could eat breakfast all day long. Breakfast for dinner? Yes, pa-lease! I'm kind of obsessed with these scrambled-egg toasts. Not only does it have bacon, kale, and the best scrambled addition, half-n-half, but the mustard cream sauce makes me giddy! If it was appropriate to swim in, I would.
So, if you want to enjoy brunch all week long, whip up these toasts. And tell the grind, "chill-ax."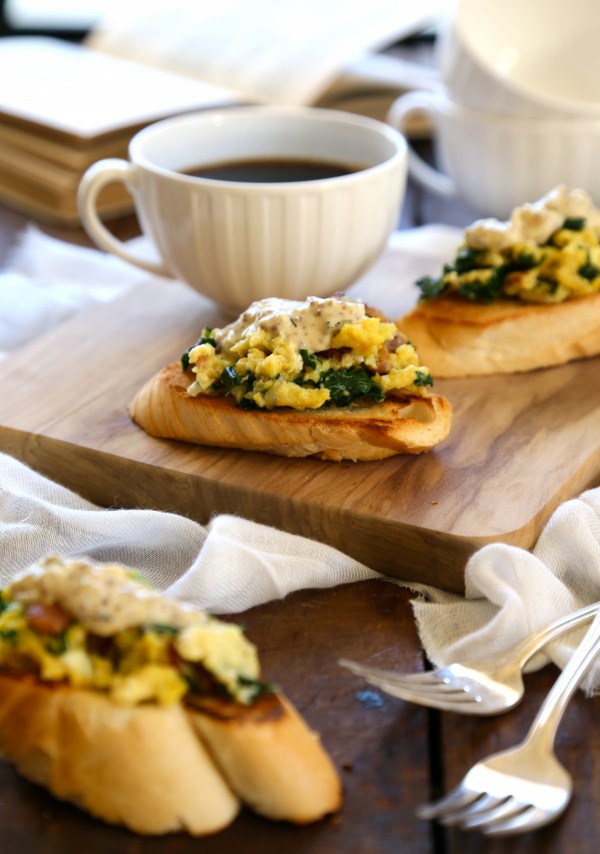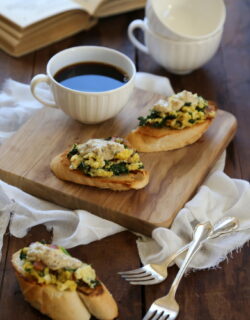 Creamy Scrambled-Egg Toasts with Bacon & Whole Grain Mustard Cream Sauce
Ingredients:
6 large eggs
1 tablespoons half/half
1/3 cup white cheddar cheese, shredded
3 pieces bacon, diced
1 large shallot, diced
1 cup kale, diced
1 baguette, sliced into toasts
parsley, garnish
salt and pepper to taste
for the mustard cream sauce:
1 shallot, diced
1/3 cup white wine
2 tablespoons whole grain mustard
1/2 cup heavy cream
2 tablespoons fresh rosemary
salt and pepper to taste
Directions:
In a medium bowl, beat eggs, half and half, cheese, and a little s&p. Set aside.
Preheat a skillet to medium heat. Add the bacon and cook until crispy and golden. Remove with a slotted spoon and set aside. In the same skillet, add the shallot and cook for a minute. Add the kale and let it cook down for another couple of minutes. Pour in the eggs and cook, stir until the eggs are scrambled and cooked through.
Meanwhile, preheat a grill pan to medium-high heat and toast the baguette slices on both sides. To serve, take a baguette slice, top with the egg scramble and spoon mustard sauce over the top. Garnish with fresh parsley.
for the mustard cream sauce:
In a skillet preheated to medium heat, add the shallot. Cook for about a minute. Stir in the whole grain mustard and add the white wine. Let the wine reduce down and stir in the cream with a little s&p.
mustard cream sauce adapted from Food Network
All images and text ©