foodie fridays: easy buttermilk bacon biscuits with harissa butter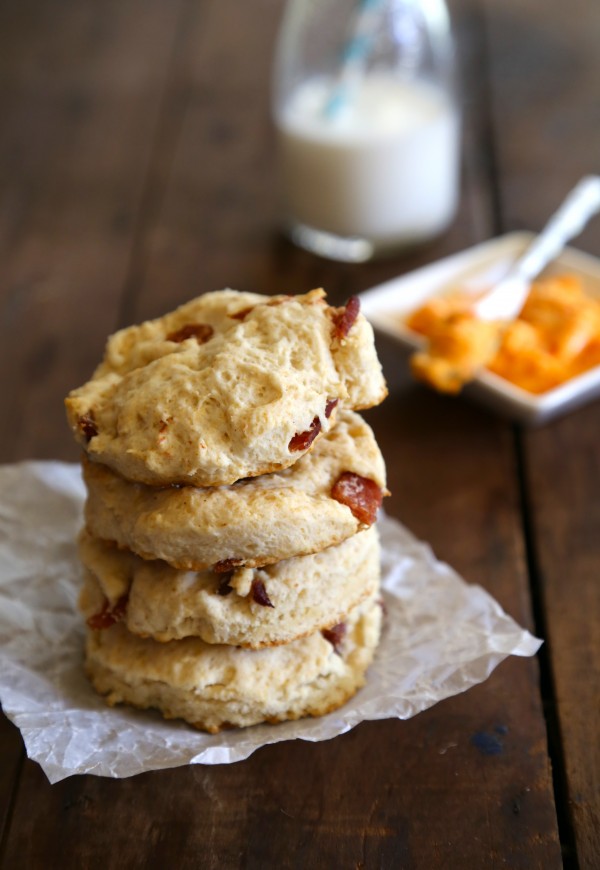 Mr. B and I have different approaches when it comes to eating.
In fact, it's one of the few things in our marriage where we simply agree to disagree. Mr. B is of the "sectional eater" kind; he gives each vegetable or potato or meat serving individual attention and eats them in a particular order.
Now, yours truly is of the mix-everything-together-corn-in-my-mashed-potatoes variety. Seriously, is there anything better than grilled corn, mashed potatoes, and gravy mixed together? Instead of yogurt shops, they should have mashed potato shops where you can mix in 100 + flavors! #itcouldhappen
Even though Mr. B won't be mixing his corn and mashed potatoes anytime soon, I do believe I can get him to mix different cultural foods together. When I think of a buttermilk biscuit my mind instantly heads straight to the South. I don't know how they do it south of the Mason Dixon line, but they sure know their biscuits. My favorite being buttermilk. So light, fluffy, and buttery, it's the perfect vehicle to load on your favorite ingredients.
Which is why harissa butter is the perfect side kick to the biscuit. Harissa is a Northern African spiced chili sauce made up a mixture of peppers such as red roasted and Serrano peppers. In Northern Africa they put harissa on everything! So naturally why not mix it with a little butter and put it on a biscuit!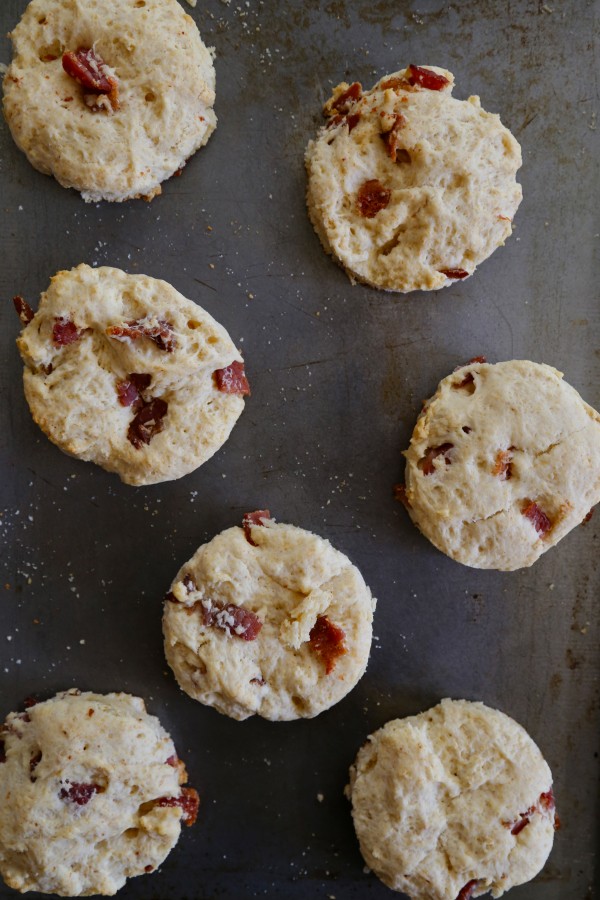 Let me tell you friends, if there were a 12 step program to getting sectional eaters to mix up their foods, this would be step #1. Okay, probably number two because the first step is admitting you have a problem. But nonetheless, these buttermilk biscuits with harissa butter are fool-proof way to get them to mix it up.
Now, about those mashed potato shops…..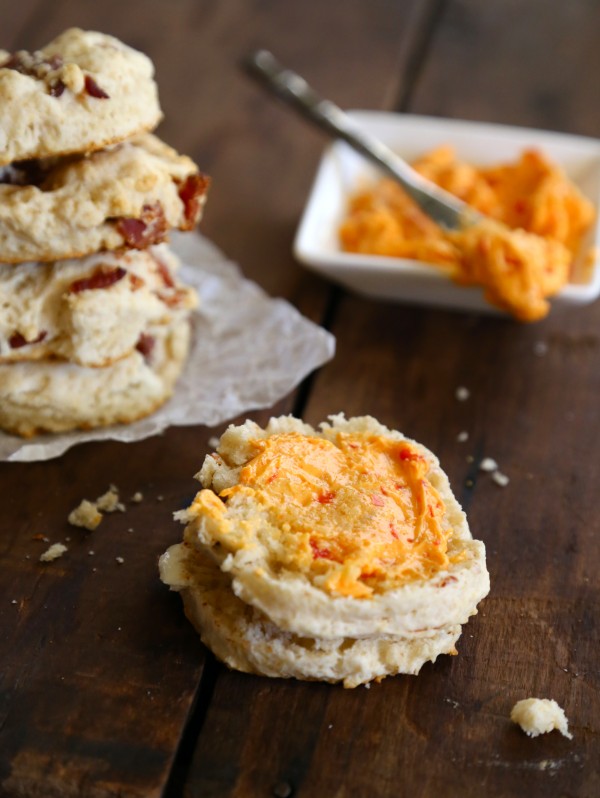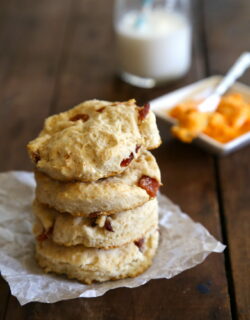 Easy Buttermilk Bacon Biscuits with Harissa Butter
Ingredients:
for the biscuits:
5 slices bacon, cooked, diced
2 cups all-purpose flour
1/2 teaspoon kosher salt
2 teaspoons baking powder
1/2 teaspoon baking soda
1/2 cup unsalted butter, cut into cubes
3/4 cup buttermilk
for the harrisa butter:
1 stick unsalted butter, room temperature
1/4 cup harissa
Directions:
for the biscuits:
Preheat oven to 425 degrees. Spray a baking sheet with non-stick cooking spray. In a large bowl, combine dry ingredients. Place mixed dry ingredients into a food processor along with cold butter and bacon. Pulse a few times until the dough starts to turn course. Slowly stream in the buttermilk until the dough forms a ball. Remove from food processor and place dough on a floured surface. Knead a few times and roll the dough out into a 1/2 inch thick circle. Take a three-inch biscuit cutter and cut out rounds. Place rounds on baking sheet and bake for about 12 to 15 minutes or golden brown. Spread some of the harissa butter on top!
for the harissa butter:
In a medium bowl, combine butter and harissa. Set aside until ready to serve with biscuits.
biscuit recipe adapted from Completely Delicious
All images and text ©