crispy chicken slider with fried egg & chipotle tabasco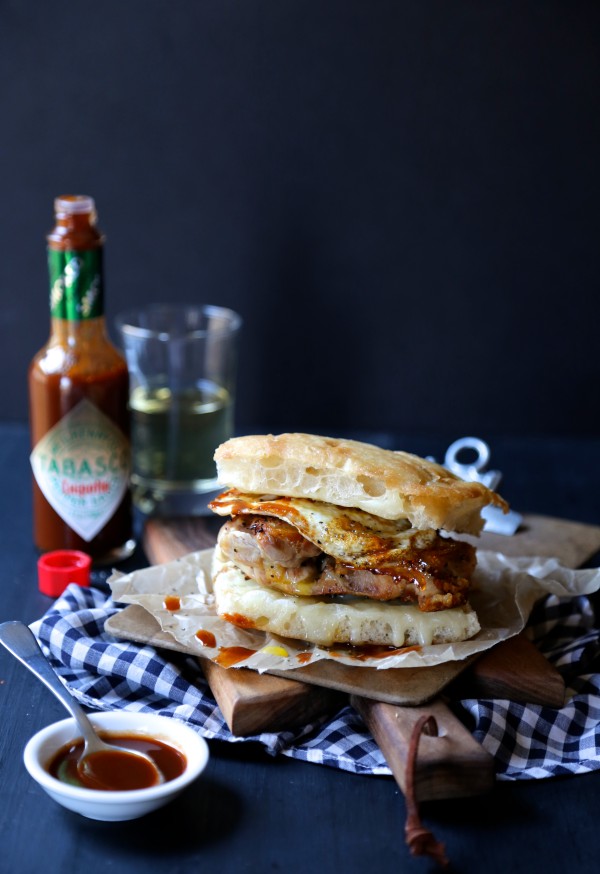 Are.You.Ready?
Let's dewwwwwww this.
Today is the kickoff of a week long celebration of everything Tabasco. If you read my blog regularly you know I love to spice up anything and everything. I like to put hot sauce on my hot sauce, if you will.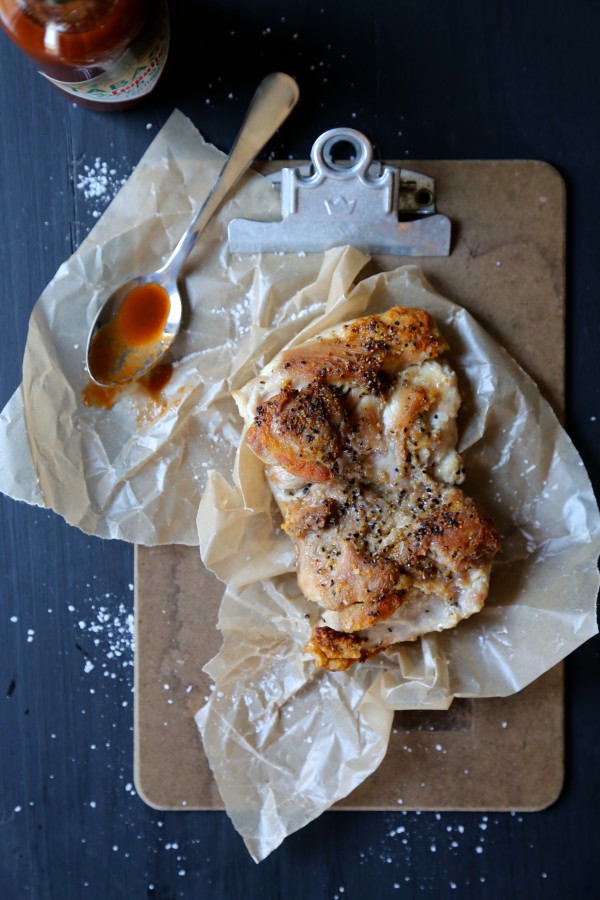 So, when Tabasco approached me about joining their #Tabasco10 Ingredient Challenge, I was in, in. Here's the dealio…..over the next five days, I will be posting five different recipes using only 10 ingredients. That's right – 10 INGREDIENTS!! I felt like I was on Top Chef and just asked to complete a quickfire challenge. The sweat started to pour from my forehead, my heart began to beat faster, and my "what the heck am I going to make" freak-out set in.
BUT! Yours truly loves a challenge and after reading through the grocery list, I knew I could throw down. Here is the list we will gather inspiration from.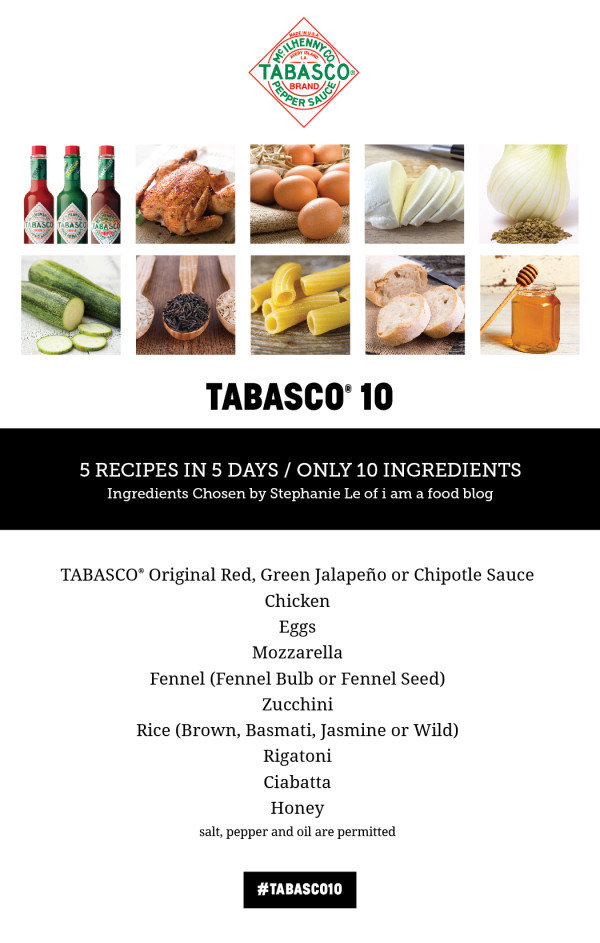 My first recipe is a nod to Mr. B and his love for Tabasco. I wouldn't know the amazing flavor possibilities of Tabasco if it wasn't for being married to this man. His favorite combination is Tabasco on fried chicken. Yep, yep. So, when I saw chicken, egg, and ciabatta listed, I knew exactly what to make.
This Crispy Chicken Slider with Fried Egg & Chipotle Tabasco is perfect for the weekday or brunch on the weekend. Either way, crisp up the chicken, fry up an egg, and slather the top with smoky Chipotle Tabasco. I'm telling you, Tom Colicchio would totally approve.
Also, make sure to check out some other fabulous bloggers who are whipping up tasty Tabasco recipes!
***This post was sponsored by Tabasco. As always, all opinions expressed are 100% my own.***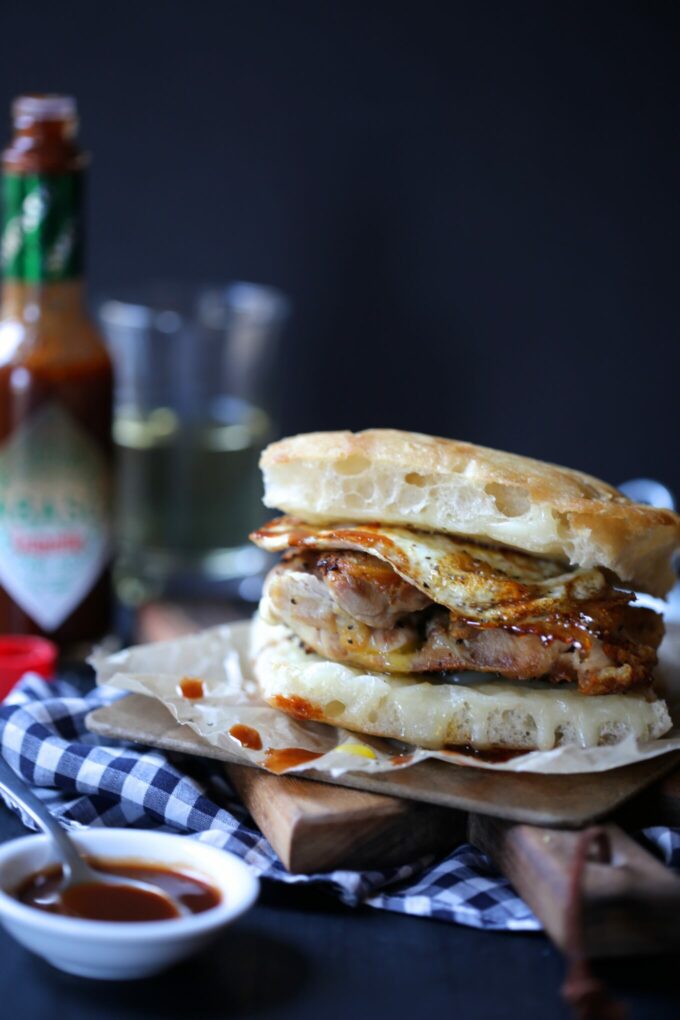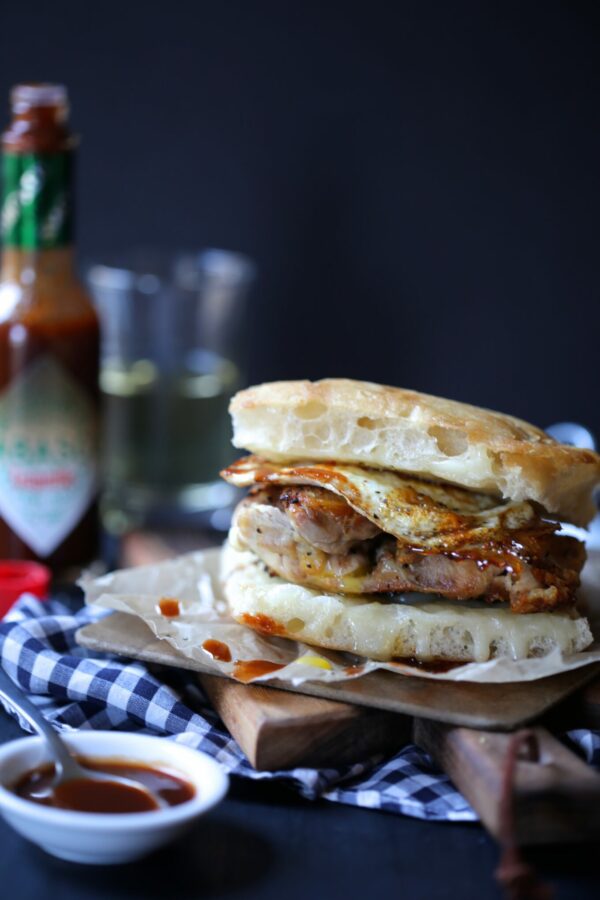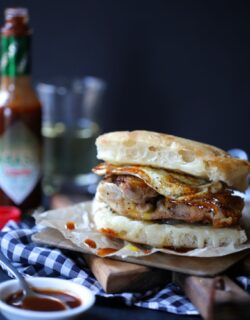 Crispy Chicken Slider with Fried Egg & Chipotle Tabasco
Ingredients:
1/4 cup + 1 tablespoon olive oil
1 small boneless chicken thigh
2 slices mozzarella
1 ciabatta roll, sliced in half
1 large egg
1 teaspoon honey
1 teaspoon Chipotle Tabasco
1/4 teaspoon kosher salt
3/4 teaspoon coarse ground pepper
Directions:
Place chicken thigh on a plate. Salt both sides of the chicken and add 1/4 teaspoon of black pepper to both sides as well. In a medium skillet, add the olive oil and preheat to medium-heat. Once hot, add the chicken to the skillet. Cook on the first side for about 4 to 5 minutes or until crispy. Flip and cook the chicken an additional three minutes. Remove from skillet and place on a plate lined with a paper towel.
Turn the broiler on. Place ciabatta roll on a baking sheet and lay two slices of mozzarella on top of each slice. Put the baking sheet under the broiler and let the cheese melt. Remove from broiler and place chicken thigh on bottom bun.
Next, in a smaller skillet preheated to medium heat, add the remaining tablespoon of olive. Crack the egg and place into the skillet. Cook until the center of the egg slightly opaque about two minutes, flip, cook for additional minute and remove from skillet. Add the egg on top of the chicken. Add honey and Tabasco on top and place remaining bun on top of the egg and sprinkle with remaining pepper. Eat immediately.
All images and text ©