Dark Chocolate Brownies with Blueberry Marshmallow Frosting
Dark Chocolate Brownies with Blueberry Marshmallow Frosting are an easy, but decadent dessert! Chewy, dark chocolate brownies covered with fruity marshmallow frosting makes this dessert two-snaps around the world.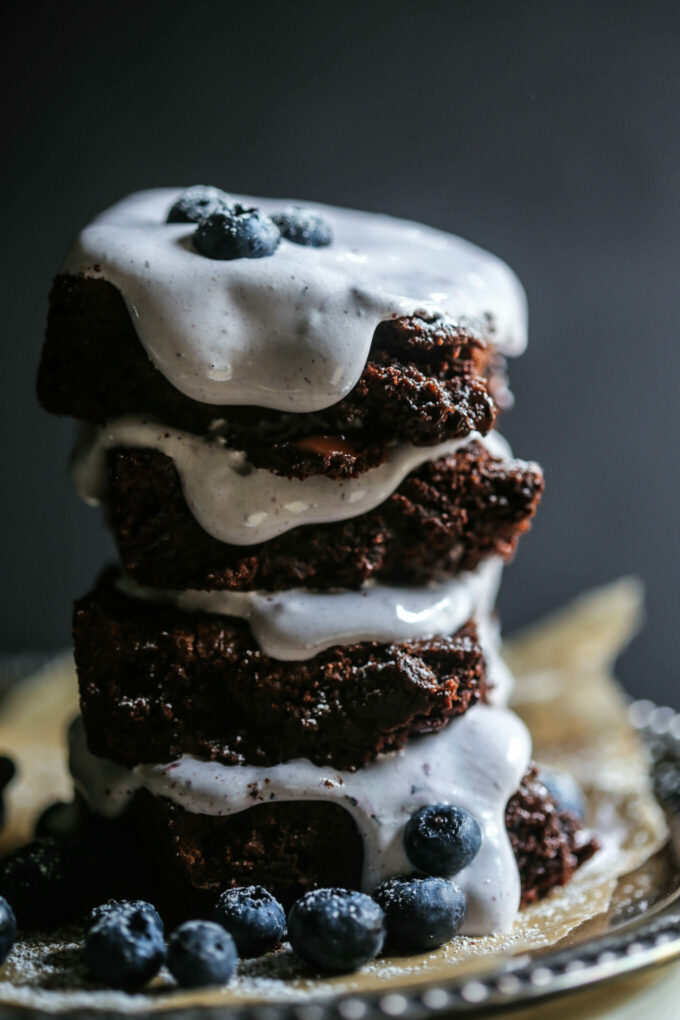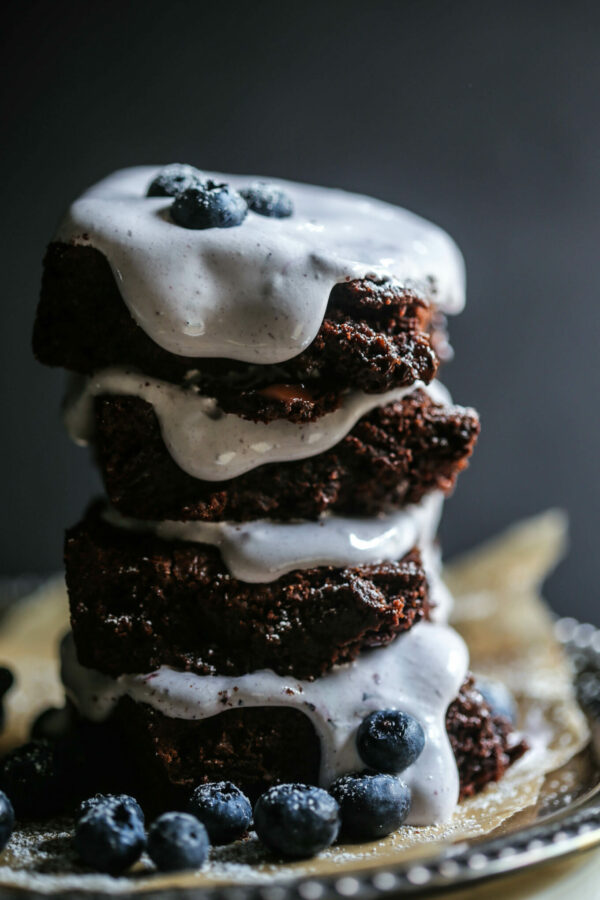 Have you seen it?
GAH!
Unless you've been living under a rock lately, which I hope you haven't. Could you imagine living under a rock? Well, unless you're hanging with some Fraggle Rock peeps then that would be AMAZING-AF. Do you guys remember that show? I miss the 80's. In my opinion it was seriously one of Jim Henson's greatest Muppet creations. I remember collecting the Fraggle Rock characters in my McDonald's happy meal. Ahhhh….those were the days.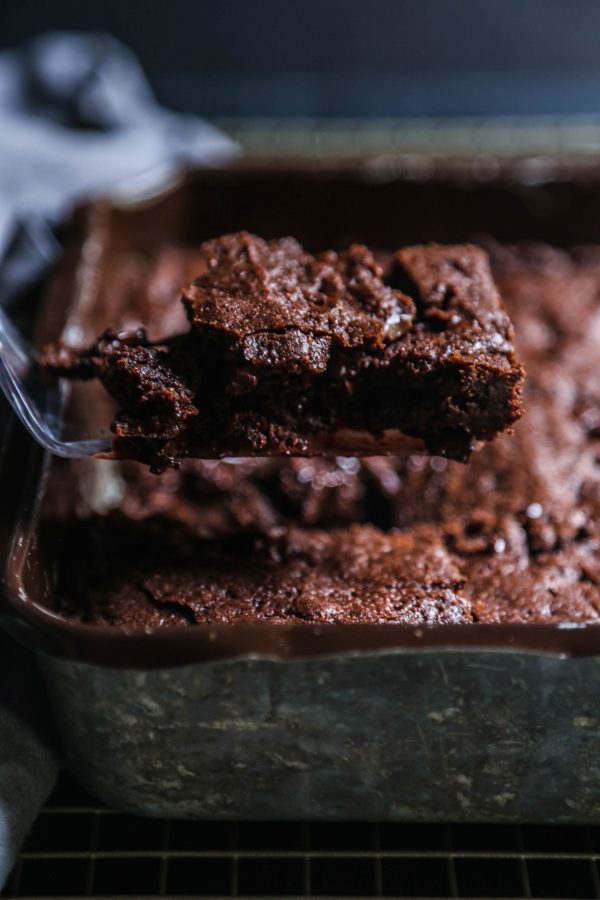 BUT! Speaking of the 80's and back to the point of the post, have you see Stranger Things? I don't watch horror movies period. Once I watched Exorcism and slept on the floor for month with a crucifix next to me. Overkill? It beats being possessed. Am I right?
This show (which you can watch on Netflix) is a mash-up of Goonies meets X-files. If you are a child of the 80's you will binge watch this show in a day. The writing, cinematography, and acting is so spot on. I won't give away any spoilers, but how obsessed are you with Eleven? Can you say total badass? If you haven't' seen the show, seriously, set aside a couple of hours and just power through it.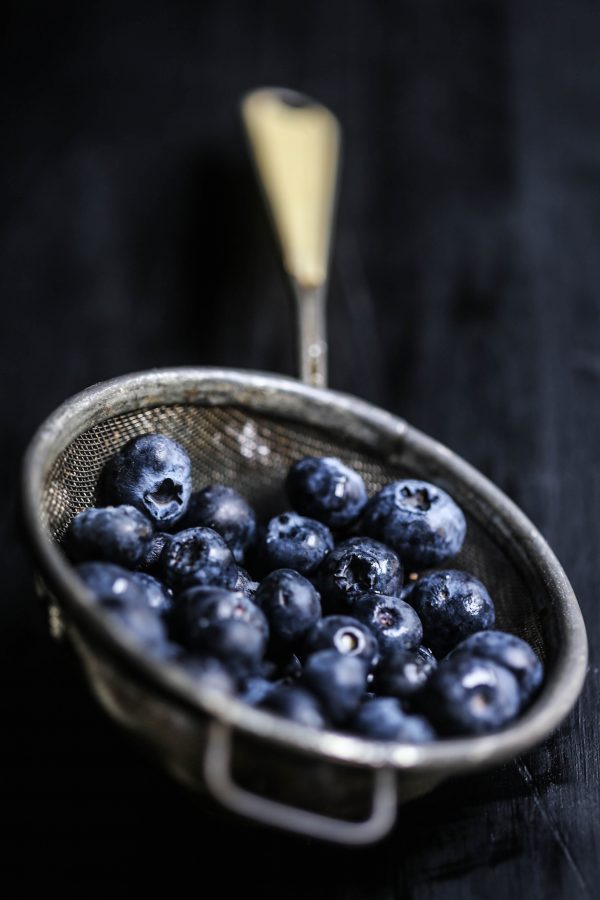 Oh, and I totally recommend making a few of dozen of these Dark Chocolate Brownies with Blueberry Marshmallow Frosting to nosh on while you are watching. Decadent, gooey brownies covered with a blueberry marshmallow frosting will not only make you feel like a kid again, but prove that the 80's were the best!
Just ask the Fraggle Rock dudes……"Dance your cares, worry's for another day, let the music play….clap, clap, down at Fraggle Rock."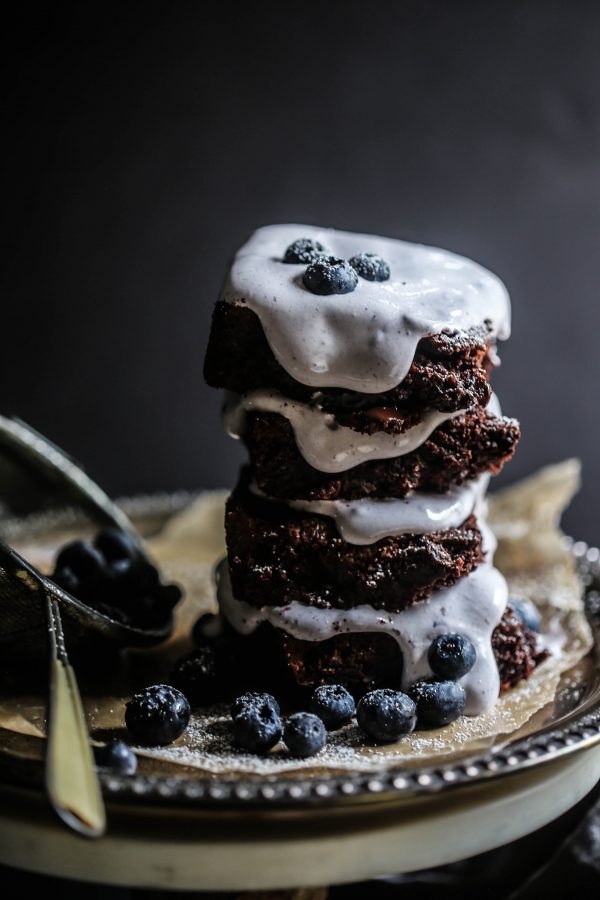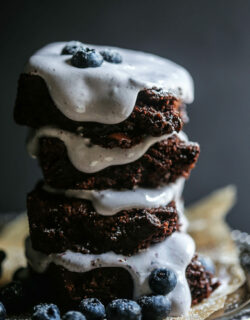 Dark Chocolate Brownies with Blueberry Marshmallow Frosting
Ingredients:
for the brownies:
1 stick unsalted butter
5 ounces, unsweetened chocolate baking bar
1/4 cup unsweetened cocoa powder
2 cups granulated sugar
1 tablespoon vanilla
3 large eggs
1 1/4 cup all-purpose flour
1/2 cup dark chocolate chips
Fresh blueberries, garnish
for the blueberry marshmallow frosting:
3/4 cup corn syrup
1/4 cup granulated sugar
1/4 teaspoon kosher salt
2 egg whites
1 cup blueberries, pureed
1 teaspoon vanilla extract
Directions:
for the brownies:
Preheat oven to 350 degrees.
Spray an 8X8 baking pan with non-stick cooking spray. In a large saucepan preheated to medium heat, melt the butter and unsweetened baking bar. Whisk until smooth and combined. Slowly add the coco powder and continue to whisk making sure there aren't any clumps. Once combined, remove from heat and let it the saucepan cool for a minute.
Next, stir in sugar and vanilla followed by the eggs (one at a time). Add the flour in thirds making sure it's evenly combined. Pour the batter into the 8X8 and bake for about 45 minutes. Remove from oven and allow the brownies to cool completely before add the marshmallow frosting on top. Once cool, frost the brownies and garnish with more blueberries if desired.
for the blueberry marshmallow frosting:
In a food processor, puree blueberries. Pour into a bowl and set aside. Meanwhile, in a stand mixer with a whisk attachment, beat 2 egg whites with salt until frothy. Gradually add sugar, beating until soft peaks form. Heat syrup in a glass microwaveable dish until it boils (about 45 seconds in the microwave). Pour syrup in thin stream over egg white mixture, a little at a time. Beating on high speed until harder peaks form. Add vanilla and beat until glossy. Next, fold in the blueberry puree until combined.
All images and text ©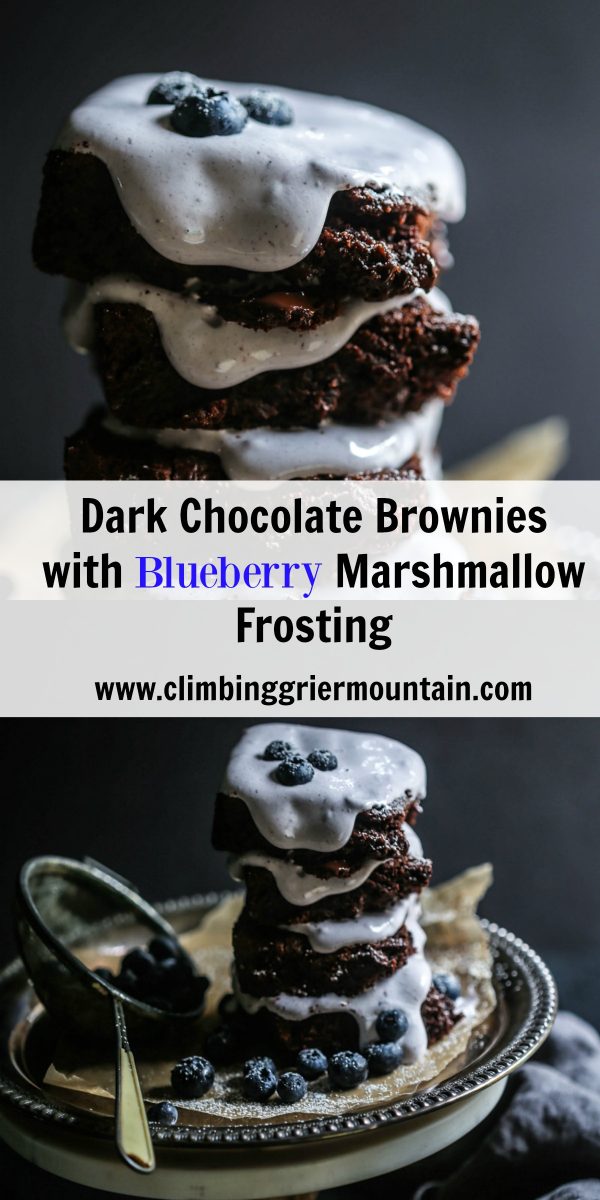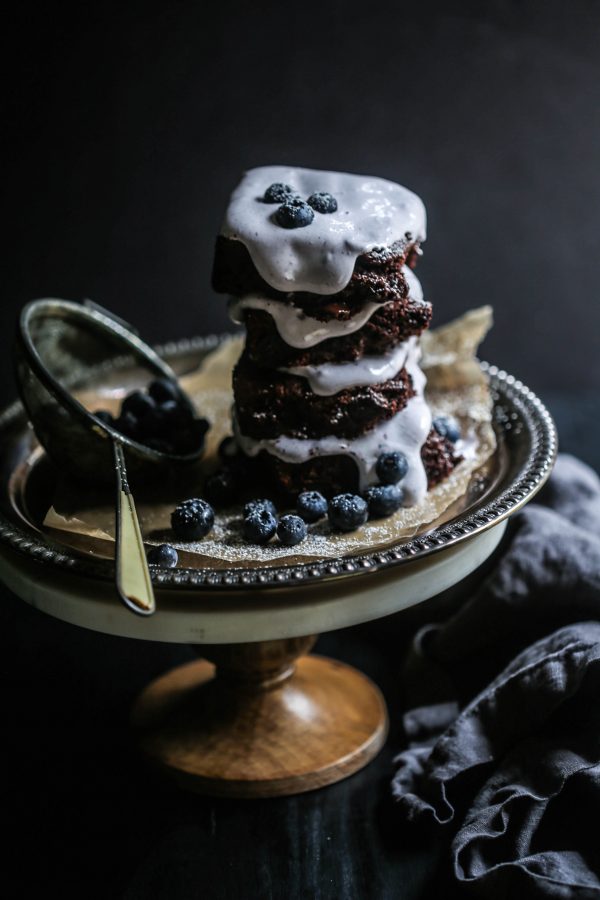 Treat yourself to the ultimate dessert delight with our Dark Chocolate Brownies and Blueberry Marshmallow Frosting. A perfect combination of rich and sweet, leaving you craving for more.