dark chocolate coconut biscotti bites with cadbury creme ganache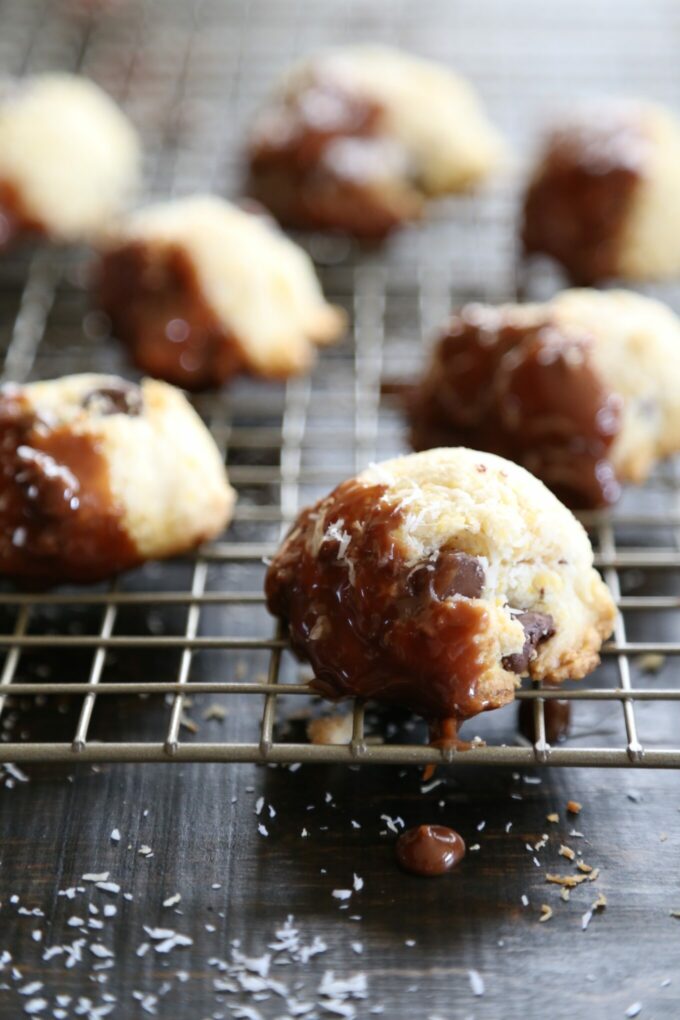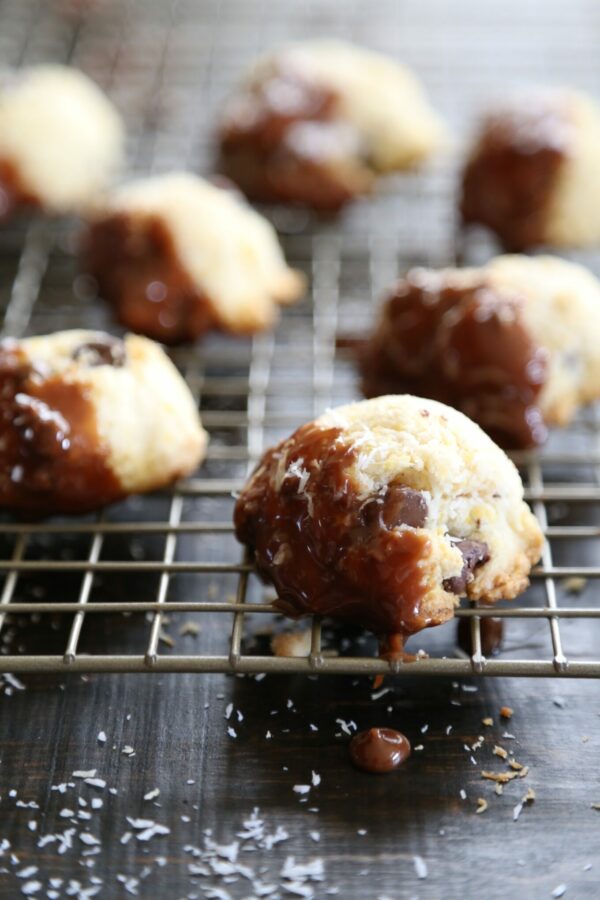 Fart on a duck.
It's Monday.
And not to mention, tomorrow is the dreaded day that starts with a capital "T" and rhymes with "Max."   OMG. Do I sound like a major Debbie Downer or what? Jeez. Where are my manners?
So, rather than think about the 2, 587 things I need to do this week as well as giving more money to the government, let's talk Easter food instead. Okay, I'll be honest, on the scale of important food holidays, Easter is not on my top five list. Is that some form of food blasphemy?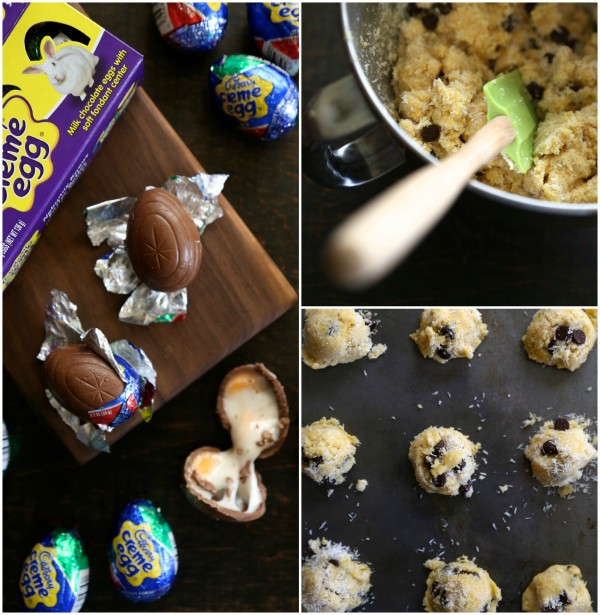 Anyways, Fourth of July, Thanksgiving, Christmas, Halloween, and Valentine's Day are my top five in case you were dying to know.  I've always felt Easter is more about the goodies inside the basket and how many eggs you can find in your backyard then the dinner spread. Maybe it's because I'm not a big ham person. Scalloped potatoes are way over done. Dear God, I'm an Easter food critic. Help!
But! I will give Easter some street credit. The desserts on Easter are legit-legit. My mom used to make a chocolate cake with white frosting and she would dye the shredded coconut green to put on top. I thought it was the coolest thing on the planet.  Another Easter dessert favorite:  Cadbury Creme Eggs, yo. You just can't beat the chocolate, cream- filled egg.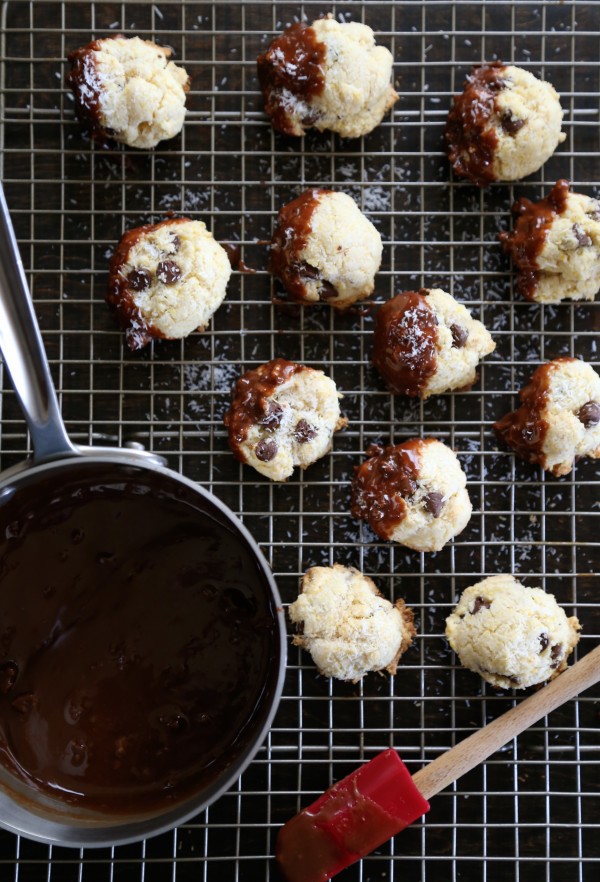 Although what if I told you I took said Cadbury Creme Egg, turned it into a ganache and dipped some bite size dark chocolate coconut biscotti into it?  I would say Easter dessert just went to an 11/10 situation.  Sa-weet.
These bites are super easy to make and actually make great treats to put into Easter baskets or something to nibble on for the morning church commute.
PSA: no bunnies were harmed in the making of these bites.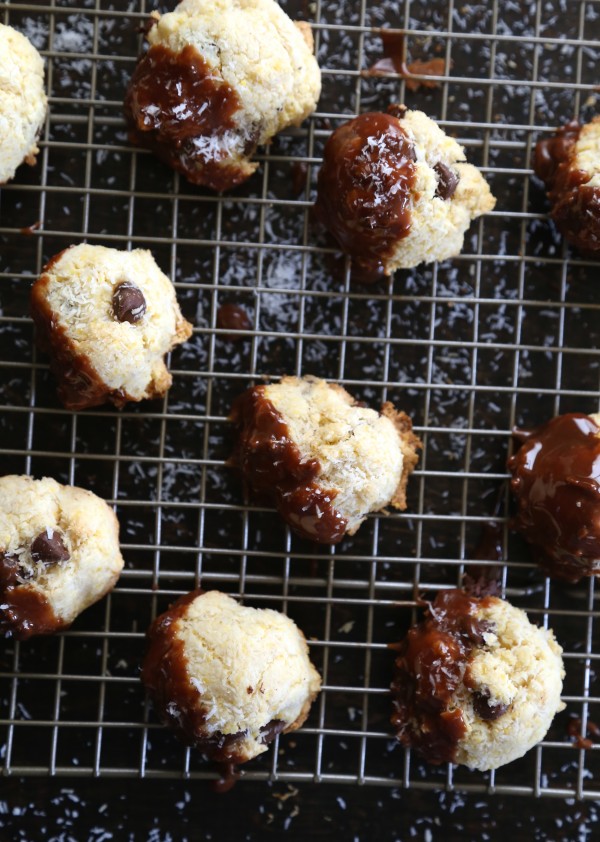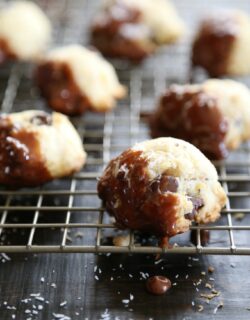 Dark Chocolate Coconut Biscotti Bites with Cadbury Creme Ganache
Ingredients:
for the biscotti:
1 1/4 cups all-purpose flour
1 1/4 cups super fine cornmeal (almost powder like)
1/2 teaspoon kosher salt
1/2 teaspoon baking powder
1 cup granulated sugar
3/4 cup unsalted butter, room temperature
2 large eggs
1 1/2 cups sweetened shredded coconut
1 cup dark chocolate chips
for the ganache:
6 cadbury creme eggs, halved
1/4 whipping cream
Directions:
for the biscotti:
Preheat oven to 350 degrees.
In a bowl, combine flour, cornmeal, baking powder, and kosher salt. In a mixer fitted with a paddle attachment, beat butter and granulated sugar together. Add the eggs one at a time and beat until well combined. Add the flour in thirds, trying not to over mix. Finally, add the coconut and chocolate chips. You may need to combine the last ingredients by hand because the batter will be thick.
Wrap dough in plastic wrap and let it chill in the fridge for at least 30 minutes. Spray a baking sheet with non-stick cooking spray. Drop about a tablespoon of the dough on the baking sheet (about an inch a part). Bake for about 15 to 18 minutes or until golden brown. Remove from oven and place on a wire rack to cool. Repeat process until all the dough has been used.
Once the bites have cooled, dip half of the bite into the cadbury creme ganache. Sprinkle with extra coconut if you want. Place on wire rack to set.
for the ganache:
In a medium sauce pan, add the cadbury creme eggs and whipping cream. Bring to a simmer and continue to stir so the chocolate doesn't' burn. The chocolate should start to thicken after a few minutes. Remove from heat and let cool slightly before dipping the bites.
recipe adapted from yahoo.com food
All images and text ©