Easy Asparagus Carbonara
"Easy Asparagus Carbonara is a delightful and convenient side dish. With just one skillet and 15 minutes, you can enjoy the perfect blend of quick preparation and delicious flavors, making it an excellent addition to any meal."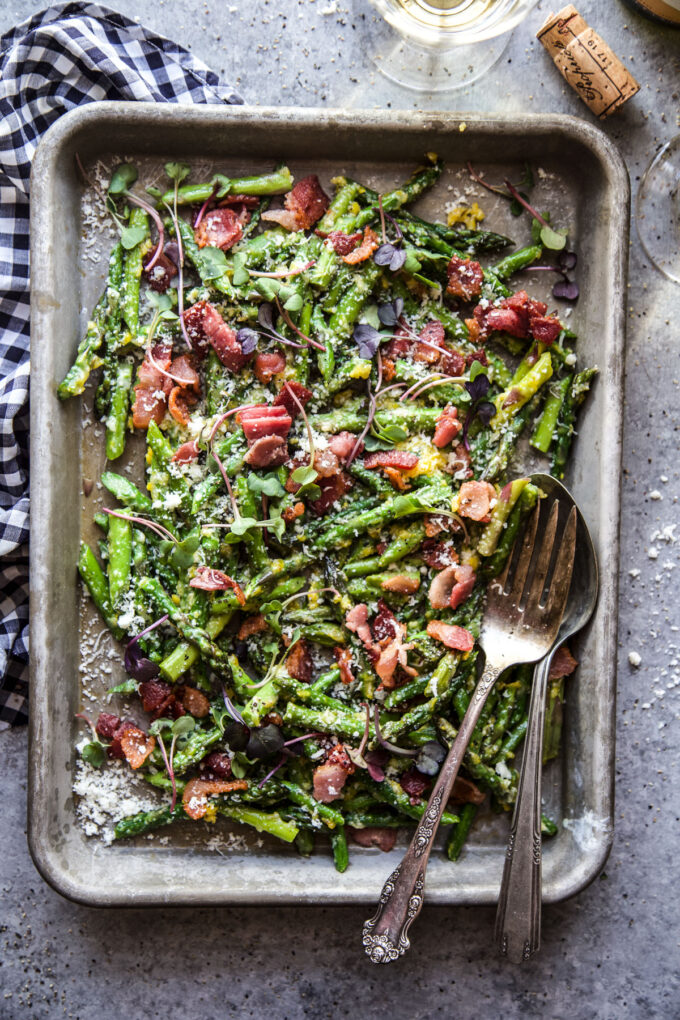 Spring sides.
We are inching our way into warmer temps which means all the fresh produce!
Asparagus is wonderful this time of year. This vegetable is so versatile when comes to cooking. I've cooked it on the grill, roasted it in the oven, and for today's recipe we are making a quick version in a skillet.
This Easy Asparagus Carbonara is a new household favorite. Made with a few ingredients (like 5!!) it's one of those recipes you'll keep on back burner because it's so quick to make.
Ready to see what all the fuss is about?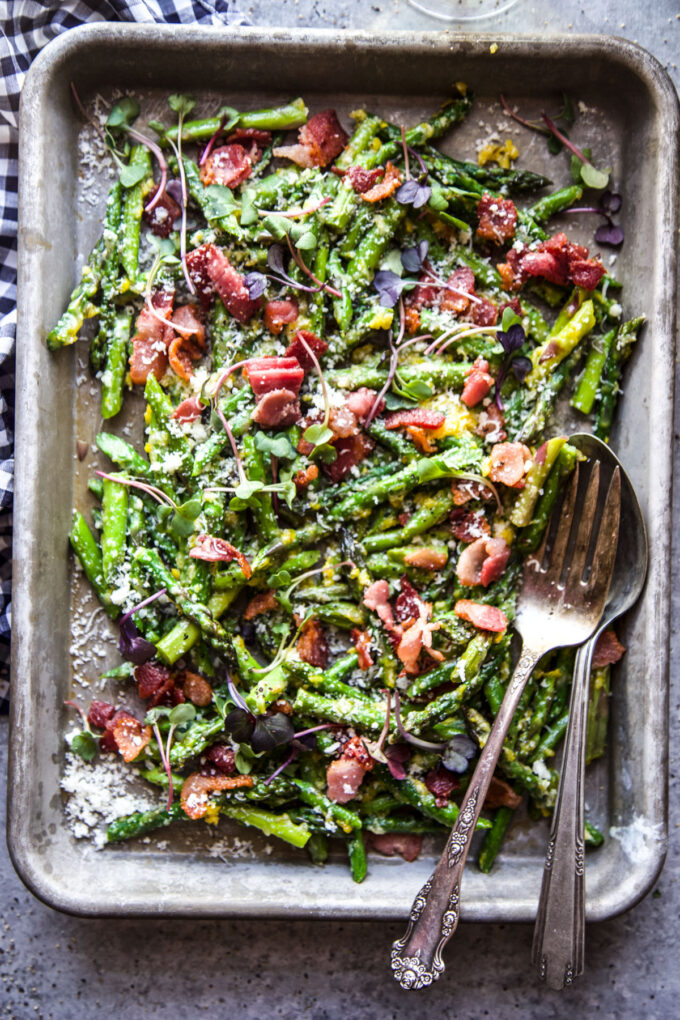 What's in this Easy Asparagus Carbonara?
One of the best things about this side dish besides its quick cooking time is that you only need a handful of ingredients. Sound to good to be true? Well, for this recipe you will only need:
Bacon
Asparagus
Egg yolk
Unsalted butter
Grated Parmesan
salt and pepper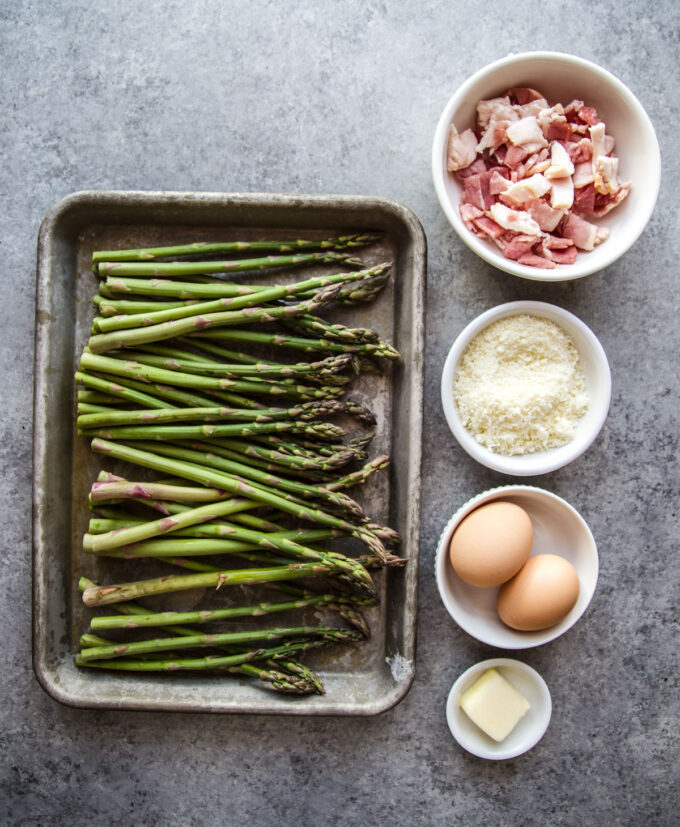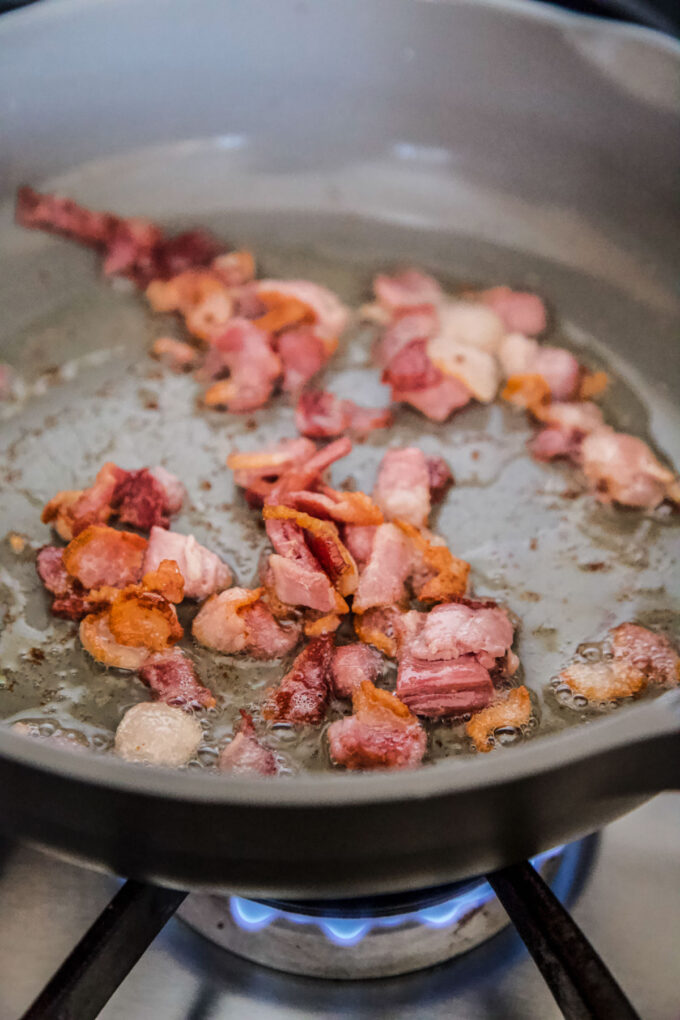 Tips for Making this Easy Asparagus Carbonara:
Asparagus. If you can find thinner asparagus at the store I would grab a bundle. Thicker asparagus will only add to your cooking time.
Bacon. I like using thicker cut bacon because it's generally what I have on hand. If you have pancetta in the fridge that works too!
Parmesan. Is there anything better? I keep a tub of grated Parmesan in the fridge because it will make any dish shine!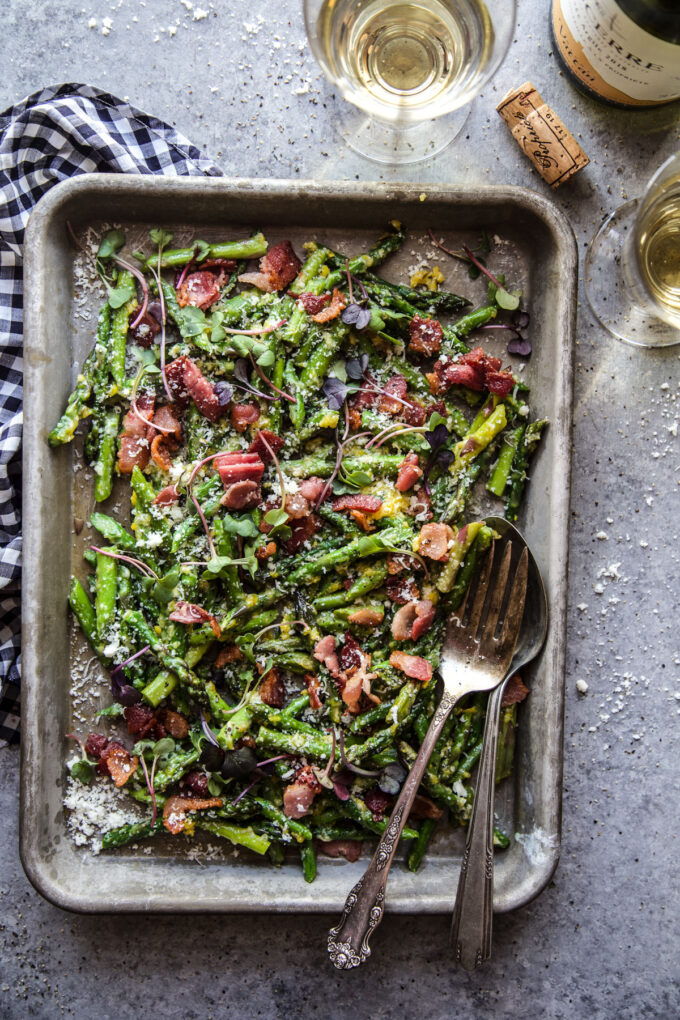 Frequently Asked Questions:
Can I make this Vegetarian?
Yes! I would swap out the bacon for a plant based protein to use instead.
I'm not a big fan of asparagus, what would be a good substitute?
If you aren't into asparagus I would try using peas or carrots. Both would be a great veggie option and still pack a lot of flavor.
Can I make this dish ahead of time?
Since this dish is super quick to make, I would advise to make and serve it as is. Simply because you don't want the asparagus to get soft.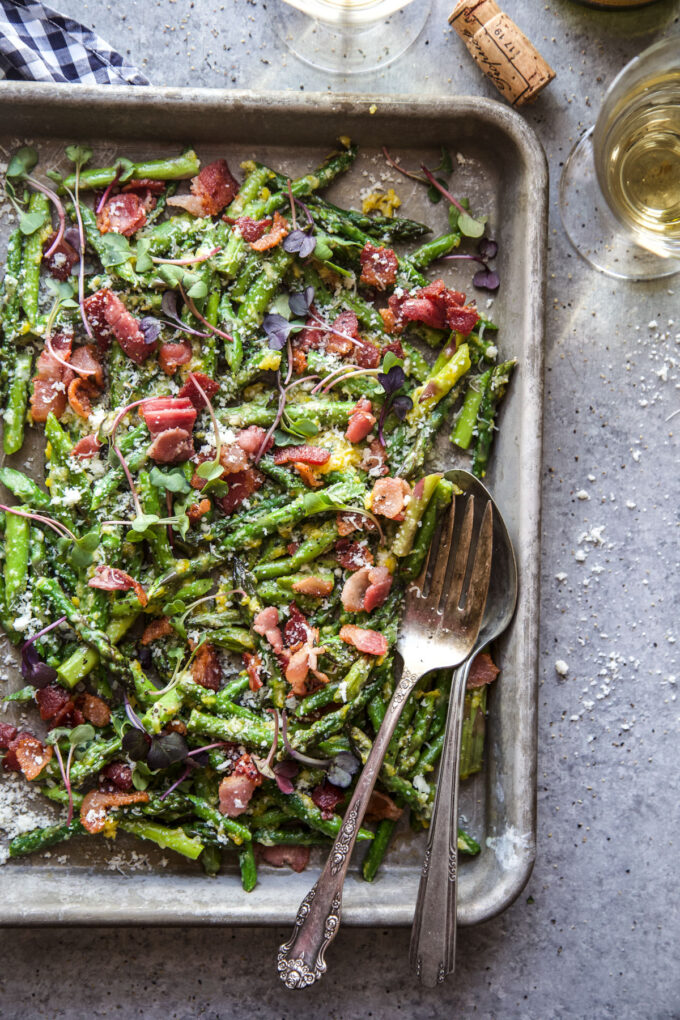 More Delicious Asparagus Recipes to Enjoy: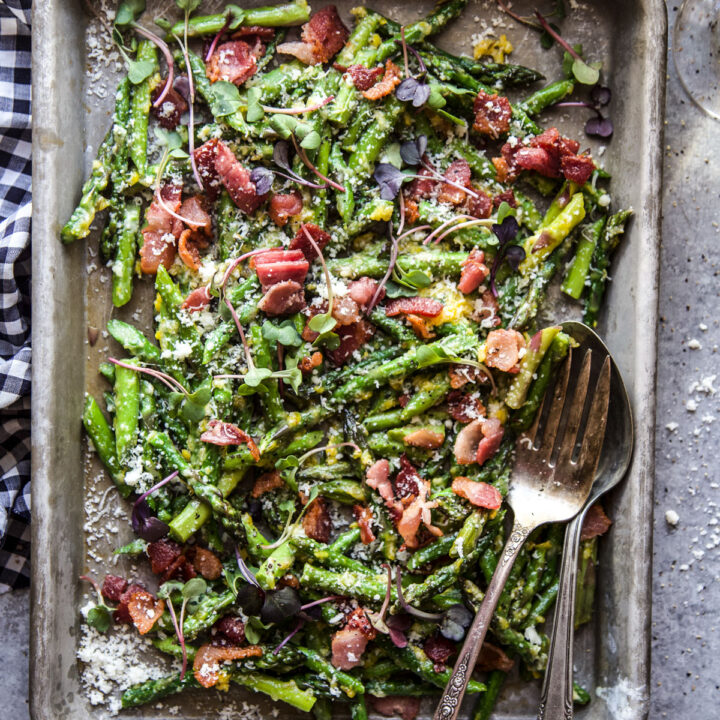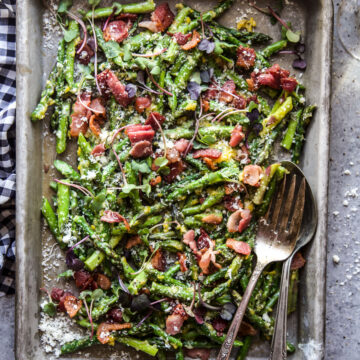 Easy Asparagus Carbonara
Easy Asparagus Carbonara is a delicious and quick side dish that's made in one skillet and only takes 15 minutes to make! 
Ingredients
4 ounces Bacon, finely chopped
1 lb Asparagus, cut diagonally
2 large Egg yolks
1 tbsp Unsalted butter
3 tbsp Finely grated Parmesan
Kosher salt and pepper to taste
Instructions
Preheat a large non-stick skillet to medium high heat. Add the bacon and cook, stirring occasionally, until crisp, about 3 to 5 minutes. Drain off the excess renderings, leaving just enough to coat the skillet. 

Next, add the asparagus and 2 tablespoons of water and cook over medium high heat until the asparagus is crisp-tender, about 2 to 4 minutes. 

Remove the skillet from the heat and immediately add in the egg yolks and butter to the skillet. Cook, tossing the asparagus, until the butter is melted. 

Toss in the Parmesan and season with salt and the pepper. Transfer to a bowl and enjoy!
Did you make this recipe?
Please leave a comment below and share a photo on Instagram with the hashtag #thecuriousplate!
In summary, Easy Asparagus Carbonara is a swift and delightful side dish, harmoniously blending quick preparation with delectable flavors, making it an ideal complement to any meal.