Cilantro Tomato Smoked Salmon
"Cilantro Tomato Smoked Salmon is a delightful dish created with Rotel, cilantro, green onions, and a whole plank of salmon. This flavorful seafood creation offers a perfect blend of freshness and smokiness, making it a delicious and aromatic addition to your dining experience."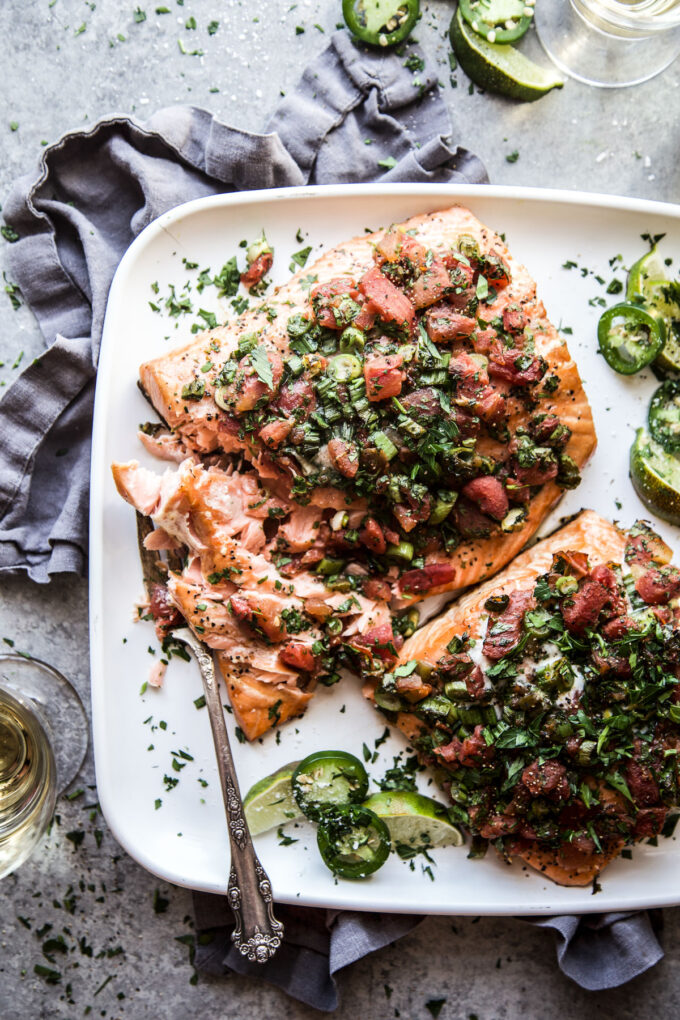 I can't take all the credit.
Today's recipe is inspired by my father-in-law. He has quite the appetite for cooking like yours truly and is always willing to deep dive into the culinary abyss.
Well, this Cilantro Tomato Smoked Salmon is a tried and true recipe he's made countless times. Charlie had this when she was first starting to be introduced to food and gobbled it up.
What's great about this recipe is it takes minimal prep time and when cooked on the smoker, the salmon takes on even more flavor. Truly, a dish to be made all year round.
Alright, I say we dive in and make this delicious smoked salmon!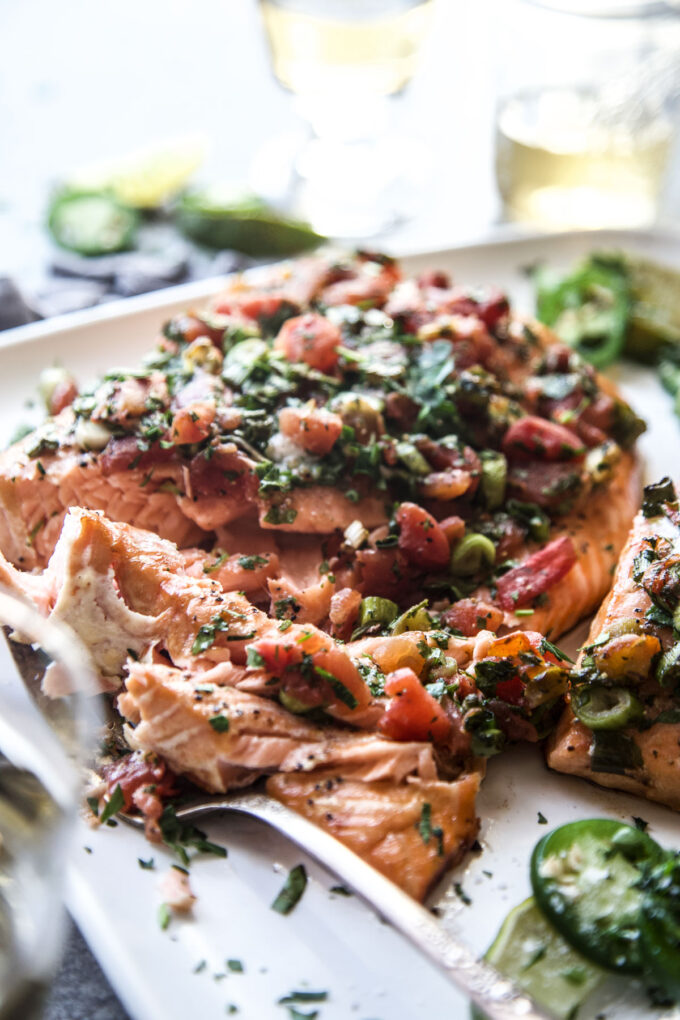 What's in this Cilantro Tomato Smoked Salmon?
If you've been a long time reader of The Curious Plate you know that I try to use minimal ingredients, but never sacrifice flavor. For this recipe you will only need:
Whole Plank of salmon
Original can of Rotel
Fresh cilantro
Green onions
Kosher salt and pepper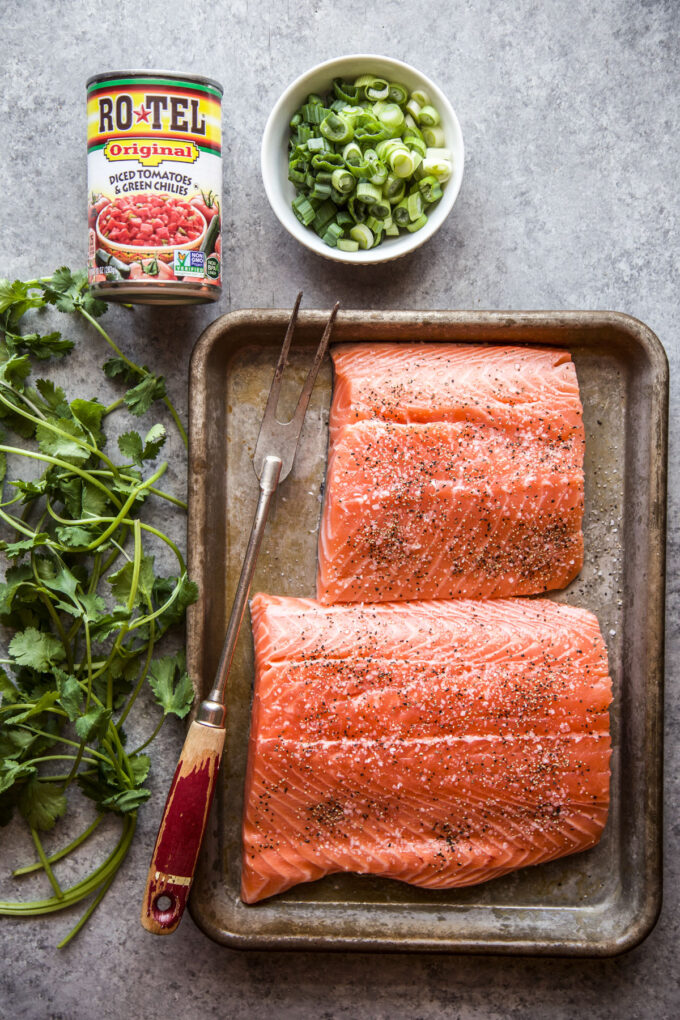 Tips for Making this Cilantro Tomato Smoked Salmon:
Salmon. You want to buy fresh salmon if you can. Check with your local fishmonger to see if they have wild caught in stock. Pro tip: when buying fish, if it smells fishy then the fish has gone bad!
Rotel. I like the original can of Rotel because the heat is just about right. However, if you want to add more spice you can certainly use a can with a higher heat level.
Cilantro. I know, I know, it's a pain to prep. BUT! I promise it adds great flavor and freshness to this salmon topping. If cilantro isn't your jam you can definitely try parsley.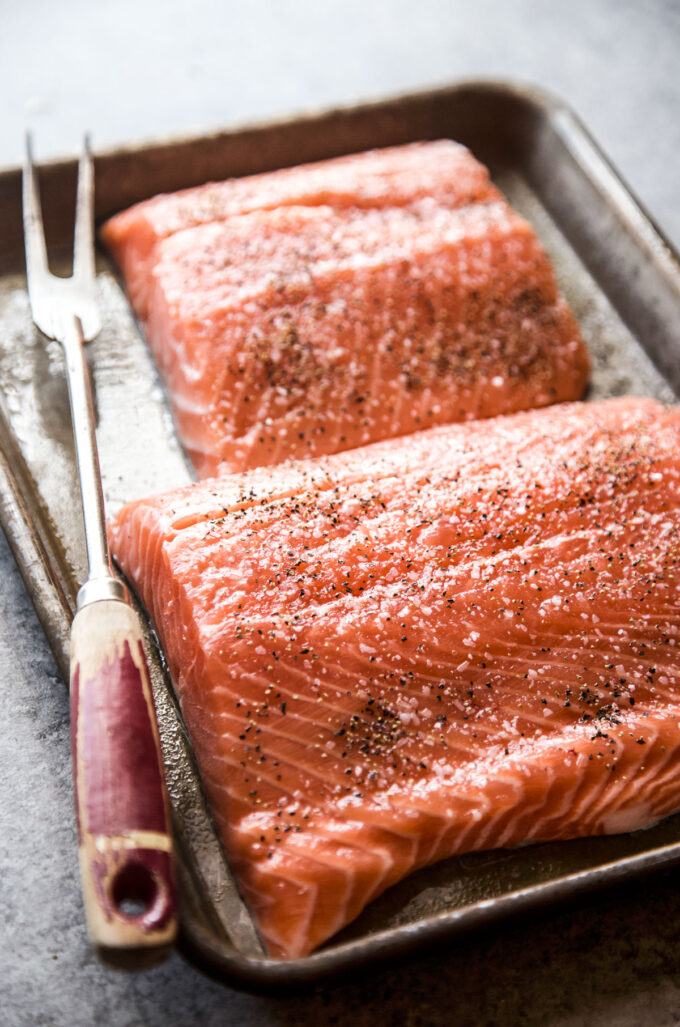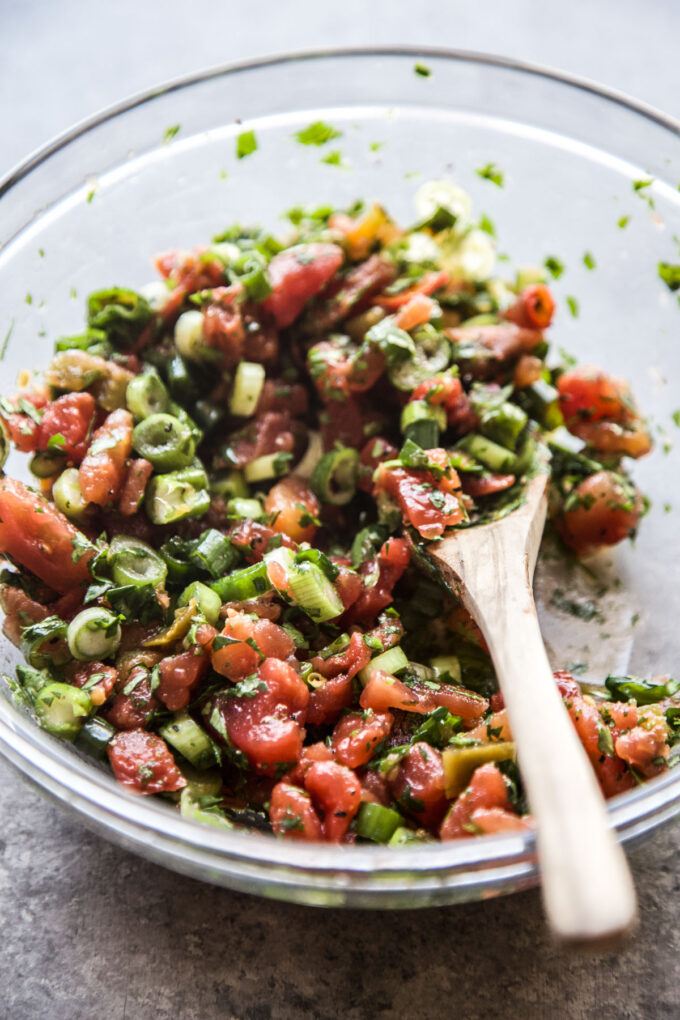 Frequently Asked Questions:
Do you have to use salmon as the base? What other types of fish can you recommend?
You don't have to use salmon. If you would like a different type of fish I would try halibut or sea bass.
What if I don't have a smoker?
Not a problem at all. I would simply use your oven instead. Same cooking temps and times applies.
How do you know when the salmon is cooked?
The USDA recommends 145 degrees for a salmon to be safely cooked.
How long will the salmon keep in the fridge?
If you store the salmon in an airtight container it will keep up to 2 days in the fridge.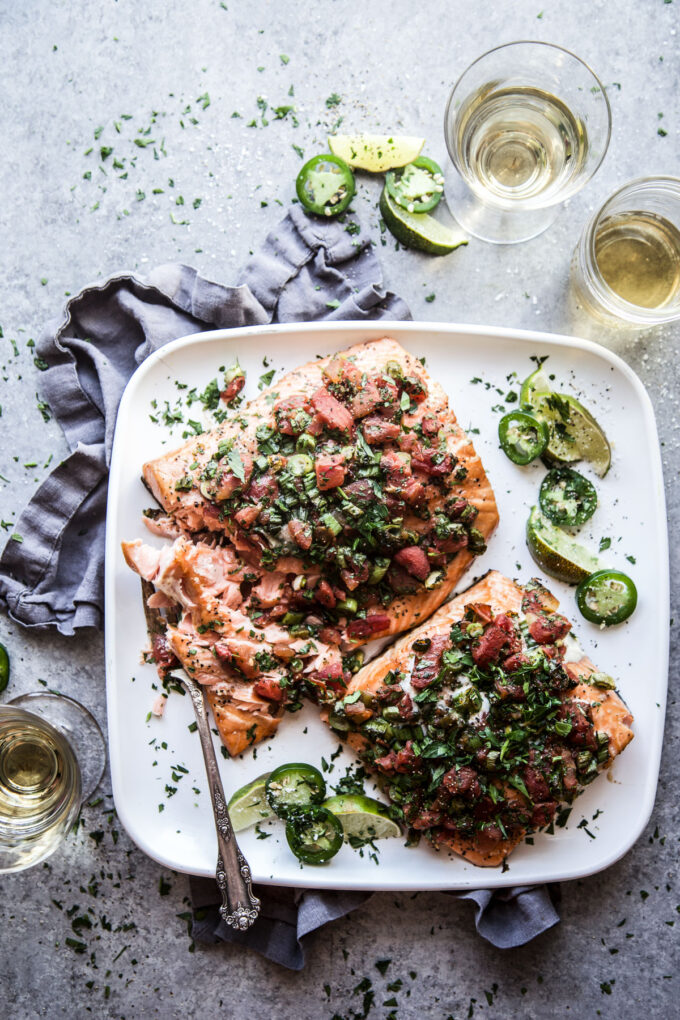 More Delicious Salmon Recipes to Enjoy: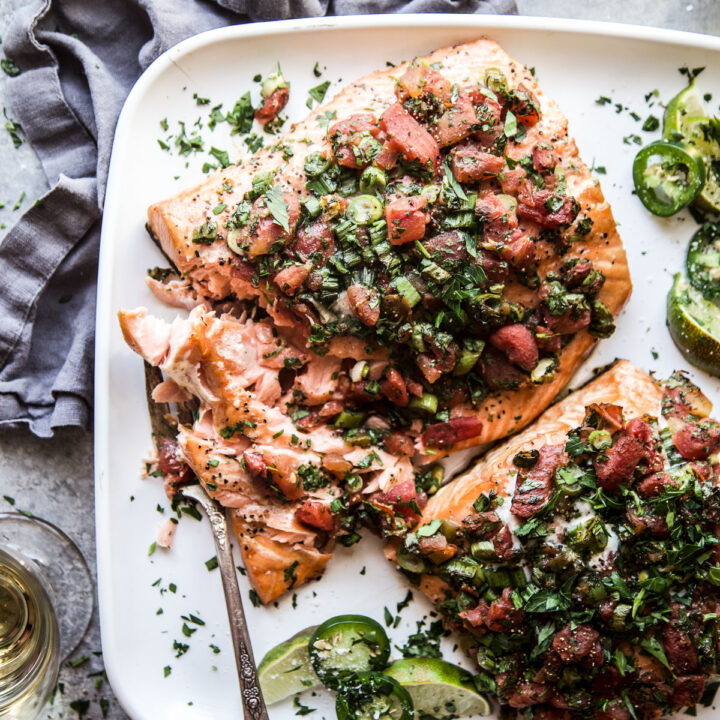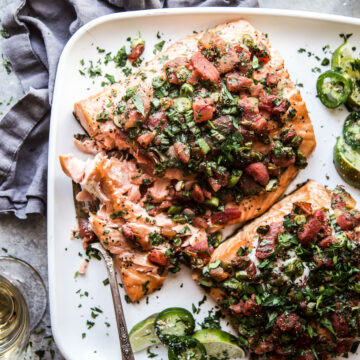 Cilantro Tomato Smoked Salmon
Cilantro Tomato Smoked Salmon is a flavorful dish made of rotel, cilantro, green onions, and whole plank of salmon! 
Ingredients
1 2lbs Whole salmon
1 10oz Can of Rotel, drained
4 whole Green Onions, sliced thinly
1/2 cup Chopped fresh cilantro
Kosher salt and pepper to taste
Olive oil
Instructions
Preheat your grill or oven to 400 degrees. Spray a baking sheet with non-stick cooking spray.

Place the salmon on the prepared baking sheet. Sprinkle the top of the salmon with salt, pepper, and olive oil. Place the baking sheet on the grill and par-cook for about 10 minutes.

While it cooks, mix together the Rotel, cilantro, green onions, olive oil, kosher salt, and pepper. Remove the salmon from the grill. Top the salmon with the cilantro tomato mixture and place back onto the grill to finishing cooking for another 10 minutes or until a thermeother reaches 145 degrees.

Remove from the grill and allow to cool slightly. Serve and enjoy.
Did you make this recipe?
Please leave a comment below and share a photo on Instagram with the hashtag #thecuriousplate!