Easy Shakshuka Deviled Eggs
Easy Shakshuka Deviled Eggs is a flavorful and tasty spin on classic deviled eggs! Made with harissa, egg yolks, and topped with a tomato-y jam!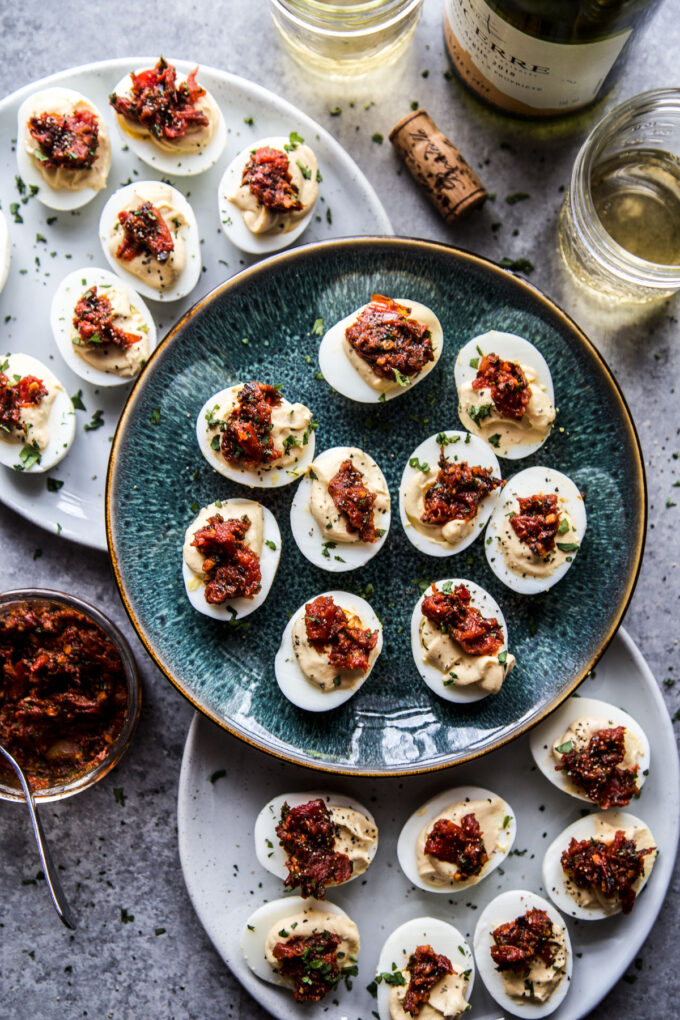 Growing up in the Midwest we consumed a lot of deviled eggs. Between church gatherings, picnics in the summer, or potluck with friends you could always count on someone bringing a plate of a dozen deviled eggs.
Fun fact: did you know Midwesteners even go as far as making a deviled egg salad? Yep, yep. Google that one when you have a hot second. BUT! Today, we are actually combining two of my dishes into one.
These Easy Shakshuka Deviled Eggs are a combination of deviled eggs and your basic Shakshuka. There are few twists when it comes to making these finger-friendly, spring approved bites.
I say we dive in and get started!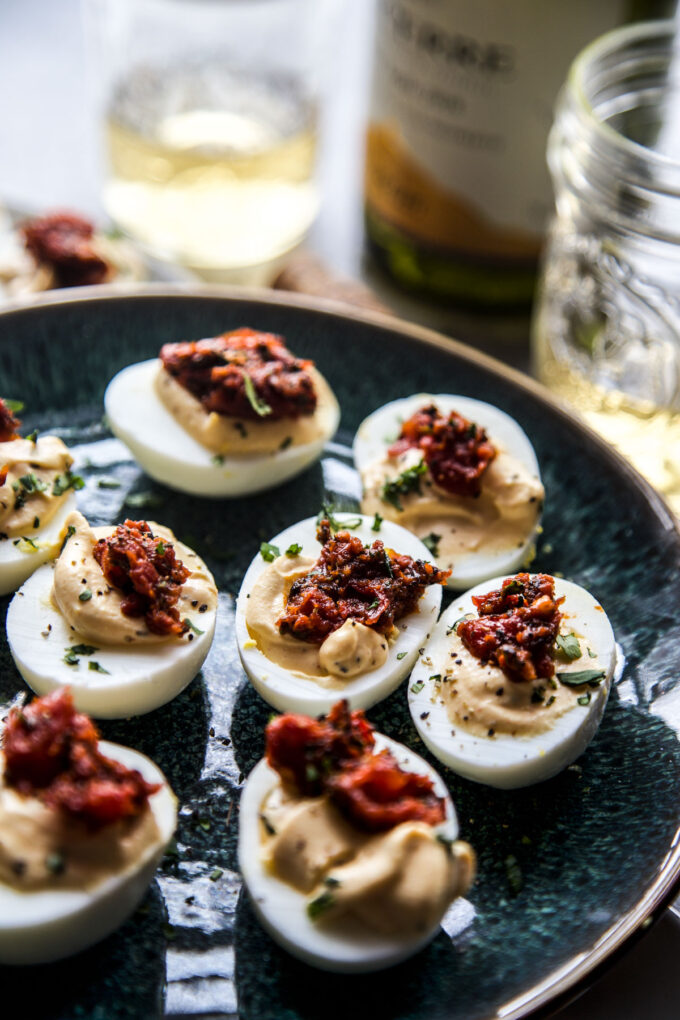 What's in these Easy Shakshuka Deviled Eggs?
Between Bret and I, we can consume a lot of deviled eggs. I think growing up in the Midwest deviled eggs were a staple in spring, summer, and fall entertaining. There's just something so perfectly balanced with the texture and flavor that makes these deviled eggs a culinary delight.
Well, for this recipe like I mentioned above, we are combing two dishes so you will need:
Hard Boiled Eggs
Mayo Greek Yogurt
Harissa
Cilantro
Fire roasted tomatoes
Garlic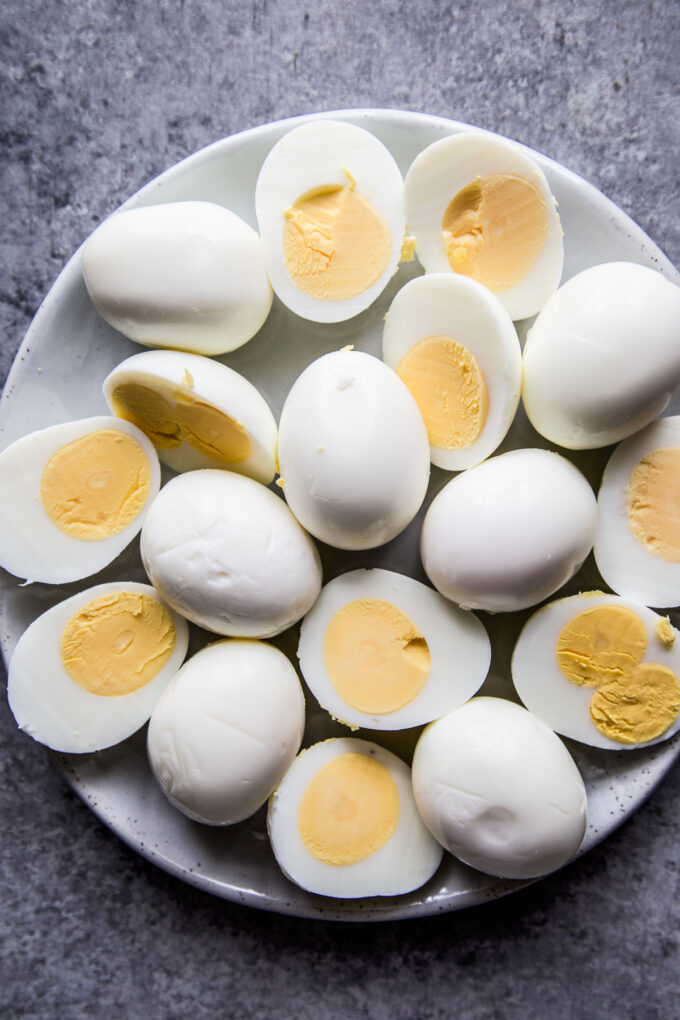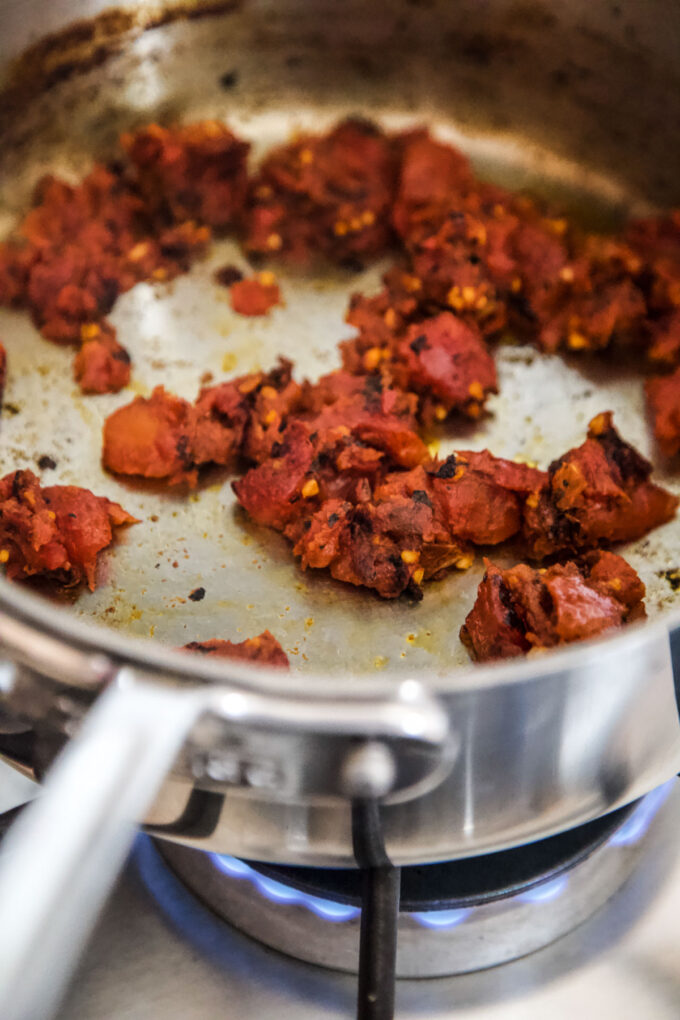 Tips for Making Easy Shakshuka Deviled Eggs:
Hard Boiled eggs. The best way to cook hard boiled eggs is to put a dozen eggs into a stock pot filled with water. Bring the water to a rolling boil. Turn off the heat (keep the stockpot on the burner), cover, and let the eggs sit in the pot for about 10 to 12 minutes. Once cooked, strain the water, and then remove the eggshells.
Harissa. To make this recipe super simple you can source your harissa from the grocery store. Otherwise, you can make a big batch of homemade harissa at home!
Tomato Jam. The longer the tomato jam sits in the fridge the better it will taste. Highly recommend making it a day or two before serving to allow the flavors to blend.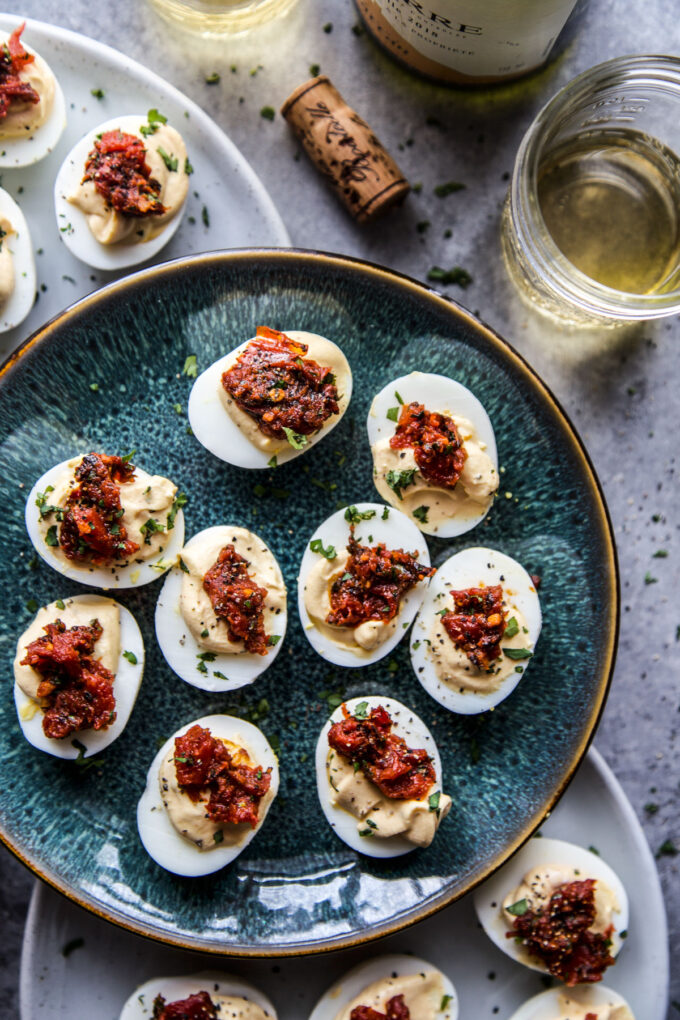 Frequently Asked Questions:
I can't find harissa at the grocery store, what's a good substitute?
If you can't find a jar of harissa you can definitely use Sriracha as replacement.
Can I substitute mayo to make it Vegan?
Yes! You can definitely use Vegan Mayo as an alternative!
Can I make these Easy Shakshuka Deviled Eggs ahead of time?
You can make these deviled eggs three days ahead of time. Allow to come to room temperature prior to serving.  
I had leftover tomato jam, what do you recommend we use it on?
I would put the extra jam on scrambled eggs, grilled cheese, or on top of steak!
More Delicious Appetizer Recipes to Enjoy: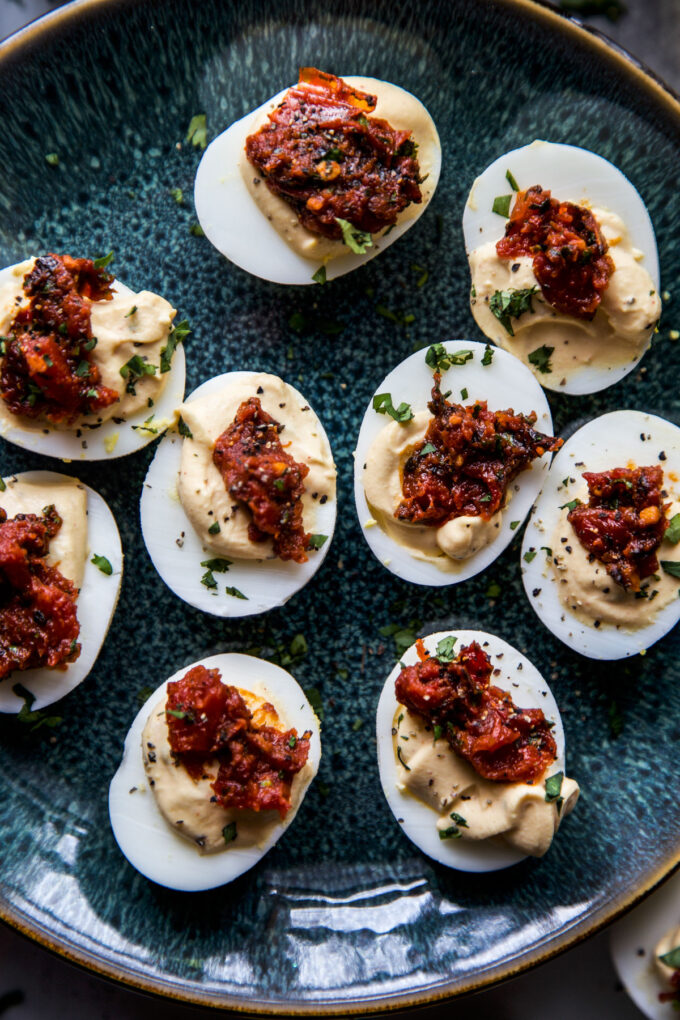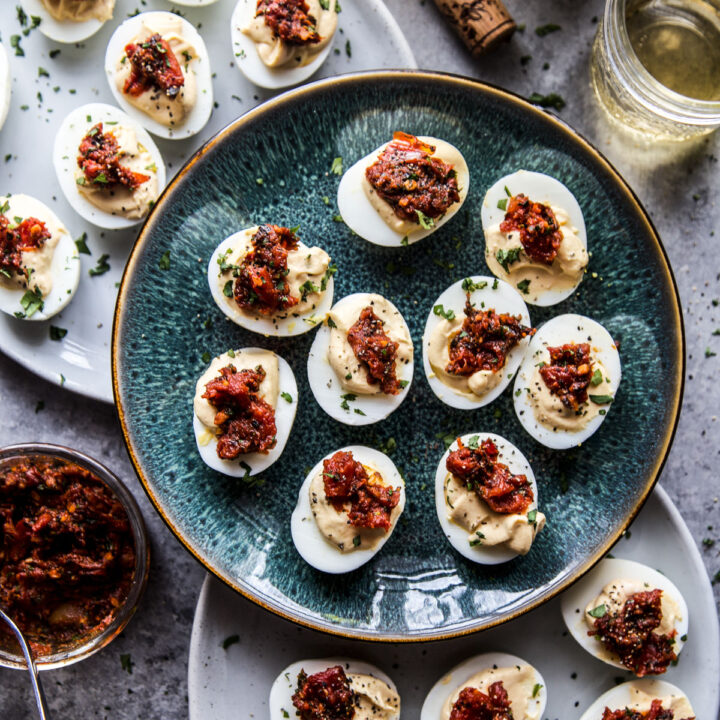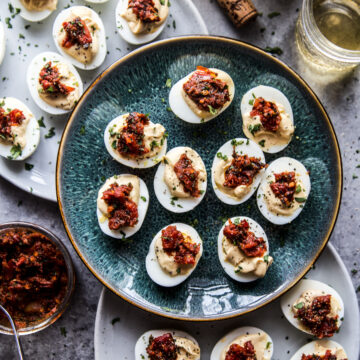 Easy Shakshuka Deviled Eggs
Easy Shakshuka Deviled Eggs is a flavorful and tasty spin on classic deviled eggs! Made with harissa, egg yolks, and topped with a tomato-y jam! 
Ingredients
1 tbsp Olive oil
1 14oz Can fire roasted tomatoes, drained, and excess water squeezed out (*basically you want to get rid of any liquid!)
3 cloves Garlic, minced
4 tbsp Harissa, divided
3/4 tsp Paprika, divided
1/4 cup Chopped fresh cilantro
1/4 cup Mayonnaise
1/4 cup Greek yogurt
Instructions
In a medium skillet preheated to medium heat, add the olive oil, tomatoes, garlic, 2 tbsp of the harissa, and 1/2 tsp of the paprika. Cook, stirring often and breaking up tomatoes with a spoon, until tomato mixture is mostly dry and flavors are concentrated about 13 to 15 minutes. 

Remove from the skillet from the heat and stir in the cilantro, 1/4 tsp of the salt, and remaining 2 tbsp of harissa. Let cool the tomato jam cool for 10 minutes and transfer to a bowl.

While the tomato jam cools, cut the hardboiled eggs in half lengthwise. Carefully scoop out the yolks using the end of the spoon and place the yolks into a food processor. Set the whites aside. Next, add in the mayonnaise, yogurt, and remaining 1/2 tsp plus 1/8 tsp salt and 1/4 tsp paprika to processor. 

Process the egg yolk mixture until smooth, about 30 seconds, stopping to scrape down sides as needed. Spoon mixture into a ziplock plastic bag, and snip 1 corner of bag to make a small hole. Pipe yolk mixture evenly into egg white halves. 

Top each egg with about 1/2 tsp tomato jam. Garnish with cilantro. Store remaining tomato jam in an airtight container in the refrigerator for up to 1 week.
Did you make this recipe?
Please leave a comment below and share a photo on Instagram with the hashtag #thecuriousplate!