Easy Banh Mi Bruschetta
"Elevate your appetizer game with Easy Banh Mi Bruschetta, a refreshing and delightful dish ready in just 10 minutes. This fusion twist combines the vibrant flavors of Banh Mi with the classic appeal of bruschetta, creating a quick and tasty treat for any occasion."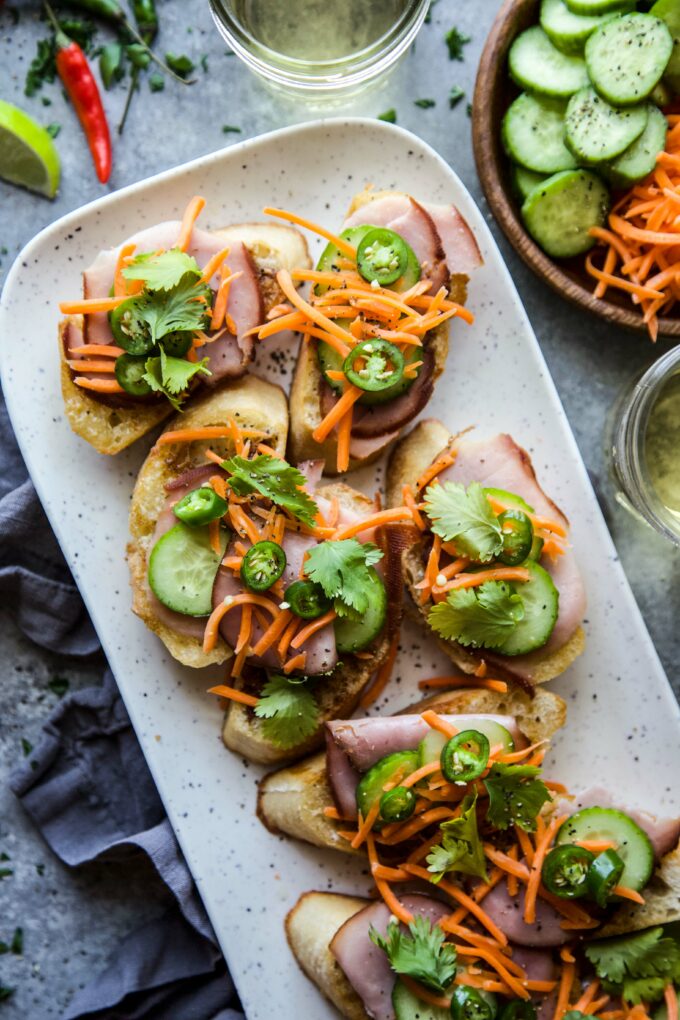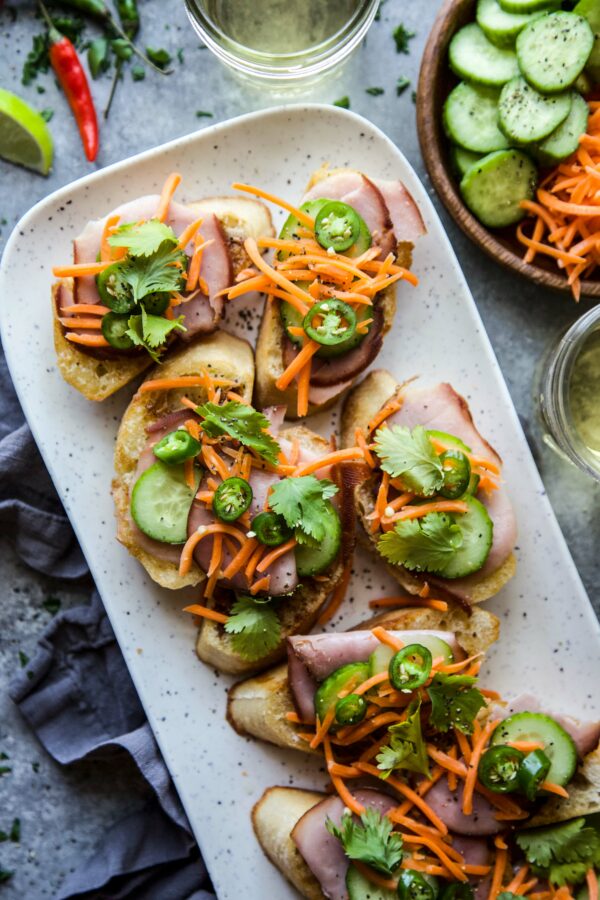 Spoiler alert: bruschetta doesn't have to be about the tomatoes.
Yes, I know when tomatoes are in season they are hard to pass up. BUT! When it's not summer and you need a refreshing and simple appetizer the answer to our woes is this Easy Banh Mi Bruschetta.
A baguette slice topped with mayo, a pinch of soy sauce, ham, cucumbers, carrots, and jalapenos for good measure. This combo makes you forget all about those juicy tomatoes for a moment.
Ready to dive in?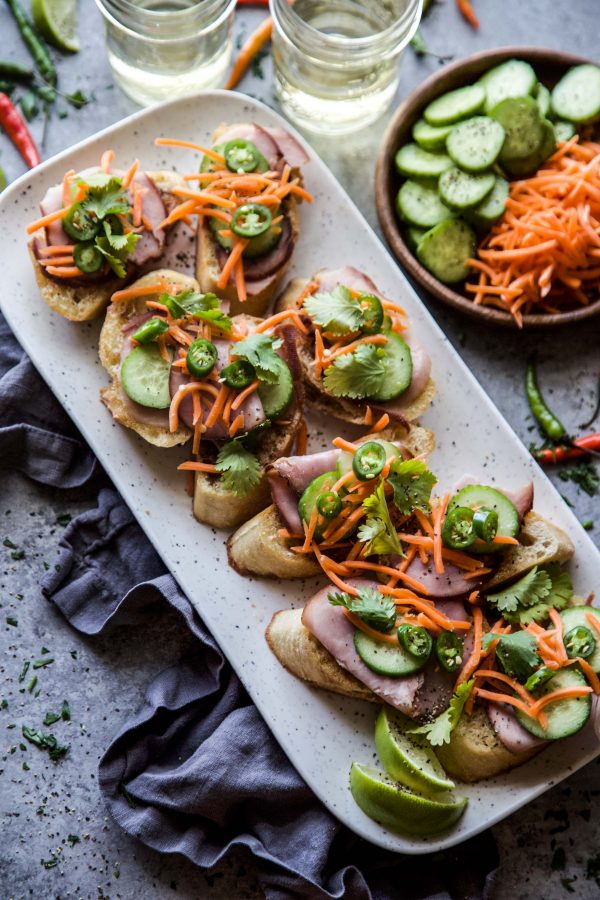 What's in these Easy Banh Mi Bruschetta?
Keeping things on easy street with this appetizer. All you will need to make this Banh Mi Bruschetta is:
Ham
Baguette
Mayo
Soy Sauce
Cucumber
Carrot
Jalapenos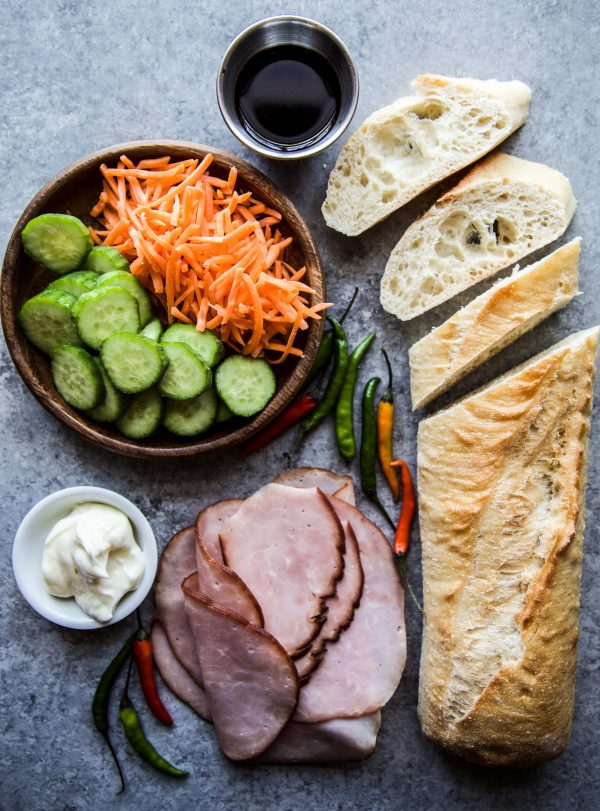 Tips for Making Easy Banh Mi Bruschetta:
1) Deli Ham. You can use whatever ham you find at the grocery store or if you have leftovers that works too! I tend to stick to the black forest or honeysuckle kind for extra flavor!
2) Mayo. If you don't like mayo you can try using butter instead!
3) Soy Sauce. Make sure you use low sodium soy sauce to help keep the bruschetta from tasting too salty.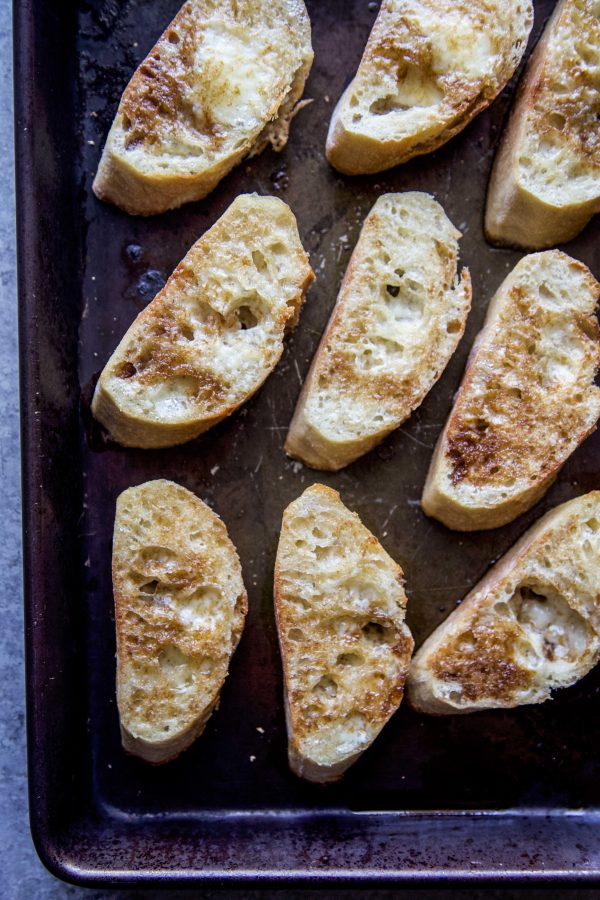 What's a good alternative to ham?
If ham isn't your thing you can definitely use rotisserie chicken, turkey, or sliced roast beef! 
What's a good drink to serve these with?
So many options! However, my favorite would be this Lemongrass & Basil Lime Sparkling Soda.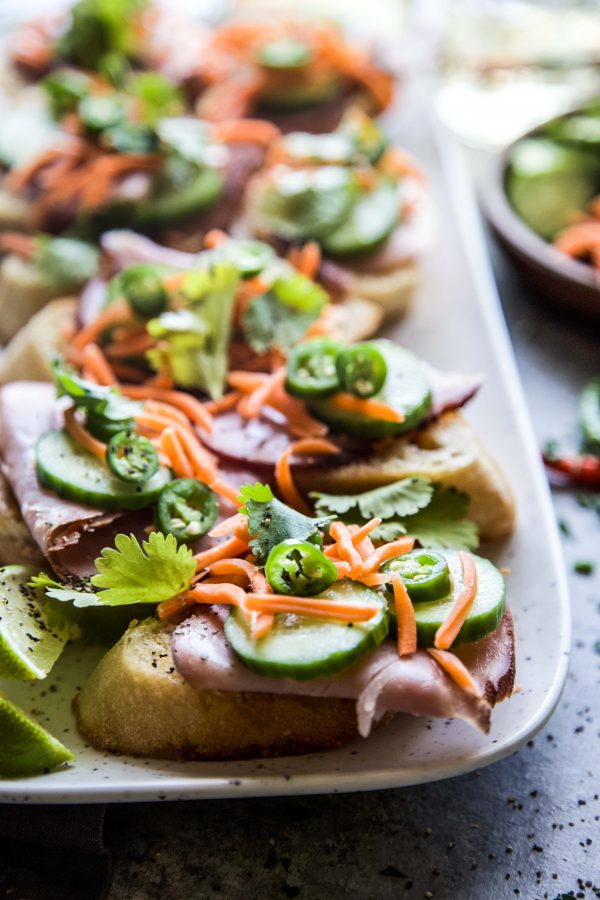 More Delicious Appetizer Recipes to Enjoy: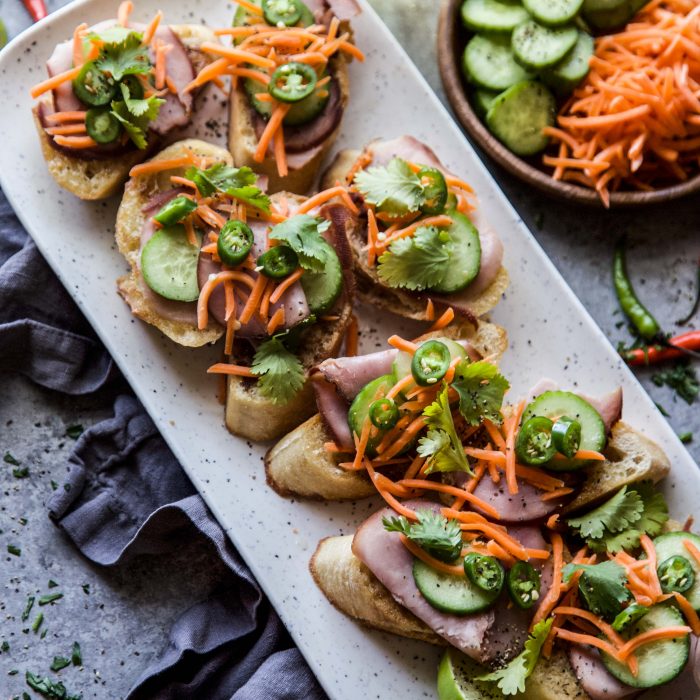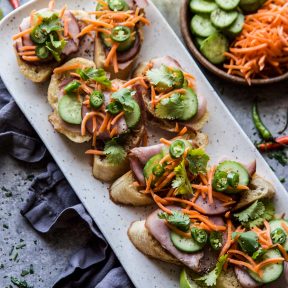 Easy Banh Mi Bruschetta
Easy Banh Mi Bruschetta is a refreshing and delightful appetizer to make that only takes 10 minutes to assemble! 
Ingredients
12 thick baguette slices
⅓ cup mayonnaise
2 tbsp soy sauce
6 ounces thinly sliced ham
Small cucumbers sliced into thin rounds
1½ cups shredded carrots
½ cup chopped fresh cilantro
jalapeno rounds
Instructions
Preheat your oven to 425 degrees or broiler. Spray a baking sheet with non-stick cooking spray.

Place the baguette slices on the baking sheet and top with mayo. Place in the oven for a few minutes. Remove and then brush the soy sauce on top of each baguette slice. Return the sheet pan to oven for a few more minutes.

Remove the baking sheet from the oven and top the baguette slices with ham, cucumber, carrots, and cilantro. Add jalapeno slices on top and serve!
Did you make this recipe?
Please leave a comment below and share a photo on Instagram with the hashtag #thecuriousplate!