Easy Sweet Potato Lasagna with Burrata
"Easy Sweet Potato Lasagna with Burrata is a delightful, healthy meal. With layers of sweet potatoes, sausage, ricotta, and creamy burrata, it offers a flavorful experience ready in just one hour, making it a perfect choice for any occasion."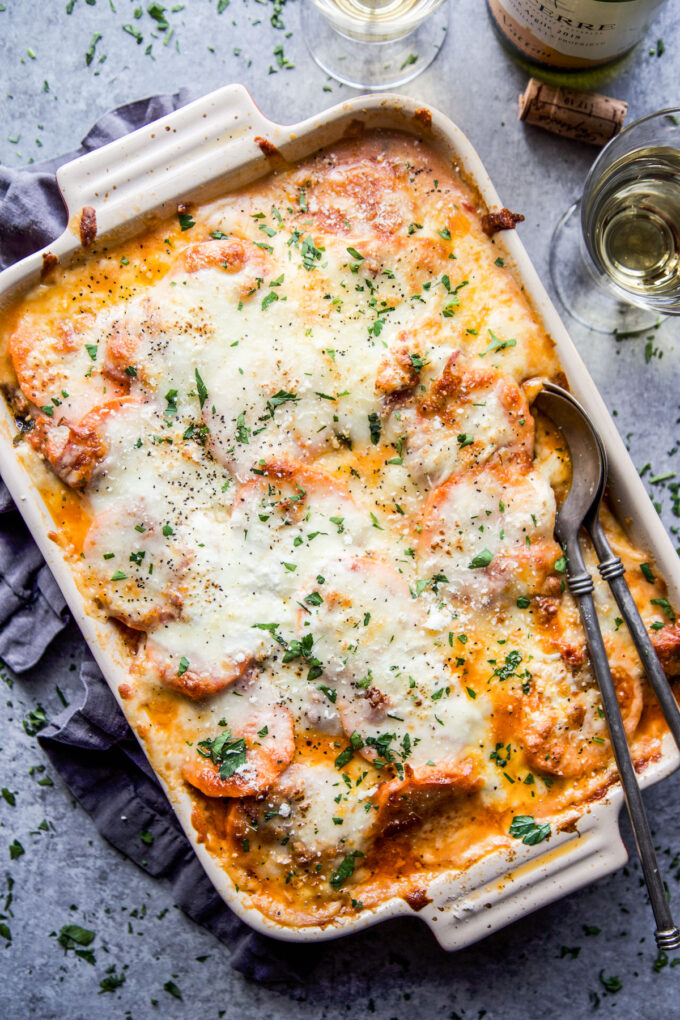 Lasagna has come a long way over the years.
What started out as a labor of love with homemade lasagna noodles to no-boil to no noodles at all. It's no wonder this iconic dish still ranks high on the go-to weeknight dinner list.
Well, today, I'm sharing a fun new way to serve lasagna. I love classic lasagna, but this version is a simple way to jazz it up: Easy Sweet Potato Lasagna with Burrata. I mean, if we are going to eat sweet potatoes might as well make them tasty!
Let's dive in because we've a few things to chat about!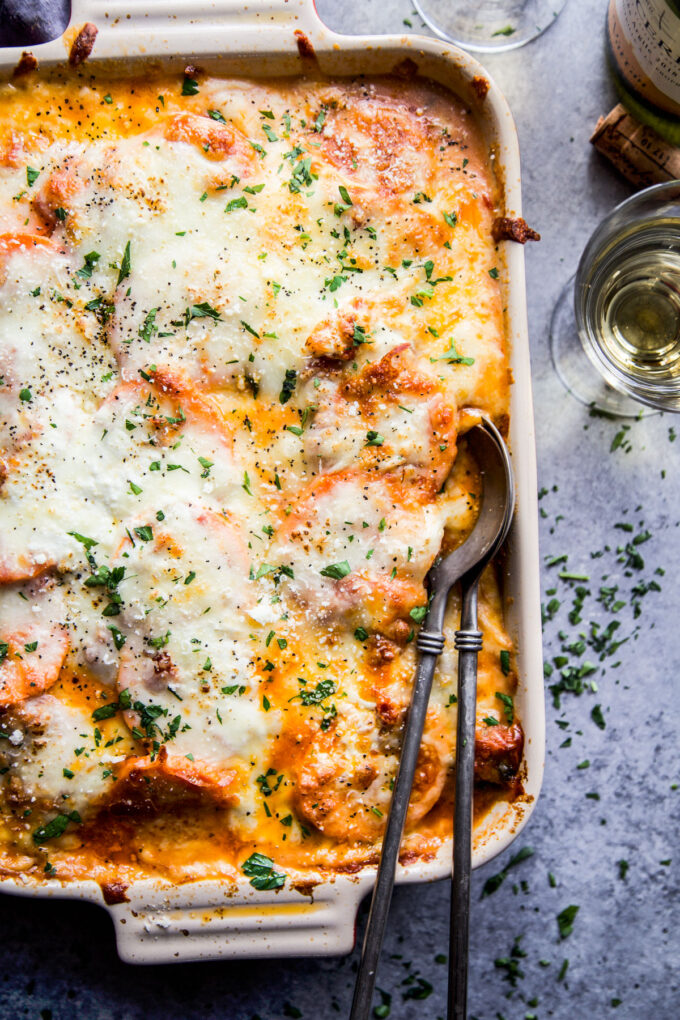 What's in this Easy Sweet Potato Lasagna with Burrata?
I adore making a classic lasagna, but sometimes the basic version needs a little updating. I adore sweet potatoes and in this version you'll find these potatoes make a killer layer to hold all the cheese!
For this recipe you will need:
Sweet Potatoes
Ricotta
Sausage
Mozzarella
Burrata
Parmesan
Marinara
Onion
Garlic
Dried Oregano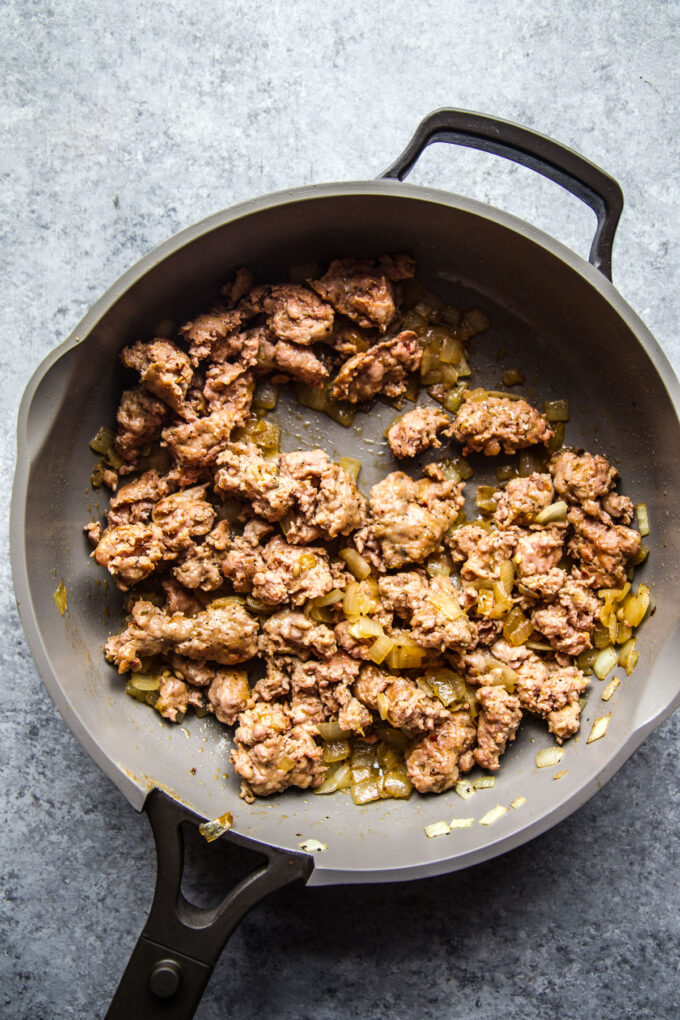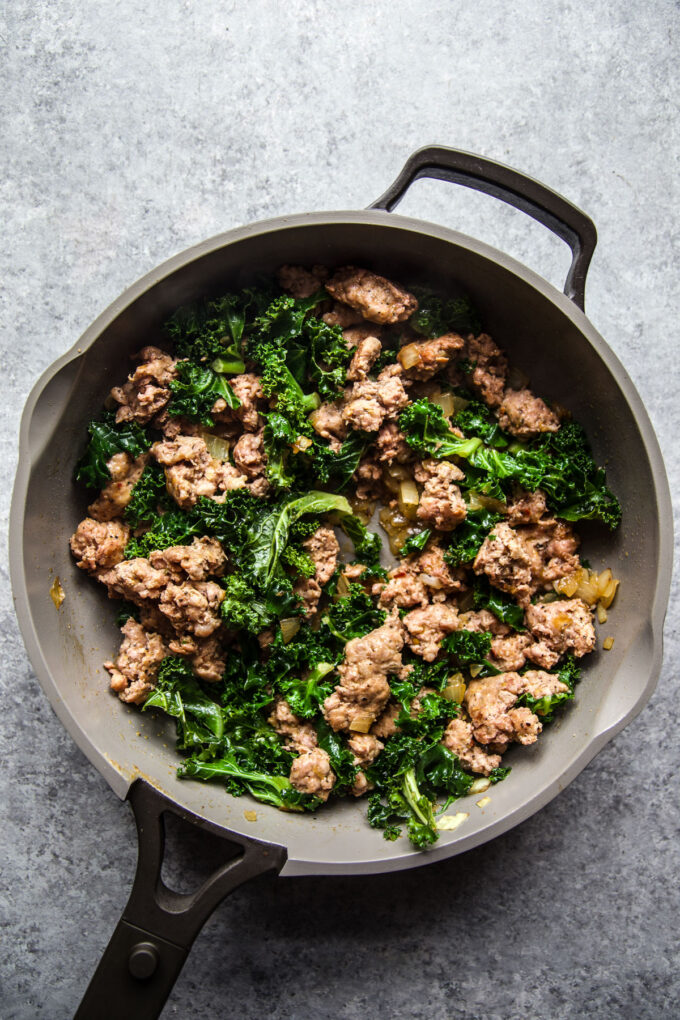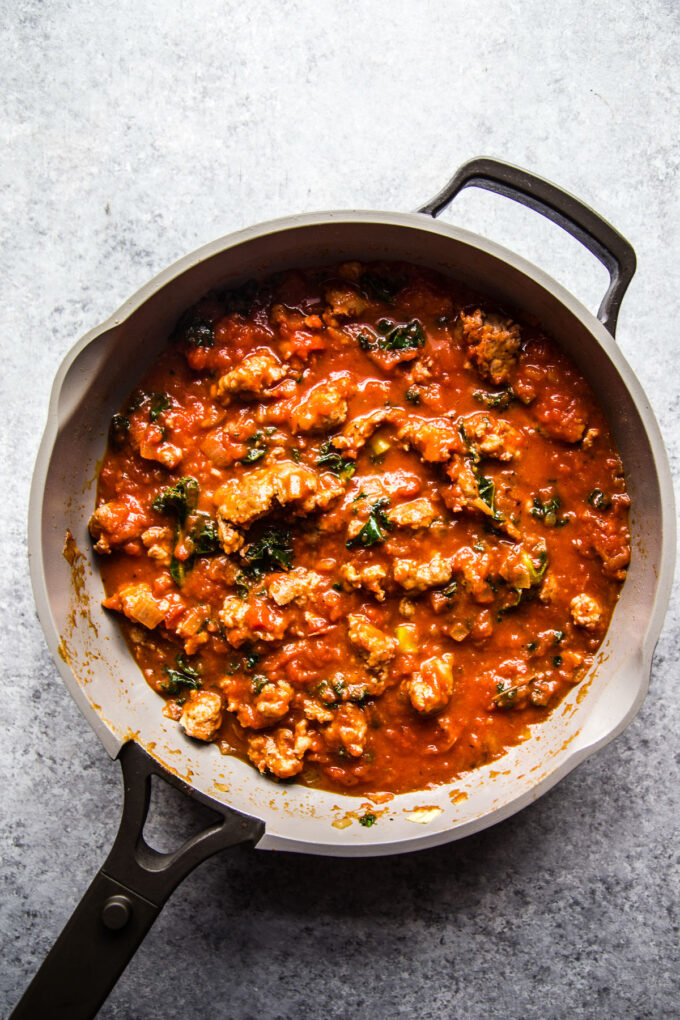 Tips for Making this Easy Sweet Potato Lasagna with Burrata:
Sweet Potatoes. When you are looking for sweet potatoes at the store you want a medium sized one. You'll want to be able to slice them as thin as possible so you'll have enough slices to make the layers!
Sausage. I'm a huge fan of hot Italian sausage (ha!). But if you want to mix it up you could try pork, chicken, turkey or even a plant based sausage.
Ricotta. If you wanted to keep things on a lighter note, you could use cottage in place of ricotta. Trust me, it's equally delicious.
Burrata. If you can't find burrata at the store, I would try slices of whole mozzarella! Either way, you can't be wrong!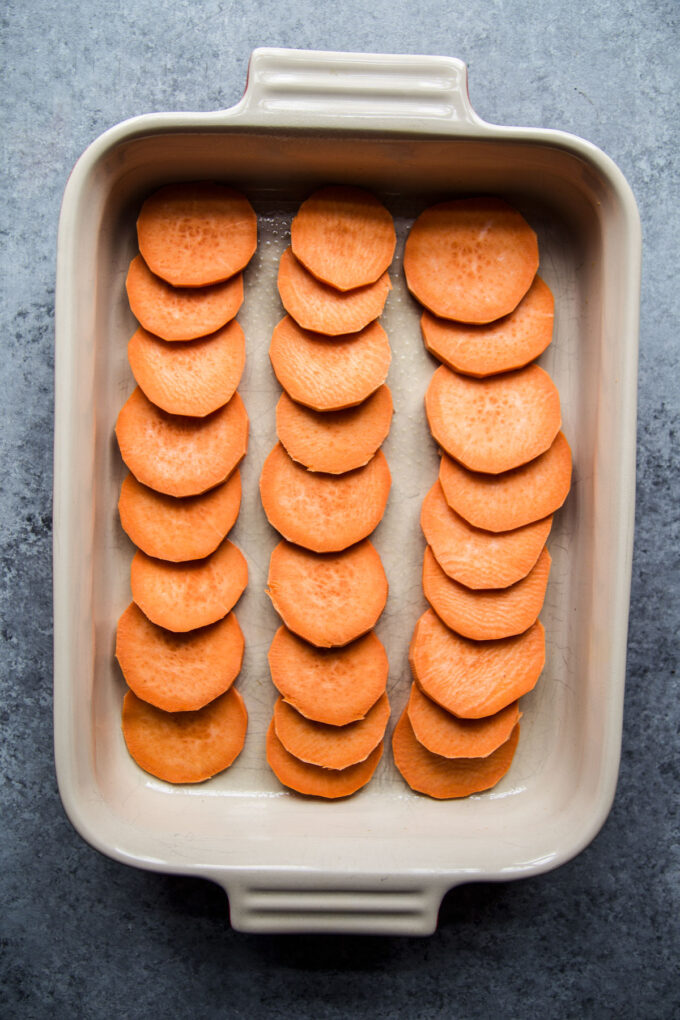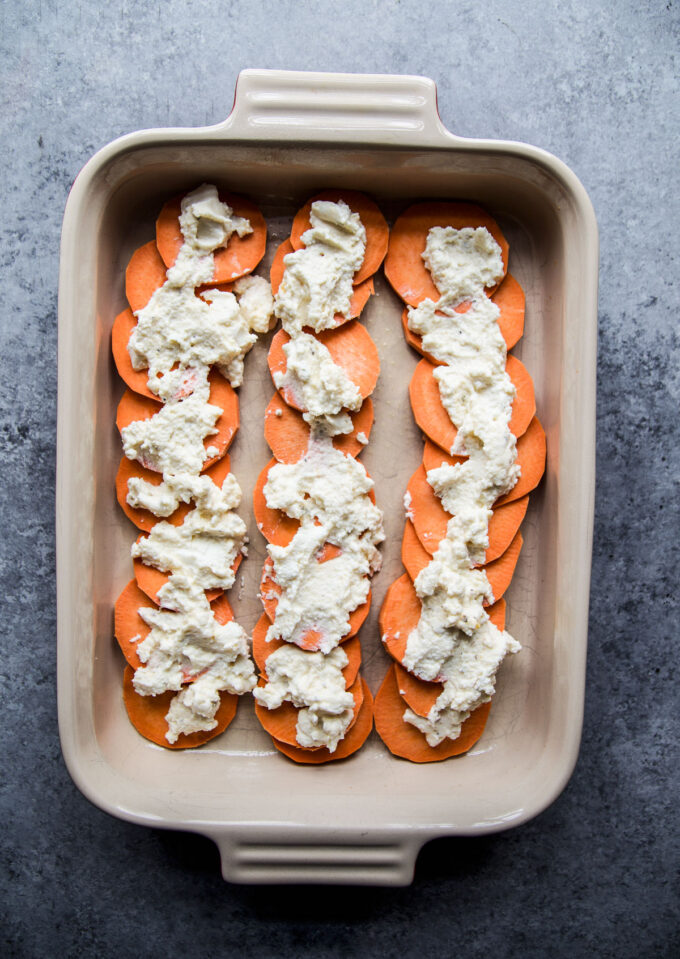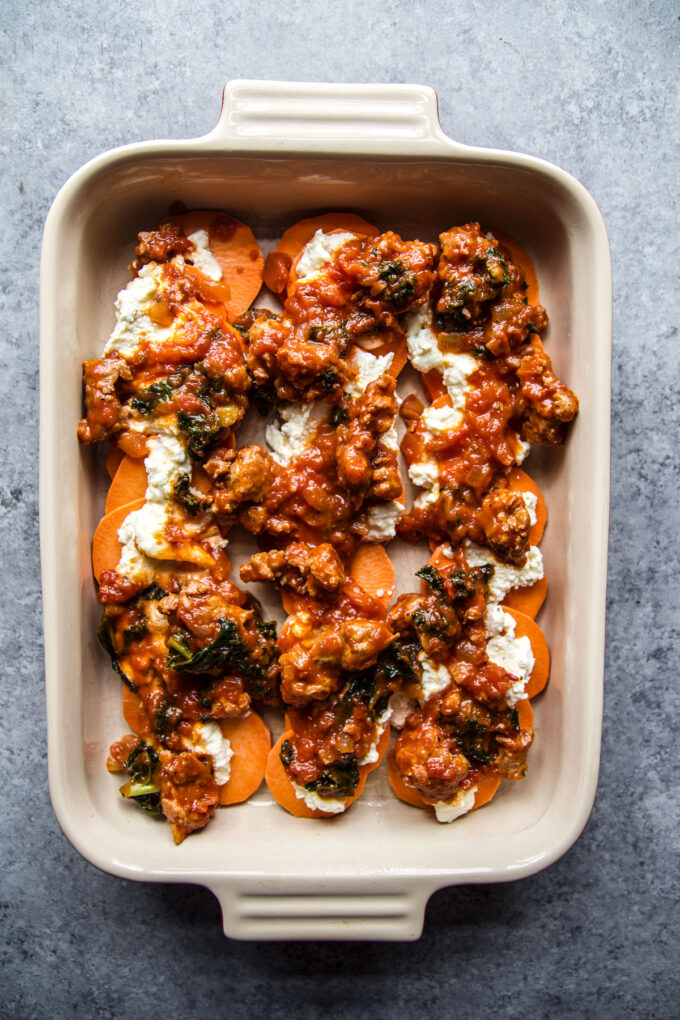 Frequently Asked Questions:
Do I have to use sweet potatoes to make this dish?
Nope! If you want to use noodles instead of sweet potatoes go for it!
Can I make this Vegan or Vegetarian?
You bet! To make it Vegan, simply replace ricotta, shredded mozzarella, and sausage with a vegan. For the Vegetarian version, omit the sausage or use a plant based protein instead.
Can I freeze this Easy Sweet Potato Lasagna with Burrata?
Yep! You can fully cook it and place it into the freezer for up to 3 months! Great for meal prepping too!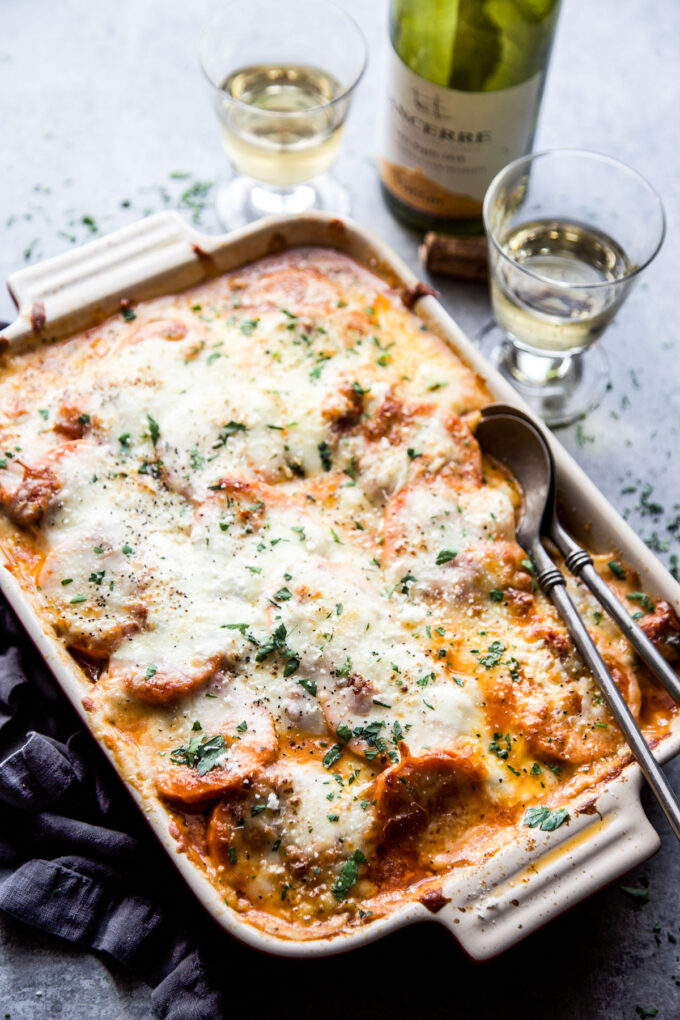 More Delicious Lasagna Recipes to Enjoy: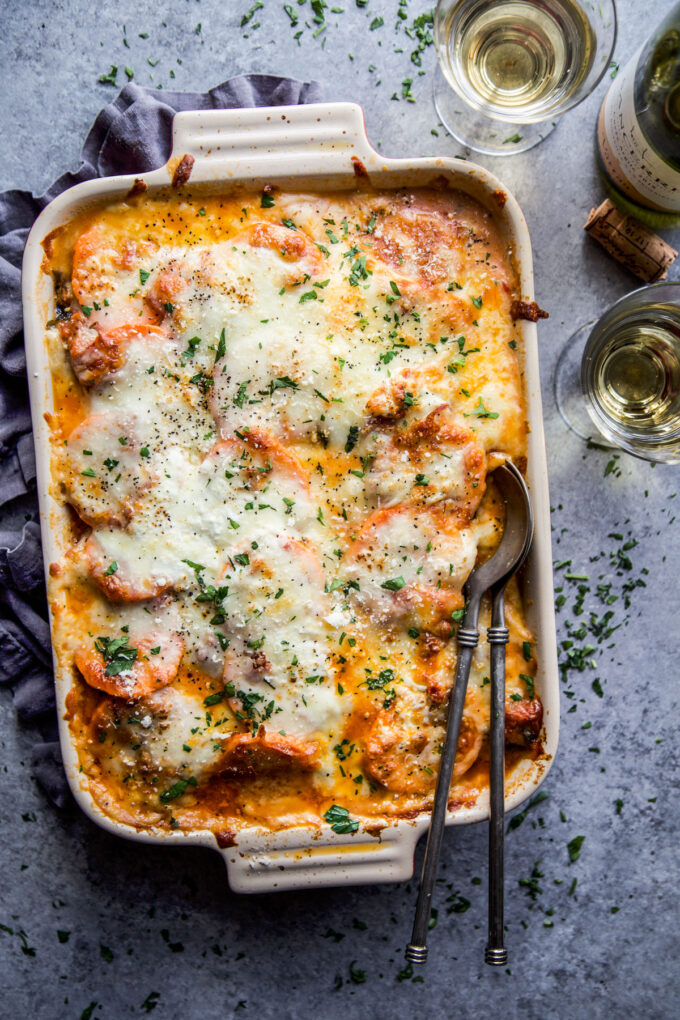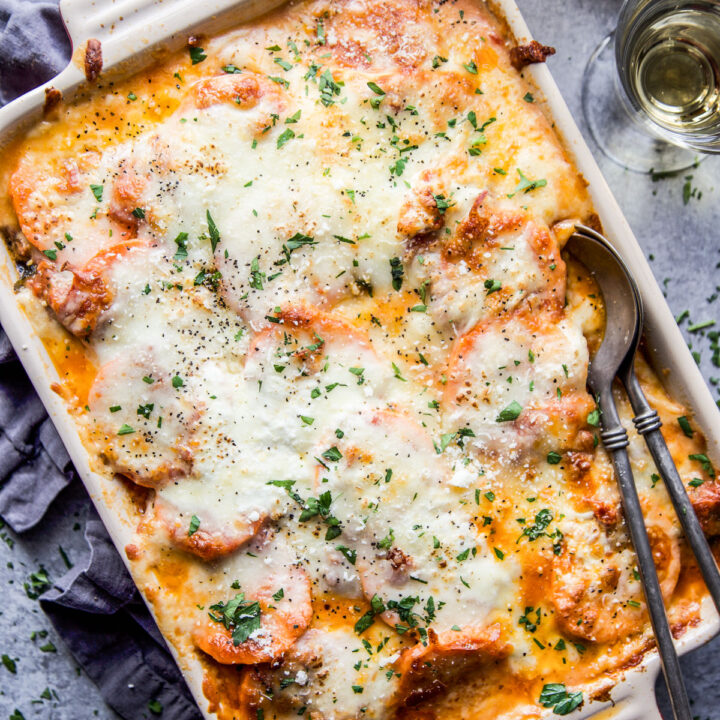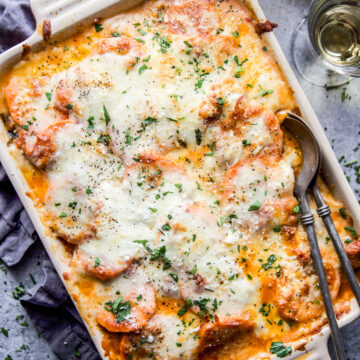 Easy Sweet Potato Lasagna with Burrata
Easy Sweet Potato Lasagna with Burrata is a healthy and delicious meal that's made with sweet potatoes, sausage, ricotta, burrata, and ready in 1 hour! 
Ingredients
2 tbsp Olive oil
1 cup Diced yellow onion
3 cloves Garlic, minced
1 lb Ground Italian sausage
1 24 oz Jar of marinara
2 cups Chopped fresh kale
16 oz Whole milk ricotta
1 large Egg
3/4 cup Freshly grated Parmesan, divided
1 tsp Dried oregano
4 large Sweet potatoes, peeled and sliced 1/8"-thick 
1 1/2 cups Shredded mozzarella
1 8oz Ball of burrata
Fresh parsley, for garnish
salt and pepper to taste
Instructions
Preheat your oven to 375 degrees and spray a 9"-x-13" baking dish with non-stick cooking spray. In a large skillet over medium heat, heat oilve oil. Add onions and cook, stirring occasionally, until soft, 5 minutes. Add garlic and cook until fragrant, 1 minute more.

Next, add sausage to the skillet and cook, breaking up with a wooden spoon, until no longer pink, about 6 minutes. Season with salt and pepper. 

Pour in the marinara and bring the sauce to a simmer. Cook until sauce thickens slightly, 5 minutes. Add in the kale and cook until wilted, 2 minutes. Remove the skillet from the heat. 

In a large mixing bowl, combine ricotta, egg, ½ cup Parmesan, and oregano. Season with salt and pepper. 

Next, spread a thin layer of marinara mixture evenly across the bottom of the prepared baking dish. Layer a third of the sweet potatoes on top of the sauce, slightly overlapping. Spread about a third of the ricotta mixture over the sweet potatoes and top with a third of the remaining meat sauce. Repeat to make 2 more layers. Top with mozzarella, burrata, and remaining ¼ cup Parmesan. 

Spray some foil with non-stick cooking spray to prevent the cheese from sticking to the top. Cover the dish with foil and bake until sweet potatoes are almost cooked through, about 45 minutes, then remove foil and bake until sweet potatoes are fork-tender and cheese is golden, 15 minutes more. 

Let lasagna rest 10 minutes. Garnish with parsley before serving! Enjoy!
Did you make this recipe?
Please leave a comment below and share a photo on Instagram with the hashtag #thecuriousplate!