Slow Cooker Lasagna
Slow Cooker Lasagna is a quick and easy meal to make any night of the week! Made with a Pumpkin Cream Sauce with Ground Pork. This will be a hit all year round!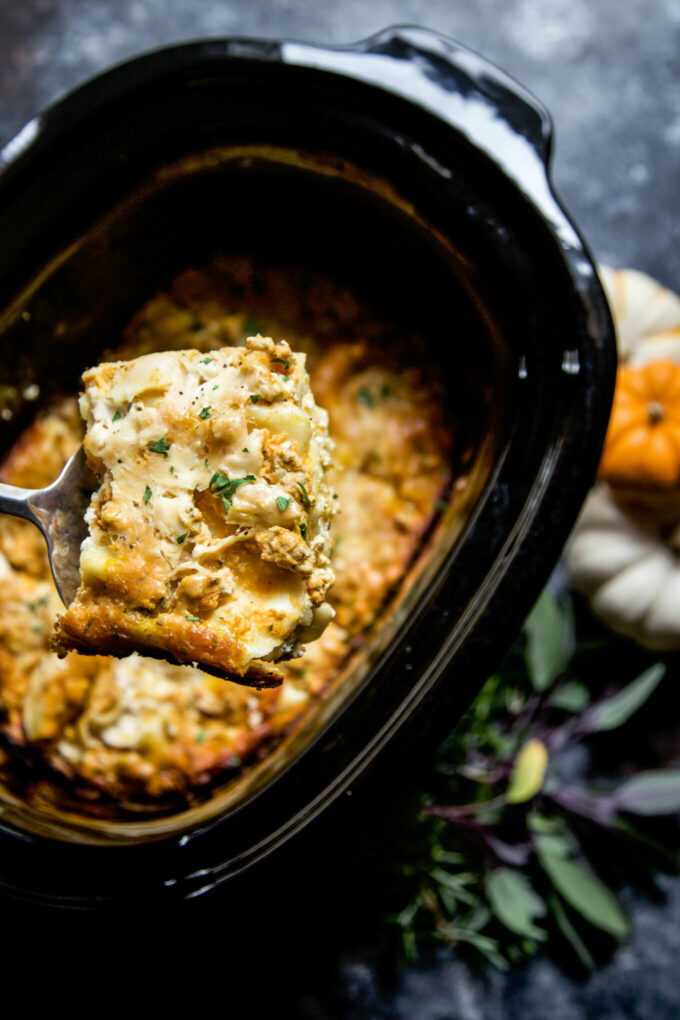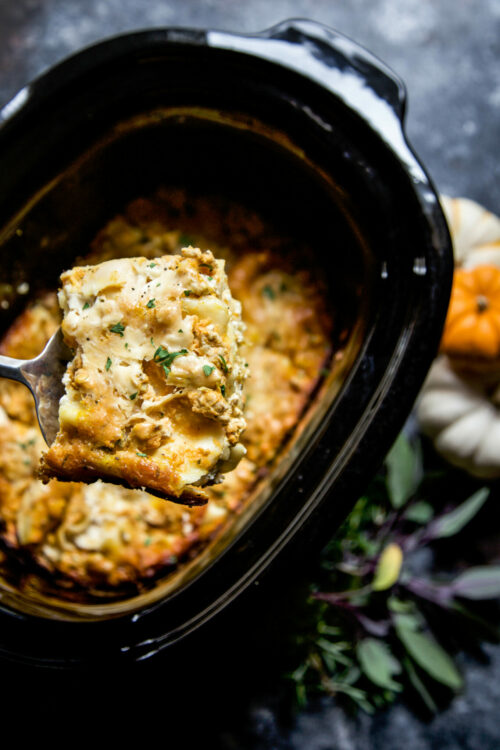 The struggle is real.
Anyone else?
Daylight savings time is kicking my tookus. The fact that I could fall asleep at 4:59pm is making me super cranky. Who wants to sleep through happy hour? Not I.
The early darkness is also putting a damper on the whole photography situation. I basically have to start cooking at 6am which y'all know I am not a morning person. SIGH. But seriously, why do we have daylight savings time? Makes no sense.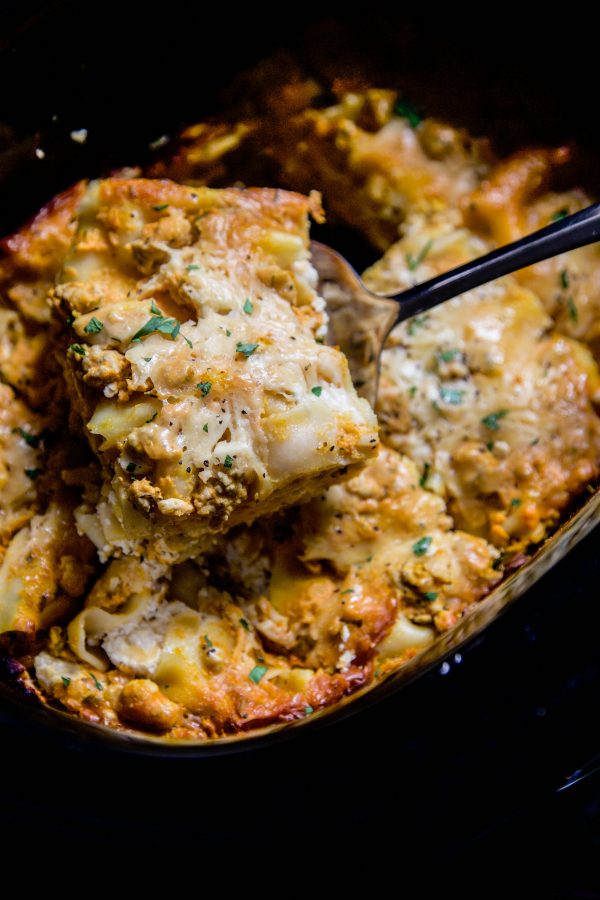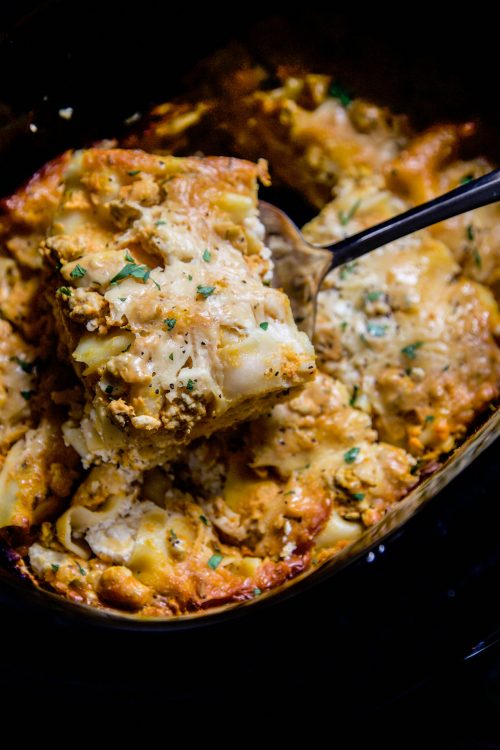 Anyway, Mr.B's birthday is tomorrow and I am struggling what to make for his birthday dinner. Pizza? Maybe. BBQ? Getting close. Lasagna? I might be onto something. But it can't be just any plain Jane lasagna.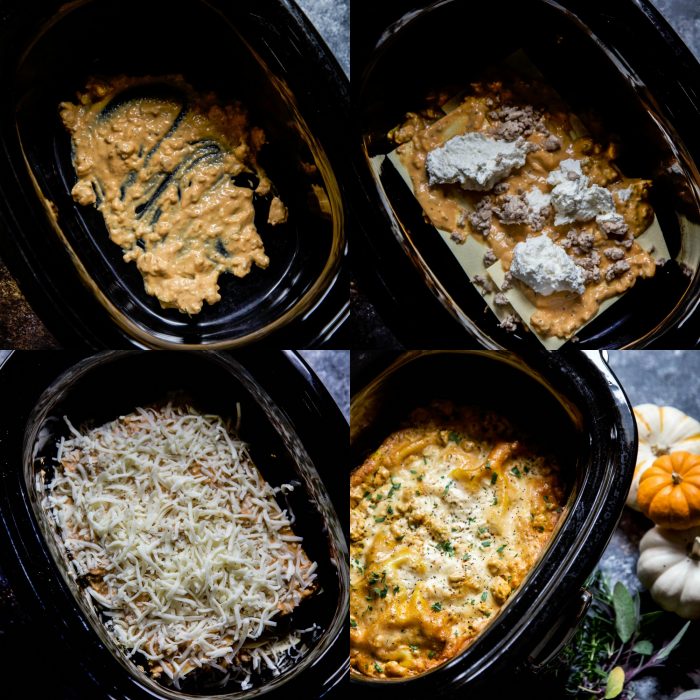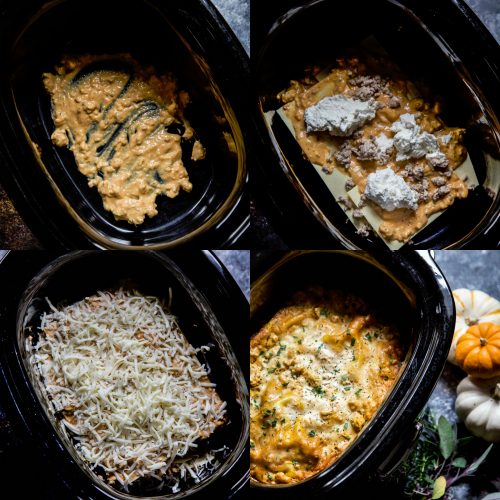 Curious, did you know that you can make lasagna in your slow cooker? When someone told me this my mind was blown. The thought of not turning on my stove to make a meal gives me all the feels. And no, I am still not an Instant Pot fan. Sorry, just can't do it.
This Slow Cooker Lasagna will definitely make you feel a little somethin', somethin'. Because remember when I shared with you guys the Pumpkin Cream Sauce with Ground Pork on Monday. Well, that said sauce is the base for this lasagna. Do you need a minute? Dance it out.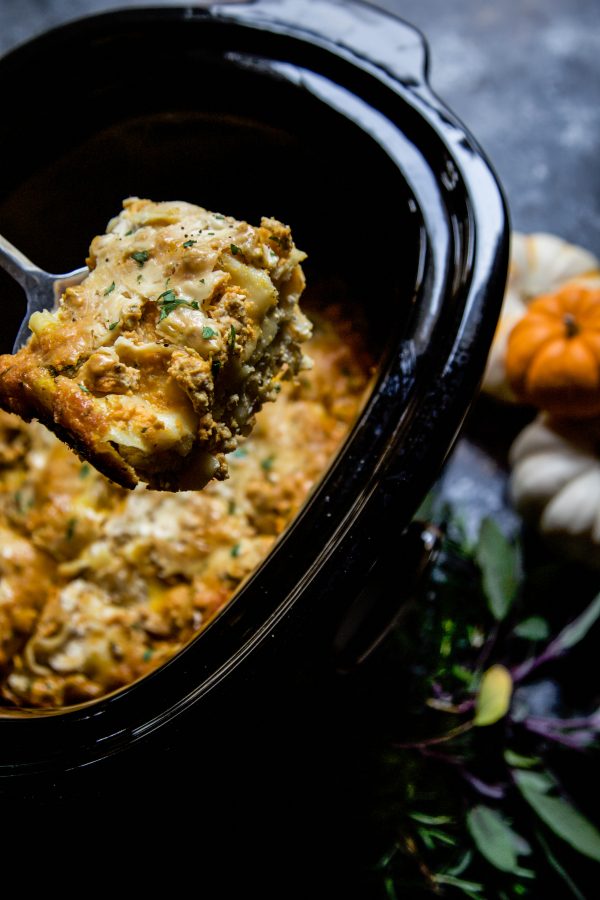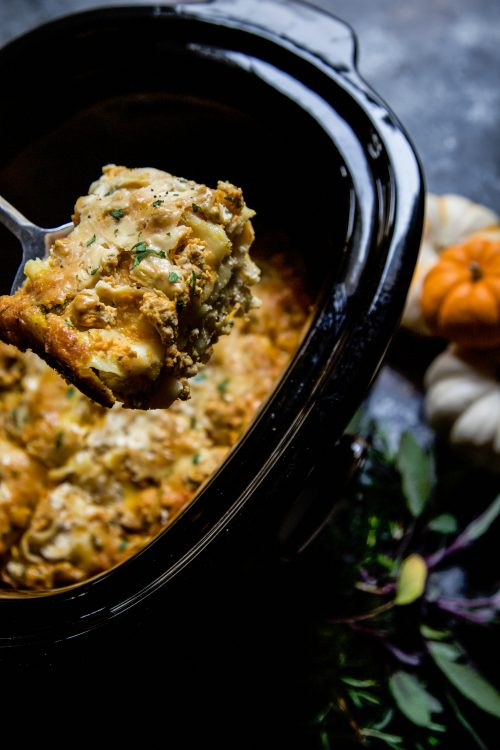 To make the lasagna all you do is assume the same position as you would with a 9X13 baking dish. Start layering, add copious amounts of cheese and set it on low to cook. The one thing I love about using the slow cooker is that it keeps the lasagna warm even after it's done cooking. You can't do that with an oven!!
Excuse my excitement but this recipe is definitely a current fav! I think Mr. B will love it!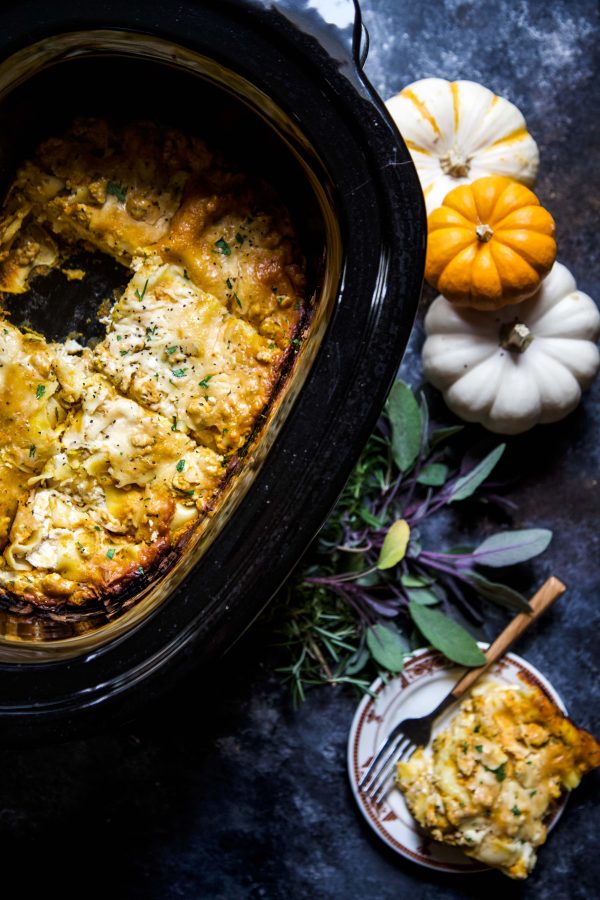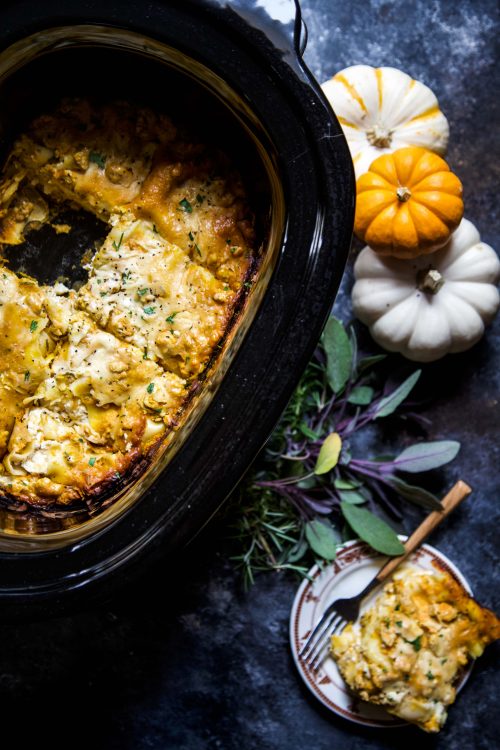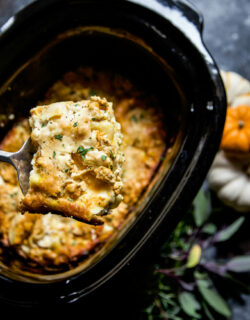 Slow Cooker Lasagna
Ingredients:
1 box lasagna noodles, unboiled
16 oz whole milk ricotta
1/4 cup freshly grated Parmesan, plus more for garnish
1/4 cup chopped parsley, plus more for garnish
4 1/2 cups shredded mozzarella
salt and pepper to taste
Directions:
Spray the inside of your slow cooker with non-stick cooking spray.  In a large bowl combine ricotta, parmesan, parsley, salt and pepper.
Take about a 1/4 cup of the pumpkin cream sauce with ground pork and spread a thin layer on the bottom of the slow cooker. Next, add a layer of noodles. You will have to break them to fit. I was able to get about three to four. Take more of the pumpkin cream sauce with ground pork and spoon it over the noodles. Also, sprinkle over some of the reserved ground pork followed by a layer of ricotta and mozzarella. Repeat process until all the ingredients have been used and ending with the mozzarella.
Cover and cook the lasagna on low for about four to five hours. To serve, cut into squares and garnish with more parmesan and chopped parsley.
All images and text ©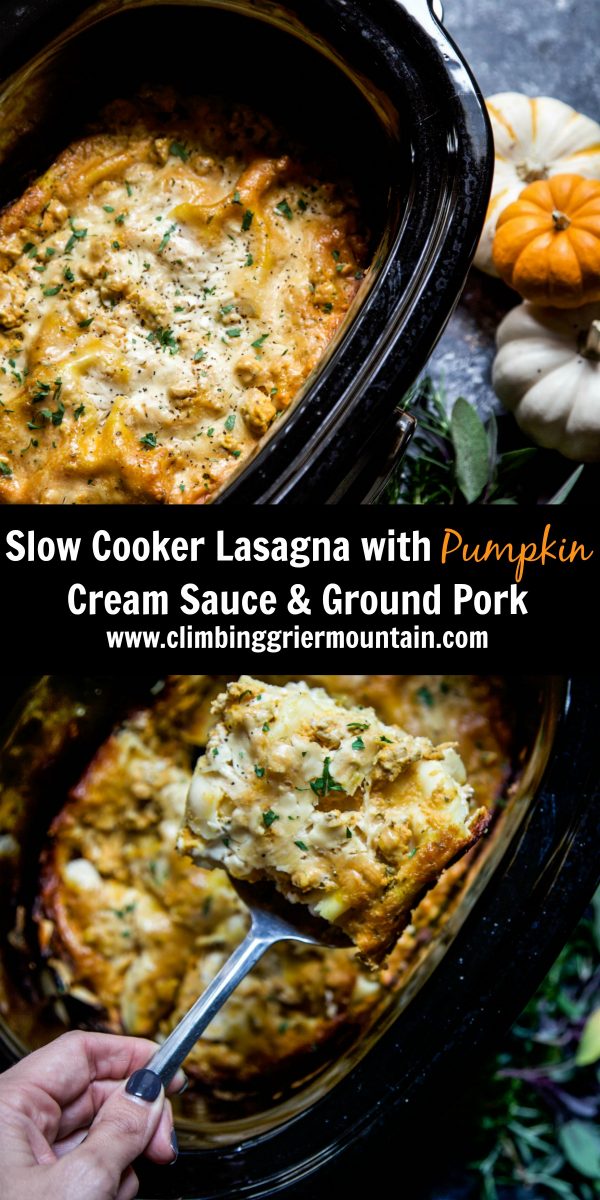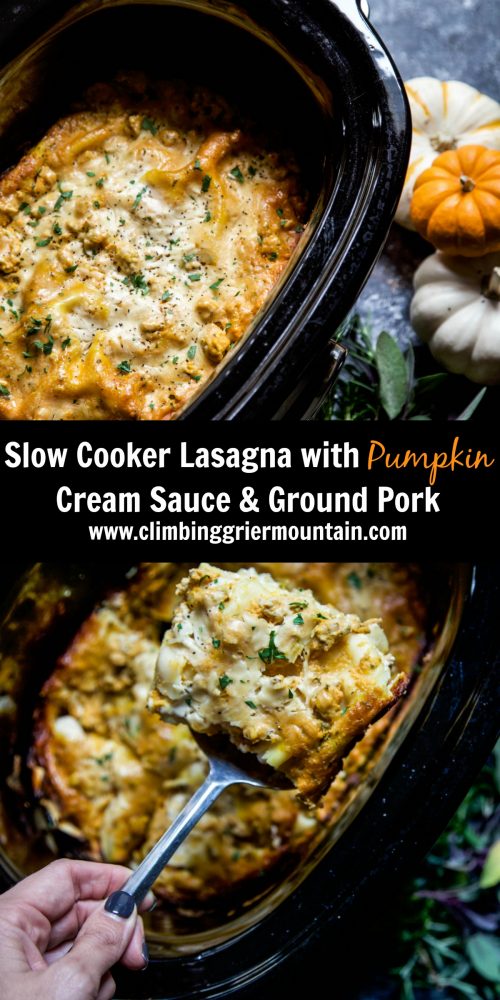 In conclusion, Slow Cooker Lasagna offers the authentic taste of Italian comfort food with ultimate convenience. Whether for family dinners or special occasions, it's a hassle-free way to enjoy a classic favorite. Buon appetito!