Greek Baked Salmon
Greek Baked Salmon is an easy and delicious meal to make during the week!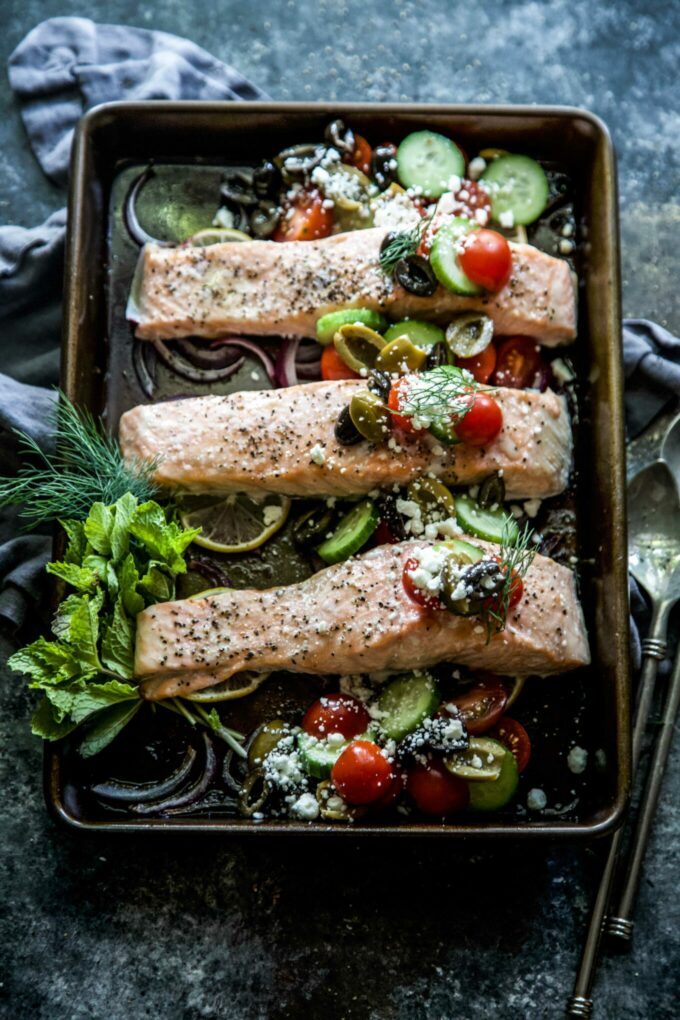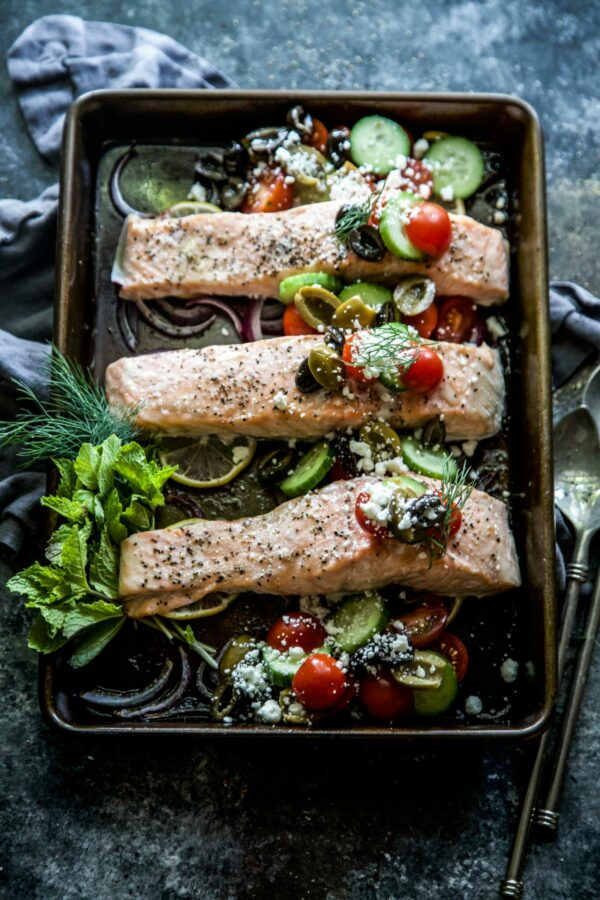 How's it going?
Do you feel like this week is taking FOR-E-V-E-R?
For me this week has been a mixture of both. On Monday I was back in the kitchen for the first time since maternity leave and I must say, it wasn't as strenuous as I thought it was going to be.
Besides having to be a little more prepared going into cooking a recipe and having my food photography staged already, the whole process went smoothly. Charlie is a good napper right now in the morning so I am taking full advantage of it. I feel like 2020 is going to be a very tasty year folks!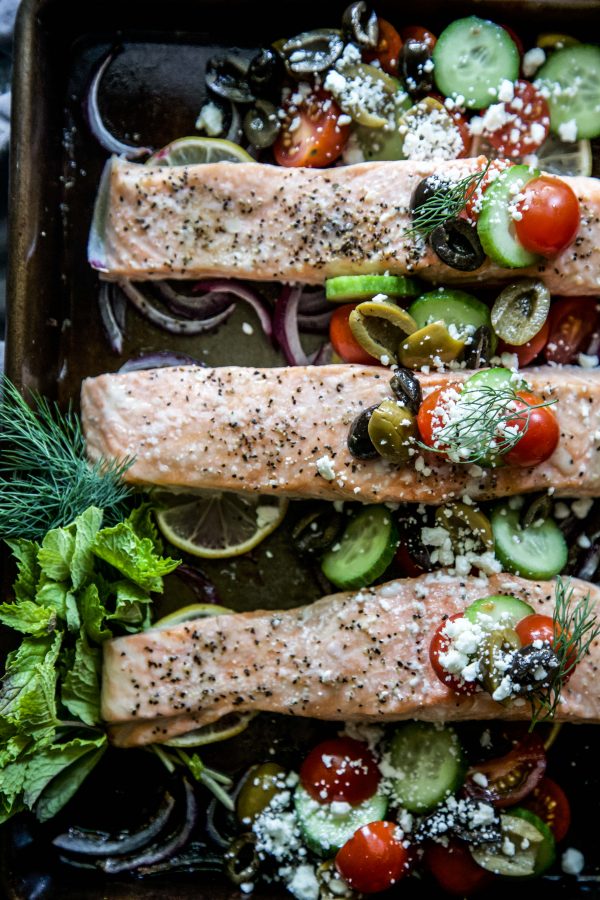 In addition to cooking this week I'm getting some things in order because my parents are coming to town! I surprised my dad with concert tickets for his birthday to see a blue grass band. I'm having a sitter come watch Charlie so we can go to dinner and the concert. Ya know, be an adult for a hot second.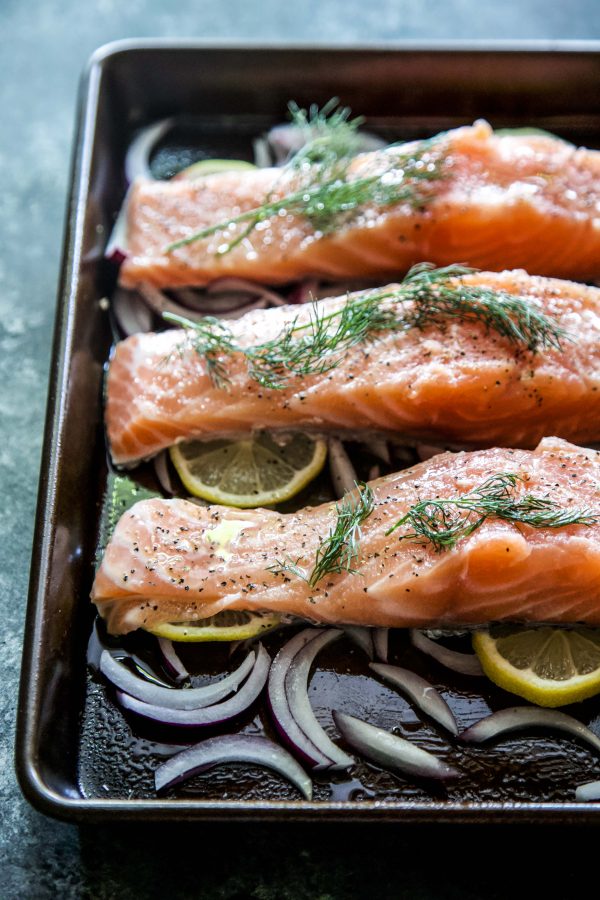 Other than enjoying the fresh feels of the new year, I wanted to hit y'all with an easy weeknight dinner recipe. This Greek Baked Salmon is on constant rotation in our house. Not only is salmon incredibly good for you, it takes only 13 minutes to cook.
Yep, yep! I've nailed the timing and temperature when it comes to baking salmon. 13 minutes at 400 degrees for a 6oz piece. BOOM. Perfection. I make a few extra pieces so I can toss it on salads or make a sandwich. Super fresh and flavorful!
Is it Friday, yet?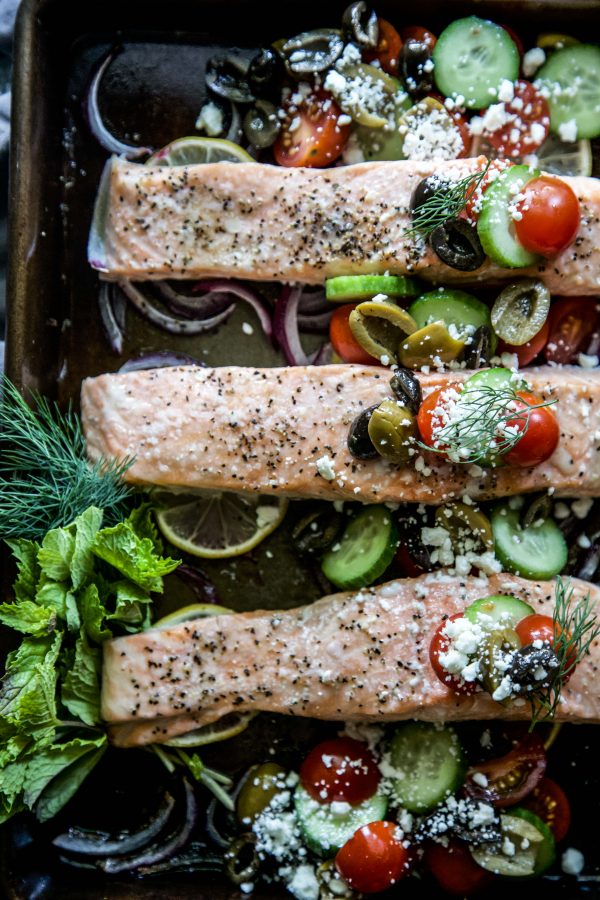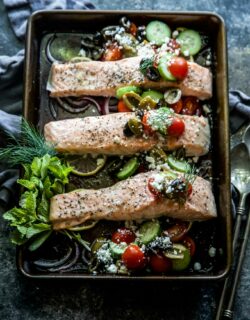 Greek Baked Salmon
Ingredients:
for the Greek topping:
juice of 2 lemons
1 garlic clove, minced
1 tsp dried oregano
1/2 tsp red pepper flakes
pepper to taste
1 cup cubed feta
1 cup cherry tomatoes, halved
1/4 cup sliced kalamata olives
1/4 cup Persian cucumbers, chopped
1/4 cup red onion, chopped
2 tbsp chopped fresh dill
for the Greek salmon:
1 lemon, sliced thinly
1/2 cup sliced red onion
4 salmon fillets about 6oz each
salt and pepper to taste
1 tbsp olive oil
Directions:
Preheat your oven to 400 degrees. Spray a baking dish or baking sheet with non-stick cooking spray.
In a large bowl, whisk together olive oil, lemon juice, garlic, oregano, and red pepper flakes. Season with ground pepper and then add the cubed feta. Place the bowl in the fridge and allow to marinate for about 10 minutes.
Place the lemon and red onion slices into the bottom of the prepared baking dish or sheet. Add the salmon fillets (skin sided down) on top. Season the salmon with salt, pepper, and olive oil. Bake for 13 minutes. Once cooked remove from oven.
Take the bowl with feta out of the fridge and in the tomatoes, olives, cucumbers, chopped red onion and fresh dill. Gently combine. Spoon this mixture over each salmon fillet and serve.
All images and text ©