Life with Charlie: Month Three.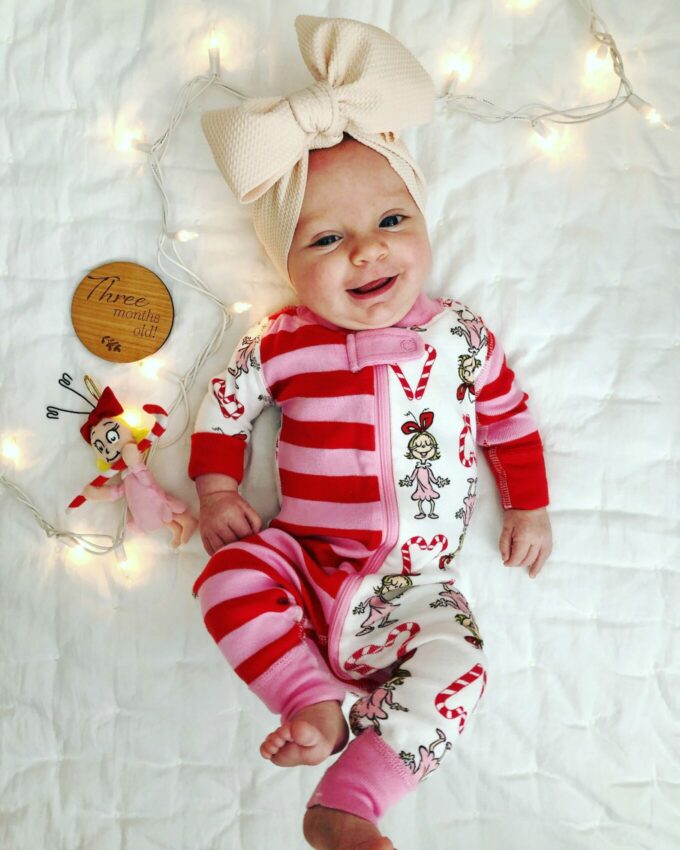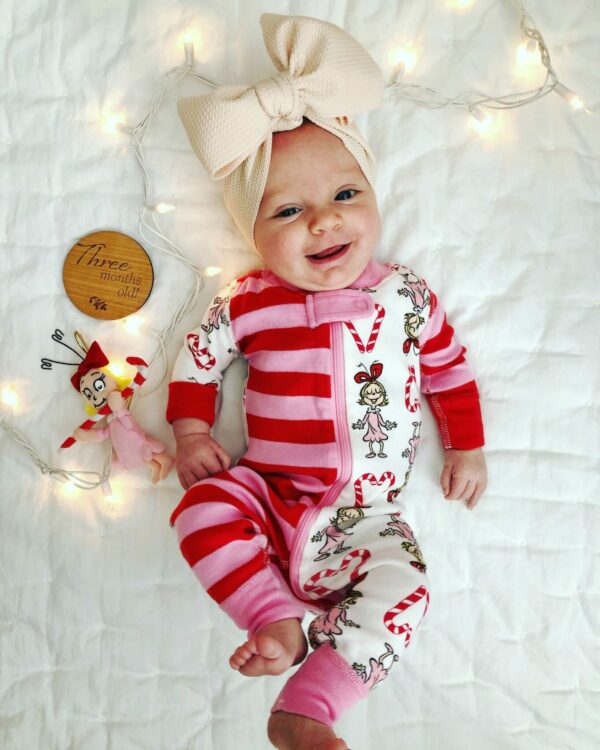 Can't believe it.
THREE MONTHS.
Something tells me I need to get used to time flying by. Every time I sit down to write these monthly recaps, I am in disbelief that an entire month has gone by. Yes, I am thrilled to see our baby girl flourishing and growing, but the other part of me is saying….slowwwww down. I want you to be a baby forever.
Month three has definitely been my favorite so far. Charlie's personality is really shining right now and even though I am her mama and think she is the best thing since sliced bread, I genuinely think she is the coolest chick. She is going to have a lot of friends, look at the world glass half full, and constantly be smiling. How could you not want to hang out with her?
Changes with Charlie….
Once we got back from Thanksgiving it was a mad dash until Christmas. Week nine I tried to get out and about with Charlie to get into the holiday spirit. Plus, I wanted to do some shopping at brick and mortar stores. After visiting two stores that didn't have anything I needed in stock and shuffling Charlie in and out of the car seat, I headed back to Amazon. How did people get anything done back in the day? I will say after that crazy afternoon, Mr. B came home early and helped Charlie put the star on the tree.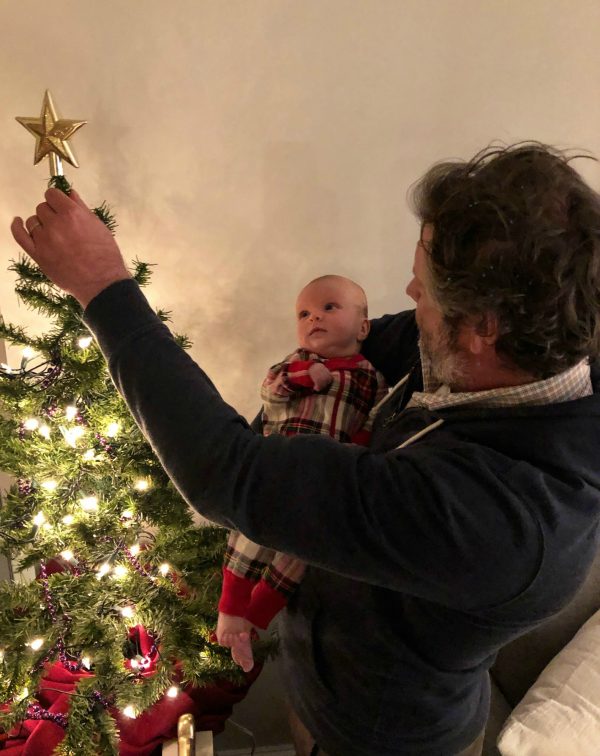 Week ten was a huge milestone for Charlie – she started grabbing things! I was changing her diaper on the changing table and she reached over to grab the rail. It took me a second to realize what had happened. I freaked out and Mr.B and I proceeded to take 289 photos of her. It was a proud parent moment for sure!
Besides learning how to grab objects, week eleven brought us the roll over. It's amazing how fast these small development stages happen. One minute you are just hanging out with your babe and the next she simply just rolls to the side. Charlie thinks it's hysterical because she giggles the entire time she's rolling over.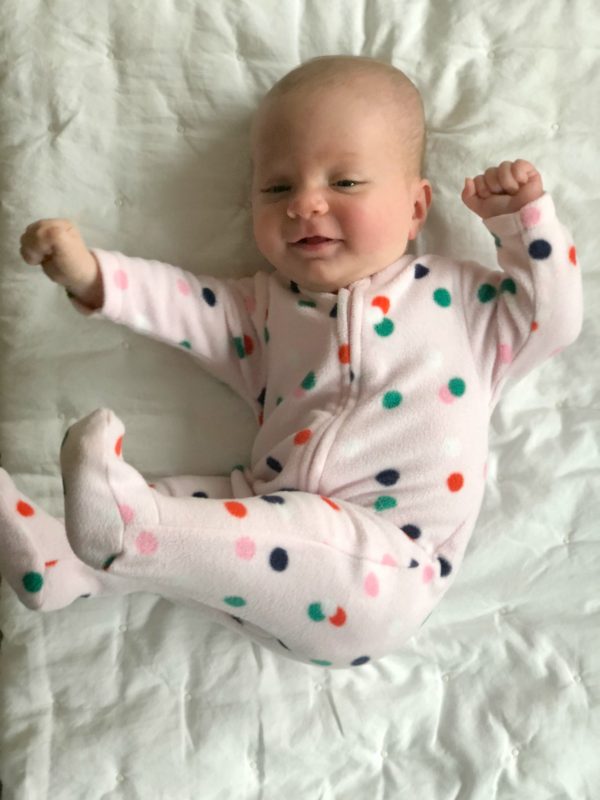 Week twelve was right smack in the middle of Christmas. I'll talk about this more below, but she was a trooper. Besides a minor blowout during Christmas service, she managed to keep a smile during the holidays. Also, having a kid and waking up on Christmas morning is literally the best feeling in the world. Plus, let's be real her pj's made the day.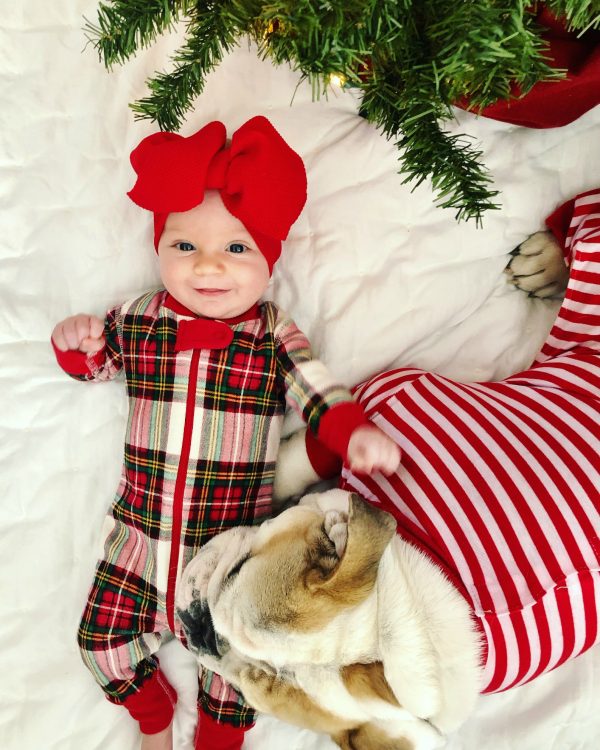 Holidays with Charlie…..
One word comes to mind with Charlie over the holidays, trooper. Not only did we have a ten hour car ride (again) to Kansas City, but we had events every day to attend while we were home. In case you are curious, homegirl still hates her car seat. Fingers crossed she grows out of this soon because we have so much travel coming up!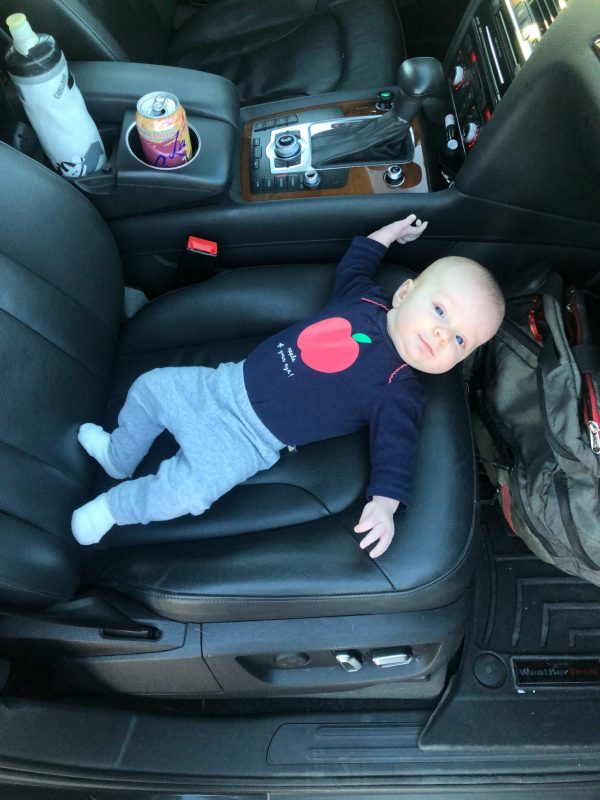 Anyway, two things I prepared myself for going into the holiday shuffle was 1) try to get one good nap in a day where she sleeps on her own. I wanted to maintain somewhat of a schedule, but also wanted to leave room for when she wanted to nap on Grandpa. 2) giving her formula during the day. Right now she is eating six times a day. I breastfeed her three times during the day and give her three formula bottles starting at 4pm until she goes to bed which is now like around 9pm. I can't tell you how freeing it was to be running errands, seeing girlfriends, etc. and not feel stressed about stopping to nurse for 30 minutes.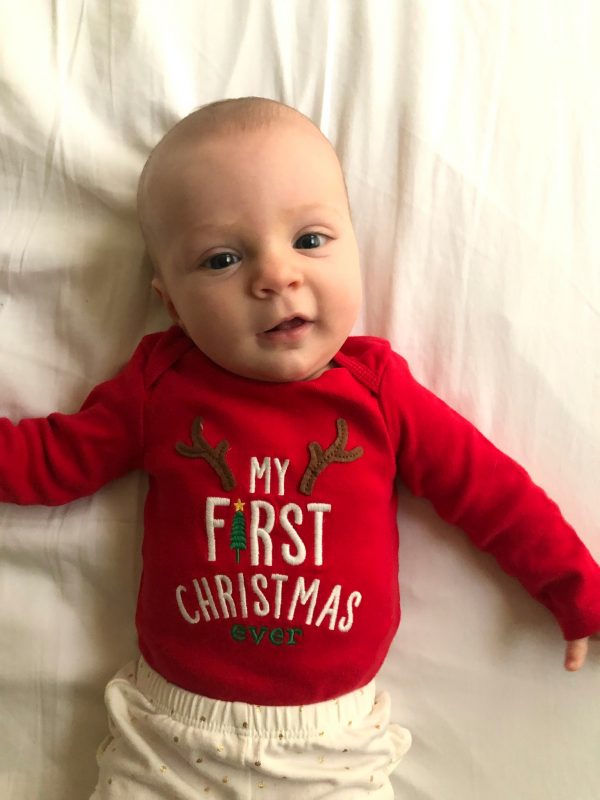 One thing we didn't get to do was see Santa. Apparently he is a popular guy during the holidays! We did head over to Crown center in KCMO, but the line to see Santa was a sea of hundreds of families. Word on the street is that the Santa at Bass Pro Shop is the where we needed to go. They text you when your turn is ready so you don't have to wait in line. GENIUS!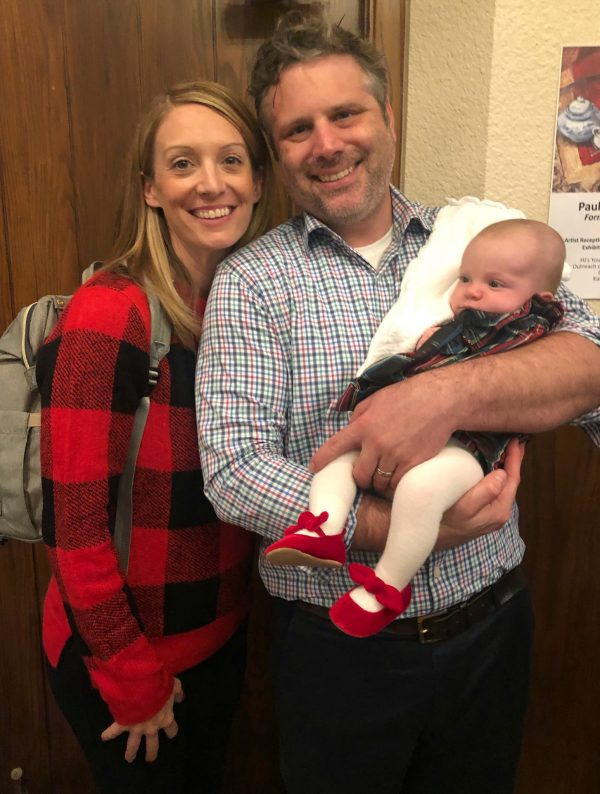 Even though Santa was a fail which was more a parent fail, Charlie had a great Christmas. She managed to wear all her holiday outfits allebit she had a blowout in 80% of them including one in particular that she wore to mass. But hey, better out then in!
How we're doing…..
Tired, but good. The holidays as first time parents are hard. You want your child to be happy and fun when they see folks, but it takes twice the amount of energy because you aren't in your own home. You are traveling from one get together to the next. Your child gets over-stimulated so you have to take them out of the party to re-group.
Charlie woke up a bunch at night towards the last part of the trip, which was difficult. Trying to console a crying child with a full house caused me a lot of anxiety. But like anything, you get through it and life continues on. I will say that I appreciate my bed so much more!
I'm also ready to get back to work and working out. Still trying to get my ducks in a row with the blog, etc. BUT! If you guys have any recs on workouts I can do at home LMK! Until Charlie gets more consistent in the morning, I will have to wait on returning to Orange Theory.
What we're loving…..
– Nanit Baby Monitor: this thing is amazing. We currently just have the travel stand operating since her nursery is still under construction. BUT! We used it while we were traveling and it's the best way to keep tabs on her via our phones.
– Tummy Time Mirror: We are hitting longer stretches with her tummy time and this mirror has been a huge hit to keep her entertained.
– Play Mat: Another hit when it comes to tummy time or if I need to set her down so she can play. Loves grabbing the rings and staring at all the faces.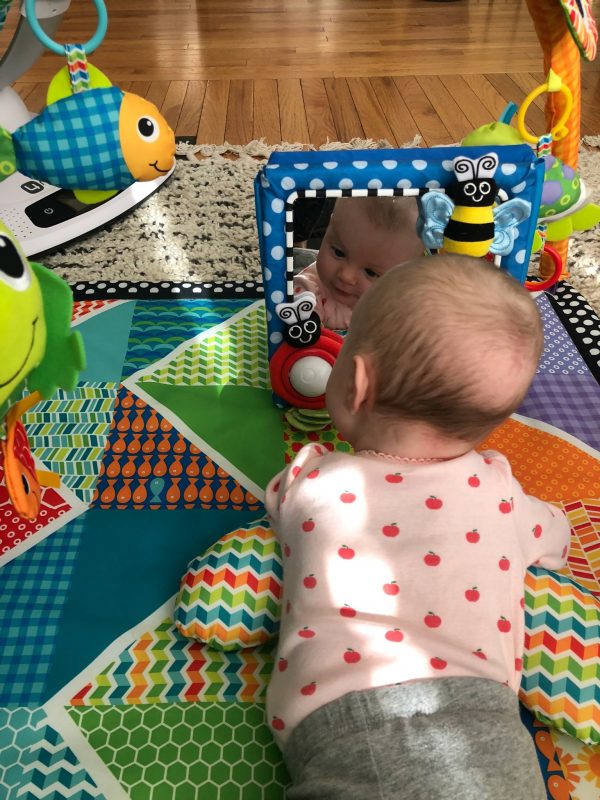 Overall this Month has Been…..
Fun! We are starting to have more of a schedule, Charlie's personality is blossoming, and life seems a bit more stable. January is going to be a bit busy, but I'm excited to bring Charlie along for the ride.