Easy Cherry Biscuit Cobbler
Easy Cherry Biscuit Cobbler is a festive and fruity dessert perfect for summer parties!
Well, it's official.
I am in my thirties.
Yes, I am in my thirties via age. Doesn't 36 look smashing on me? The thirties I am talking about is my pregnancy age! I'm officially 30 weeks. HOLY SH$T!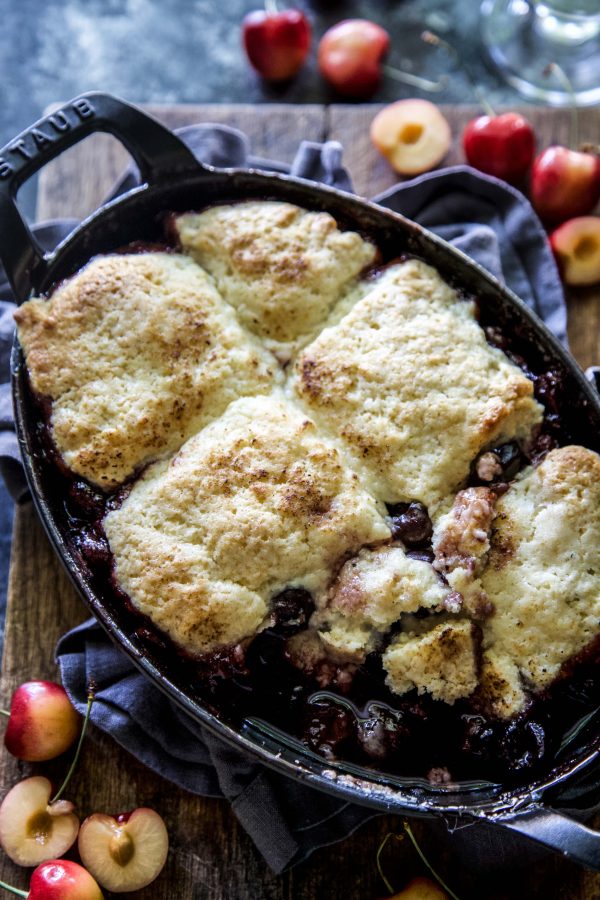 This pregnancy has flown by. I am very grateful that I have felt healthy and have been able to continue on a somewhat normal lifestyle. BUT! Hitting 30 weeks has definitely put up a couple of road blocks.
My energy reserves are being used up faster throughout the day. Typically I can manage some work whether cooking or photographing and still have some fuel in the tank. Not so much. If I do any work for more than 4 hours I have to stop, lay down and recharge. Plus, I'm feeling a lot of stretching and the bump is becoming more and more heavy which means my upper/lower back is working overtime.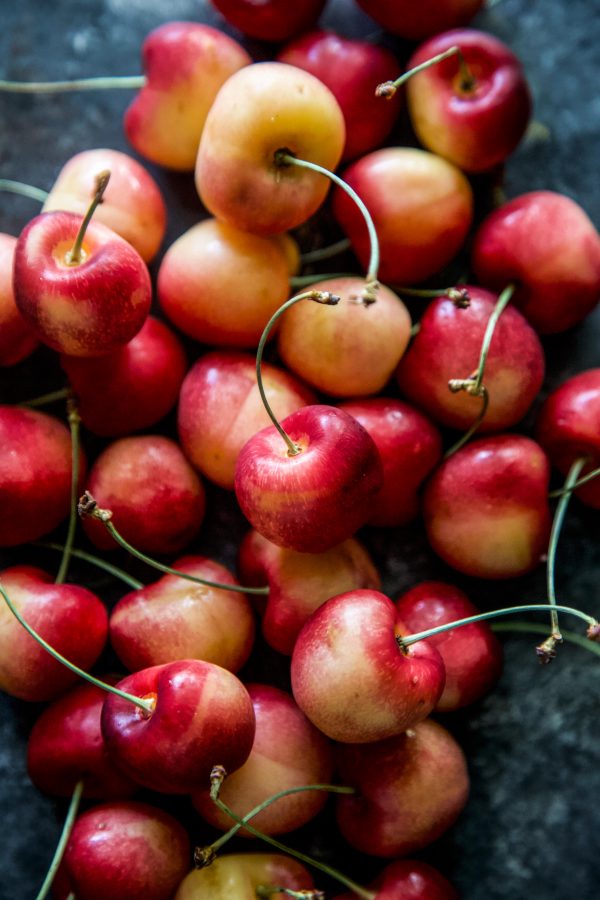 The crazy part is that I have 10 more weeks to go! I'm not sure how I am going to survive especially in this heat. Also, we head to Maine this weekend for a week and I am kind of freaking out about my feet swelling. Part of the trip we will be attending a wedding so I purposely bought wide heels. I may look like an ugly step sister squeezing into these shoes, but homegirl here has no choice!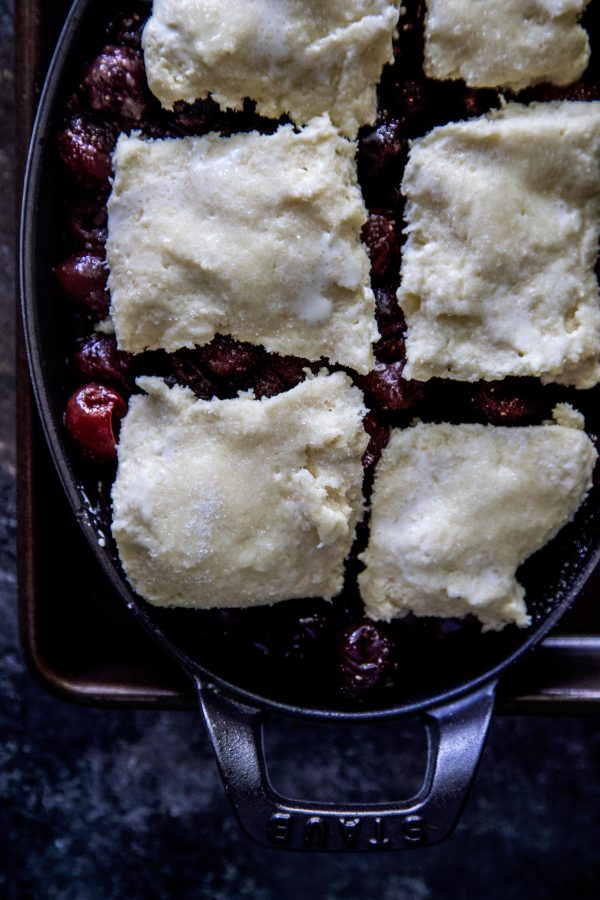 Besides getting ready for travel, I am having a moment with cherries. Can we dub them the summer gem? Perfectly sweet and great for cocktails, main dishes or desserts. Like this Easy Cherry Biscuit Cobbler. What I love about this dessert is that it comes together in about 30 minutes! Simply add fresh or frozen cherries to a baking dish, top with a super fast biscuit dough and bake. That's it.
If you wanted you could swap out the cherries for whatever produce is tickling your fancy. Peaches or any stone fruit would slay in this dish. Now, someone pass me a fork!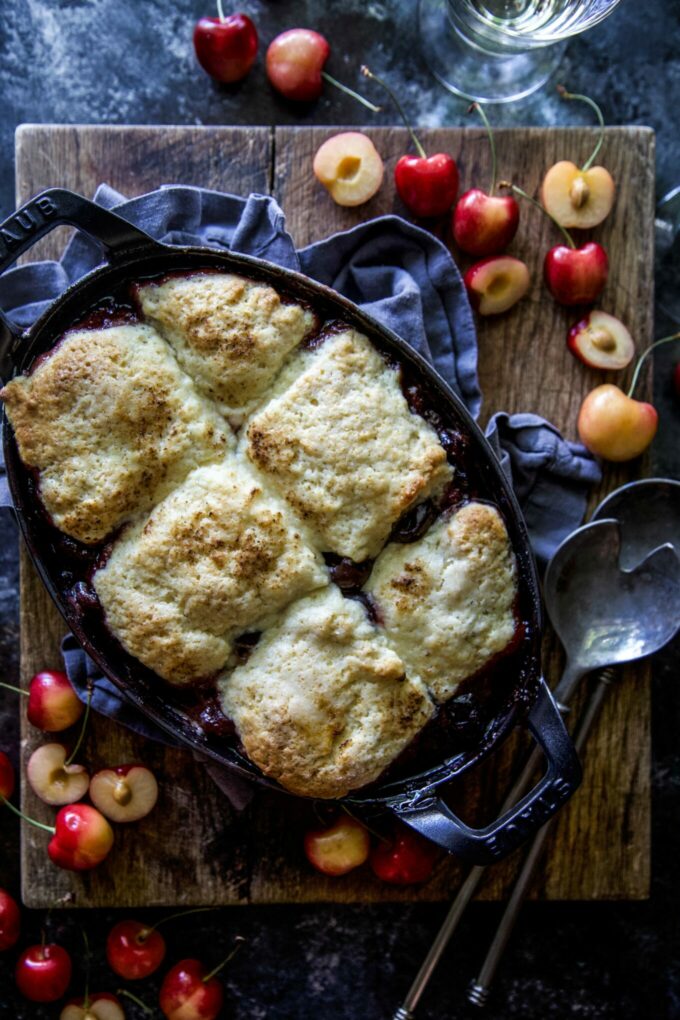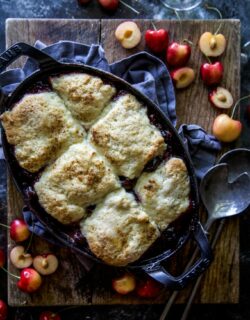 Easy Cherry Biscuit Cobbler
Ingredients:
for the filling: 
2 pounds of fresh or frozen pitted cherries
1/2 cup granulated sugar
1 tbsp cornstarch
3/4 tsp ground pepper
for the topping: 
1 cup all-purpose flour
1/4 cup granulated sugar + more for garnish
1 1/2 tsp baking powder
1/2 tsp kosher salt
3/4 cup heavy whipping cream + more for brushing
Directions:
for the filling:
Preheat heat an oven to 400 degrees. Spray a 2-qt. baking dish with non-stick cooking spray.
In a large mixing bowl, combine the cherries with granulated sugar, cornstarch and black pepper. Pour the cherry filling into the prepared baking dish
for the topping: 
In a medium mixing bowl, combine the all-purpose flour, granulated sugar, baking powder and kosher salt. Add cream and continue to mix until well combined. If you need to add a little more cream to help it come together that's okay!
Take the topping and pat it into a 1/2-inch thick round. Take a sharp pairing knife and cut a tic-tac-toe board into the disc. Place the sections on top of the filling. Using a pastry brush, brush the biscuits with cream and then sprinkle tops with granulated sugar.
Bake the cobbler for about 35 to 40 minutes and if it begins to brown to quickly tint the top with foil. Once baked, remove from oven and serve with ice cream!
All images and text ©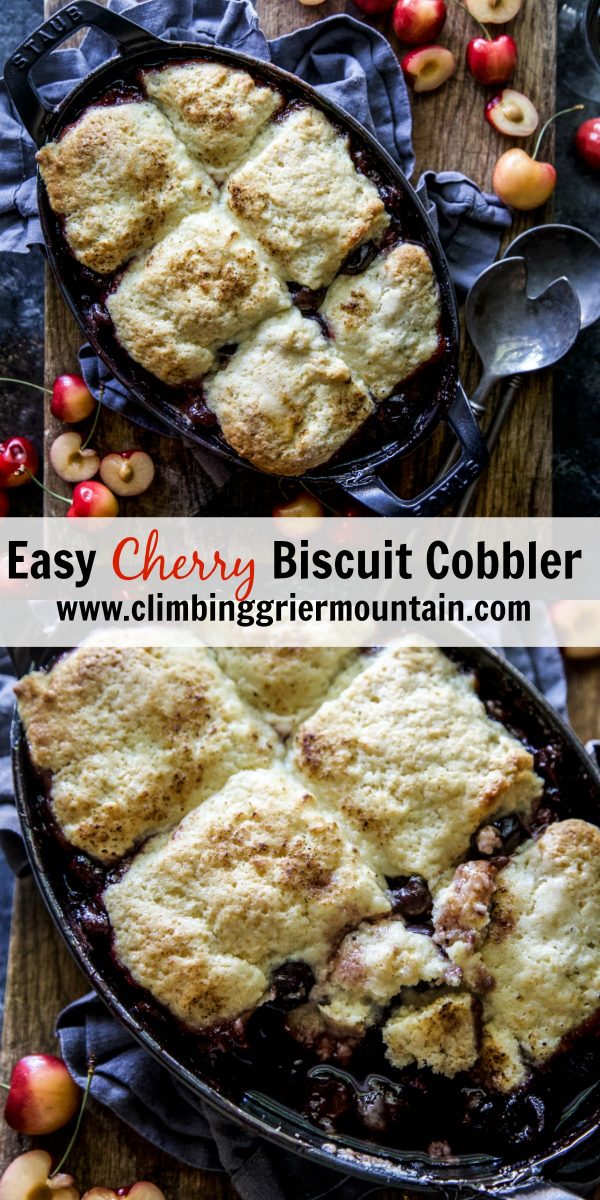 In conclusion, the Easy Cherry Biscuit Cobbler is a swift journey to dessert bliss. With its luscious cherries and buttery biscuits, each bite is a delightful conclusion to a meal, bringing sweetness and satisfaction in every delicious spoonful.