Grilled Rack of Lamb with Mint Chimichurri
Grilled Rack of Lamb with Mint Chimichurri is an easy, flavorful meal that's perfect to make on the grill!
***This post is sponsored by American Lamb Board. As always all opinions expressed are 100% my own.***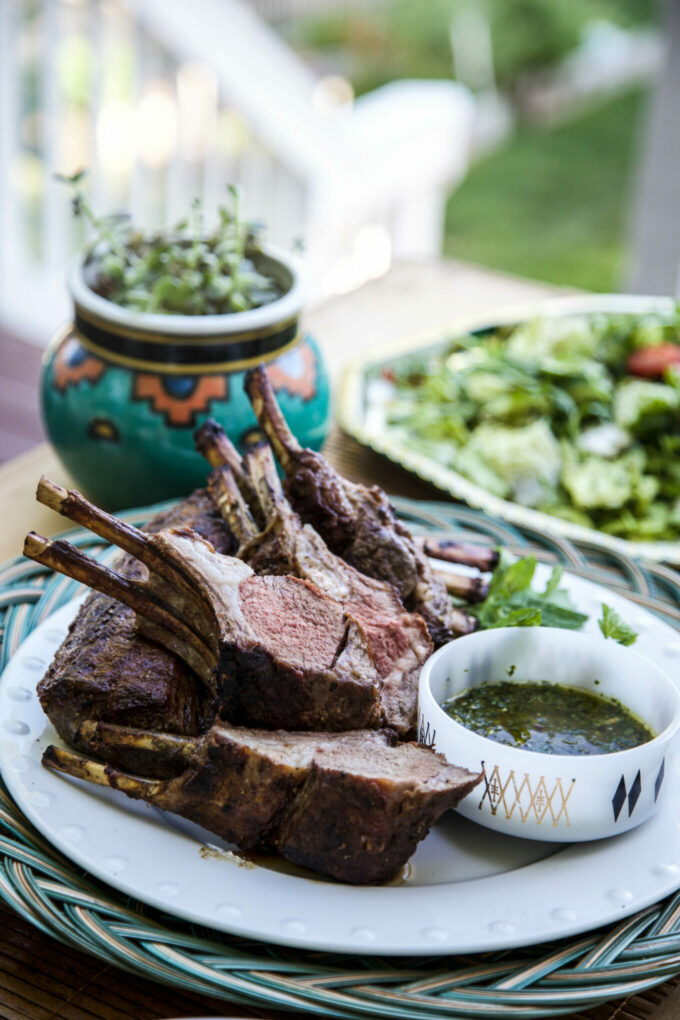 Summer, summer, summer time.
Aren't we in the thick of it?
Last week was a bit sporty with temperatures reaching 100 degrees! When it gets that hot the last thing I want to do is turn on the oven. Which is why I rely on the trusty grill to help me beat the summer heat!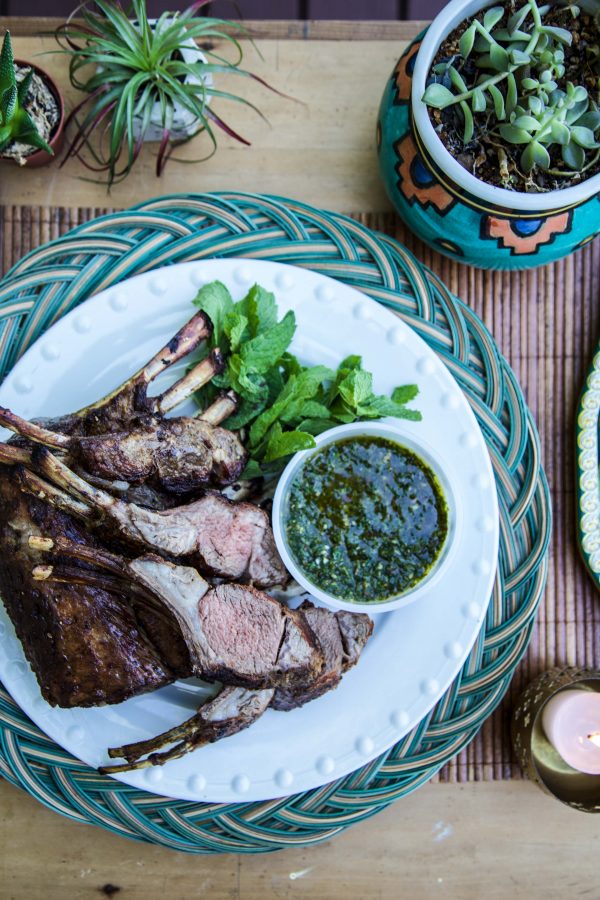 The options are endless when it comes to grilling a meal. BUT! Can I suggest a flavorful, easy to grill cut of protein that is worthy of a weeknight or weekend appearance? Have you ever tried Grilled Rack of Lamb?
Don't let the name intimidate you. Grilling a rack of lamb is super simple and will seriously make you swoon because it's so juicy! A couple of things to keep in mind when preparing your rack of lamb for grilling – have your butcher french it. This is a basic preparation of exposing the bones which will make cooking and handling the rack of lamb much easier.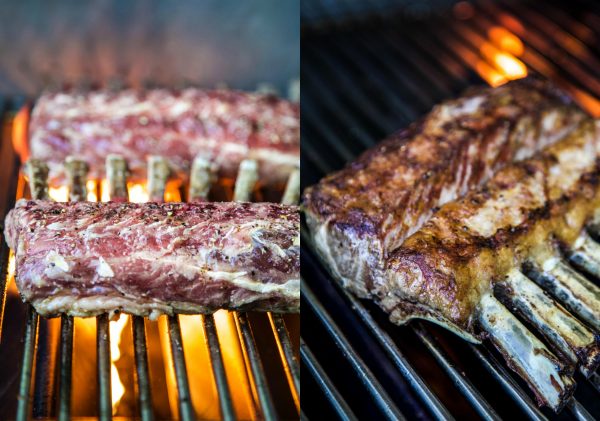 Before you fire up the grill make sure to leave the lamb out on the counter to allow it to come to room temperature. This will ensure even cooking. Next, season with salt and pepper and then fire up that grill. Place the lamb fat side down first on the hot grill for a few minutes, flip and then transfer to a cooler side of the grill with the lid down. Wait for it come to 135 degrees and BOOM! Rack of lamb is ready to serve.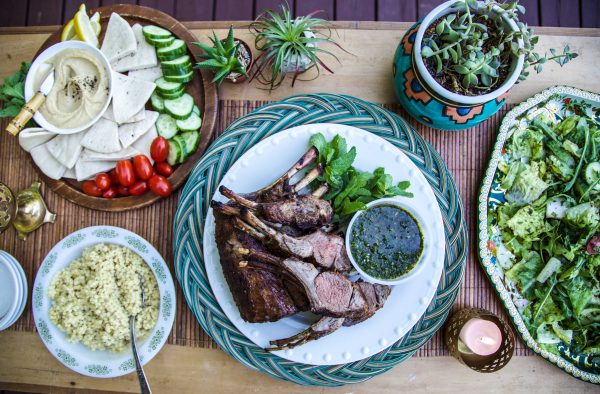 Here is a great guideline for cooking temperatures for grilled lamb. Keep in mind that grilled lamb benefits from a rest before carving and serving. Be sure to remove the lamb from the grill when it is 10 degrees lower than desired doneness as it will continue to cook while resting.
Medium Rare: pull the lamb from the grill @ 135 degrees
Medium: 150 degrees
Well done: 160 degrees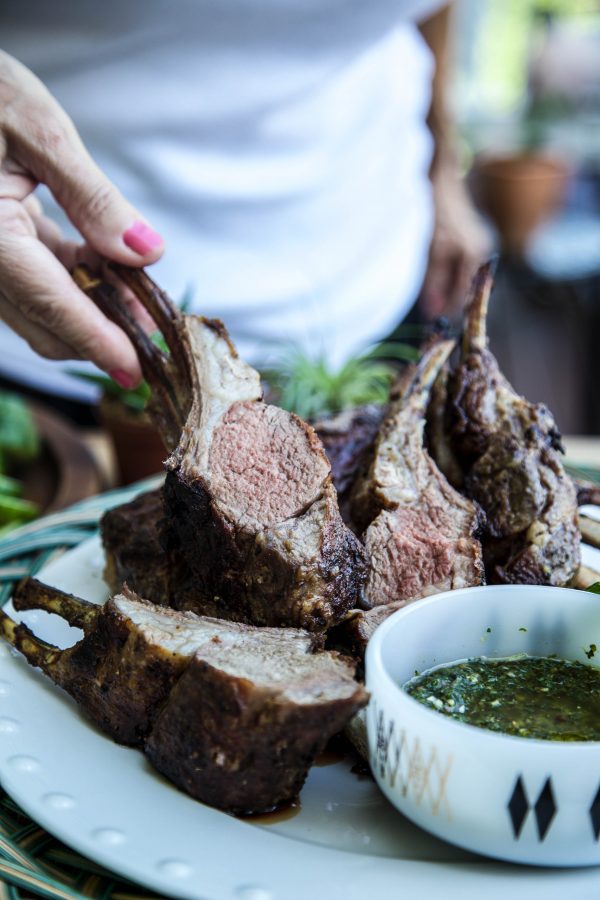 Now, what is going to oooooh and ahhhhh your family and friends besides the juiciness of the lamb is the mint chimichurri. You can prepare this a day ahead because the longer it sits the better it tastes. The mint helps cut the rich flavor of lamb and really brings out all the flavors! So, what do you say, ready to grill a rack of lamb? Thought so!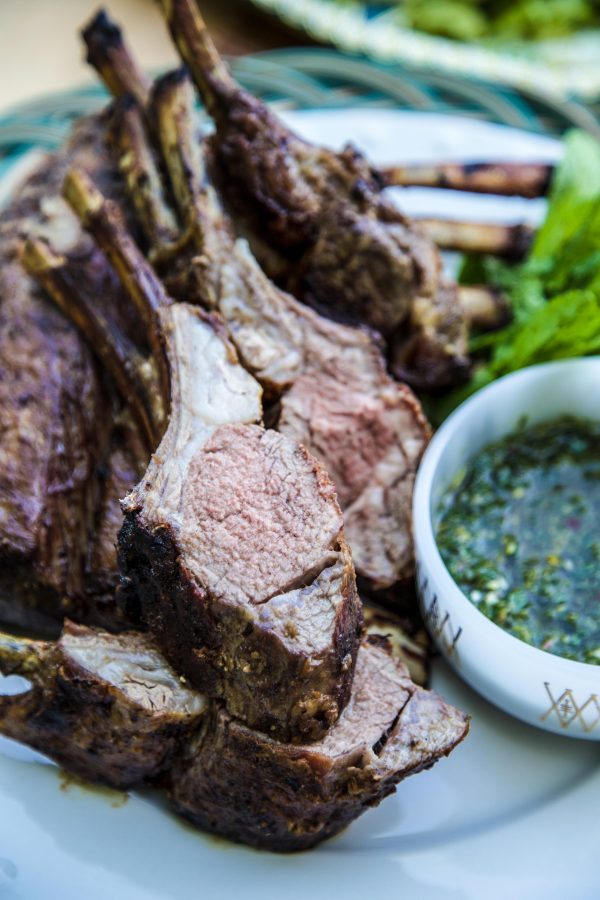 Also, if you are interested in some of the trays and chargers used in this photoshoot, check out my mom's Etsy shop: Grow Your Calm more fun options!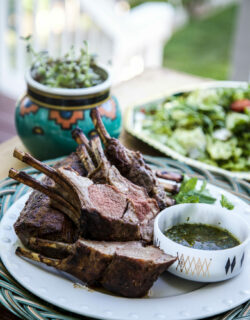 Grilled Rack of Lamb with Mint Chimichurri
Ingredients:
for the rack of lamb:
2 racks of American lamb, frenched
salt and pepper to taste
1/4 cup olive oil, divided
for the mint chimichurri:
2 garlic cloves, roughly chopped
1 cup fresh mint
1 cup fresh Italian parsley
2 tbsp red wine vinegar
1/2 tsp kosher salt
1/4 tsp red pepper flakes
1/4 tsp ground pepper
6 tbsp olive oil
Directions:
for the rack of lamb: 
Place the racks of lamb on a baking sheet. Rub each rack with 2 tbsp olive oil, salt and pepper.
Preheat a grill to medium-high heat. Place the racks of lamb (fat side down) on the hot grill for about three minutes. Flip and grill additional 3 minutes. Next, transfer the racks to the medium heated part of the grill and cook the racks with the hood down for about 10 to 15 minutes. You want the internal portion of the lamb to be around 130 degrees. Once cooked, remove the racks of lamb from the grill rest for at least 10 minutes before slicing and serving with mint chimichurri.
for the mint chimichurri:
In a food processor add garlic, mint and parsley. Pulse a few times. Next, add in the red wine vinegar, kosher salt, ground pepper, and red pepper flakes. Pulse to combine. Add the olive oil and continue to pulse until everything is combined. Pour the chimichurri into a bowl and place in the fridge for at least 30 minutes for the flavors to set.
All images and text ©