Roasted Curry Tomato Galette
Roasted Curry Tomato Galette is a delicious way to use up all those summer tomatoes! A simple rustic pie made with a few ingredients – tomatoes, onions, cheese and curry powder!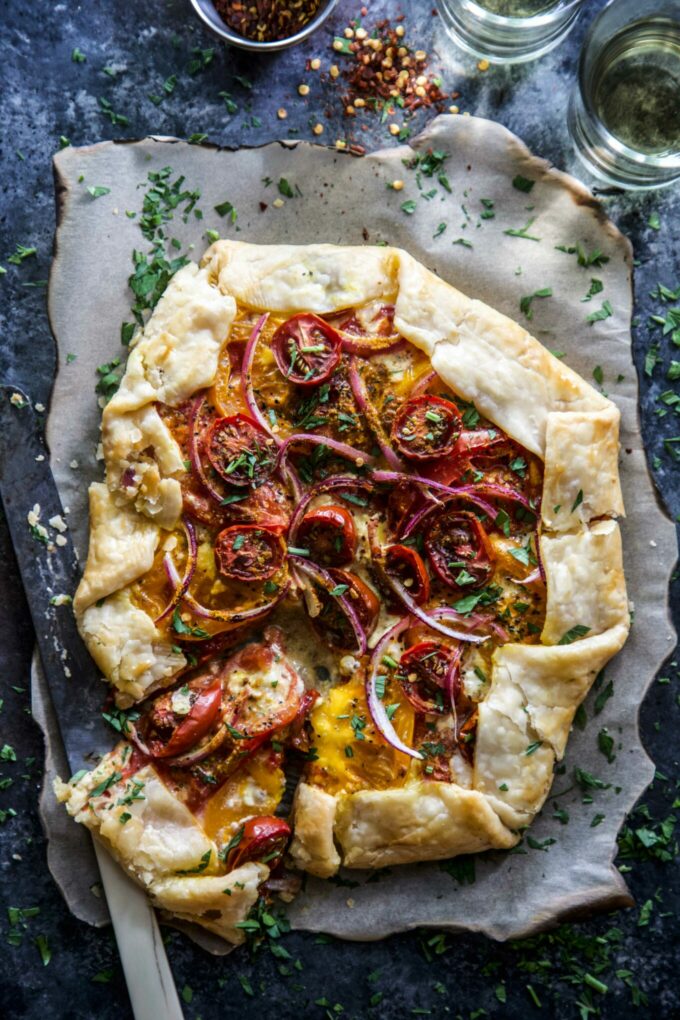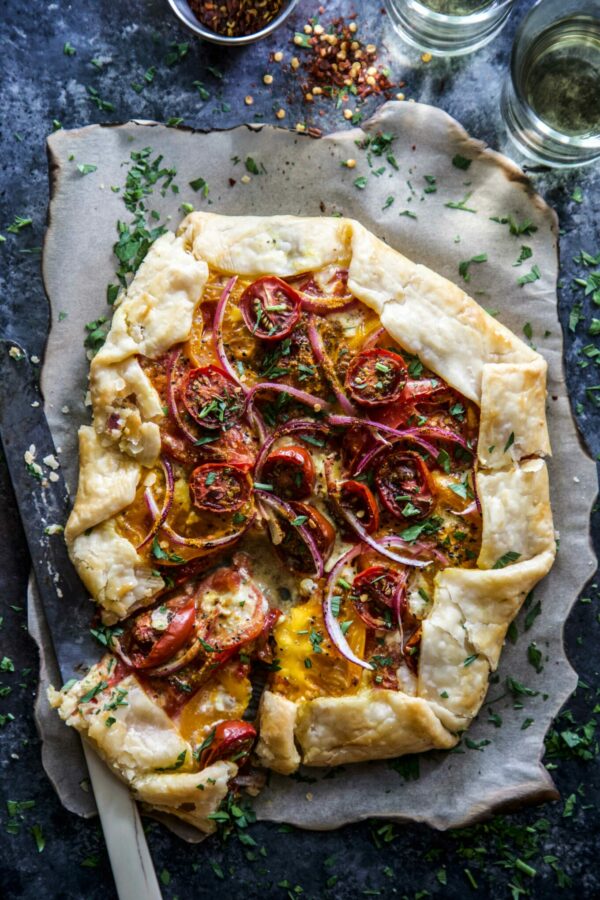 So, Mind Hunter is back.
This is my TV dream show.
Maybe it's because I should have been a cop or some sort of FBI serial killer psychologist? Did you know that I almost went to school to major in criminal justice? I also wanted to be a lawyer, but definitely wasn't smart enough for that.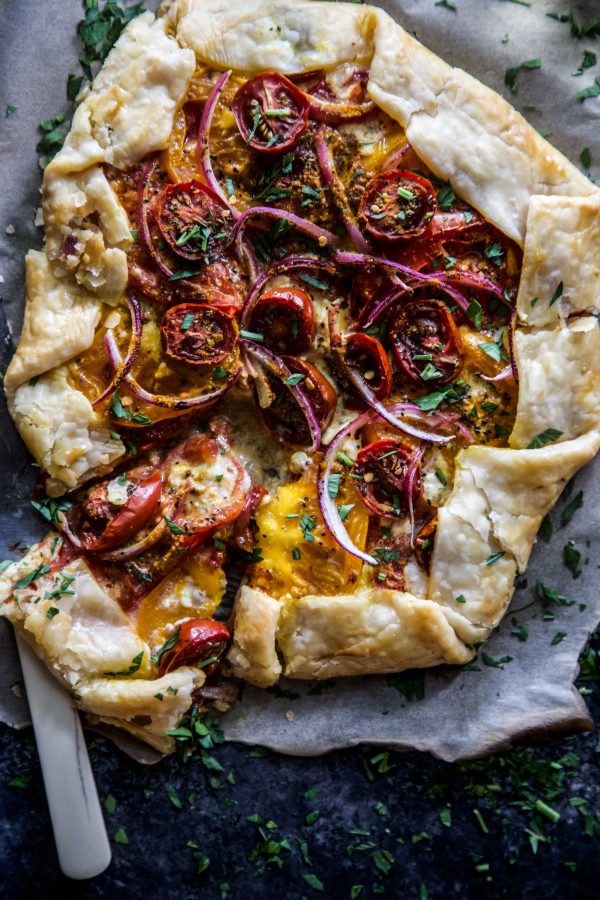 Anyway, if you haven't watched this show (it's on Netflix BTW) I highly recommend it because the show sheds light on how we even started to understand/catch serial killers. The principal is simple in a way. If you can weave some common threads between serial killers the more likely you are to catch them before they do harm.
In order to understand those common traits you have to ask them, "why did you do it?" Which entails talking to them in jail. Creeeeeeeepy! The whole show dives deep into this matter and I could not be more obsessed. Plus, I can't help but think that Holden will bust out into a Glee song. Anyone else miss Glee? *crickets*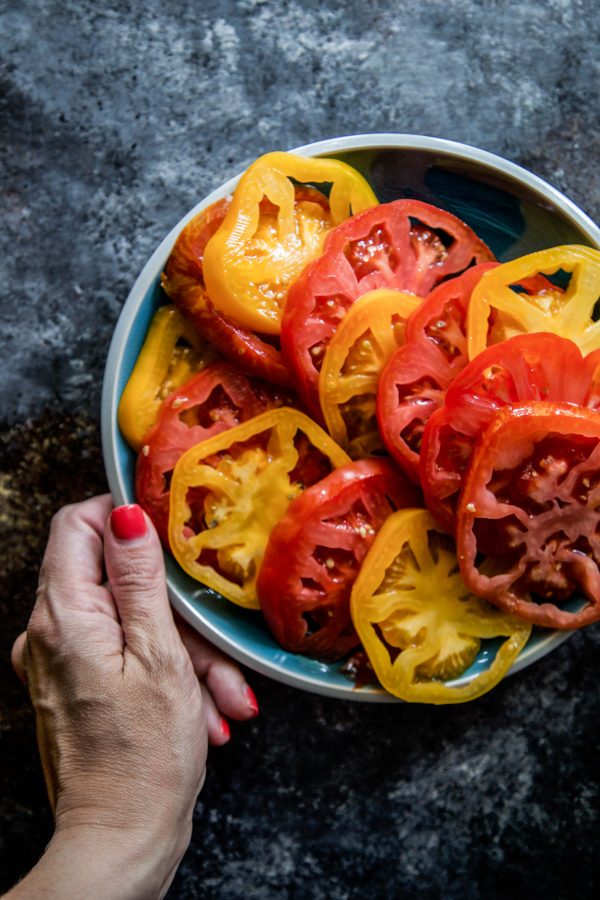 If you are ready to dive into Mind Hunter you will need some substance while you watch. With tomatoes flying at us I figured the best way to use up these juicy gems is in this Roasted Curry Tomato Galette.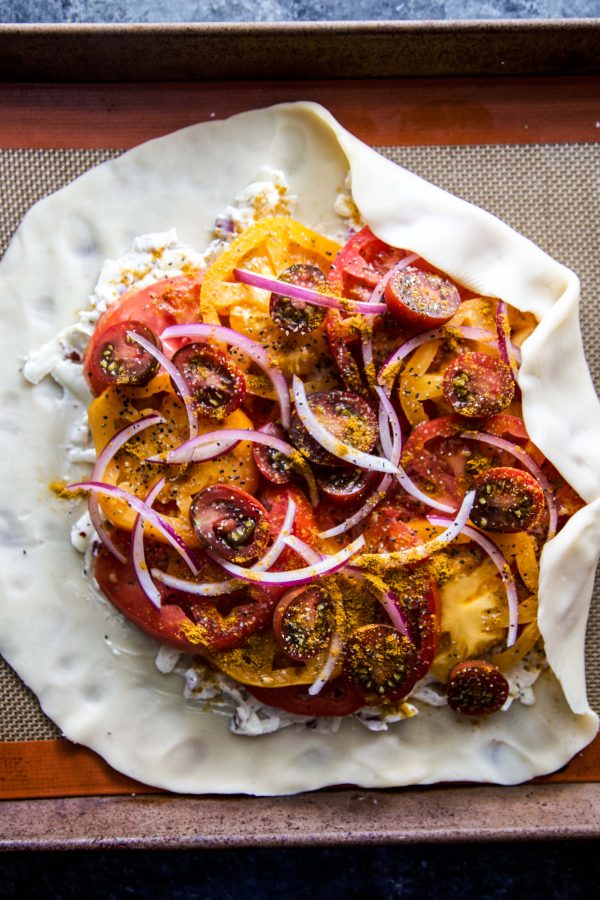 Simplicity is key in this galette – i.e. use a store-bought pie crust. Start layering in all those tomato slices and sprinkle some curry powder on top. What you get is a rustic, summer extended pie that you can enjoy especially over a certain upcoming holiday.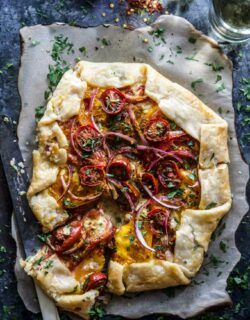 Roasted Curry Tomato Galette
Ingredients:
1 store-bought pie crust at room temperature
2 cups shredded mozzarella cheese
1/2 cup shredded white cheddar cheese
1/2 cup mayonnaise
1 serrano chile, stemmed, seeded, and finely chopped
1/2 tsp red pepper flakes
2 lbs ripe medium tomatoes and cherry tomatoes
1/2 tbsp curry powder
1/3 cup red onion slices
1 tbsp olive oil
1 large egg, whisked
salt and pepper to taste
Directions:
Preheat an oven to 400 degrees. Place parchment on a baking sheet and spray with non-stick cooking spray.
Take the pie crust and roll it out into a 12-inch circle or oval.
In a medium bowl combine mozzarella, white cheddar cheese, mayonnaise, serrano chile, and red pepper flakes. Spread the cheese mixture over the dough leaving about two-inch border. Also, you may not use all the cheese mixture. Save to use on your breakfast toast.
Place the tomato slices on top of the cheese. Sprinkle the top of the tomato slices with curry powder, salt and pepper. Flip and do the other side. Fill in with cherry tomato halves and red onion slices. Fold the exposed border of dough toward the center. Drizzle the top with olive oil.
Next, take the egg and brush the pie border. Bake for about 20 to 25 minutes or until crust is golden brown. Let cool before slicing.
All images and text ©