Easy Chicken & Chorizo Chili
Easy Chicken & Chorizo Chili is an easy and flavorful one-pot dish perfect for feeding large crowds during the winter months!
***This post is sponsored by Curly's BBQ. As always all opinions expressed are 100% my own***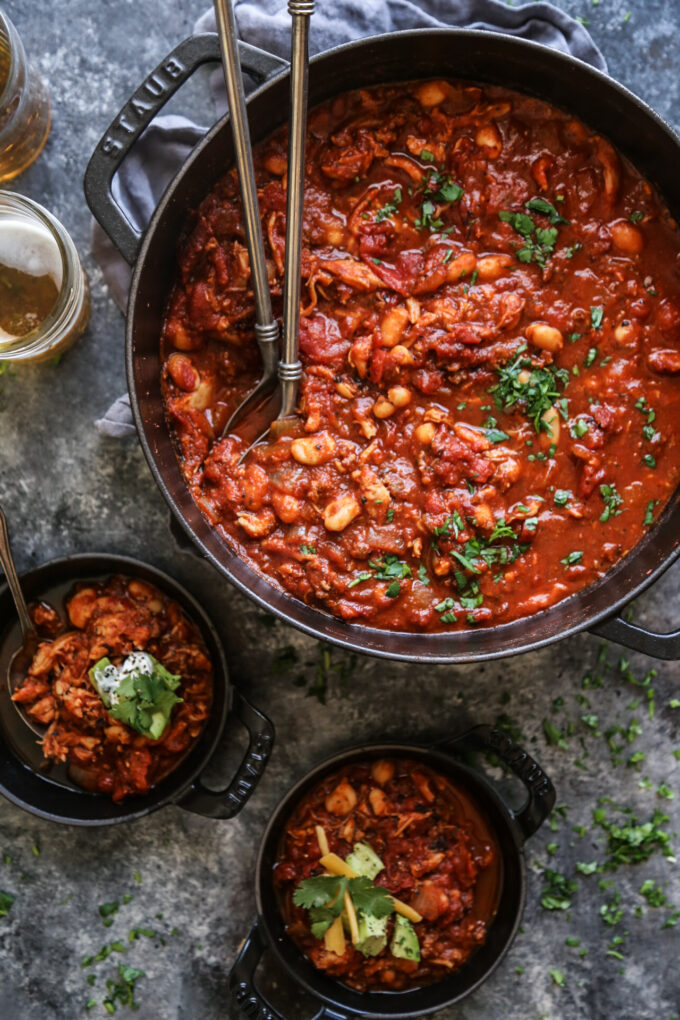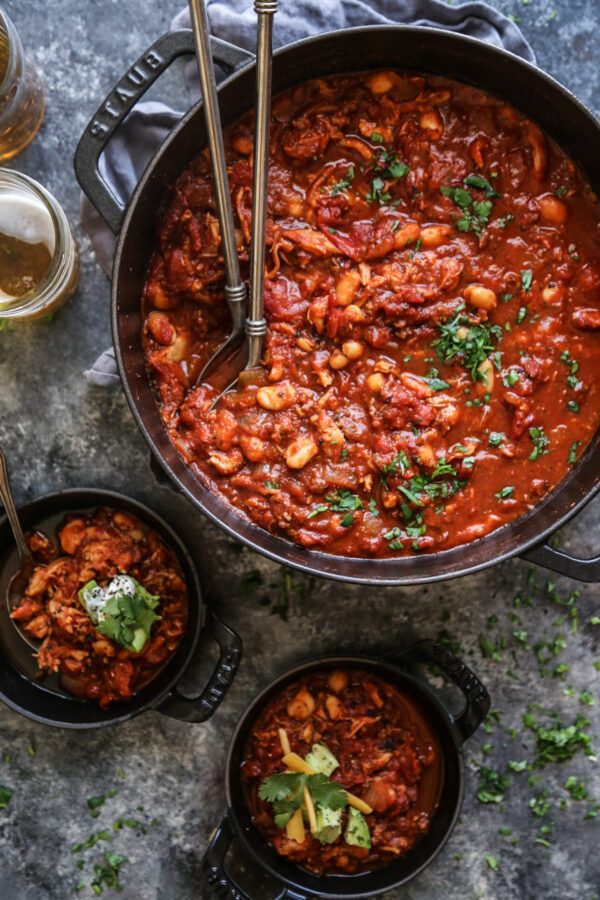 Is it just me, or does this winter feel extra chilly?
What was the deal with the polar vortex? YIKES.
I feel like Old Man Winter is being rather stubborn and refuses to politely exit. Well, the joke may be on him because things are going to heat up soon. With spring and a certain basketball situation in just a few weeks, it's going to feel like a heat wave.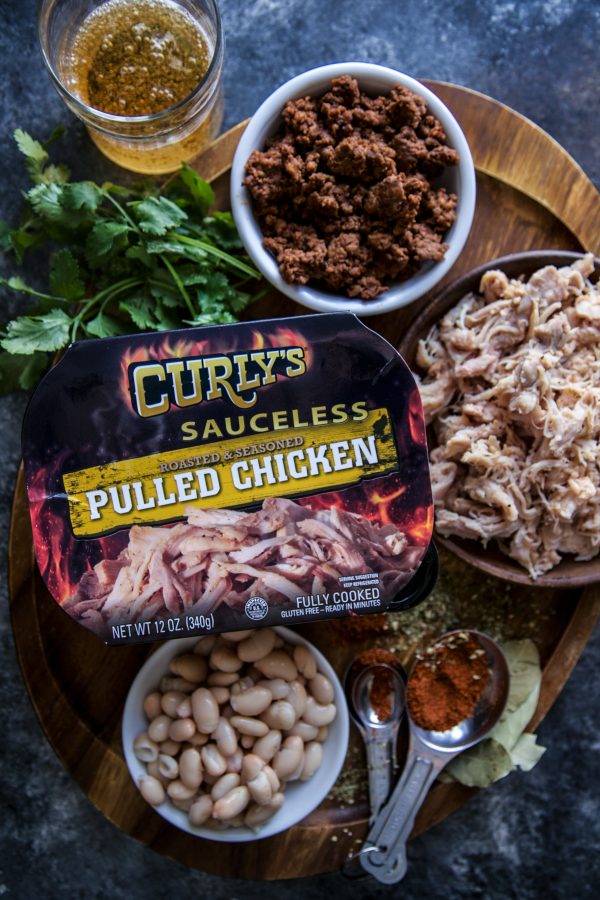 And speaking of heating things up, I have the best dish to make while you are perched in front of the TV with your family and friends cheering on your favorite team. This Easy Chicken & Chorizo Chili is my current favorite when it comes to one-pot meals. BUT! What makes this chili so flipping easy to put together and taste delicious is the Curly's BBQ Sauceless Pulled Chicken.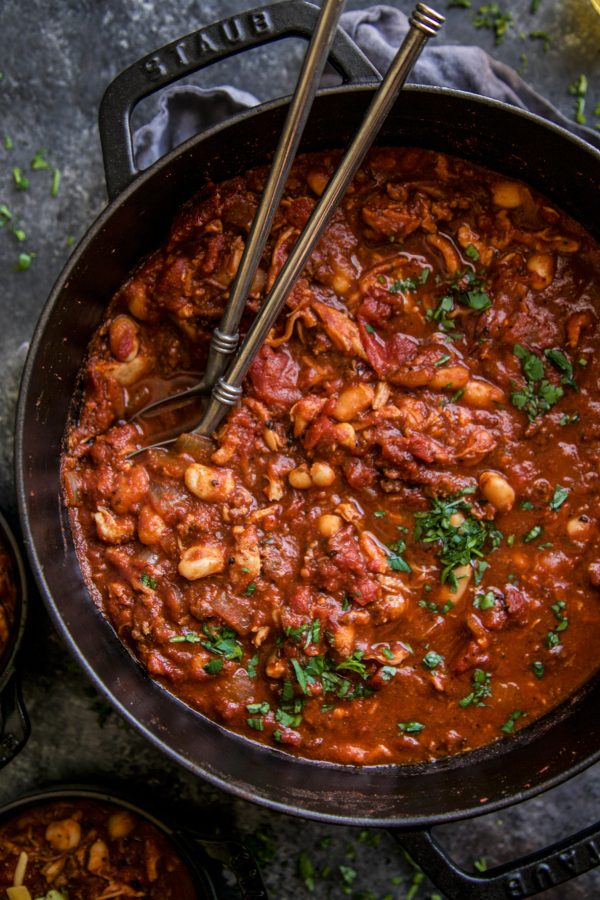 The hickory-smoked pulled chicken gives the chili a depth of flavor without sacrificing time. You can add it to so many dishes and the chicken will absorb the flavor creating a mouthwatering experience. With the Easy Chicken & Chorizo Chili all you have to do is make the base of the chili using a few simple ingredients and then mix in the sauceless pulled chicken. Easy peasy.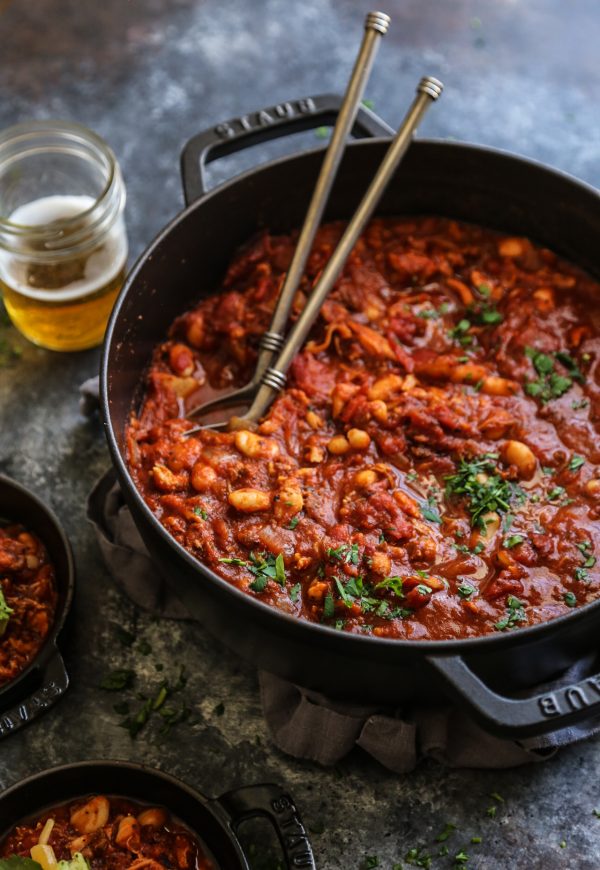 You can find Curly's products in the refrigerated meat case section at your local grocery store. Also, for a limited time there will be a $1 off coupon available on Curly's packages in store. So definitely pick up a few while this special coupon offer lasts! You can find Curly's BBQ close to you right here: https://curlys.com/store-locator/
Who's ready to heat things up?!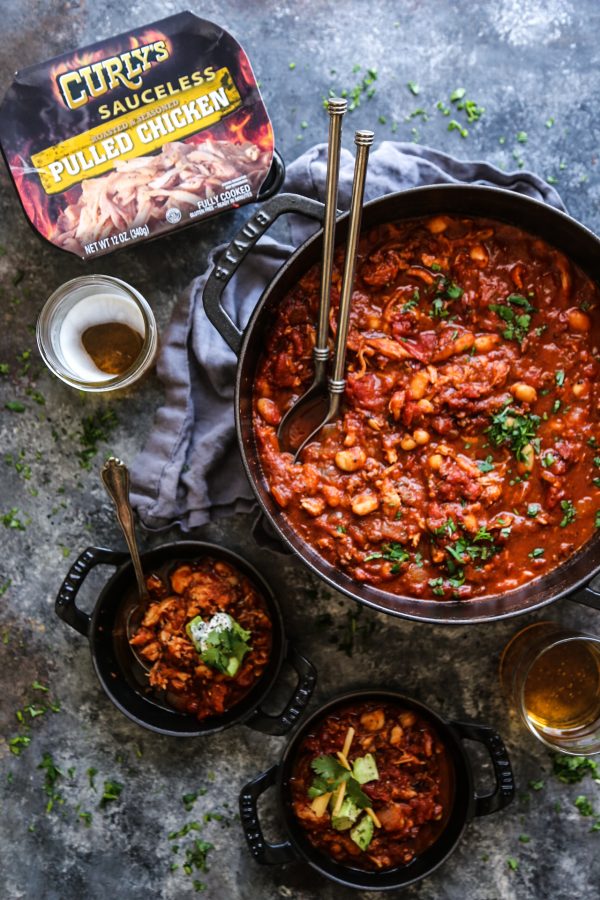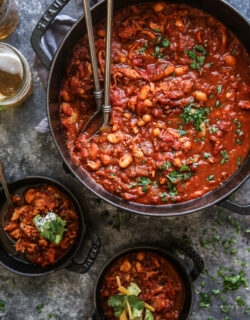 Easy Chicken & Chorizo Chili
Ingredients:
2 tbsp olive oil
1 12-oz container Curly's Sauceless Pulled Chicken
1/2 lb ground pork chorizo, cooked
1 yellow onion, diced
2 garlic cloves, minced
1 cup beer
1/3 cup chili powder
1 tbsp dried oregano
1/4 tsp ground cinnamon
2 bay leaves
1 28-ounce can fire roasted tomatoes
2 cups chicken stock
1 cup tomato puree
1 15-ounce navy beans, rinsed
Shredded cheddar cheese, for garnish
Sour cream, for garnish
Fresh cilantro, for garnish
salt and pepper to taste
Directions:
In a large heavy pot, heat olive oil over medium-high heat. Add the onion, garlic, salt and pepper to the pot. Stir to combine and cook until the onion has softened about five minutes. Next, add the beer and bring the mixture to a boil. Cook until the liquid has completely evaporated. Add in the chili powder, oregano, and cinnamon. Stir and all the spices to bloom for about a minute. Stir in the bay leaves, diced tomatoes, chicken stock and tomato puree.
Bring the mixture to a boil and then reduce to a simmer. Continue to cook until the liquid has slightly evaporated and the chili begins to thicken about 20 minutes. Next, add the chicken, chorizo and beans to the pot. Stir and continue to cook for additional 10 minutes or until everything has warmed through. Serve the chili in bowls and garnish with toppings!
All images and text ©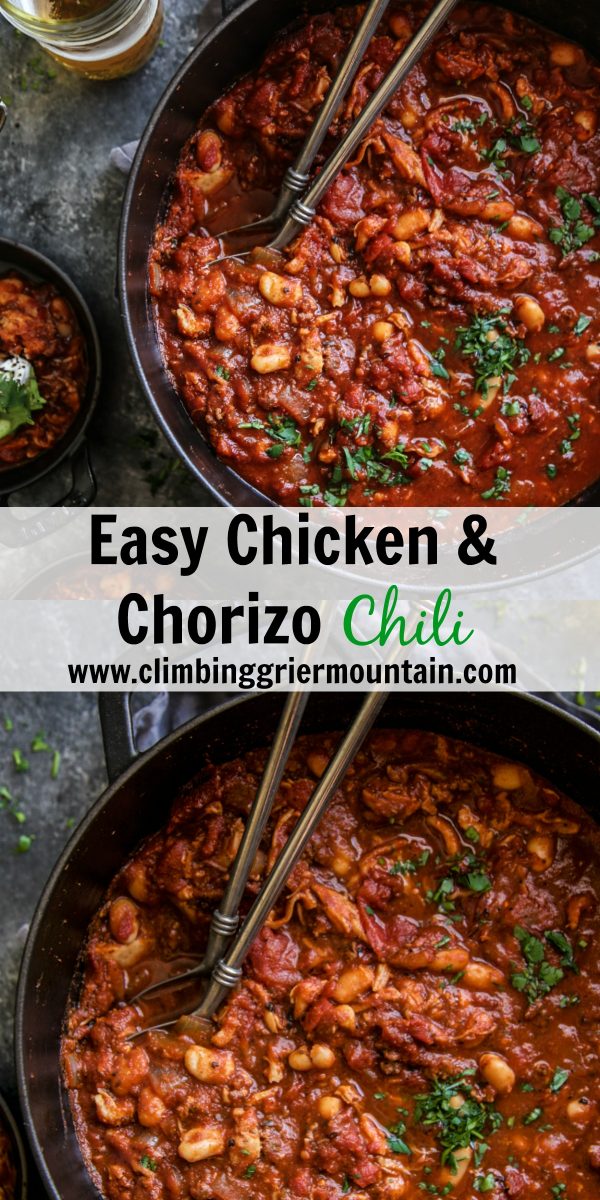 Indulge in the hearty fusion of Easy Chicken & Chorizo Chili. Each spoonful delivers a flavorful combination of tender chicken and spicy chorizo, creating a satisfying conclusion to your culinary journey.