Easy Slow Cooker Corned Beef
Easy Slow Cooker Corned Beef is a festive and delicious meal to make for St. Paddy's Day!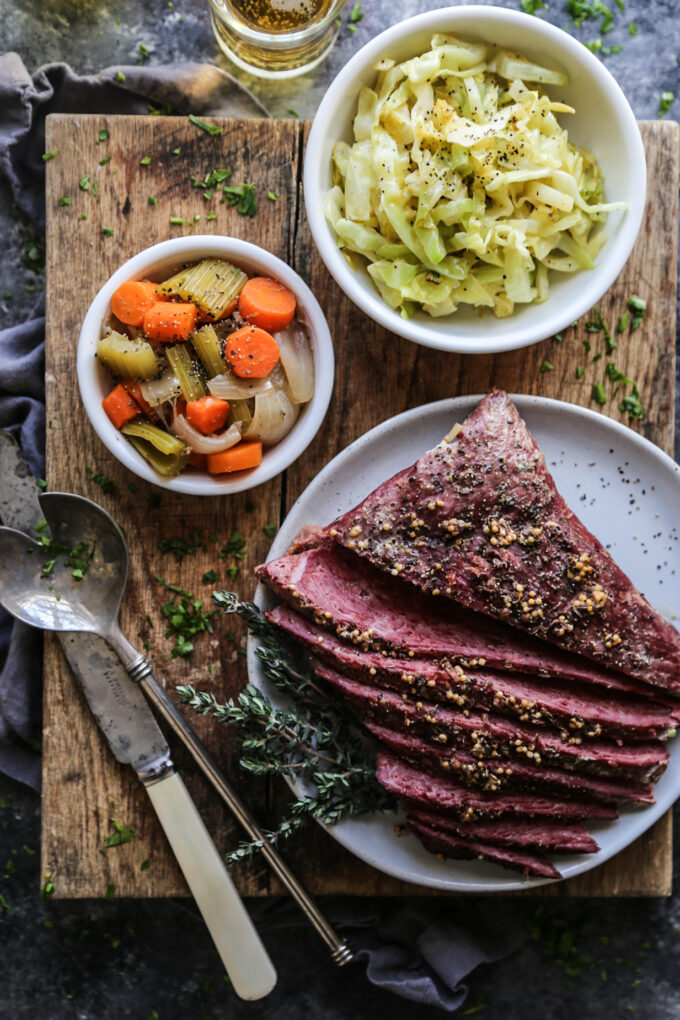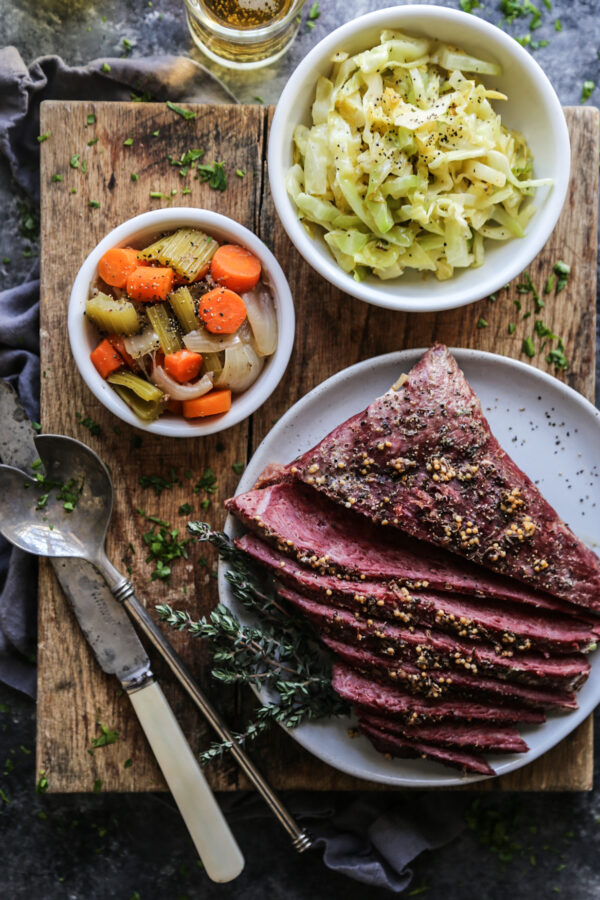 T-minus four days until St. Paddy's Day.

Is it me, or did March 17th sneak up on us?

Once daylight savings time hit I have had tunnel vision. Just get me to SPRING! I can't be the only one ready for greener pastures and sun-filled days.

Anyway, something I just thought of since St. Paddy's falls on a Sunday, do people still get the day off from Lent? I feel like it would be weird to drink green beer on a Sunday, but maybe I'm just old? I dunno.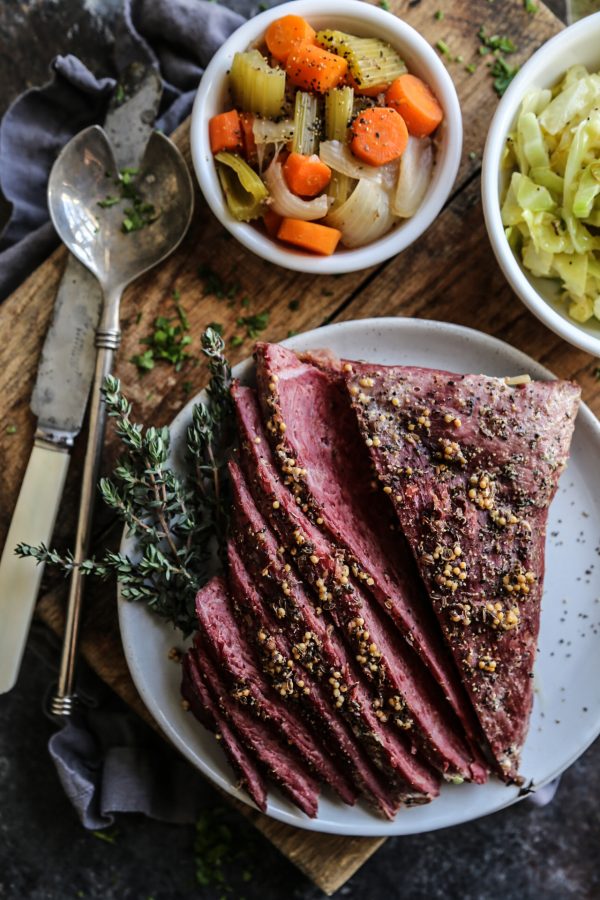 Either way, I do have a full menu planned for the Irish holiday. I have been dreaming about scones ever since my mom and I left Ireland in December. Definitely making a big batch and to go along this Easy Slow Cooker Corned Beef.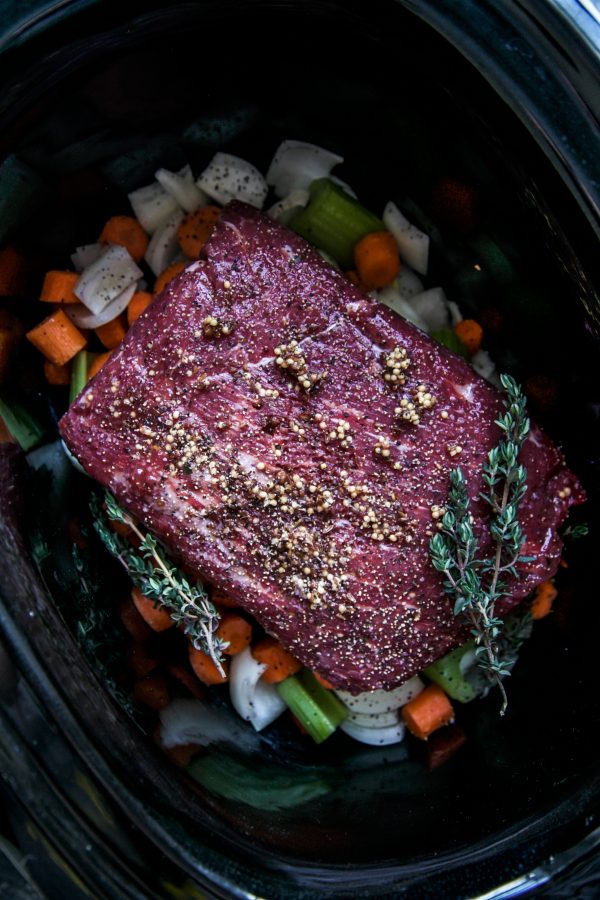 I looked through the CGM archives and found zero recipes for corned beef. After ten years of blogging you would think I would have had my act together and created a tried and true recipe. Well, forgive me for my shortcomings because this version of corned beef is flipping easy.

Like throw everything into the slow cooker, set it and forget it! This Easy Slow Cooker Corned Beef will be a go-to year after year. And don't feel like you have to make it just for St. Paddy's Day. Mr. B is a hooker for some corned beef and cabbage so I will definitely be making this when I'm out of town.

I've got food covered, but what should I get Juniper? Stay tuned!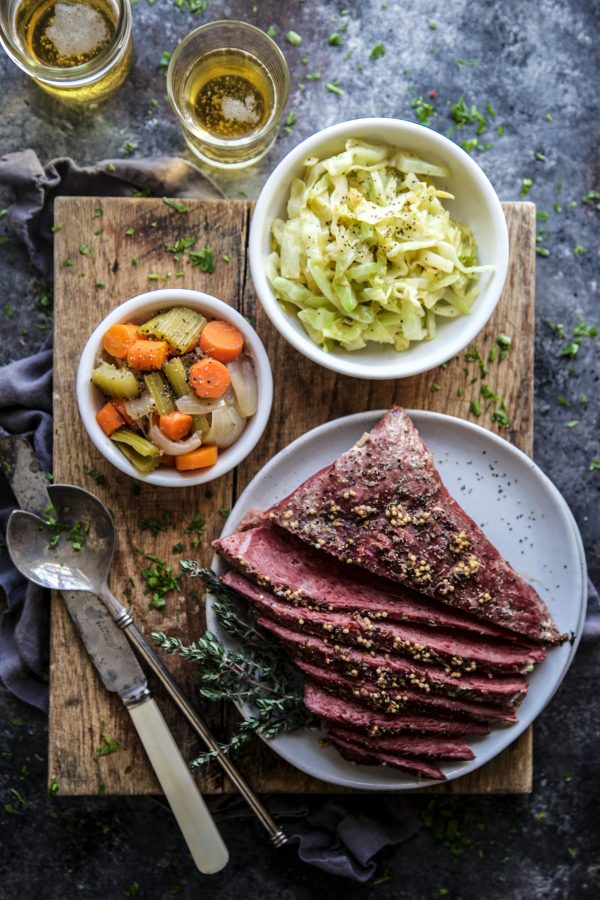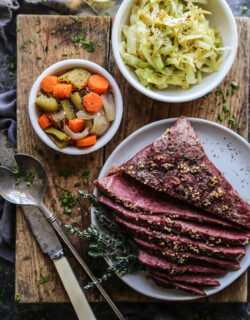 Easy Slow Cooker Corned Beef
Ingredients:
1 large yellow onion, cut into wedges
3 large carrots, cut into large rounds
2 celery stalks, cut into thirds
1/2 lb baby golden potatoes, halved
3 lb corned beef brisket
1 packet pickling spice
3 springs fresh thyme
2 cups beef stock
2 tbsp unsalted butter
3 cups chopped green cabbage
salt and pepper to taste 
Directions:
Place the onions, carrots, celery and potatoes into the bottom of your slow cooker. Take the corned beef and place it on top of the veggies. Cover the corned beef with pickling spices, salt and pepper. 
Take the thyme and place it on top of the corned beef. Pour the beef stock into the slow cooker. If you need to add more do so as you want to corned beef to stay juicy.
Cook on high for 4 hours or on low for 8 hours. Once the corned beef is cooked, preheat a skillet to medium high heat. Melt the butter and then add the cabbage, salt and pepper. Saute the cabbage until nice and caramelized about five to seven minutes. Remove from heat and set aside. 
Divide the corned beef among four plates along with the veggies and caramelized cabbage. Serve with a green beer:)
All images and text ©