Easy Chiles Rellenos
Easy Chiles Rellenos is a simple, vegetarian dish that is full of flavor. Poblano chiles are stuffed with rice, black beans, corn, and cheese to make a delicious meal.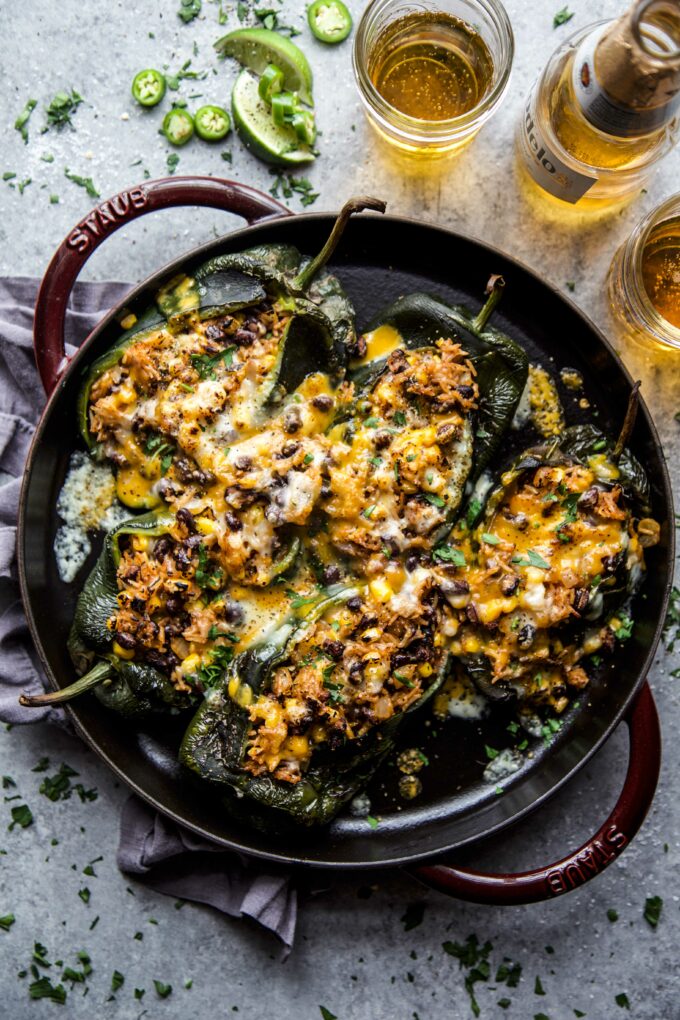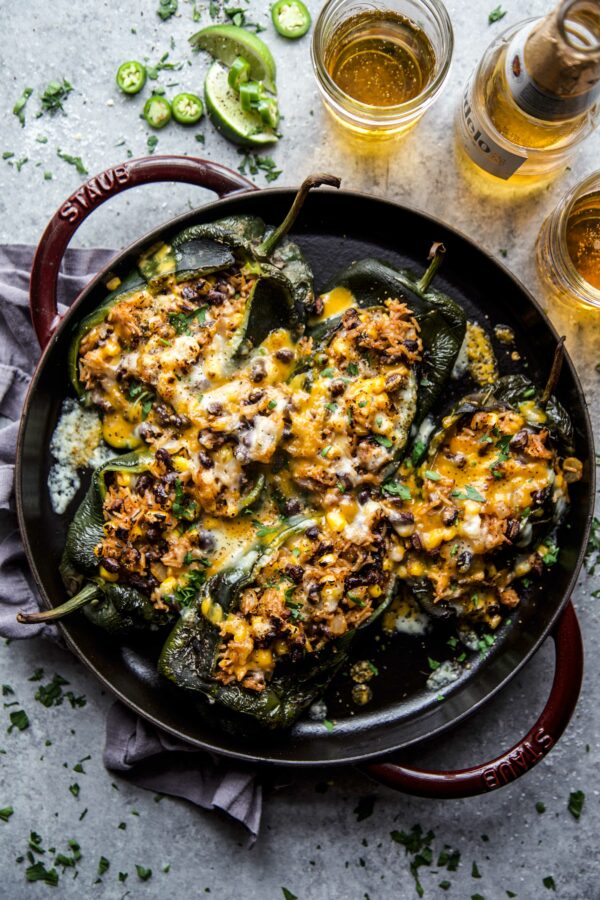 Real talk.
Do you ever not make a meal because you think it will take F-O-R-E-V-E-R to make?
Um, guilty as charged. For the longest time I stayed away from making chiles rellenos because I thought they were so complicated to make. Turns out I was wrong.
The only hold-up is the process of getting the skin off the poblano. I know, don't get scared off yet I promise it's not as daunting as it sounds. I'm walking you through how to make these Easy Chiles Rellenos. Promise you will fall in love and guaranteed to make these all year round!
Ready to dive in?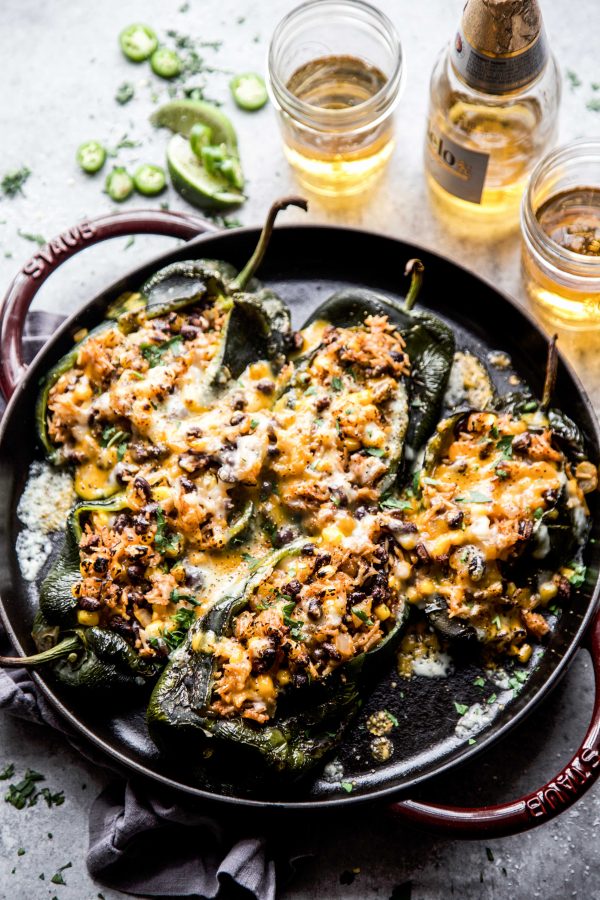 What's in these Easy Chiles Rellenos?
Good news! Only a handful of ingredients are used to make chile rellenos. The best part is you can stuff them with literally anything you want! For this recipe you will need:
Poblano chiles
Black Beans
Rice
Corn
Shredded Cheese
Mexican spice blend
Tips for Making these Easy Chiles Rellenos:
1) Poblano chiles. You will want a good sized poblano pepper to help hold the stuffing. If you can't find poblano you could swap out and use green bell peppers.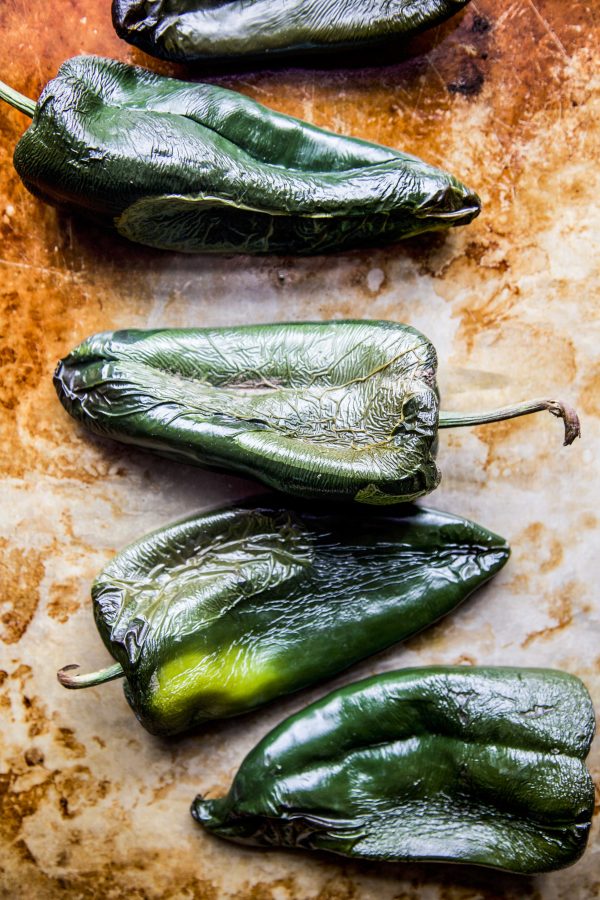 2) Removing the skin. There are several ways you can remove the skin from a poblano. First you can turn on your gars burner and hold a poblano over the flame for a couple of minutes until the skin blisters. OR! You can place the poblanos on a baking sheet, cook for a few minutes, and then place the baking sheet under the broiler until the skin blisters.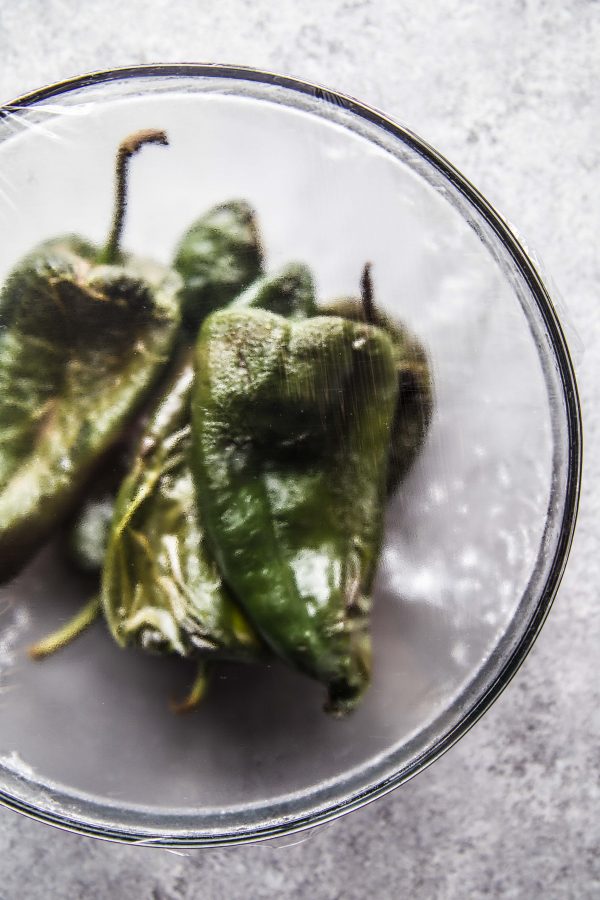 3) Mexican spice blend. For this recipe I put together a homemade seasoning. You can certainly just buy a package of taco seasoning and use that as well!
Can I add a protein?
Yes! Ground beef, turkey, chicken or pork would be an excellent option. You will want to have it cook prior to adding it with corn, black beans, and rice. Another option would be shredded chicken or even carnitas!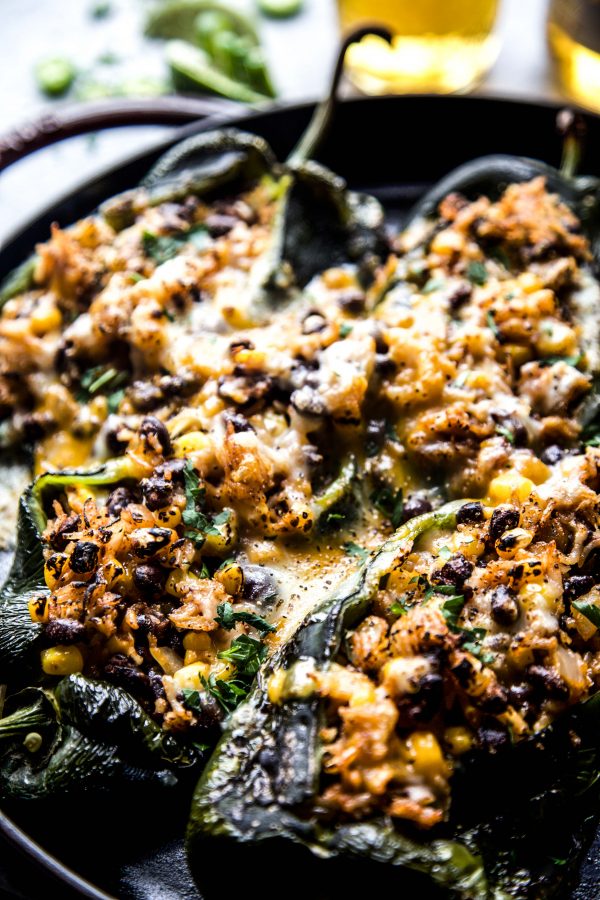 Can I swap out the vegetables?
You bet! You could certainly use any kind of bean, jalapenos, fire roasted tomatoes, etc. I love this meal because it's a great way to use up pantry or freeze staples. 
What should I serve alongside?
Lot's of margaritas!!
More Mexican Inspired Dishes to Enjoy: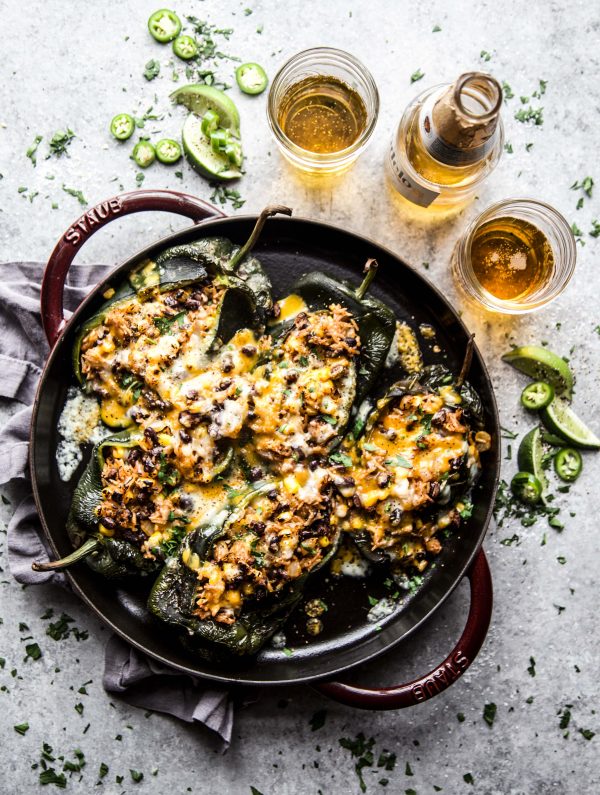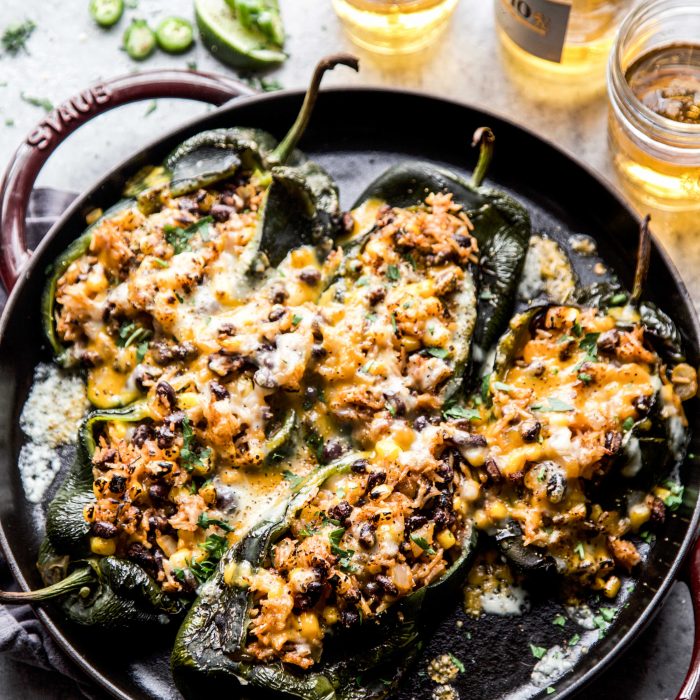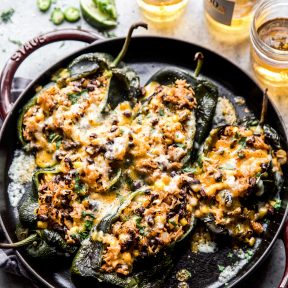 Easy Chiles Rellenos
Easy Chiles Rellenos is a simple, vegetarian dish that is full of flavor. Poblano chiles are stuffed with rice, black beans, corn, and cheese to make a delicious meal.
Ingredients
5-6 large poblano chiles
2 tbsp olive oil
1 yellow onion, chopped
2 garlic cloves, minced
1 cup frozen or fresh corn
1 cup cooked white rice
1 cup black beans, rinsed drained
1 tsp chili powder
1 tsp coriander
1 tsp cumin
1 tsp garlic powder
1 tsp paprika
2½ cups shredded Mexican cheese blend
½ cup red salsa
Jalapenos, for garnish
Chopped fresh cilantro, for garnish
salt and pepper to taste
Instructions
Preheat oven to 425 degrees. Spray a baking sheet with non-stick cooking spray. Place the poblanos on the baking sheet. Cook the poblanos for 10 minutes and then turn on the broiler for about 5 to 7 minutes or until the poblanos are blistered.

Remove the poblanos from the baking sheet and place them in a a large bowl. Cover with plastic wrap and let stand for 15 minutes.

Meanwhile, turn your oven to 375 degrees. In a large skillet over medium-high heat add the olive oil and onion. Saute the onion until softened about 5 minutes. Next, stir in the garlic, corn, rice, black beans, chili powder, paprika, coriander, cumin, garlic powder, salt and pepper. Stir to combine. Cook until heated through about 5 minutes.

Peel the poblanos and discard the skins. Using a knife, make a 2-inch slit lengthwise in each poblano and remove seeds. Place the poblanos back onto the baking sheet.

Next, stir in 1 1/2 cups of the shredded cheese into the rice mixture. Use a small spoon and stuff the poblanos with the rice mixture. Sprinkle the remaining cheese on top of the poblanos.

Bake until the cheese has melted about 10 minutes. Remove from oven and garnish with salsa, jalapenos, and cilantro.
Did you make this recipe?
Please leave a comment below and share a photo on Instagram with the hashtag #thecuriousplate!