One-Skillet Tuscan Shrimp
One-Skillet Tuscan Shrimp is a delightful, tasty meal that uses a handful of ingredients and made in one-skillet!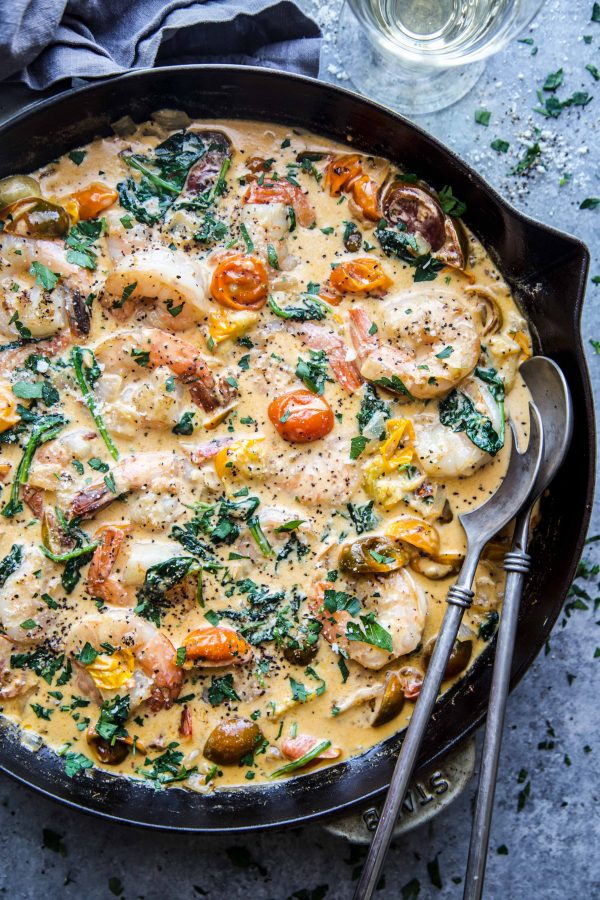 Deciding what to make for dinner sometimes can be overwhelming.
Am I right?
If I'm in a real pinch I typically start with what kind of protein do I want to consume followed by veggies and carbs. This equation generally saves my tookus most nights. However, there are nights where I would rather pound dirt then make dinner.
Enter, a dish that should be called, "no excuse skillet." This One-Skillet Tuscan Shrimp is packed with so much flavor, yet only takes a handful of ingredients to make!
Did I just hear a sigh of relief? Good! Now, let's dive in and make this dish!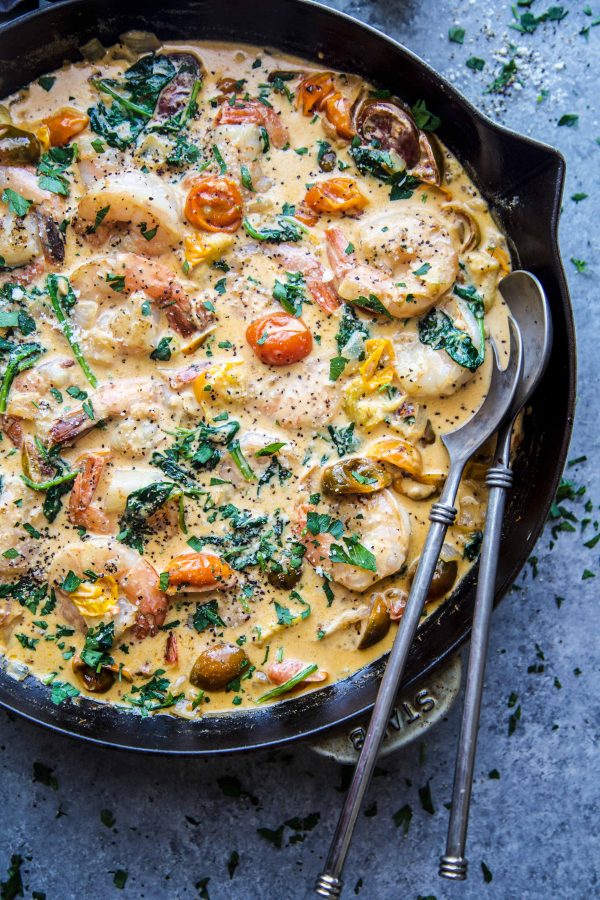 What's in this One-Skillet Tuscan Shrimp?
I love a quick, one-skillet meal. This Tuscan shrimp couldn't be easier to make and is bursting with flavor. Here's what you'll need:
Fresh or frozen shrimp
Whipping Cream
Butter
Garlic
Fresh Spinach
Grape Tomatoes
Parmesan
Basil
Tips for Making this One-Skillet Tuscan Shrimp:
1) Shrimp. I buy large, deveined shrimp that is frozen. Shrimp do shrink as you cook them in a hot skillet so keep in mind when you think about the amount. Typically a pound of shrimp will feed 2 to 3 people. Also, I keep the tail because I think it's easier to flip in the skillet.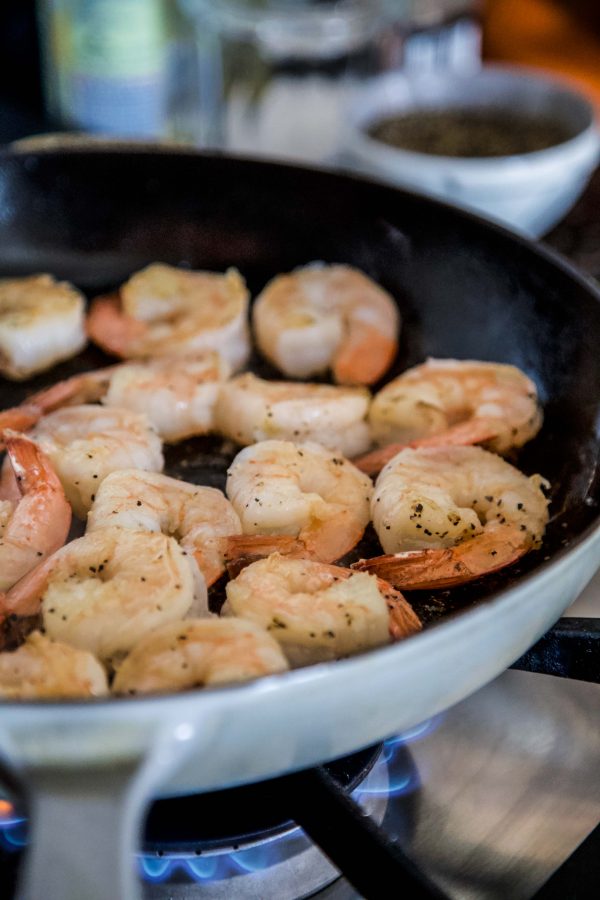 2) Grape tomatoes. Any kind will work! Just make sure you halve the tomatoes so they break down and become super juicy!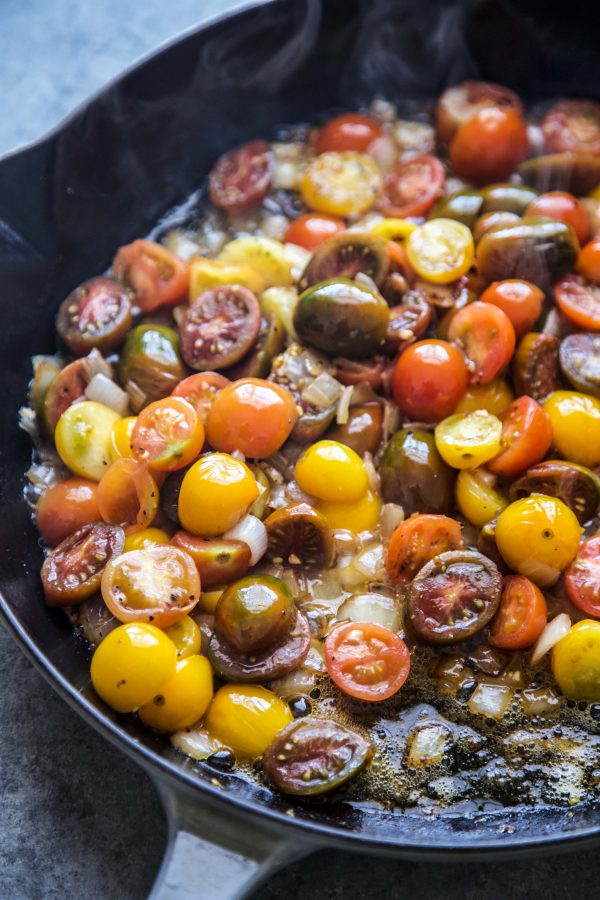 3) Cream. If you can't find cream or don't have it on hand, you can certainly use milk!
Can I make this sauce dairy free?
Yes! You can omit the cream and use coconut milk instead. The flavor would be delicious!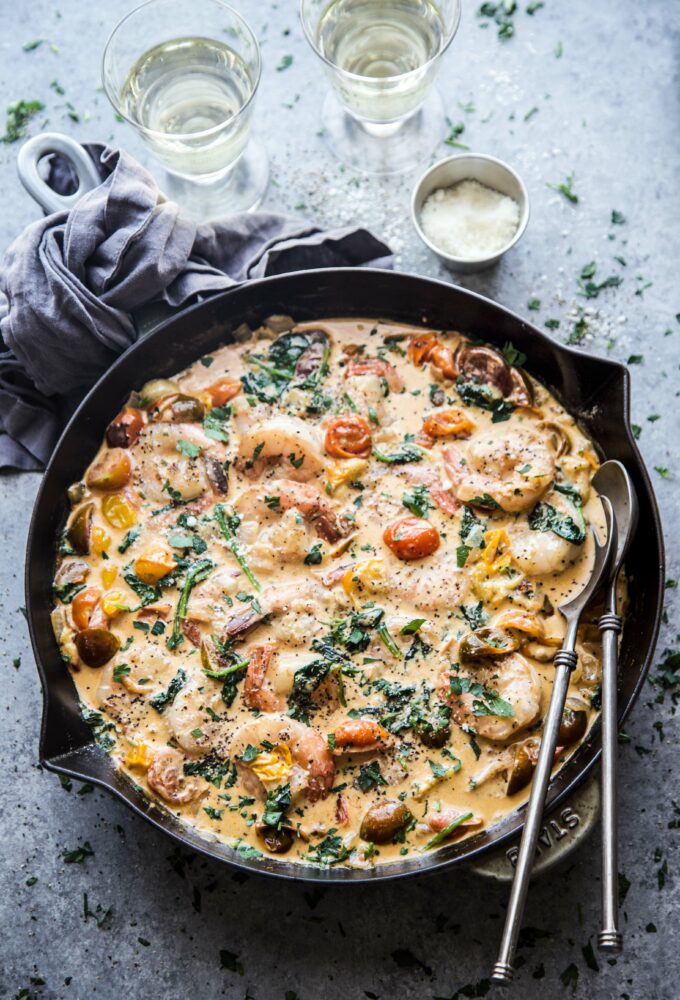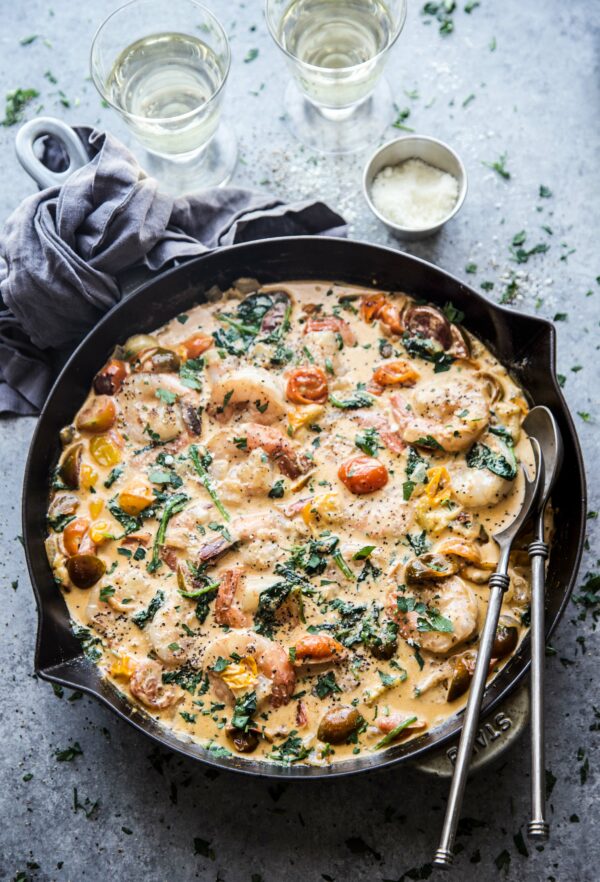 What can I serve alongside this dish?
So many options! I would serve it alongside pasta, cauliflower gnocchi, or a simple salad works too!
How long will leftovers keep in the fridge?
I would say up to 3 days in the fridge. Make sure you smell the shrimp and if it smells fishy then you need to toss it!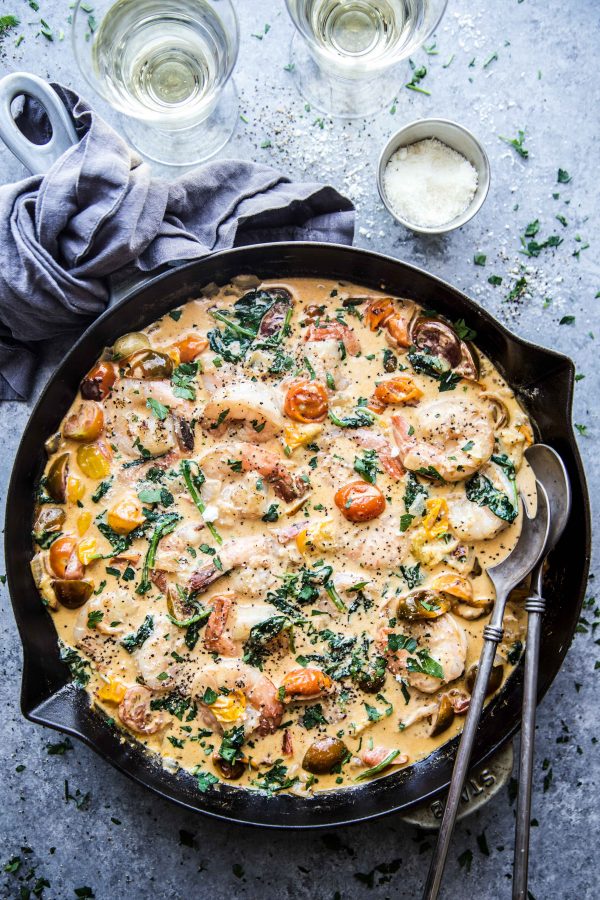 More Shrimp Recipes to Enjoy: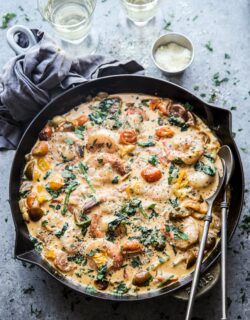 One-Skillet Tuscan Shrimp
Ingredients:
2 tbsp olive oil
1 lb shrimp, peeled, deveined
salt and pepper to taste
3 tbsp unsalted butter
3 garlic cloves, minced
1 1/2 cups halved cherry or grape tomatoes
3 cups packed spinach leaves
1/2 cup whipping cream
1/4 cup freshly grated Parmesan
1/4 cup fresh chopped basil
Directions:
Preheat a large skillet to medium-high heat. Season the shrimp with kosher salt and pepper. Add the olive oil to the skillet and cook the shrimp about 1 to 2 minutes per side. Remove from skillet and set aside.
In the same skillet, reduce the heat to medium and melt the butter. Next, stir in the garlic and cook for about 1 minute. Add in the cherry tomatoes and season with kosher salt and pepper. Cook until the tomatoes start to burst and then add in the spinach. Cook the spinach until it begins to wilt.
Stir in the whipping cream, Parmesan and basil. Bring the mixture to a simmer. Reduce the heat to low and simmer until the sauce has slightly thickened.
Return the shrimp to the skillet and stir to make sure everything is well combined. Garnish with more basil and serve.
All images and text ©