Easy Ginger Salmon Burgers with Pickled Cucumbers
Easy Ginger Salmon Burgers with Pickled Cucumbers is an easy yet healthy burger perfect any night of the week!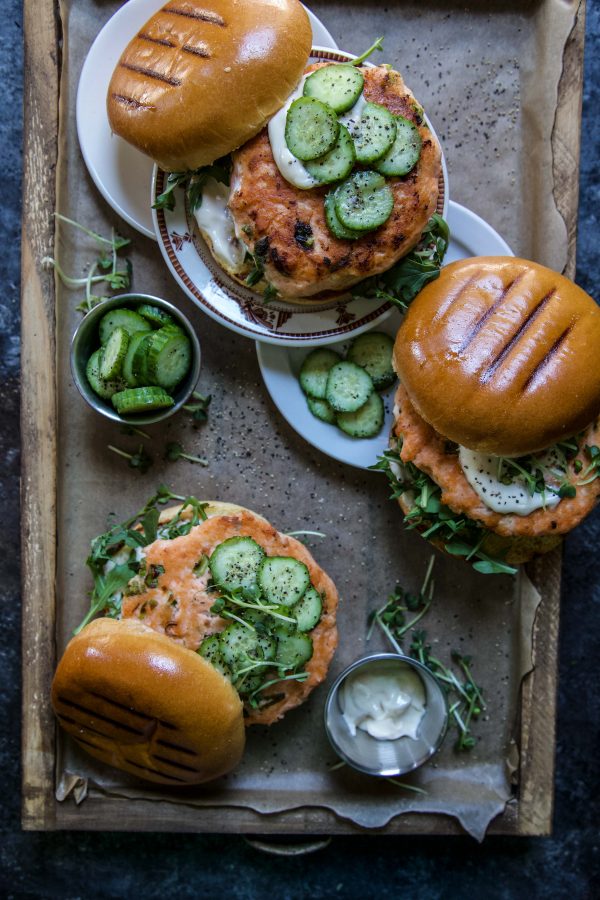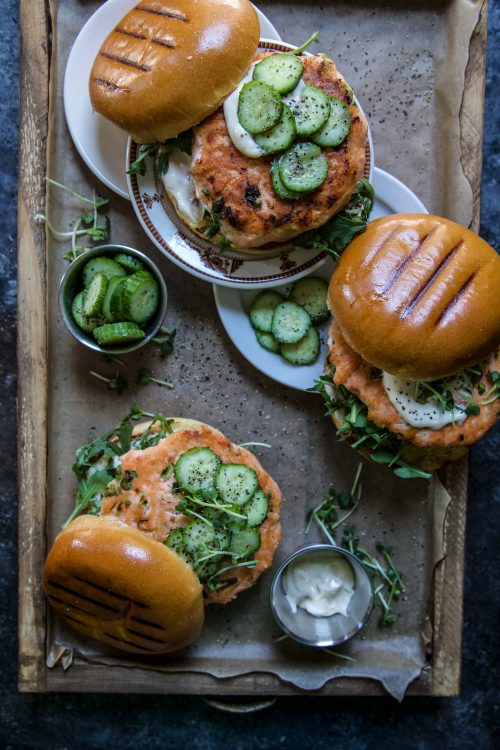 We're back!
This past weekend felt like one giant blur.
We landed in Kansas City on Thursday followed by rehearsals on Friday and then BOOM! Wedding go-time on Saturday. It truly was a magical weekend that I did not want to end! Seriously, can't believe my baby brother is married!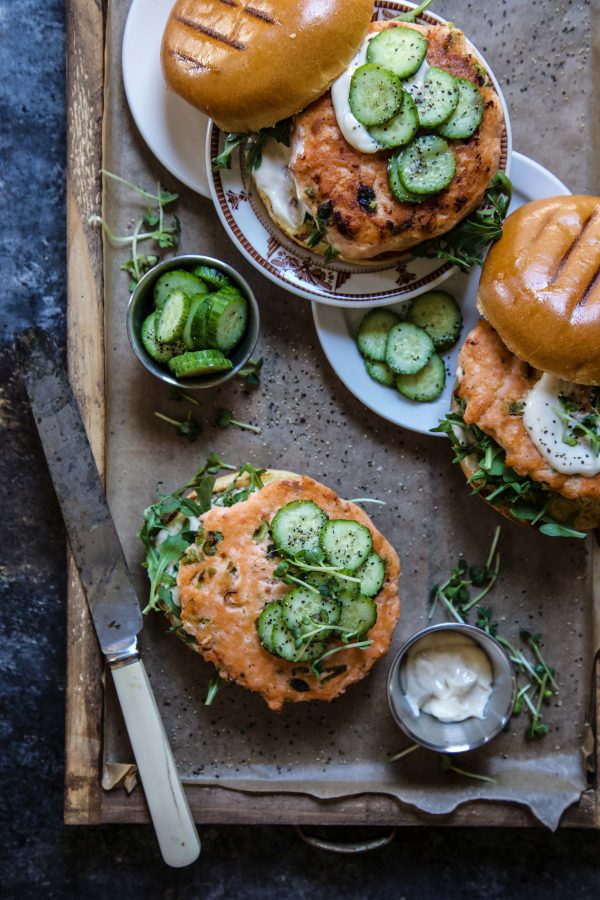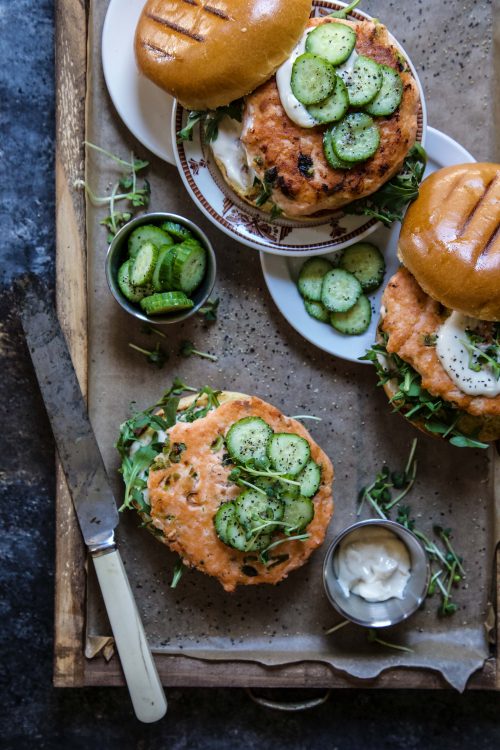 Anyway, now it's back to reality. BUT! There are two good things happening on this Monday AM. One, we are four days away from a holiday weekend. GET EXCITED. Do you have plans? Maybe a rooftop happy hour? Or backyard barbecue?
We are heading west to the mountains with a group of friends to relax, breathe in some fresh mountain air and drink all the bubbles! I'm so excited because we are bringing Juniper with us. Curious to see how she does with other wildlife critters!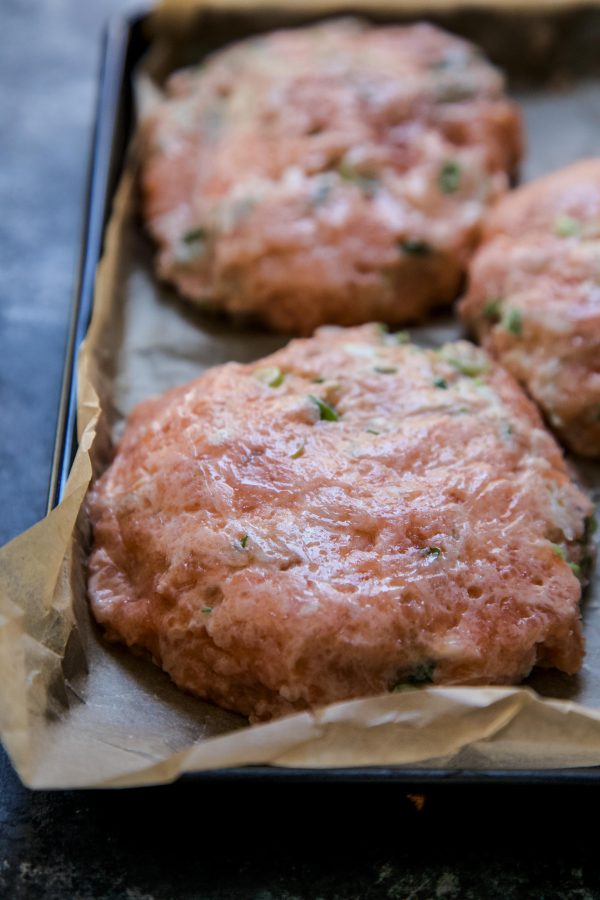 Alright, number two item on the good things happening on a Monday AM are these Easy Ginger Salmon Burgers with Pickled Cucumbers. You guys know that I have an obsession with burgers! Even though 99.9% of the time I order beef, if I do order a different protein it's always salmon. Well, this salmon burger may be my new go-to because it's that freaking good!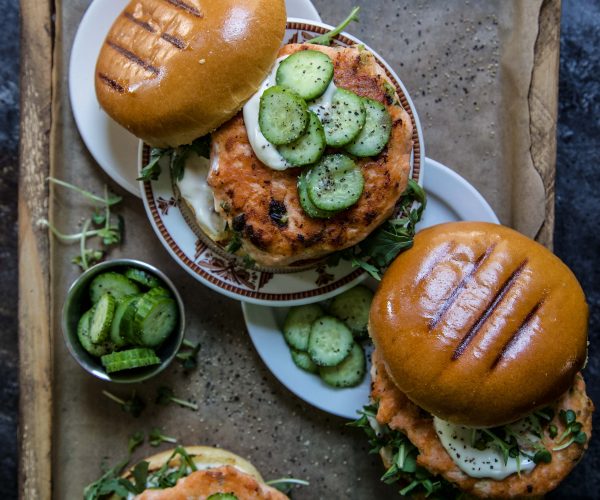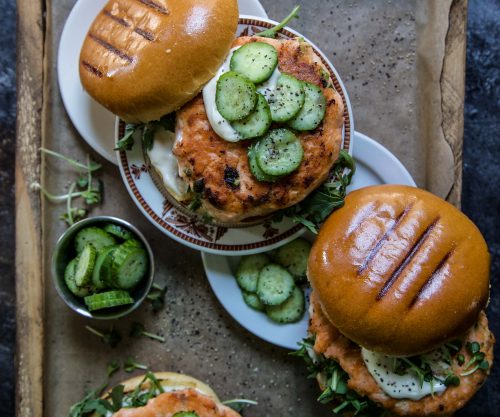 Simply add center-cut salmon to a food processor and blend with ginger, toasted sesame oil, and garlic. Form into patties, grill and top with pickled cucumbers! Delicious, flavorful and healthy! Whip these up for Memorial Weekend and enjoy an extra glass of giggle juice!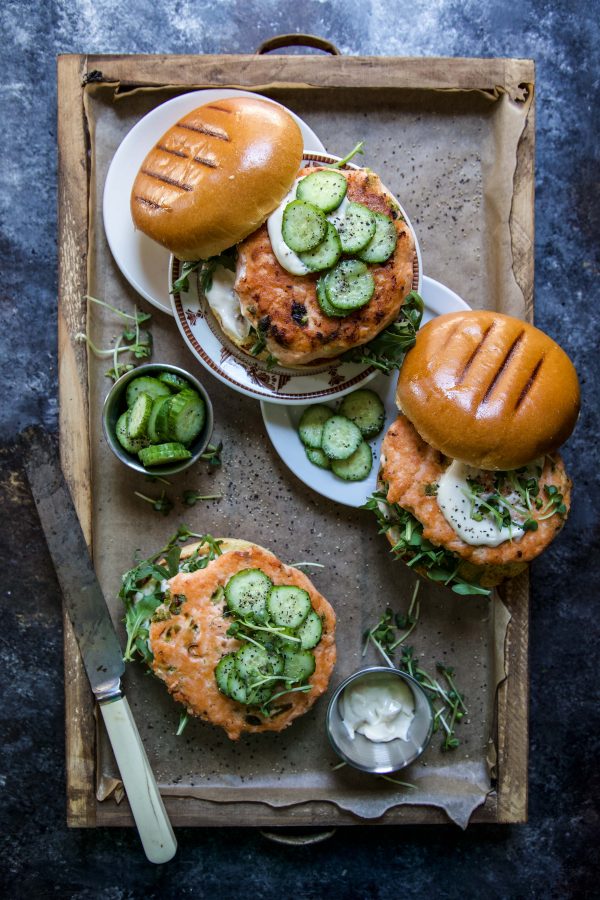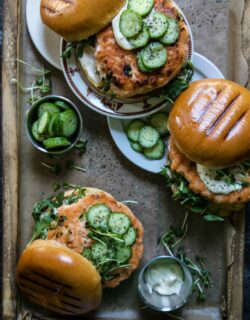 Easy Ginger Salmon Burgers with Pickled Cucumbers
Ingredients:
1.5 lbs center-cut, skinless salmon, roughly sliced
3 scallions, thinly sliced
1 tbsp freshly grated ginger
1 garlic clove, grated
2 tbsp + 2/3 cup mayonnaise, divided
1 tsp toasted sesame oil
3 tsp unseasoned rice vinegar, divided
4 small cucumbers, sliced into rounds
kosher salt
1/2 jalapeno, seeded and diced
1/4 cup vegetable oil
1 tsp granulated sugar
4 brioche buns
Arugula, for garnish
Watercress, for garnish
Directions:
In a food processor place about 8oz of the salmon and pulse a few times until the mixture is slightly smooth. Next, add the remaining salmon and pulse until smooth. Make to sure to make it not too smooth or the salmon won't hold together. Transfer the salmon to a large bowl.
Next, add scallions, ginger, garlic and 2 tbsp mayonnaise to the salmon bowl. Form the mixture into four patties about 1/2-inch thick. Place the patties onto a small baking sheet lined with foil. Cover the patties with plastic wrap and chill for at least 1 hour to help hold their shape.
Meanwhile, in a small bowl combine sesame oil, 1 tsp vinegar, 2/3 cup mayonnaise and a pinch of salt. Set aside.
In another small bowl combine cucumber rounds with a pinch of salt. Let the cucumbers set with the salt for about five minutes. Next, add in the jalapeno, sugar, 2 tsp vinegar to the cucumbers. Toss to combine and set aside until ready to use.
Next, heat oil in a large non-stick skillet over medium-high heat. Add the salmon patties to the skillet and cook for about 3 to 4 minutes on each side. Remove salmon patties from skillet and set on a plate.
To assemble: spread some of the mayonnaise mixture on the top and bottom of the brioche bun. Top the bottom with some arugula followed by a salmon patty. Top the salmon patty with some of the pickle cucumber, watercress and top bun. Repeat until all hamburgers have been assembled.
All images and text ©