Easy Mistletoe Margaritas
Easy Mistletoe Margaritas are a festive and fun drink to make during the holidays!
Bring on the booze.
Anyone else feel exhausted by the end of the day during the holiday season?
I mean, I'm all for keeping up with the holiday shenanigans, but it's hard to squeeze in all the things. By the end of the day, I look at Mr. B and think, what the hell just happened?
Thankfully I do have the perfect holiday cocktail for us to enjoy while surviving the madness. These Easy Mistletoe Margaritas are too-legit-to-quit. First of all, let's be real that a margarita is always a good idea. Second, this margarita comes together quickly and tastes amazing.
Ready for a drink? Sweet!
What's in an Easy Mistletoe Margarita?
Booze, booze, and more booze. Kidding. Kind of. In this version, you'll find:
Cranberry juice
Tequila
Triple sec
Lime juice
Fresh Mint
Sugared cranberries
Kosher salt
The sugared cranberries are not a must! It's just a fun way to decorate the drink. If you want to see how to make sugared cranberries make sure to check out my full proof way HERE.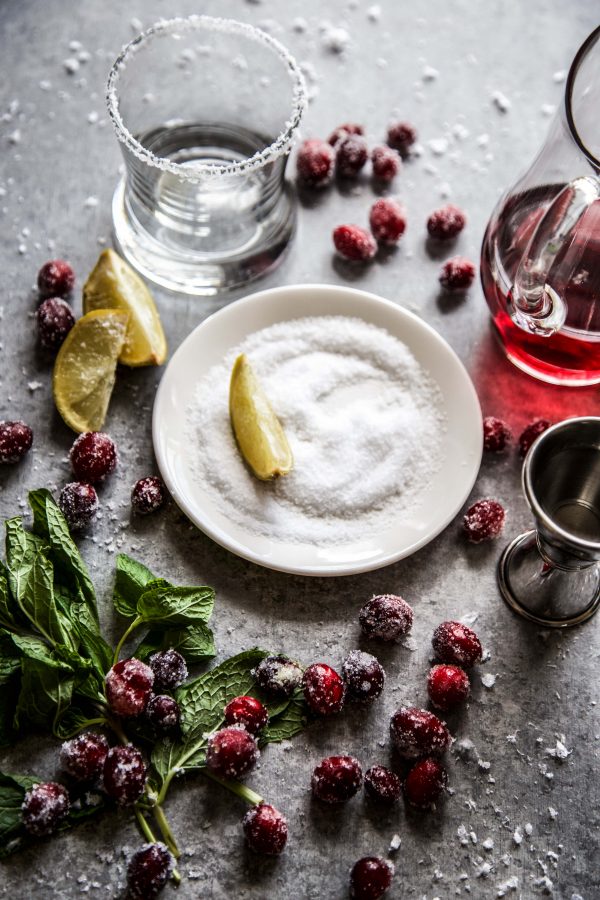 Tips for Making Mistletoe Margarita:
1) Use good tequila. Nobody wants to be hungover with a nasty headache because you sipped the bad stuff. I recommend Milagro tequila. It's a blue bottle and you can find it at most liquor stores and it's not terribly expensive.
2) When blending the margarita try doing it in batches. Most blenders can handle the ice, but I've found that when you add too much ice it doesn't get that sexy, silky texture.
3) If you want to add some splash to the margarita, adding ginger ale would be delicious!
4) If you would rather do over the rocks vs frozen margarita you can do that as well. Simply mix all cranberry juice, tequila, triple sec, and lime juice and then pour over a glass filled with ice.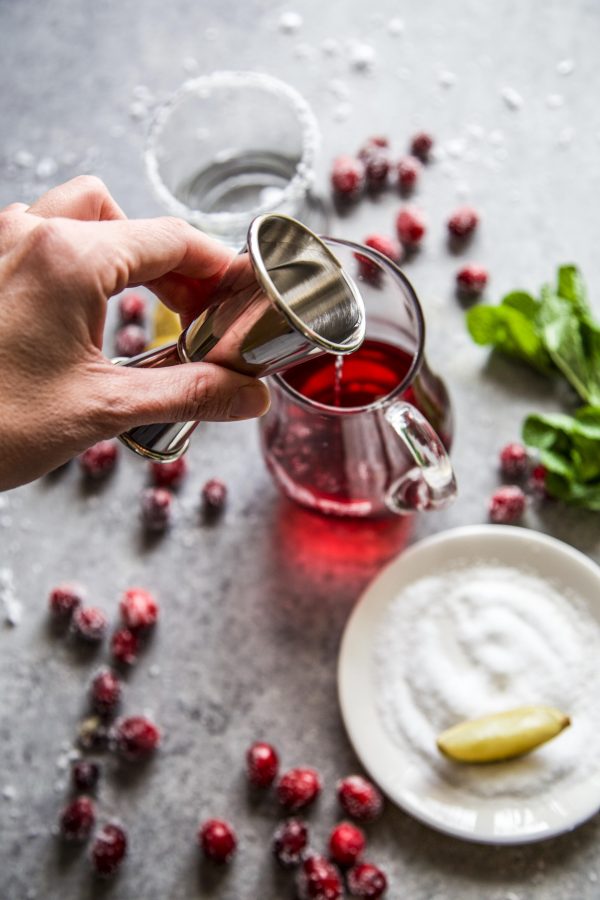 Can these Mistletoe Margaritas be made ahead of time?
Yes! I would mix the liquid part together and keep it in the fridge before either serving over ice or blending the mixture!
Best time to serve these Mistletoe Margaritas?
Anytime you are in a festive mood! You can actually serve these year round without the sugared cranberries. These would be amazing during Cinco de Mayo!
More festive Holiday Drinks to Enjoy:
Easy Mistletoe Margaritas
Ingredients:
2 tbsp kosher salt
1 lime wedge, for rim
2 cups cranberry juice
12 oz tequila
8 oz triple sec
1/2 cup lime juice
12 cups ice
Fresh mint, for garnish
Sugared cranberries, for garnish
Directions:
Place kosher salt on a shallow plate. Take a lime wedge and wet the rim of each glass then dip into the salt.
Next, combine cranberry juice, tequila, triple sec, 1/2 cup lime juice, and ice in a large blender. Work in batches if need be. Blend until smooth.
Divide the mixture among the four prepared glasses. Serve with fresh mint and sugar cranberries. Cheers!
All images and text ©