Roasted Beef Tenderloin with Maple-Mustard Glaze
***This post is sponsored by Maple from Canada. As always, all opinions expressed are 100% my own.***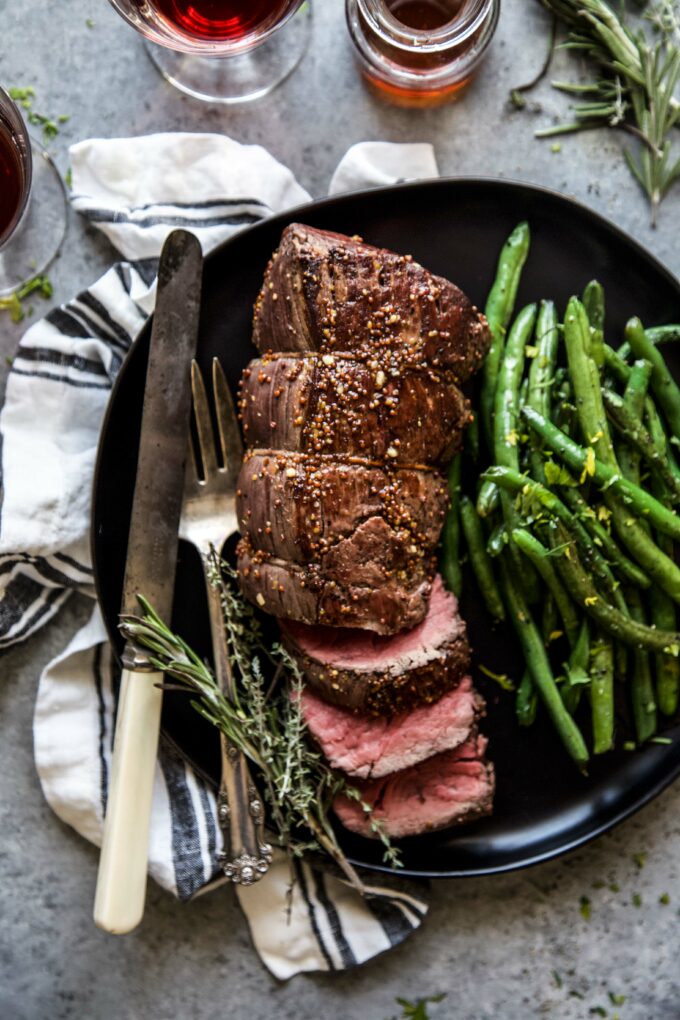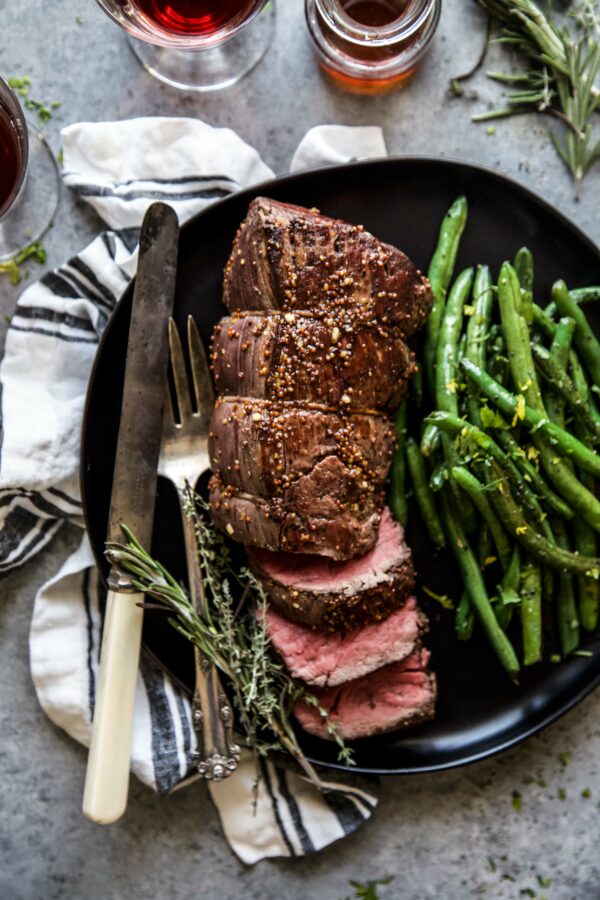 We are in the thick of it.
The holiday season that is.
Are you as excited as I am? I feel like we could all use some extra cheer and joy this year!
With that, I figured we'd ought to talk about the most festive dish you will make this holiday season. I keep coming back to meals for y'all to make that are simple, but are bursting with a whole lot of flavor! Enter, Roasted Beef Tenderloin with Maple-Mustard Glaze.
Put the stink-eye away for a second because beef tenderloin is actually SUPER easy to make. We'll chat about that in a second. BUT! What makes this beef tenderloin superior is the maple-mustard glaze. The maple itself is special because it's Pure Maple from Canada!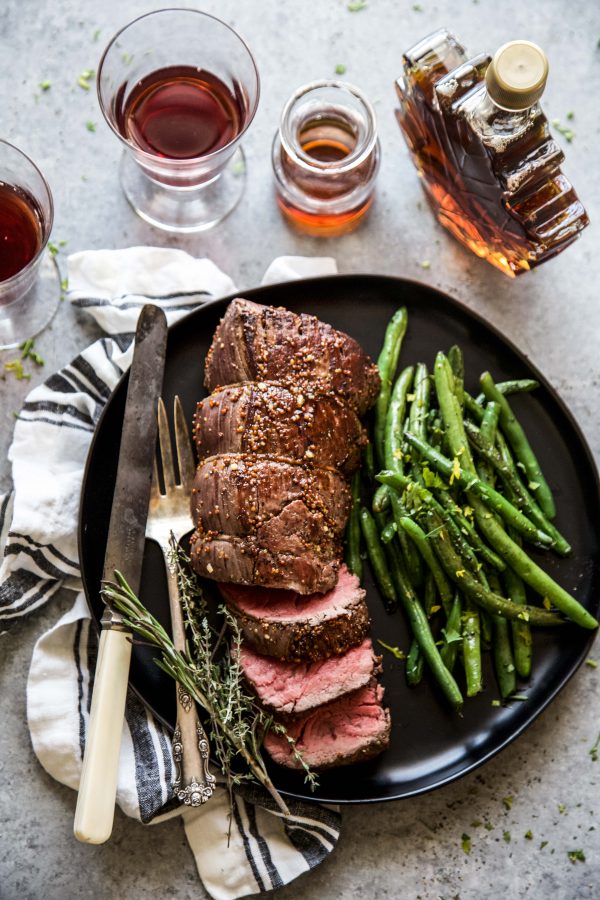 What is Pure Maple from Canada?
So glad you asked! Fun factoid: Canada produces over 71% of the world's pure maple syrup. Of that, 91% of that syrup is produced in Quebec. That leads to over 12.5 million pounds produced from our friends up North!
Now, when they say Pure Maple from Canada they mean just that. It's the only ingredient you will find on their golden maple leaf bottle. All of their maple syrup is collected from trees, then sent to storage where it goes through the maple syrup evaporation process, and then bottled!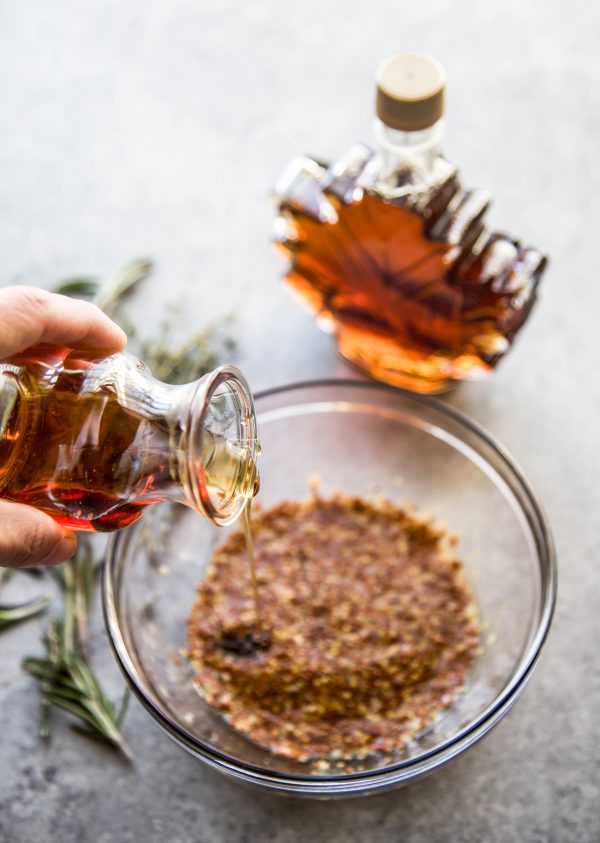 How do you cook with Pure Maple from Canada?
Simple! Pure Canadian maple syrup can be used as an alternative to sugar. Meaning you can replace granulated sugar in that pie recipe you make every Thanksgiving with maple syrup. So cool! Besides acting as a sweetener it can also be used to add depth to many entrees, glazes or rubs!
What's in the Maple-Mustard Glaze?
100% pure maple syrup from Canada – check the label and look for only 100% pure maple
Whole grain mustard
Apple cider vinegar
Garlic
You'll simply mix all of these ingredients together and then brush the glaze onto the beef tenderloin before cooking in the oven.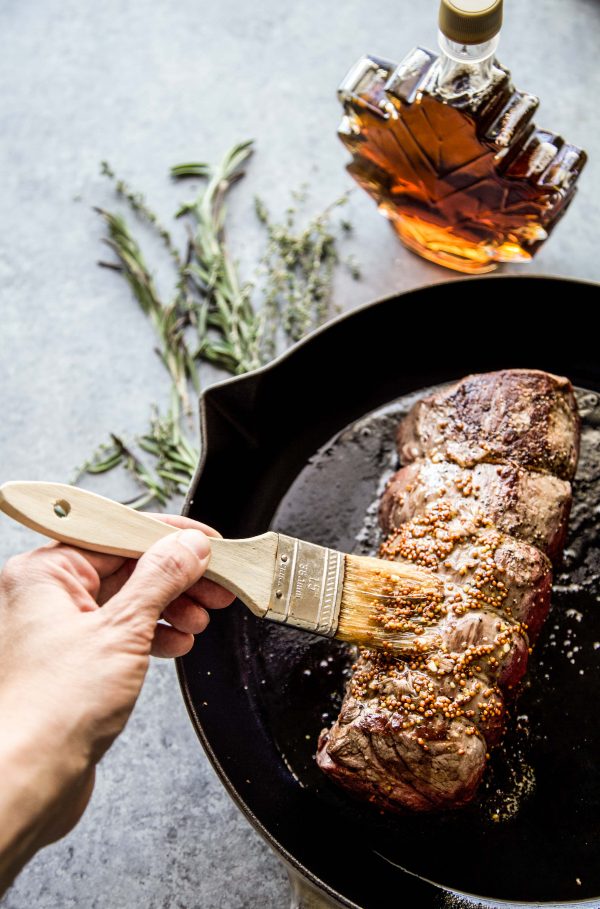 Tips for Cooking Beef Tenderloin:
1) Make sure the beef tenderloin is at room temperature. I typically set the beef tenderloin out on the counter at least 2 hours prior to cooking.
2) Since a beef tenderloin is generally a long cut of beef that comes to a point at the end, in order for it to cook evenly it's important that you tie it with butcher's twine.
3) Searing the beef tenderloin prior to cooking in the oven will ensure you get a nice crust on the outside while remaining juicy in the middle.
4) Slather the beef tenderloin with the maple-mustard glaze to help create a delicious flavoring while cooking!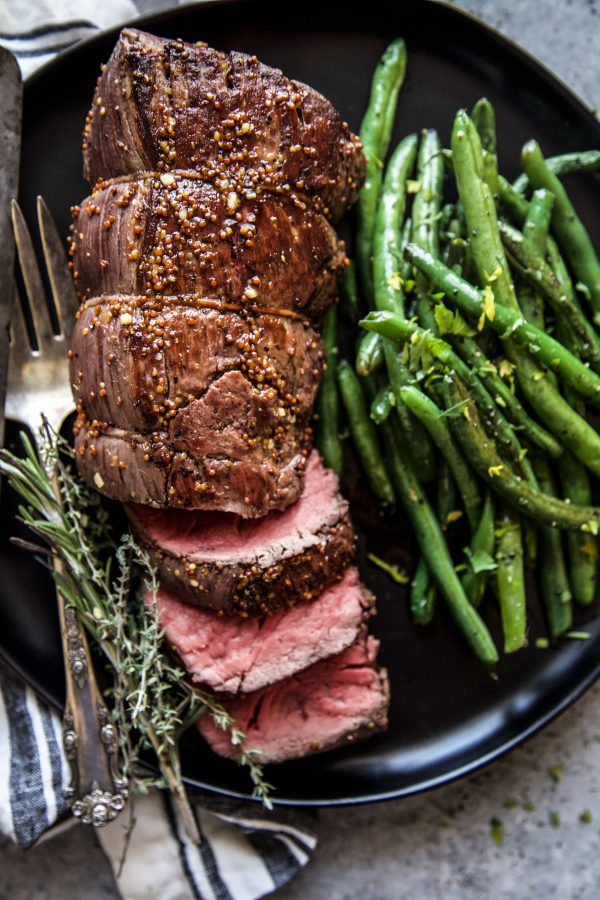 Once the beef tenderloin is in the oven wait for the magic to happen. Ideally you'll want to cook it to about 125 degrees and then let it rest. Save some of the maple-mustard glaze to use for extra dipping!
For more information and recipe inspiration on Pure Maple Syrup from Canada visit their website: www.puremaplefromcanada.com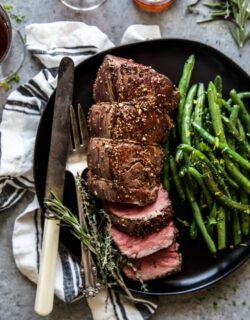 Roasted Beef Tenderloin with Maple-Mustard Glaze
Ingredients:
4 to 5 lb beef tenderloin, cut into two pieces and tied
2 tbsp olive oil
1/3 cup whole grain mustard
1/3 cup Pure Maple Syrup from Canada
1 tbsp apple cider vinegar
1.5 tsp minced garlic
salt and pepper to taste
Directions:
Preheat an oven to 425 degrees.
Place olive oil in a large cast-iron skillet and heat over medium-high heat. Sear the beef tenderloin for about 3 to 5 minutes on all sides creating a beautiful golden crust.
While the tenderloin sears, make the maple-mustard glaze. In a small bowl combine mustard, maple syrup, apple cider vinegar, garlic, salt, and pepper. Take the glaze and slather it all over the beef tenderloin. Place the tenderloin into the oven to cook.
Cook the tenderloin in the oven until desire temperature is reached (recommended 125 degrees) which is about 20 to 25 minutes. Remove from the oven and allow the tenderloin to rest for at least 15 minutes. Then slice and serve with remaining maple-mustard glaze.
All images and text ©