Gingerbread Cookie Bars with Caramel Frosting
Gingerbread Cookie Bars with Caramel Frosting are a festive and fun treat to make during the holidays!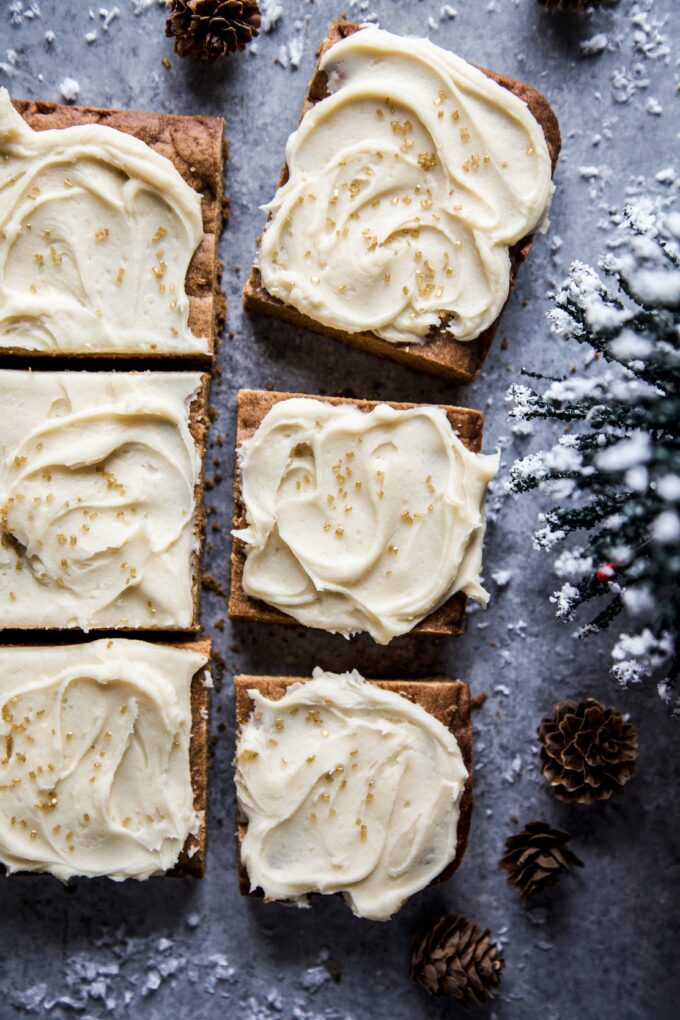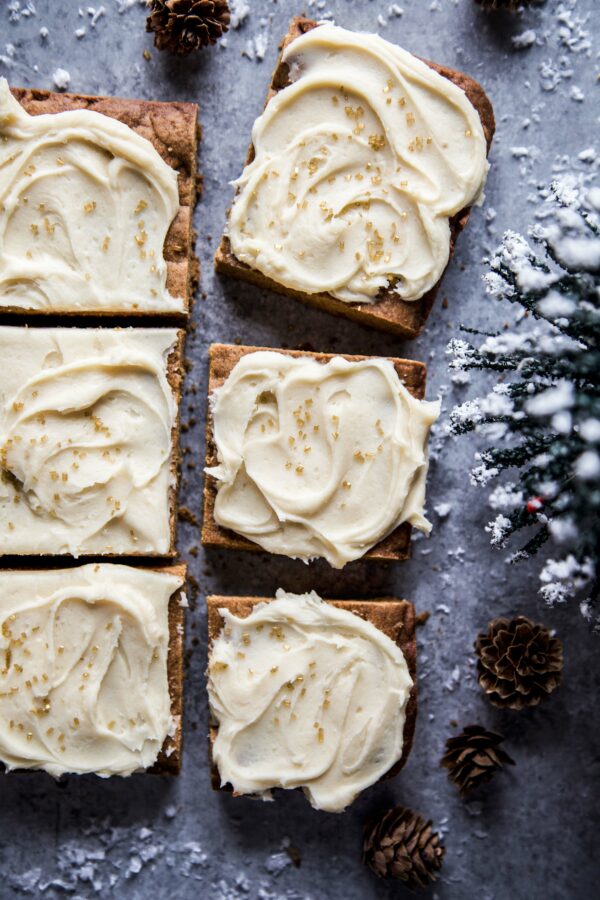 What is your favorite holiday treat?
Sugar Cookies are always a win. Wait. Are you on team eggnog? We might need to chat about that. Okay, but can we all agree that gingerbread ANYTHING is always a good idea? Sweet.
I know that the classic gingerbread cookie will reign supreme along with the construction of his said house. BUT! I think we can make room for these Gingerbread Cookie Bars with Caramel Frosting. You guys these bars are two-snaps-up. Made with molasses and all the usual spices + the caramel frosting is a game changer.
Alright, ready to make these bars and take our gingerbread game to a new level?
What's in these Gingerbread Cookie Bars?
The ingredients in these bars are pretty straightforward. You'll find:
Butter (Shocker!)
Brown sugar
Egg
Flour
Molasses
Ground ginger (My favorite spice!)
Cinnamon
Nutmeg
Ground cloves (Secret to making these next level!)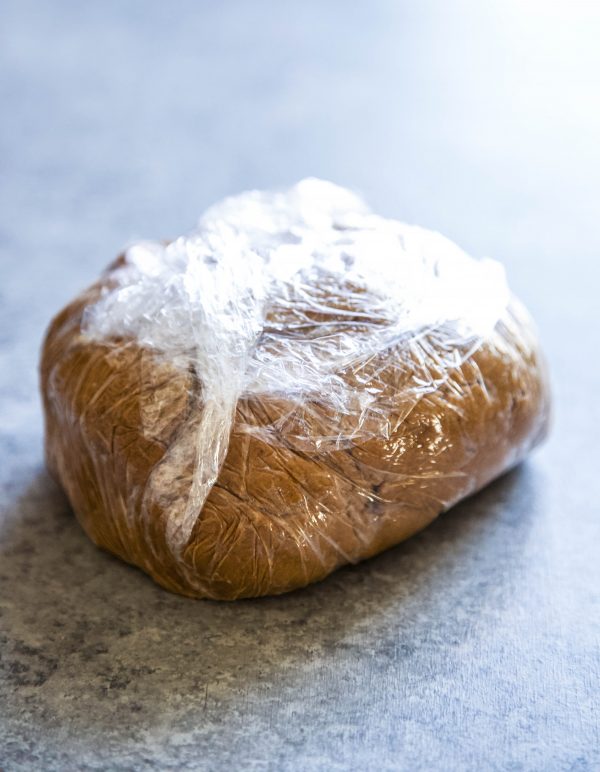 Tip for making these bars:
In order for these gingerbread cookie bars to remain soft and not dry out is to allow the dough to rest for 30 minutes in the refrigerator. This act of patience helps the dough to rest and will be much easier to spread into a pan afterwards.
Once you've got the dough rested and finally spread out in a prepared baking dish the bars bake up pretty quickly. Like 18 to 20 minutes. So while that happens make the caramel frosting.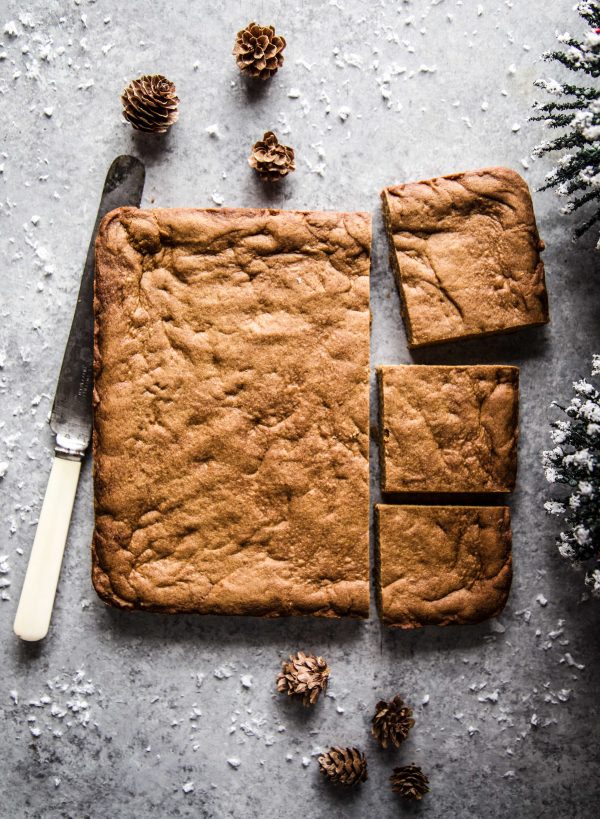 What's in the Caramel Frosting?
MORE butter
Powdered sugar
Caramel sauce
Festive AF sprinkles
Spoiler alert: you don't have to make homemade caramel sauce. Go to the grocery store and pick up a bottle of Hershey's caramel sauce or whatever kind tickles your fancy. It will save you so much more time and honestly taste better too!
Once the gingerbread cookie bars have cooled start frosting. You can either cut these into traditional bars. OR! You could get festive and use gingerbread man cookie cutter and make little gingerbread dudes.
Whatever makes you happy! That's it! Super simple recipe that will make your whole house smell like a winter wonderland. Enjoy!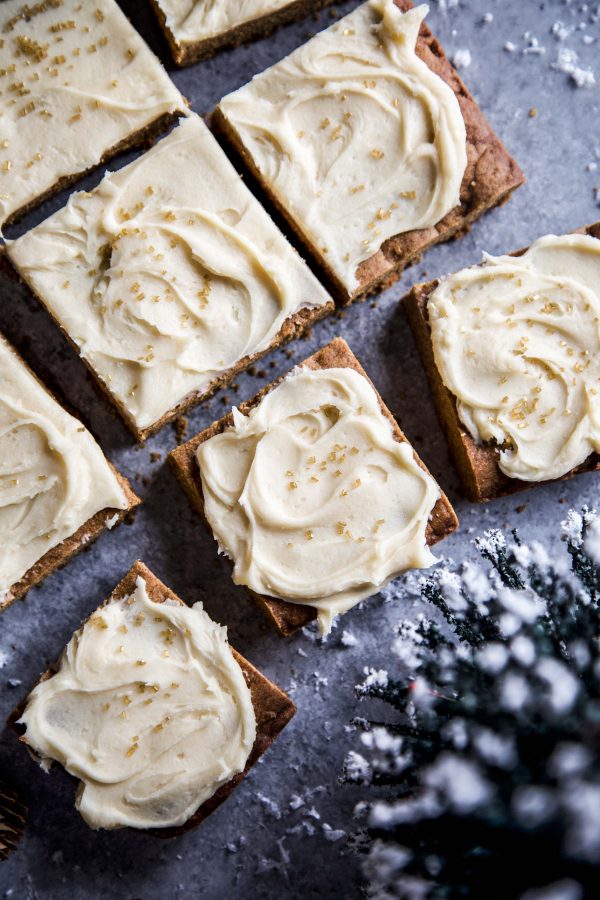 More holiday treats to enjoy: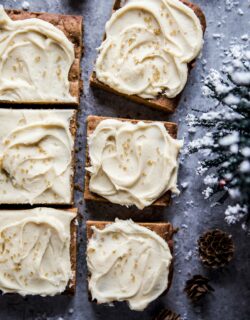 Gingerbread Cookie Bars with Caramel Frosting
Ingredients:
for the gingerbread bars:
3/4 cup unsalted butter, room temperature
1 cup brown sugar
1 large egg
3 tbsp molasses
2 1/4 cup all-purpose flour
2 1/2 tsp ground ginger
1 tsp ground cinnamon
1/4 tsp nutmeg
pinch of cloves
1 tsp baking soda
1/4 tsp kosher salt
for the caramel frosting:
1/2 cup unsalted butter, room temperature
2 cups powdered sugar
5 tbsp caramel syrup
Festive AF sprinkles
Directions:
Preheat an oven to 350 degrees. Spray a 9X9 baking dish with non-stick cooking spray.
In a large mixer fitted with a paddle attachment, cream the butter and sugar until fluffy. Add the egg and molasses, and continue to mix until combined.
In a large mixing bowl combine the flour, ginger, cinnamon, nutmeg, cloves, baking soda, and koshers salt. Add the flour mixture to the butter mixture a little at a time until well incorporated.
Remove the dough from the mixer and place on a piece of saran wrap, and wrap. Place the dough into the fridge to let it rest for about 30 minutes.
Next, take the dough and evenly spread it out in the prepared baking dish. Bake for about 18 to 20 minutes. Remove from the oven and cool completely before frosting.
To make the frosting: use a hand mixer and beat the butter until smooth. Next, add in the powdered sugar and mix until smooth followed by the caramel sauce. Continue to mix until desired consistency.
Frosting the bars, top with sprinkles, and slice into squares. enjoy!
All images and text ©