Enchilada Turkey Meatball Skillet
The Enchilada Turkey Meatball Skillet is a simple yet delectable one-pan dish that's both easy to prepare and bursting with flavor. Enjoy a tasty meal with minimal cleanup!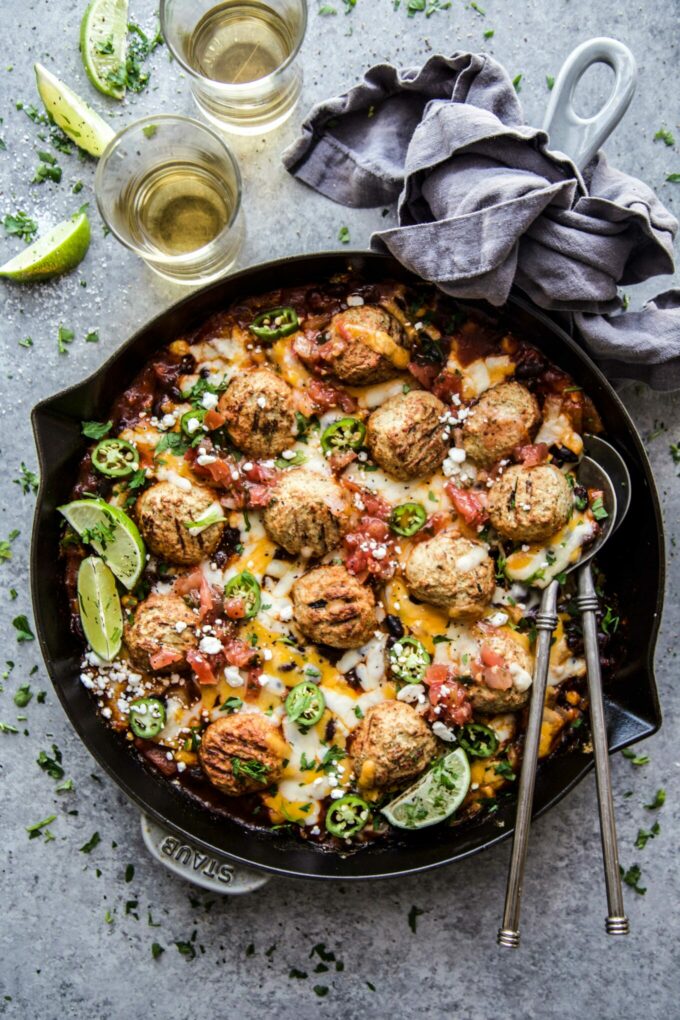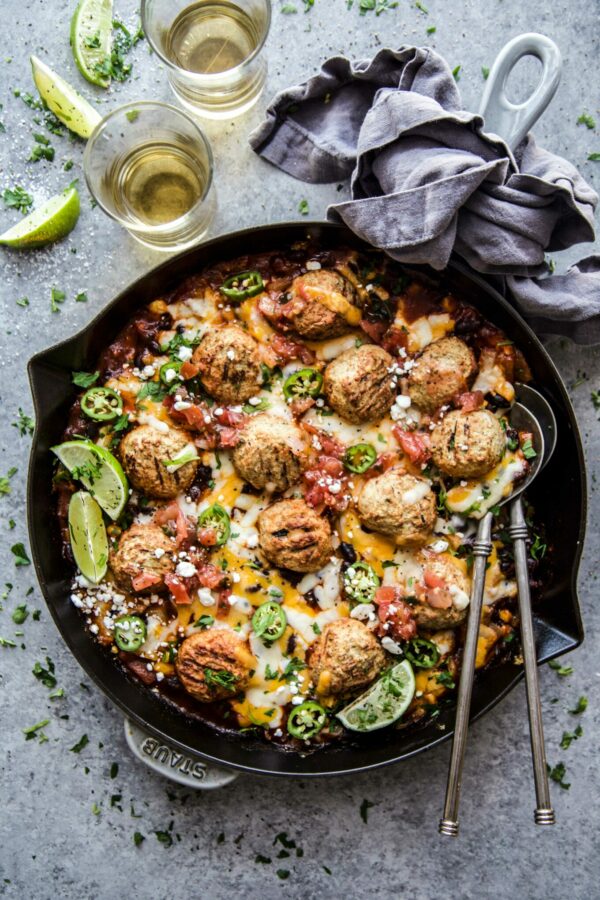 Well, that happened fast.
I had a sneaky feeling our stay-at-home order in Denver would be extended past May. I get it. Doesn't mean I'm super excited about it either.
My biggest issue is that it's going to be May on Friday! HOLY HECK. Seriously, how did that happen so fast?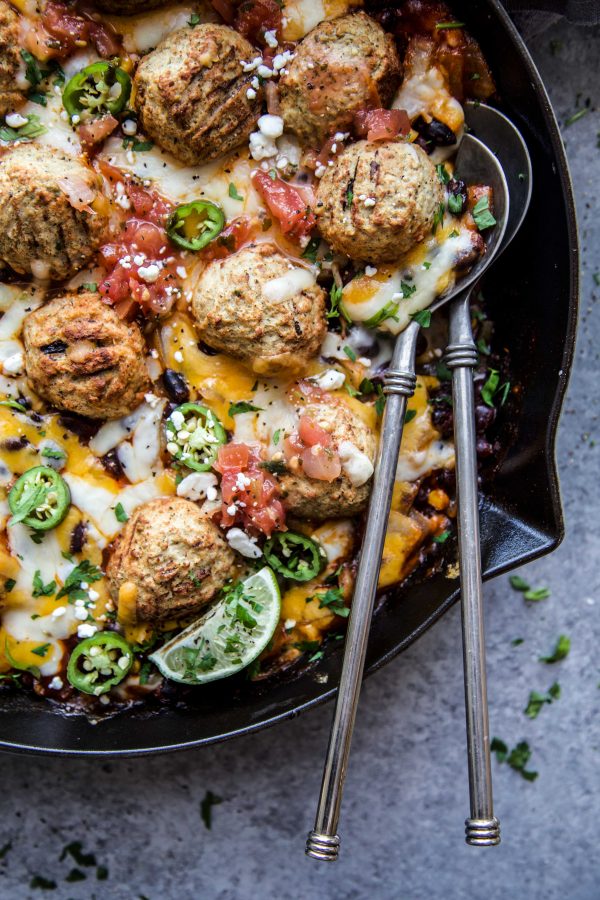 Curious, do you guys celebrate May Day? As a kid I had the best time gathering wild flowers and leaving small bouquets on my neighbors front porches. I might have to do that again. It would be a good adventure for Charlie and I. Maybe Juniper. Although, she might try to consume said flowers.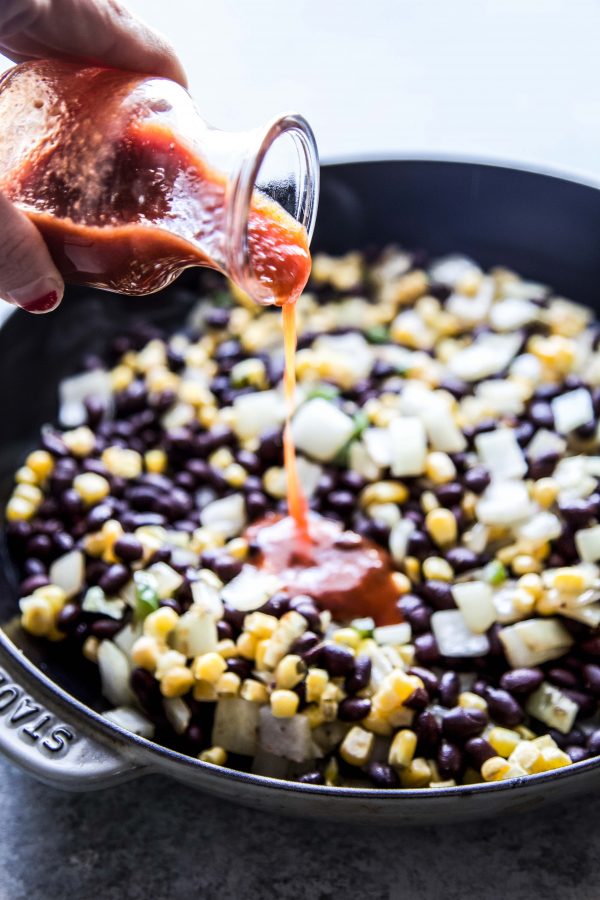 Anyway, today's recipe is getting me pumped for another May holiday….Cinco de Mayo. I've got an additional post coming later this week that will have us diving deep into the giggle juice. But! Before we get to that recipe we've got to have some substance in our bellies.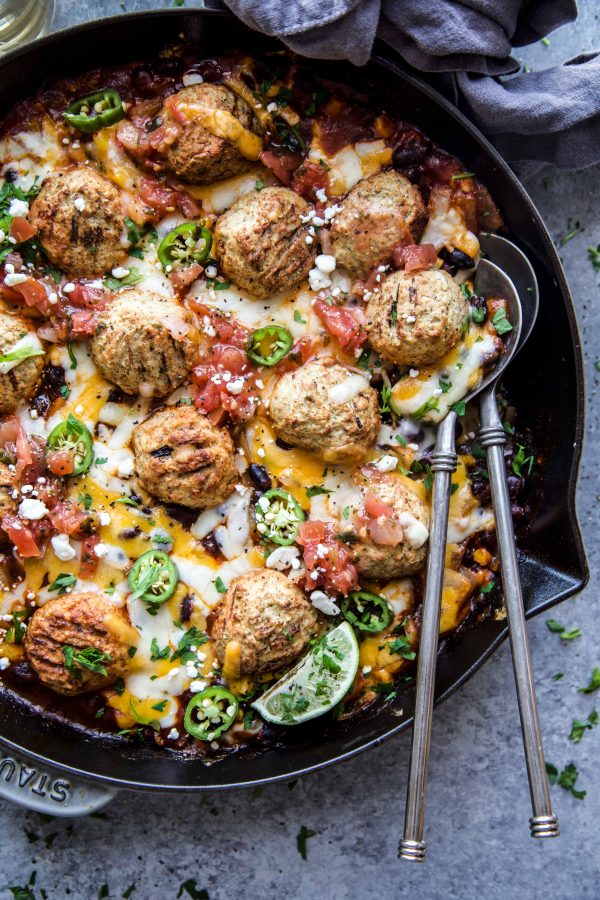 I'm all about the one-skillet cooking these days. Anything to make dinner easier, am I right? Well, this Enchilada Turkey Meatball Skillet is the answer to our dinner woes. A quick meatball mixture seared in a skillet and then baked with beans, corn, and enchilada sauce. See? So flipping easy. OH, and not to mention, delicious! 
This would also be a good meal prep for the week because we all might be at home for a bit longer! Hope y'all have a great Monday.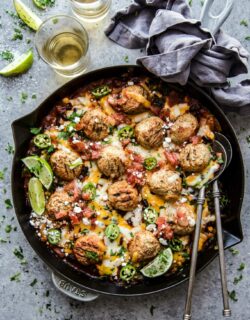 Enchilada Turkey Meatball Skillet
Ingredients:
1 lb ground turkey
1/2 cup panko breadcrumbs
1 large egg, whisked
2 garlic cloves, minced
2 tbsp chopped fresh cilantro
1 tsp chili powder
1/2 tsp ground cumin
1/2 tsp dried oregano
salt and pepper to taste
2 tbsp olive oil
1/2 cup chopped yellow onion
1 small jalapeno, deseeded, chopped
1 15oz can enchilada sauce
1 cup black beans, drained, rinsed
1 cup fresh or frozen corn
1 cup shredded cheddar cheese
1 cup shredded Monterrey jack cheese
Directions:
Preheat your oven to 375 degrees. In a large bowl combine panko, egg, garlic, cilantro, chili powder, cumin, oregano, salt, and pepper. Next, add the ground turkey. Gently mix the turkey with the spices, but careful to not over mix. Shape the the meatball into about 2-inch in diameter.
Next, preheat a large skillet to medium-high heat. Add 1 tbsp of olive oil to the skillet. Take the meatballs and cook them about 2 minutes per side. Remove the meatballs from the skillet and begin to make the sauce.
Add the remaining 1 tbsp olive oil to the skillet. Add the onion and jalapeno to the skillet, and cook for a few minutes or until softened. Stir in the enchilada sauce, black beans, and corn to the skillet. Stir to combine and bring mixture to a simmer. Return meatballs to skillet and top with cheese. Place in the oven and cook for about 15 minutes.
Remove from oven and garnish with salsa, jalapenos, and more cilantro!
All images and text ©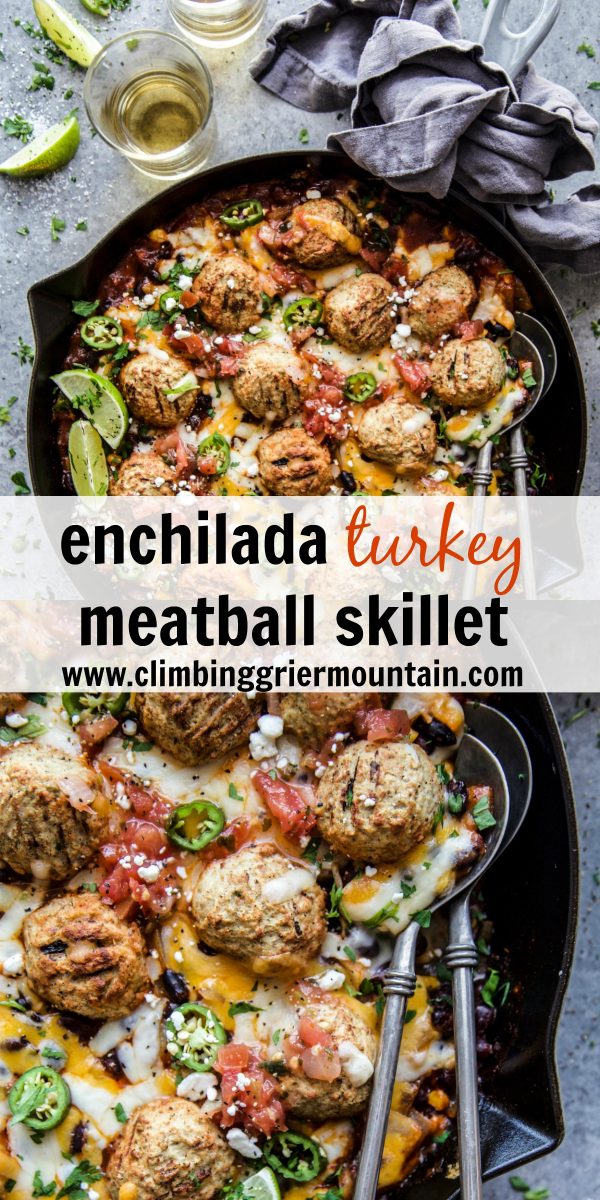 To sum it up, the Enchilada Turkey Meatball Skillet is a flavorful and convenient twist on a beloved classic. With juicy meatballs and spicy sauce, it's a delightful and easy-to-make meal. Enjoy the fusion of Tex-Mex goodness today!