Everything Bagel Dutch Baby with Lox
Everything Bagel Dutch Baby with Lox is a savory breakfast pancake perfect for breakfast or brunch!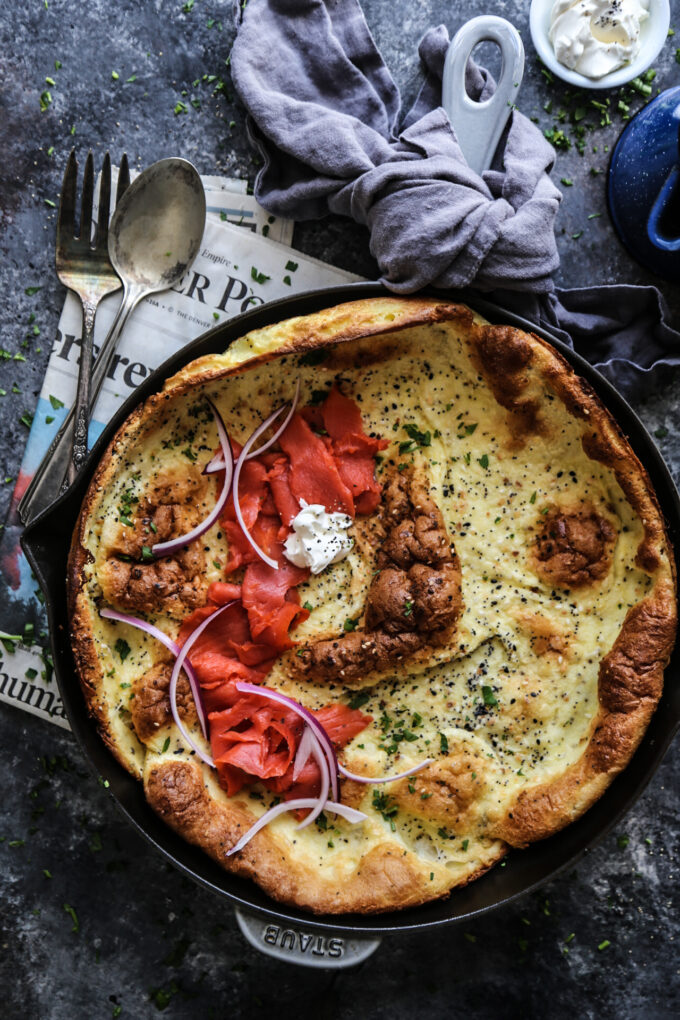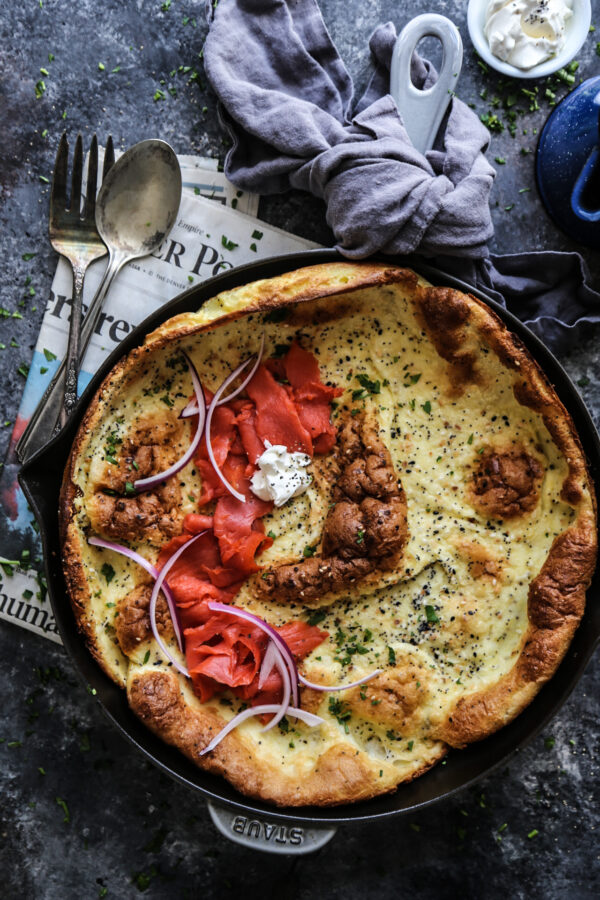 Hello, Monday.

Fancy meeting you here. 
So, I just noticed it's March. How did that happen? I swear it was just New Years 2.2 seconds ago. Anyway, now that we are inching closer to spring, have you started thinking about spring activities?
I sadly realized with this old house we are committed to updating the inside before the outside. Which means we won't have a garden this year. TEAR. I may do some tomatoes and herbs in a pot to get us by. Let me know if you have any quick, easy gardening ideas!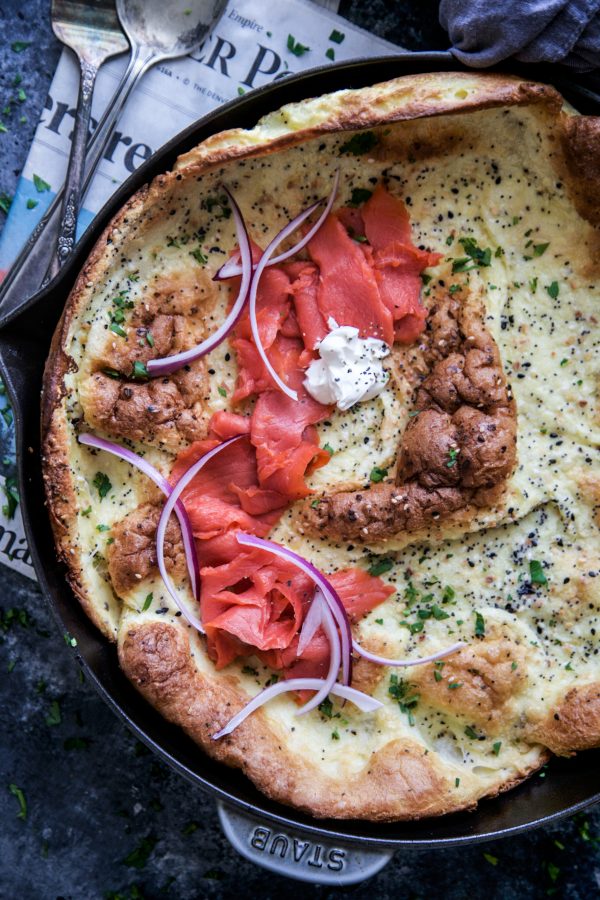 Besides getting my head around the fact it's March, I am marching full steam ahead with more savory breakfast ideas especially for Easter. Egg casseroles are always easy, avocado toast will forever be a favorite, chorizo egg tacos are never a bad idea, but I wanted to turn something sweet to savory. Have you ever had a Dutch baby pancake?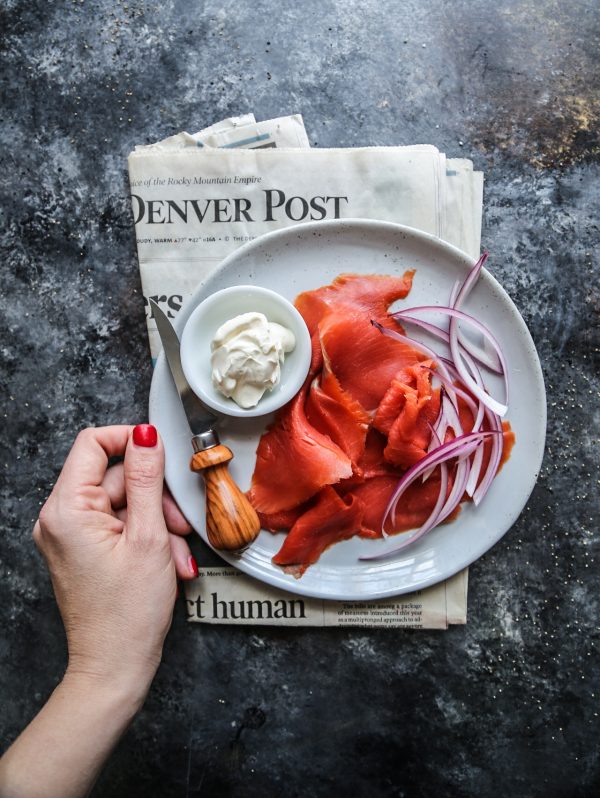 Um, if you haven't had this golden, puffed goodness it will change your life. Not only does it require one bowl to whip up the batter, but it also requires only one skillet to bake. See, easy math. The only hard part about this pancake is waiting the exact 15 minutes to complete baking otherwise it will deflate and look like a used balloon if you open the oven door.

Anyway, if you are feeling adventurous I highly recommend making this Everything Bagel Dutch Baby with Lox. Perfect for breakfast or brunch. Also, would make a splash during those Friday Lent moments because let's be real, everything bagel seasoning makes any religious holiday way more palatable.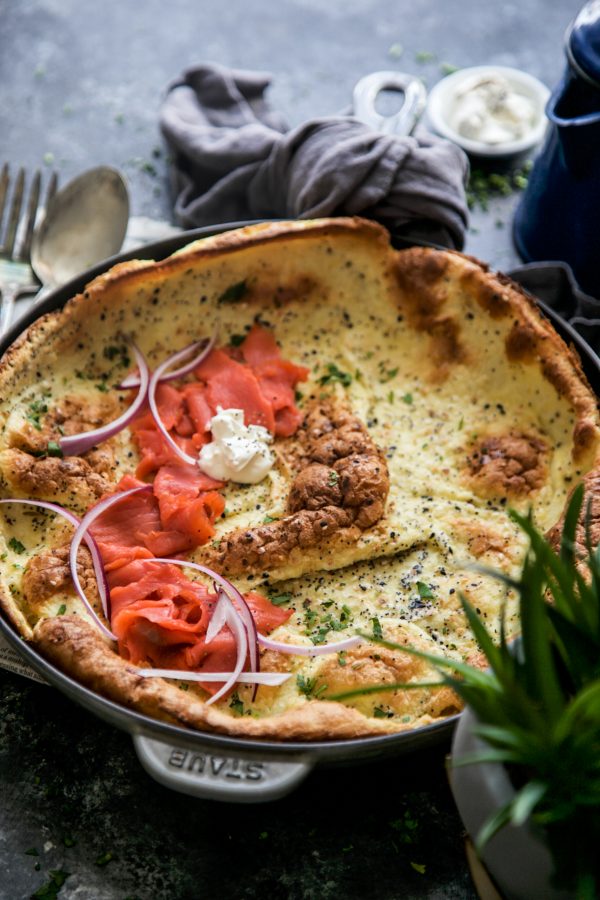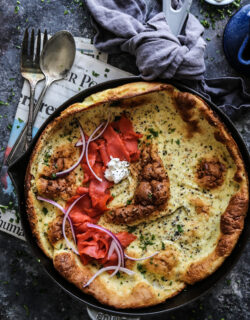 Everything Bagel Dutch Baby with Lox
Ingredients:
3 large eggs
3/4 cup whole milk
3 tbsp unsalted butter, melted, slightly cooled, divided
1/2 cup all-purpose flour
2 tbsp cornstarch
1/2 tsp kosher salt
1/2 tsp ground pepper
1 tbsp everything bagel seasoning
smoked salmon, garnish
creme fraiche, garnish
fresh parsley chopped, garnish
Directions:
Preheat an oven to 450 degrees. Place a cast-iron skillet into the oven and allow it to heat for about 15 minutes.
Meanwhile, in a blender add the eggs and blend on high for a minute until frothy. While the blender is running stream in the milk and 2 tbsp unsalted butter. Continue to blend for about 30 more seconds. Next add the flour, cornstarch, salt and pepper. Continue to blend until the batter is well combined.
Remove the cast iron skillet from the oven and add the remaining tbsp butter to the skillet. Once melted pour the batter into the skillet and then sprinkle the everything bagel seasoning on top. Place the cast iron back into the oven and bake until puffed and browned about 20 minutes.
Once cooked remove the skillet from the oven. The pancake will deflate slightly. Add smoked salmon, creme fraiche and parsely. Serve immediately.
recipe inspired by Bon Appetit
All images and text ©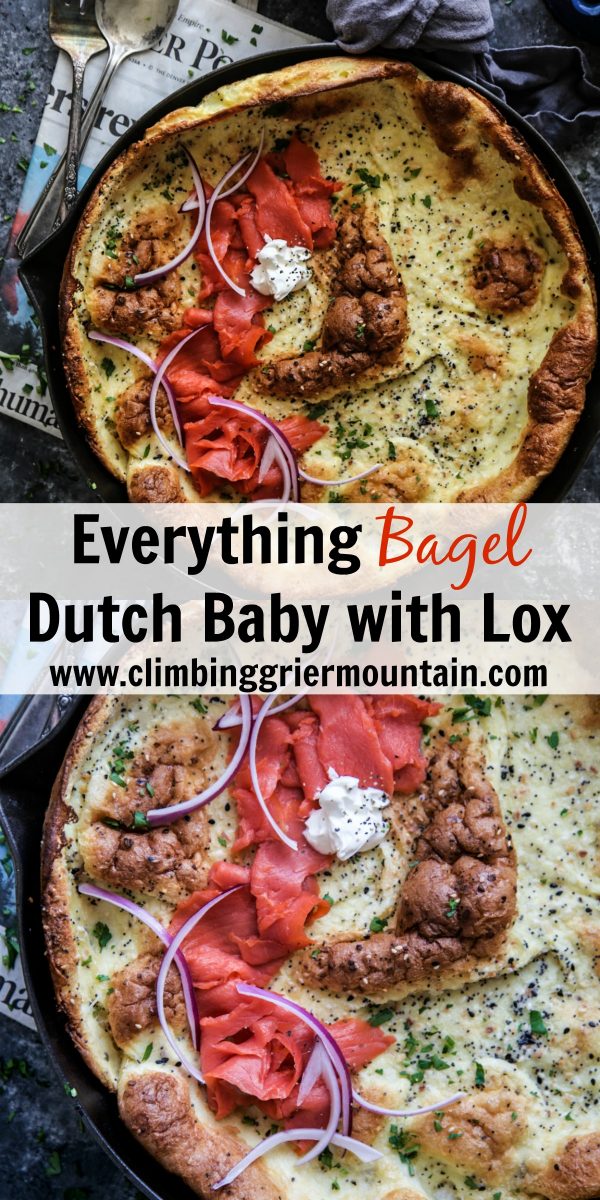 Indulge in the savory symphony of flavors with our Everything Bagel Dutch Baby topped with Lox. A breakfast masterpiece that combines the best of both worlds—savory and satisfying. Elevate your brunch experience and treat your taste buds!