foodie fridays: bacon and brie burger with spicy peach caramelized onions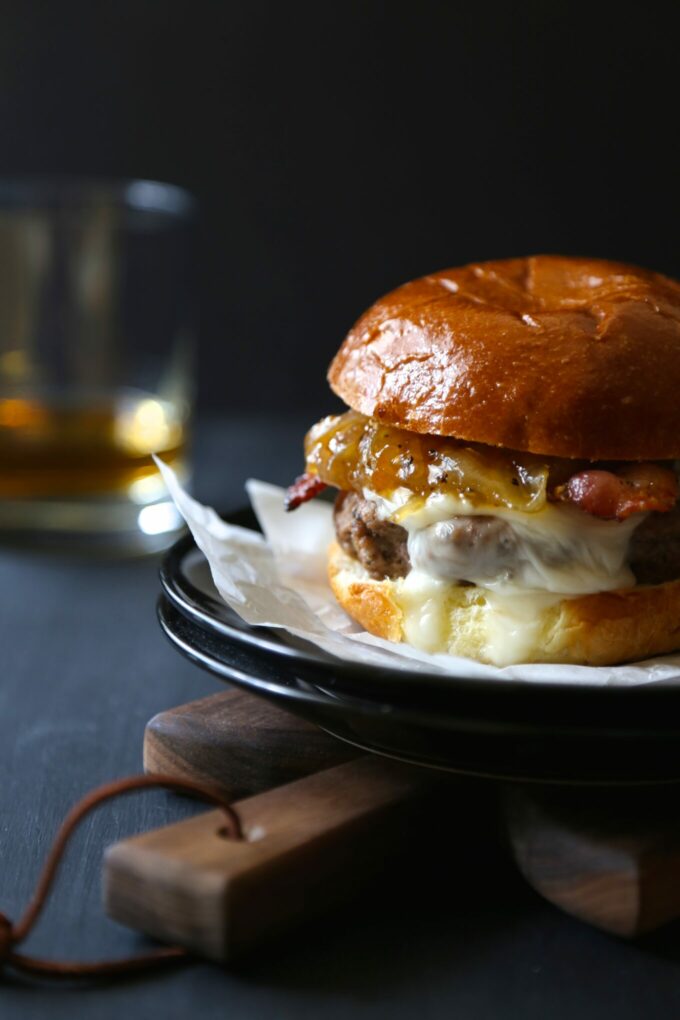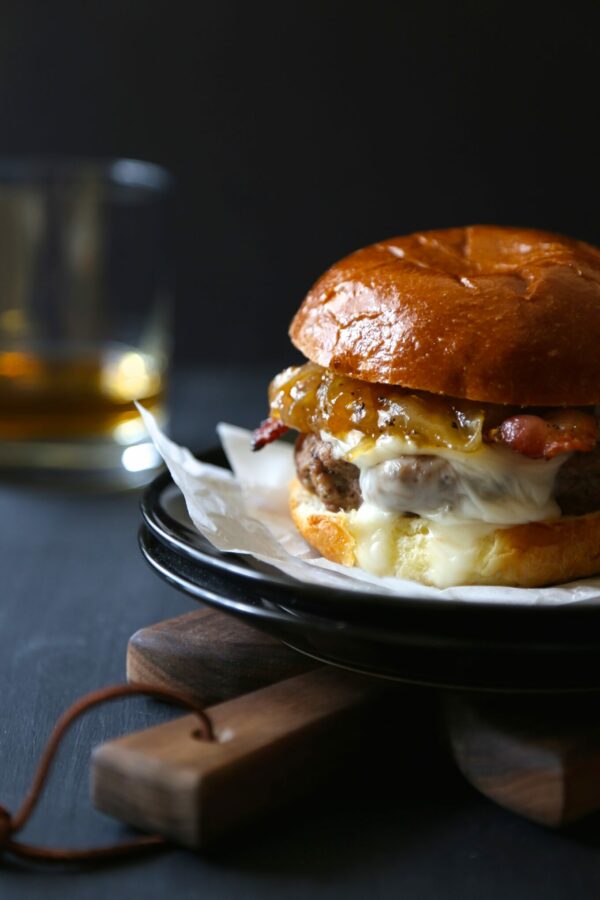 You sure do look purdy.
The holiday weekend that is.
Labor Day has grown up so fast. Tear. Sniff, sniff.
I don't know about you, but I seriously can't believe how fast time has flown by. I swear it will be Thanksgiving, Christmas, and then time to start writing our New Year resolution list. And, BREATHEEEEEEEEE.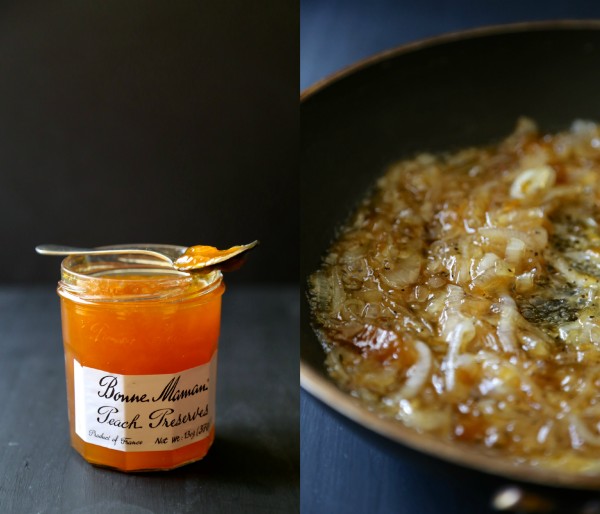 Anyways, before we time warp to another year, let's talk about said upcoming holiday weekend. What are your plans?  My immediate familia and I are headed down to Table Rock Lake located in southwest Missouri. Every year we gather at my favorite place in the whole universe to laugh, water ski, eat, play trivia, and marinate. Plus, I get to play with my two year-old niece Josie and show her the boating ropes. Let's be real, Josie is probably going to be driving the boat and dishing out orders like a natural Wurth Woman.
Now, we can't talk about Labor Day without discussing eats. That would be like talking Christmas sans the presents.  I have a few standard dishes that will make an appearance like The Pioneer Woman's Dr. Pepper pulled pork  and this newly created Chocolate Oat Snack Cake. But I wanted to grill something that would sass up the weekend; after all it is a holiday.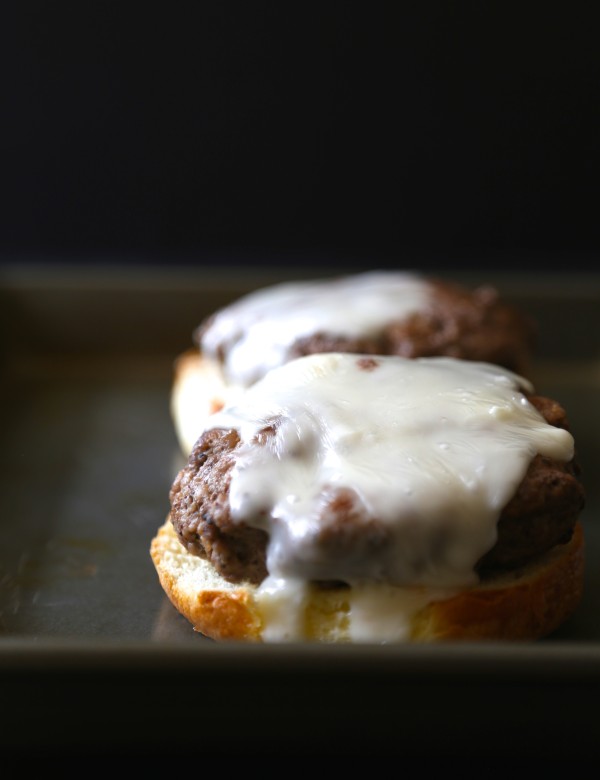 This may be my all time favorite burger. For reals. The combo of ground beef and veal with melted brie, crispy bacon, caramelized spicy peach onions smashed in between two brioche buns, I may never make another burger again.
So, go make this burger and savor your Labor Day weekend.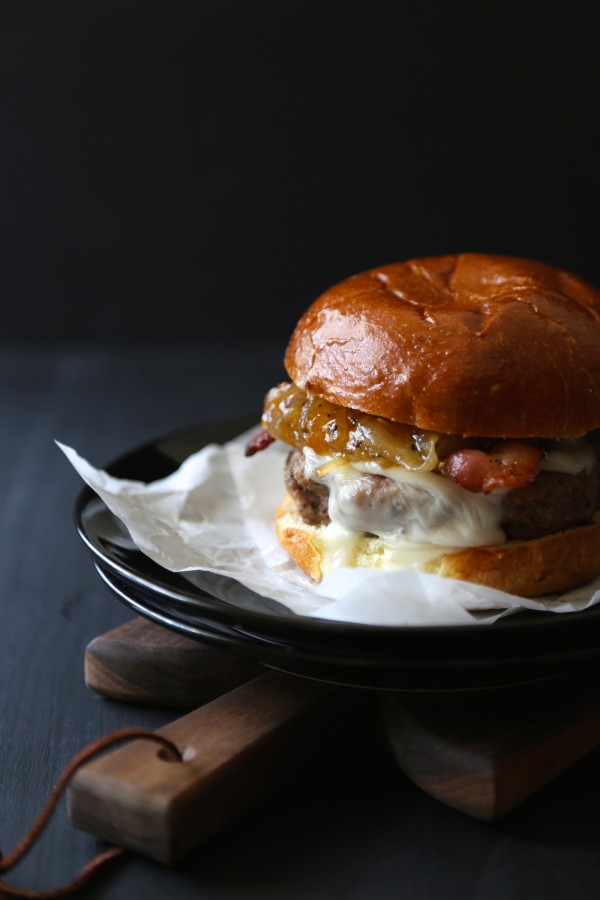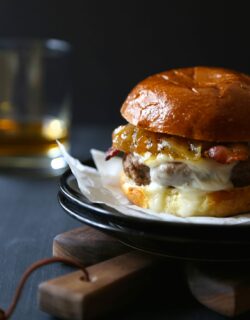 Bacon and Brie Burger with Spicy Peach Caramelized Onions
Ingredients:
for the burgers:
1 pound ground beef
1 pound ground veal
dash of Tabasco
8 pieces bacon, cooked
4 slices brie
4 brioche hamburger buns
salt and pepper to taste
for the spicy peach caramelized onions:
1 large yellow onion, sliced thinly
3 tablespoons unsalted butter
pinch red pepper flakes
1/4 cup peach reserves
salt and pepper to taste
Directions:
for the burgers:
In a large bowl, combine beef, veal, Tabasco, s&p. Form into four hamburger patties. Preheat a grill to medium-high heat and place hamburger patties on the grill. Grill the first side for about five minutes, flip, and grill for another two to three minutes. In the last minute, place brie on top of patties and let it melt. Remove patties from the grill and place on a plate to rest before serving. To serve, place hamburger on a bun, top with bacon, spicy peach caramelized onions, and bun. Serve with a big ass BEER!
for the spicy peach caramelized onions:
Preheat a skillet to medium heat. Melt the butter and add onions with red pepper flakes, s&p. Stir to combine and cook until starting to turn golden brown. Add the peach reserves and continue to cook until golden and caramelized about 10 to 12 minutes. Remove from heat to cool slightly.
All images and text ©