mexican corn & chorizo pancakes with fried egg & heirloom tomato salsa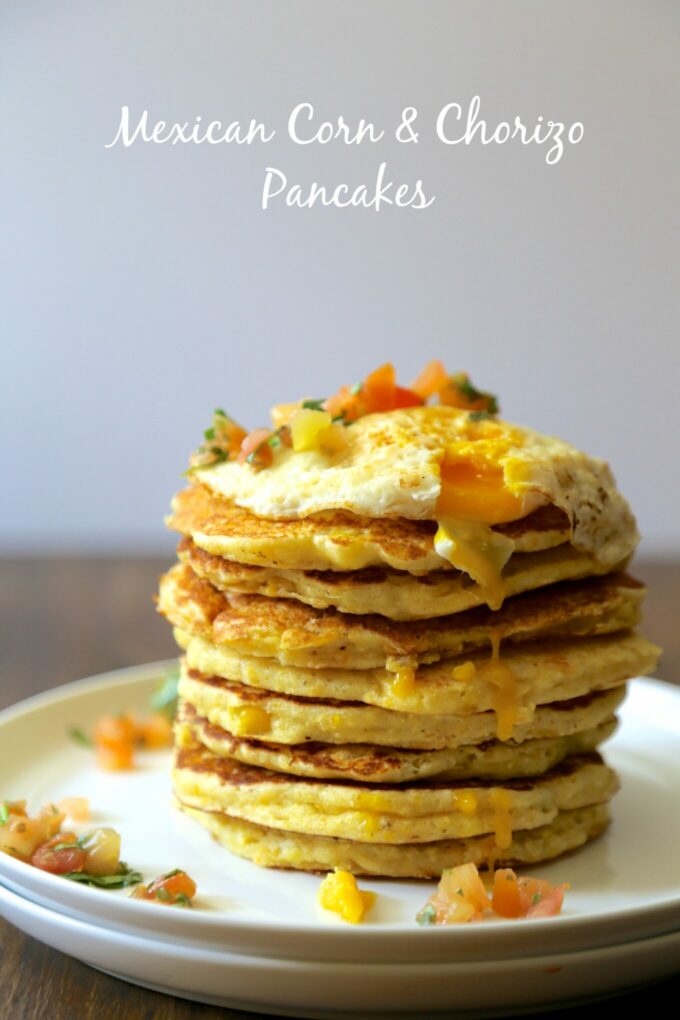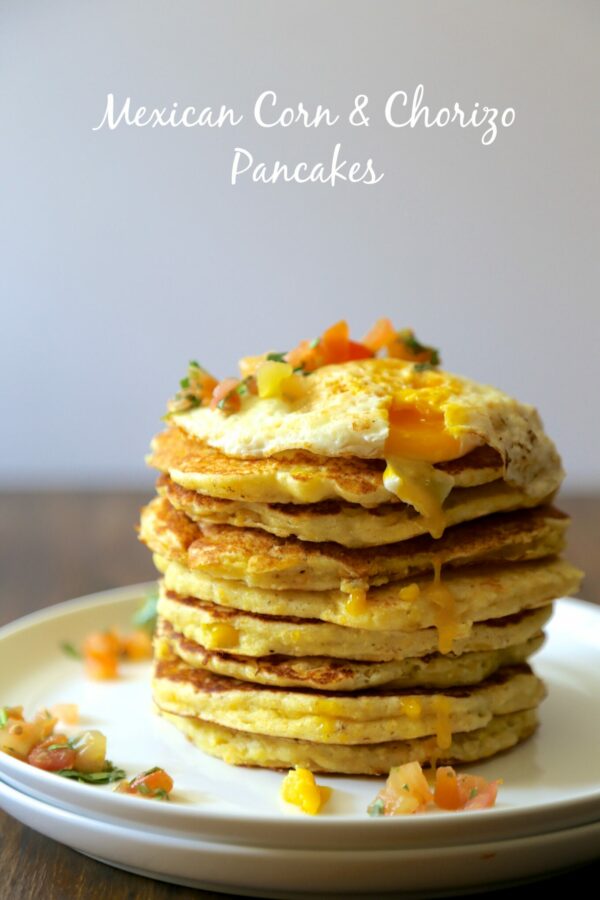 I feel like a hoarder.
A veggie hoarder that is.
Please tell me I'm not the only one?
With Labor Day weekend in t-minus five minutes, I feel as though the summer bounty count down has begun. I don't know what it is, but once it turns September 1st, I have this sense of panic that all the veggies will disappear. POOF. Vanish. Hasta la vista. This is usually the time of year when I bring a shopping cart to the farmer's market instead of a tote. Just kidding. Maybe.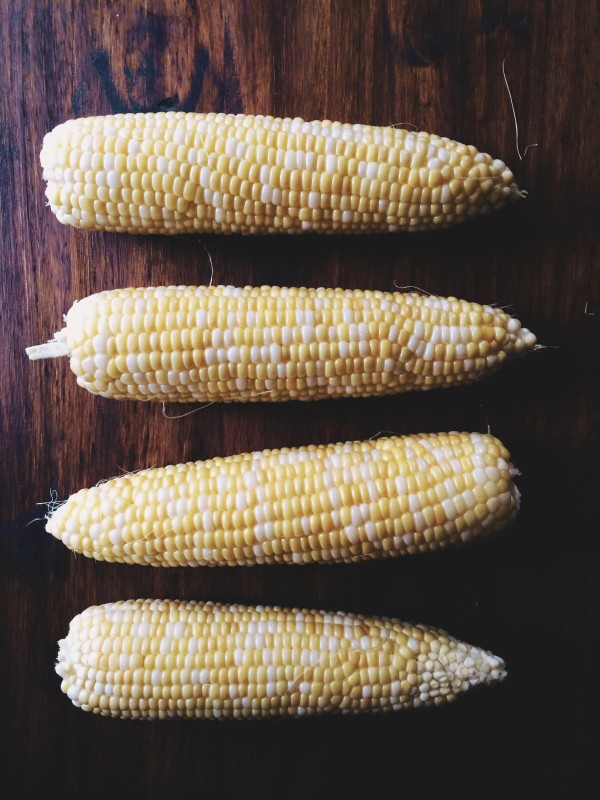 Anyways, every year I have to remind myself that I still have at least another month of fresh produce before all the gourds, squash, and pumpkins make an appearance. After a few sniffs of tomatoes and herbs, I come back to earth and breathe my way through September.
So, to make the best of a veggie situation, I decided to make some savory pancakes. Inside the fluffy batter: my favorite CHORIZO and sweet corn. In Colorado, we grow gobs of corn. Sweet corn from Olathe to be exact and it's some of the best in the country if you ask me. You make these pancakes just like their sweet cousin, only with this version, no syrup is involved. I know, I know just trust me.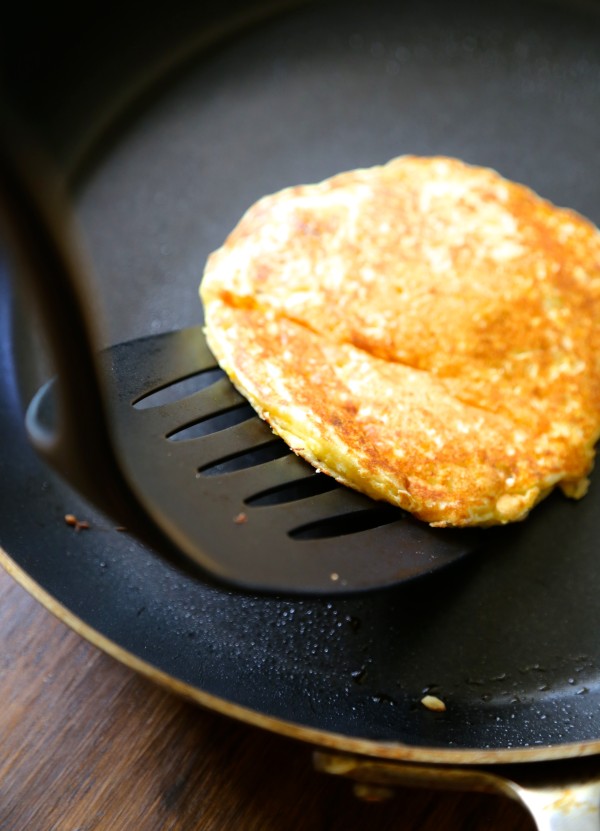 You don't want to miss out on making a sexy heirloom tomato salsa, now do you? Us veggies hoarders have to stick together. Pile the fresh tomato salsa on top with a fried egg. My heavens.
You'll be "ole-ing" the end of summer all month long.
Do what?
Send help.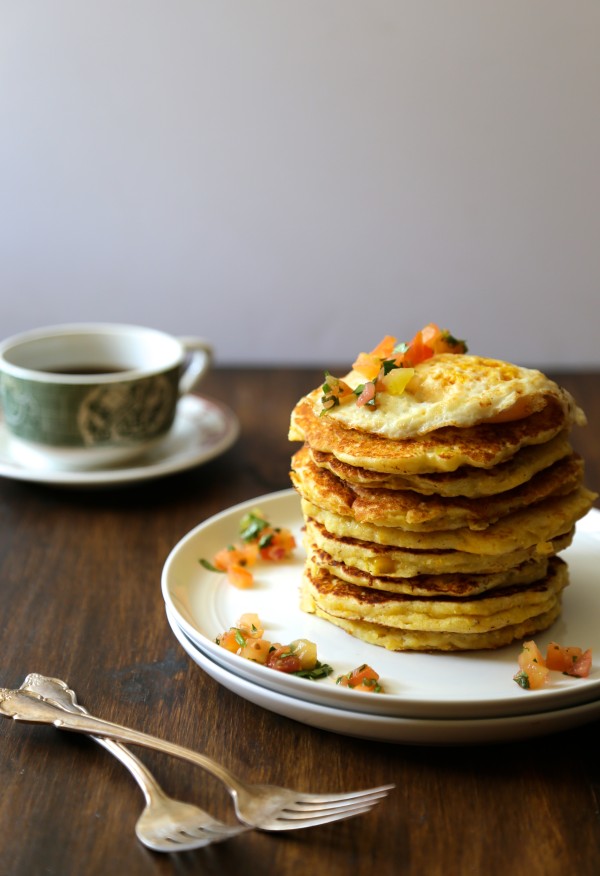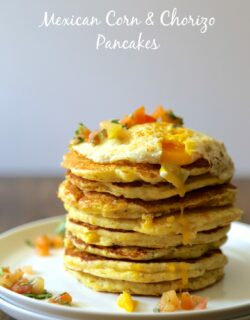 Mexican Corn & Chorizo Pancakes with Fried Egg & Heirloom Tomato Salsa
Ingredients:
for the pancakes:
1/2 cup all-purpose flour
1/2 cup yellow cornmeal
1 teaspoon sugar
1/4 teaspoon baking soda
1/4 teaspoon kosher salt
1/8 teaspoon ground pepper
1 1/4 cups corn kernels
1 tablespoon olive oil
1 cup chorizo, cooked
3 tablespoons unsalted butter, melted
2/3 cup buttermilk
1 large egg
Non-stick cooking spray
salt and pepper to taste
for the heirloom tomato salsa:
2 large heirloom tomatoes
1/2 jalapeno, seeds removed, diced
1 small red onion, diced
1/2 cup cilantro
Juice of a lime
salt and pepper to taste
for the fried egg:
4 large eggs
1 tablespoon olive oil
Directions:
for the pancakes:
In a skillet preheated to medium-high heat, Add olive oil, corn kernels, salt and pepper. Saute for a few minutes until golden brown. Remove from heat and cool slightly.
In a large bowl, combine flour, cornmeal, sugar, baking soda, salt, and pepper. In a food processor, combine 1 cup corn kernels,chorizo, buttermilk, butter, and egg, pulse until pureed. Combine the wet ingredients and dry ingredients. Fold in the remaining 1/4 cup corn.
Preheat a skillet to medium heat and spray with non-stick cooking spray. Pour about 1/4 cup of the pancake mixture into the pan, cook for about two minutes or until it starts to bubble on top. Flip, and continue to cook until golden brown. Remove, and repeat process until all the batter has been used.
To serve, stack three or four pancakes together. Top with fried egg and heirloom salsa
for the heirloom tomatoes:
Combine all ingredients. Place in fridge for at least 30 minutes to allow flavors to combine.
for the fried egg:
Preheat a skillet to medium heat. Add the olive oil and then crack four eggs into the skillet. Cook for a couple of minutes, carefully flip and then cook until the desired consistency.
adapted from Cooking Light
All images and text ©