Foodie Fridays: Black Sesame Otsu
What do black sesame seeds, soba noodles and tofu have in common?
Can't think of anything?
It's cool. They actually don't having anything in common except for the recipe I am making today.
I was stalking Heidi from 101 Cookbooks the other day, when I found a recipe she featured on her blog called, Black Sesame Otsu. At first, I was like, what? That sounds crazy. But as I began to investigate further I found out a couple of things.
1. Black sesame paste is just a natural flavoring that can be used on anything! From salads to broccoli to green beans even roasted potatoes. It adds a level of complexity to a dish that frankly, regular dressings cant' match.
2. Soba noodles are a thin type of Japanese noodle made from buckwheat flour. It's most commonly served in a hot broth for soups, or chilled and used for dipping sauces. Soba noodles are not only easy to cook but are bursting with nutrition. They are a good source of manganese, which helps you metabolize cholesterol and carbohydrates. Also contains thiamine which is vital for a healthy brain, muscles and skin. No wonder the Japanese are so smart.
3. Tofu. Did you know that tofu is called the cheese of Asia? I giggled at that factoid. Tofu is made by coagulating soy milk. When finished the final product is a soft white block of curd, thus the resemblance to cheese. There are many ways to cook tofu. You can bake it, saute it, grill it, and the best way, deep fry it. Think of tofu as a blank canvas and you are the Picasso of the kitchen.
After my investigation was complete I felt enlighten and enthusiastic to try and replicate this recipe. I must say, this dish was not only scrumptious but quick and easy. If you are a busy meat-eater but want to try something vegetarian this is a good place to start!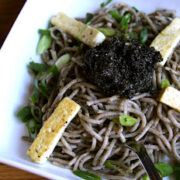 Black Sesame Otsu
Ingredients:
1 teaspoon pine nuts
1 teaspoon sunflower seeds
1/2 cup black sesame seeds
1 1/2 tablespoons natural cane sugar
1 1/2 tablespoons soy sauce
1 1/2 teaspoons mirin
1 tablespoon toasted sesame oil
2 tablespoons brown rice vinegar
1/8 teaspoon cayenne pepper
kosher salt
12 ounces soba noodles
12 ounces extra-firm tofu, drained
olive oil
1 bunch green onions, thinly sliced
Directions:
In a food processor, combine pine nuts, sunflower seeds, and sesame seeds. Pulse a few times. Add sugar, soy sauce, mirin, sesame oil, brown rice vinegar, and cayenne pepper. Pulse a few times. Put mixture into a bowl and set aside.

Cook soba noodles according to package directions.

Cut tofu into matchstick size. Preheat a skillet over to medium-high heat. Add olive oil and cook tofu for a few minutes on each side until golden brown.

In a large bowl, mix soba noodles with sesame paste. You might have to thin it out with a little bit of noodle broth. Add green onions and tofu. Serve it up!

recipe from 101 Cookbooks

All images and text ©