foodie fridays: bourbon wings with blue cheese sauce
What do Tom Brady, the Material Girl, and Honda Motors have in common?
I'll give you three guesses, but the first two don't count.
Whoa you're good!
Yep, that's right, The Super Bowl.
This Sunday Tom Brady of the New England Patriots will take on Eli Manning and the New York Giants in Super Bowl XLIV (that's 46 in case you don't speak Roman).Madonna is slated to be the halftime performer, and Honda Motors is set to have Matthew Broderick recreate his Ferris Bueller days in the most anticipated commercial debut of 2012.
However, given Tom Brady's good looks, Madonna's ability to put on a star studded performance, and Honda's capability of throwing millions of dollars into commercial ad space, they dim in comparison to the excitement of these bourbon wings.
First of all, you can't have a Super Bowl party without wings. Am I right? Right. It would be like going to a birthday party and not having a cake. Wouldn't that be awkward? Anyways, I knew I wanted to get into the Super Bowl spirit by making wings. I also knew that I wanted a wing recipe that was different. You know, something that would surprise the other team, I mean guests.
We all know the standard wing is fried, tossed with gobs of spicy buffalo sauce, and then you dip it into blue cheese. Blah, blah, we get. But when I found this recipe on
Bon Appetit's
site last week for Bourbon-Glazed Wings, I knew I had found my star quarterback.
First, these wings are covered in a bourbon marinade and soaked overnight. Is there anything better than that? Okay, besides a possible text from Tom Brady asking you to be his Valentine, but I'm trying to keep things real around here.
Second, they are baked, not fried! Since they are baked, having arms like Madonna is still a possibility.
And lastly, these wings won't cost you a fortune. Forget spending gobs of money on fancy steaks, wings only cost $2 a pound and can feed a large crowd. Plus, the recipe only calls for a quarter cup bourbon, the rest, share among your friends!
Because what's a Super Bowl party without bourbon? I rest my case.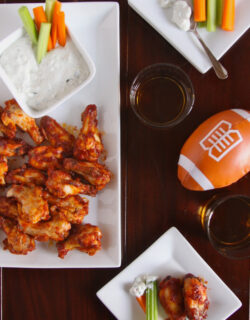 Bourbon Wings with Blue Cheese Sauce
Ingredients:
for the wings:
2 tablespoons butter
1 cup chopped onion
3 garlic cloves, minced
1 cup bourbon, divided
1 cup ketchup
1/2 cup hot pepper sauce
1/4 cup tomato paste
3 tablespoons golden brown sugar
30 chicken wings
for the blue cheese sauce:
8 ounces blue cheese crumbles
1 16 oz. container sour cream
1/3 cup parsley, chopped
Directions:
for the wings:
Preheat oven to 375 degrees. Line a baking sheet with foil. Spray with non-stick cooking spray. Place a wire rack on top.
In a large saucepan preheated to medium-high heat, melt butter. Add onion and garlic, saute for a few minutes. Add 3/4 cup of bourbon. Bring to a boil until reduced by half. Then whisk in 1/4 cup bourbon, ketchup, hot sauce, tomato paste, and brown sugar. Bring back to a boil. You'll then reduce the heat and simmer until it thickens. Salt and pepper to taste. Cool the marinade to room temperature. In a baking dish, place wings and pour marinade all over. Make sure wings are well coated. Marinate over night.
Take the baking sheet with wire rack, arrange wings evenly. Bake wings for about 45 minutes until golden brown. Put wings on serving platter and serve with blue cheese sauce.
for the blue cheese sauce:
In a large bowl, combine all ingredients.
recipe from Bon Appetit
All images and text ©