foodie fridays: bourbon honey ice cream with brown butter crumble & fresh peaches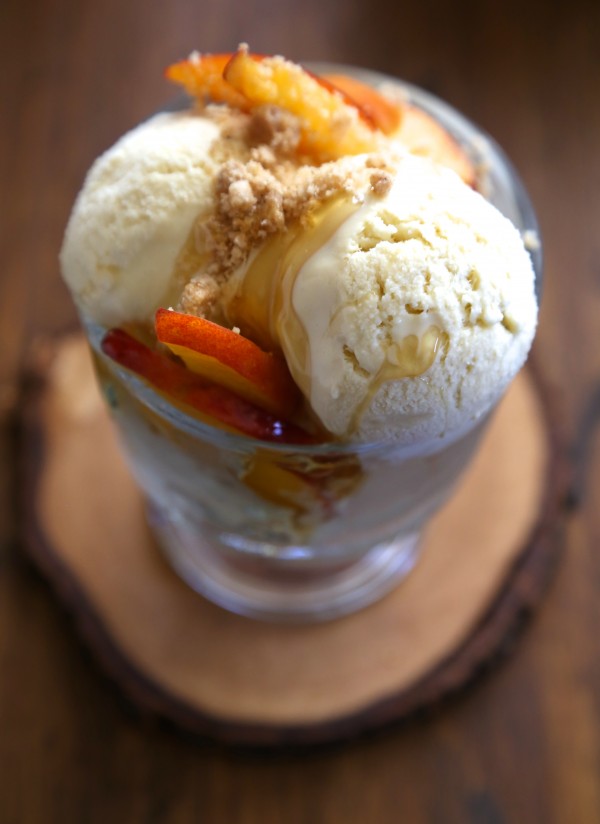 A certain layer beneath us may have frozen over.
Are you ready for this?
I.made.ice.cream!! (the crowd goes wild!!)
GAH! I feel like I am on some ABC show about to reveal a major makeover. I realize this may sound all sorts of bonkers, but you guys, I've NEVER made ice cream before! Wait. This is probably why I was picked last to be on the Dodge Ball team. Because who doesn't make ice cream on a regular basis. Well, there's always an outlier, right?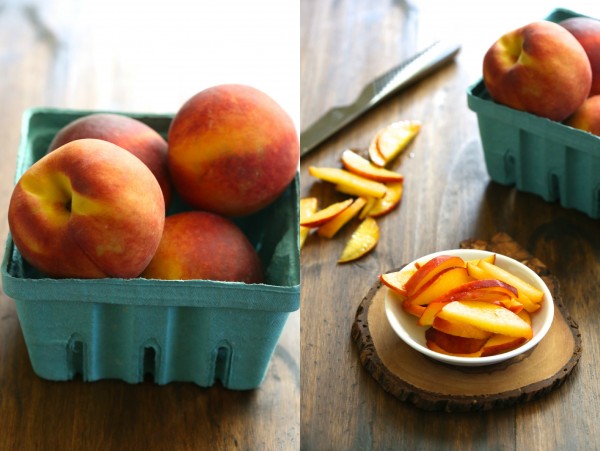 Don't get me wrong, I like ice cream, it's just not my go-to when I crave sweets. I am a cake and brownie girl at heart, which drives Mr. B crazy because I lack the impromptu gene to walk down to Little Man Ice cream parlor for a sugar kick. You can cue the violin for him. I totally understand.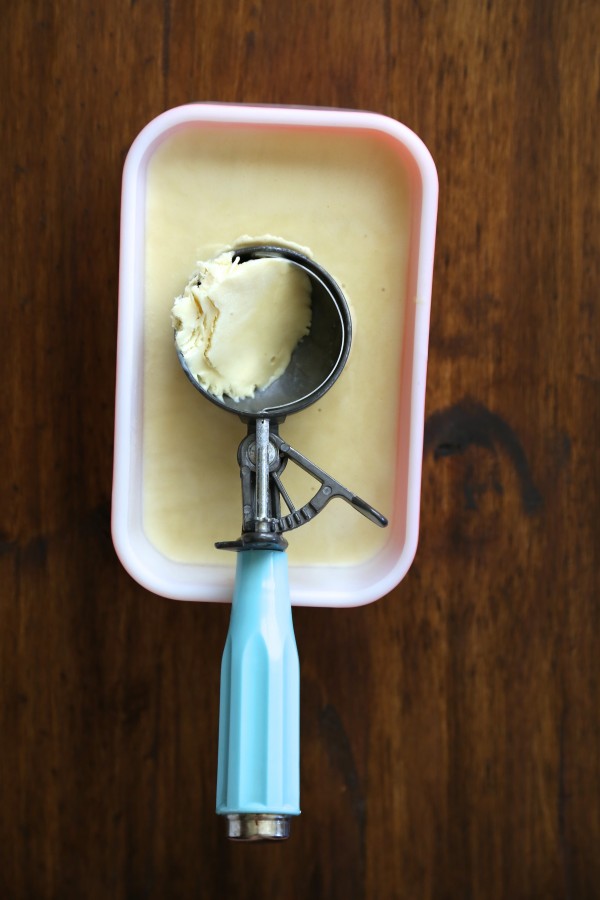 Well, rather than purchase gallons of ice cream that I know will go to waste, why not make just the right amount for our lil' household? Now, since this is the first time yours truly whipped up the full show of ice cream, it's gotta' be epic. Enter, bourbon honey ice cream. Booze and dessert? Um, yes, please! I couldn't tell you how easy it is to make. I actually borrowed my friend Katie's ice cream maker and I may never give it back! Sorry, Katie!
So, yes, that certain H-E-double-hockey-sticks, most certainly did freeze over!
Now, pass me a spoon!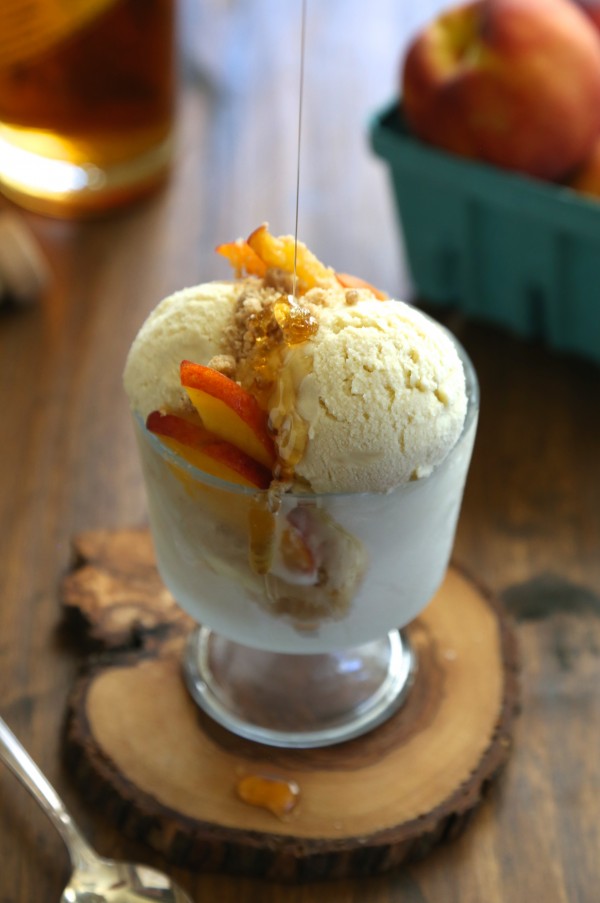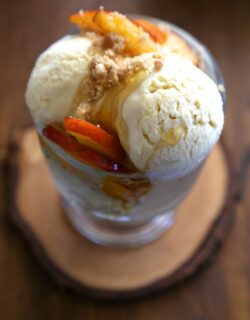 Bourbon Honey Ice Cream with Brown Butter Crumble & Fresh Peaches
Ingredients:
for the bourbon honey ice cream:
3/4 cup granulated sugar
6 egg yolks
2 cups whole milk
2 cups whipping cream
1/4 cup favorite bourbon
1 tablespoon vanilla extract
1 teaspoon honey
fresh peaches, sliced
for the brown butter crumble:
1 stick + 6 tablespoon unsalted butter
1/2 cup granulated sugar
3/4 cup dark brown sugar
1 1/2 cups all-purpose flour
1/2 cup whole wheat flour
1 1/4 teaspoons kosher salt
Directions:
for the bourbon honey ice cream:
In a medium saucepan, combine egg yolks and granulated sugar. Pour milk and cream into saucepan and continue to stir until smooth. Bring the saucepan to a medium heat. Continue to whisk until the mixture has thickened and coated the back of the spoon...probably about 10 to 12 minutes. Turn off the heat. Strain the egg mixture into a large bowl using a fine mesh strainer. Stir in the bourbon, honey, and vanilla extra. Place plastic wrap over bowl and chill the custard in the fridge overnight. Also, place your ice cream maker into the freezer as well.
The next day, remove plastic wrap from the bowl and the ice cream maker from the freezer. Pour the custard into the ice cream maker and churn for at least 30 minutes. Once thickened, pour the ice cream in a quart container and freeze until ready to serve. Top ice cream with brown butter crumble and fresh peach slices. Enjoy!
for the brown butter crumble:
In a large bowl, add granulated sugar. Set aside. In a small saucepan, add the butter and cook over low heat until brown and smells nutty. Carefully pour the brown butter into the bowl with the sugar and stir to combine. In another large bowl, mix together brown sugar, both flours, and salt. Add the brown butter mixture into the flour mixtures. Stir well. Transfer to a baking sheet sprayed with non-stick cooking spray. Press with your fingers to make an even layer. Cover with seran wrap and place in fridge for at least an hour to chill.
Preheat oven to 350 degrees. Break the crumble into chunks so it gets nice and golden brown. Bake for about 20 minutes. Remove from oven and let it cool slightly.
bourbon ice cream lightly adapted from Saveur
brown butter crumble lightly adapted from Food and Wine Magazine
All images and text ©