mini cherry clafoutis with chocolate whipped cream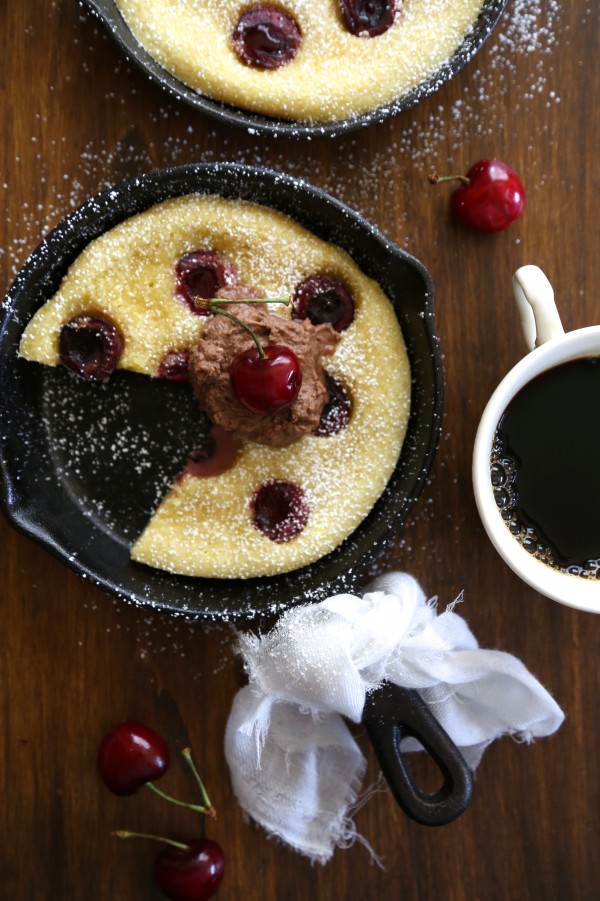 A cherry stem is not just a cherry stem.
Oh, no.
It's a "how good are you at making-out indicator". For those of you who haven't the slightest clue what I am referring to, let me explain. Remove a stem from a cherry. Place said stem in your mouth and attempt to tie a knot in a stem using only your tongue. AND GO!
Don't worry, if you were unsuccessful. My cherry knotting record: 2, cherry stems, 17. Those suckers are trickier than they look! Maybe I should have made out with my hand more? Practice makes perfect, right?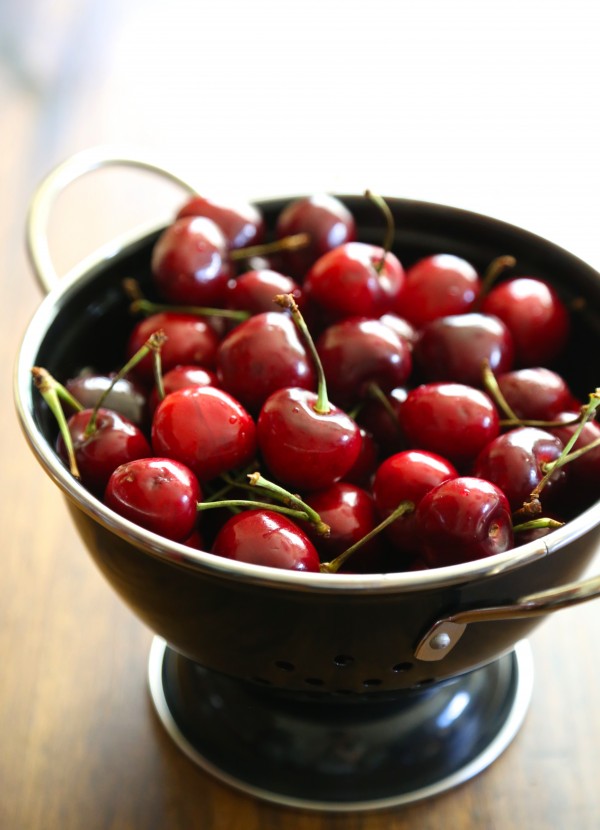 Well, thank goodness you don't have to have magical make-out skills to eat this Mini Cherry Clafoutis with Chocolate Whipped Cream. A claftouis is a traditional baked French fruit dessert and after making this cherry version very well be my new go-to in the mornings. Not only is it easy to whip up this clafoutis, but it's great to sub in whatever seasonal ingredients you have on hand.
Since cherries are popping up in grocery stores everywhere and bursting with color, I thought it would be the perfect addition to this dessert. Okay, and I may or may not have picked up an extra bag to practice my cherry knotting skills! Don't judge!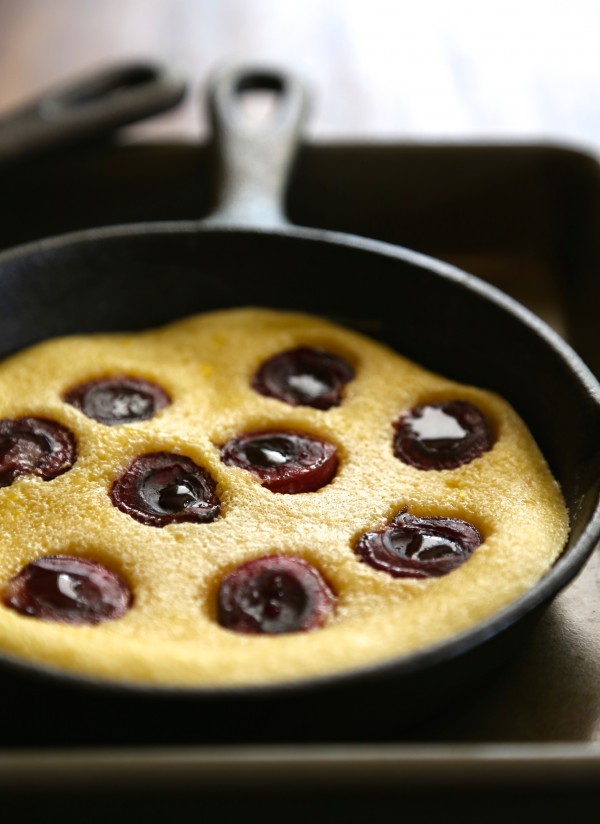 So, if you are craving an inseason dessert, whip this clafoutis up and sharpen those making out skills.
(**boyfriend or spouse not included**)
Season Eating Series: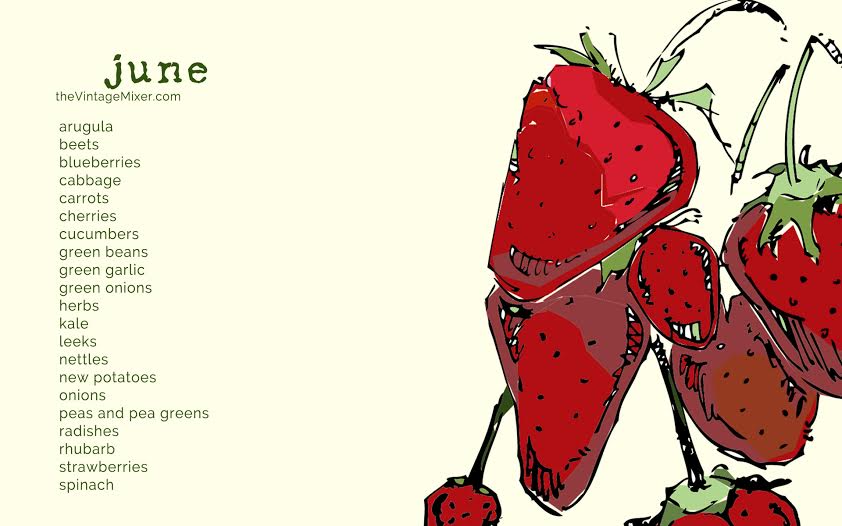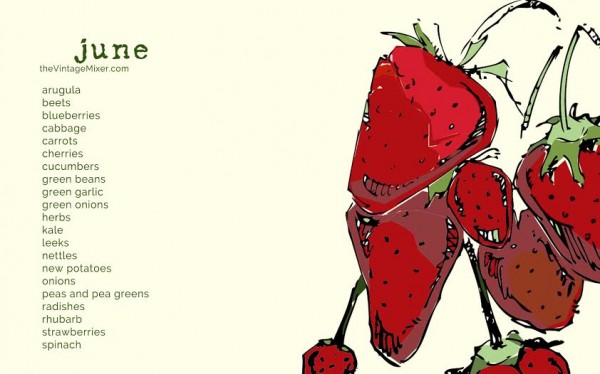 My talented and fantastic friend, Becky, author of The Vintage Mixer, and her husband Josh, are showing us that eating seasonally can be fun! Each month they will provide a Seasonal Produce Guide, which you can save on your iPhone or desktop so you can get in the seasonal eating spirit.
Not only do they provide a beautiful illustration each month like the one above, you can also join me and a few fabulous food bloggers who are serving up seasonally inspired recipes. Follow us on Instagram and tag your photos with the #eatseasonal hashtag!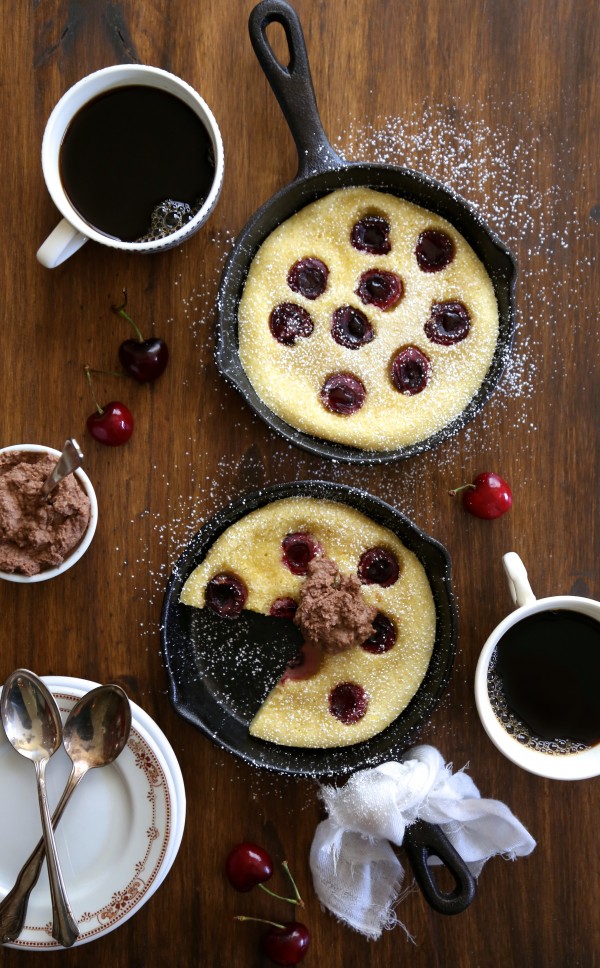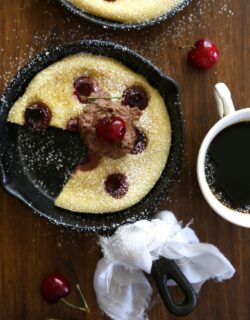 Mini Cherry Clafoutis with Chocolate Whipped Cream
Ingredients:
for the cherry clafoutis:
1 cup granulated sugar
5 large eggs
2 teaspoons vanilla extract
3/4 cup all-purpose flour
3/4 cup plus 2 tablespoons almond flour
1 teaspoon kosher salt
1 cup whole milk
1 cup cream
1 1/4 cup cherries, pitted, stems removed
confectioners sugar, garnish
for the chocolate whipped cream:
1 cup whipping cream
1/2 cup semi-sweet chocolate chips
splash of vanilla extract
Directions:
for the cherry clafoutis:
Preheat oven to 350 degrees.
Spray four mini cast iron skillets with non-stick cooking spray. Mix granulated sugar, eggs, and vanilla extract in a large bowl. In another bowl, combine all-purpose flour, almond flour, and salt. In thirds, gently combine the sugar/egg mixture with the flour. Add the cream and milk to bowl. Stir to combine. Divide the batter between the four skillets. Top with cherries. Bake for about 15 to 20 minutes or until golden brown. Cool before serving. Dust tops with confectioners sugar and dollop chocolate whipped cream on top.
for the chocolate whipped cream:
In a mixer fitted with a whisk attachment, pour cream into bowl. Whisk until fluffy. Melt chocolate in a small saucepan over medium heat. Let it cool slightly. Add the melted chocolate and vanilla extract. Whisk until combined.
recipe lightly adapted from Food and Wine Magazine
All images and text ©