trip recap: blogher food miami 2014
A couple of weeks ago, I traveled to Miami to attend the BlogHer Food Conference.
This was my second time attending the mega food conference (my first was last year in Austin). I was excited to visit Miami, catch up with old friends, meet new peeps, devour Cuban sandwiches, and "network."
Since I wasn't a newbie, things seemed different, but not a bad different. I felt older, wiser, or better yet, an upper "blogger" classman if you will. To be honest, I went into BlogHer Food this year with same mental outlook as last year…learn, network, learn, network, and learn. I wanted to soak in every ounce of know how the conference had to offer.
After landing in Miami and spending four full days at the conference, it felt as if I had overlooked the most valuable part of attending the conference: the experience. Sure, I learned a few new tips and tricks to help grow CGM, but at the end of the day, it wasn't about how to increase my Pinterest following or how to make a video. For me, it was about enjoying the experience – by letting myself go and fully embracing every moment.
So, for this recap, I'm going to talk about my experience. Are you ready to come along for the ride?
Thursday was our first full day in Miami before the conference officially started. I'm so glad all of us arrived Wednesday night. With the conference hotel located downtown, we had to cab it to South Beach (about a 10 minute ride) where all the action was happening.
Cassie, Erin, Megan, Meagan, and I pulled up a few chairs for brunch at The Front Porch Cafe. Coffee, chit-chat, migas, and a cool ocean breeze was just the ticket to start the day.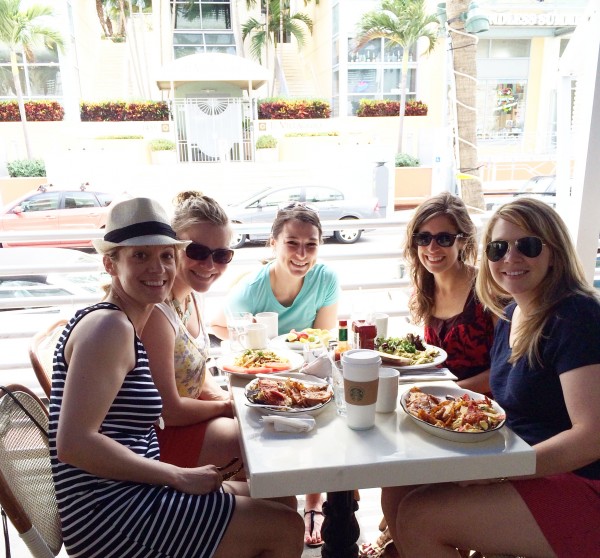 Next, the beach! Since Mother Nature had major cranky pants, we had exactly eight and one-half minutes to take cute beach pictures before the heavens opened up. So rude.
Back to the hotel where lounging, discussions of SEO, and whether or not the hotel had a tornado safe basement were topics of conversations. Told you Mother Nature was cranky. Our spirits were quickly lifted when we were shuttled to our first party of the conference hosted by Stonyfield, Organic Valley, and Applegate.
Bubbles, cheese, followed by a smorgasbord of organic lamb chops and Cuban sandwiches. All washed down with a heavenly Bacon Bloody Mary.
The night ended with a fabulous party at Amanda and Jennys' penthouse hosted by CliqueMe. Nothing like sipping red wine, eating sushi, and building an ice cream sundae all while soaking in the stunning Miami view.
(right group pic from Sheila)
Friday was the start of sessions and visiting vendor booths. A few us decided to head back to South Beach for lunch at the famous Southern restaurant, Yard Bird. Being a part owner of a soul food restaurant, I wanted to see what all the fuss was about. Loved the rustic charm atmosphere. Their blackberry bourbon lemonade was refreshing and the pork belly pimento sliders….forget.about.it. I may or may not have rolled out of there.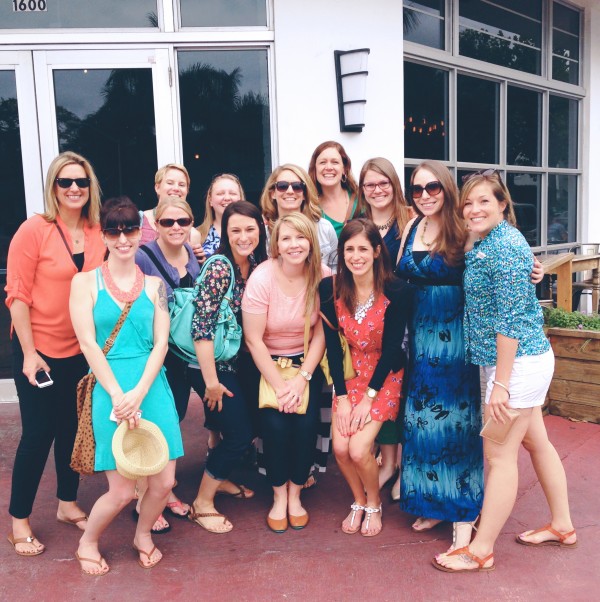 With the weather still not in our favor (fo' reals, Miami?), we headed back to hotel for more sessions and then to relax before the night's activities began.
Cassie and I stopped by the Go Veggie happy hour at the hotel to support our fab friend, Amie of The Healthy Apple. Amie is a rock star and full of life. Plus, her blog reminds me to eat my fruits and veggies!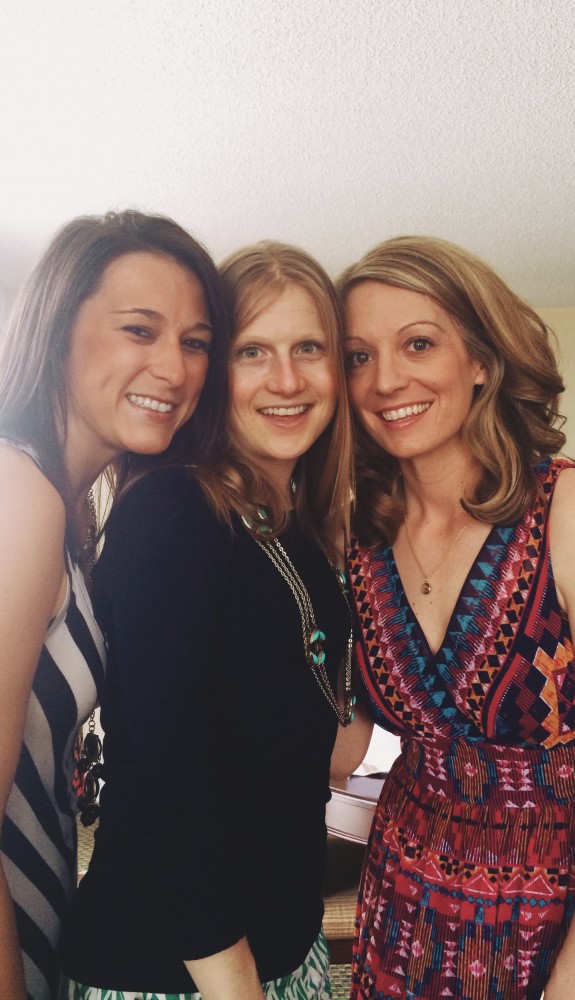 And then we were off like a prom dress to the Wisconsin Cheese "Bloggers By the Bay" party. Mother Nature finally got her unmentionables untwisted and the weather cleared providing our first official sunset picture of the trip.
The Wisconsin Cheese party was held at this super chic private villa. Note to self: rent this crib when I visit Miami next time. No detail was left untouched. From the view to the wine and cheese pairings explained by Food Network Executive Chef Rob Bleifer and Food Network Culinary & Beverage Editor Rupa Bhattacharya, it was a sensational evening.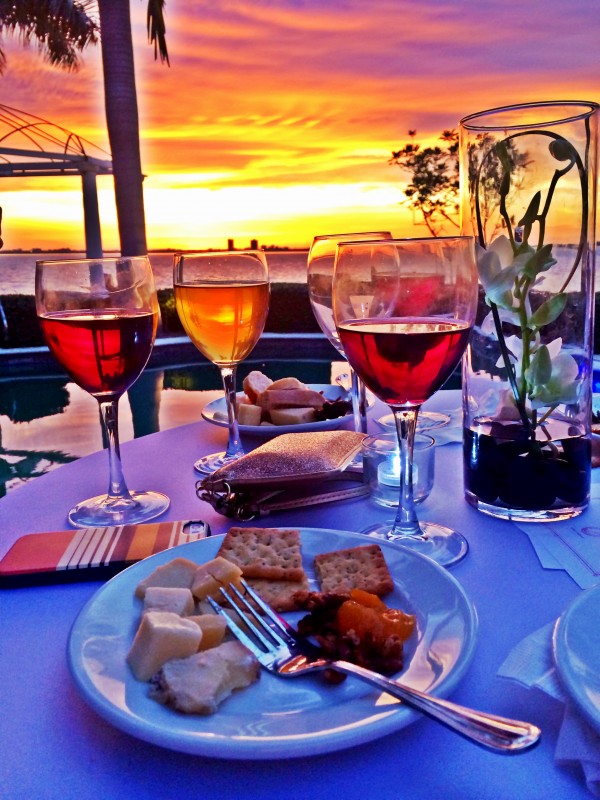 Of course, the fun doesn't stop there. Megan, Katie, and I boogied over to the Stitch Fix party to support Lauren and to talk the latest trends in styling. I adore Stitch Fix. I had a session with one of their stylists (Jackie!) before I left for Miami. This company is so talented and it was so refreshing to talk non-food for night.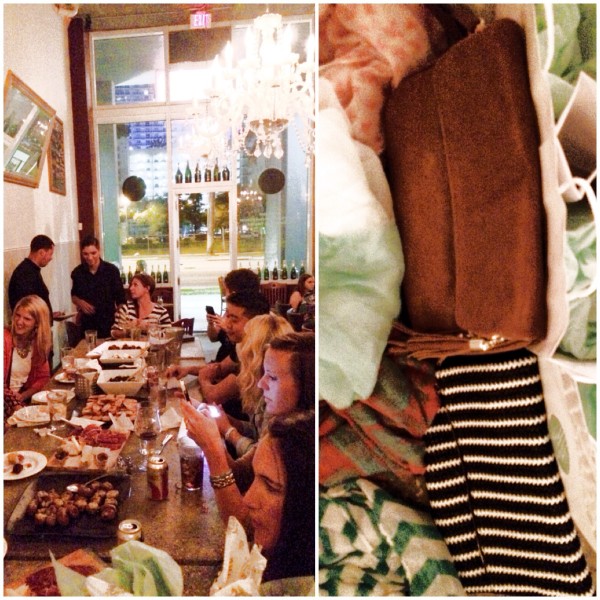 Saturday was our last full day of sessions. I think my friend Heidi said it best, over the next few years you are going to see smaller more boutique conferences. There is so much more to learn from just chit-chatting with your fellow peers over a bourbon lemonade than in these large sterile rooms.
Lunch was held back at Amanda and Jennys' penthouse. Only this time the sun was out! We received massages, ate Cuban sandwiches, and of course, devoured mini buttercream cupcakes.
(group pic from Amanda)
And, to the beach!! It may have been blowing 40 mph wind, but that wasn't going to stop this girl. All I wanted to do was marinate on the beach and marinate we did!

After the beach, Megan, Annalise, and I made a pitt stop at Havana 1957 for moijitos, Cuban chicken and rice, and the best tres leches of my life!
With a click of the heals it was time for the closing party. But! What's a closing party without a little dance party elevator action? (Thanks, Cassie for the pics!)
The closing party was held at the Cafeina Lounge . We sipped Cadillac margaritas, dinned on sliders and fresh pasta salad. But the best part was finally getting a condo curse reunion pic!!
I can't tell you how rewarding it was to spend a long weekend with my blogging mates. Each and every one of them is truly talented and I am constantly inspired by their creative genius. I am definitely a better person for knowing such an amazing group of ladies and gents.
Until next time, Miami!