foodie fridays: cajun pumpkin soup with andouille & spicy breadcrumbs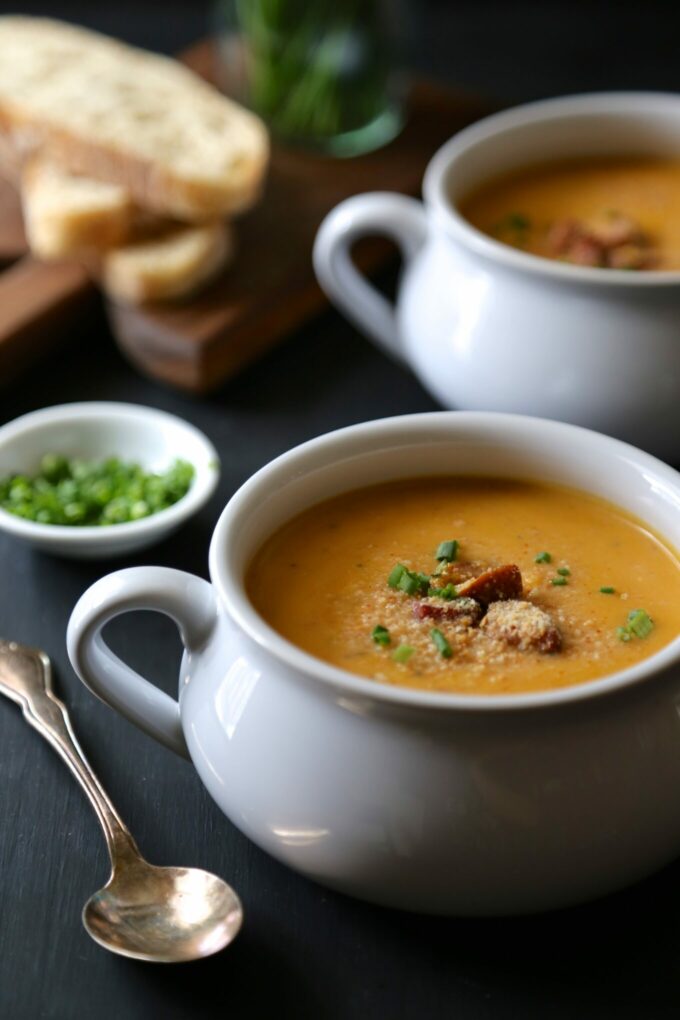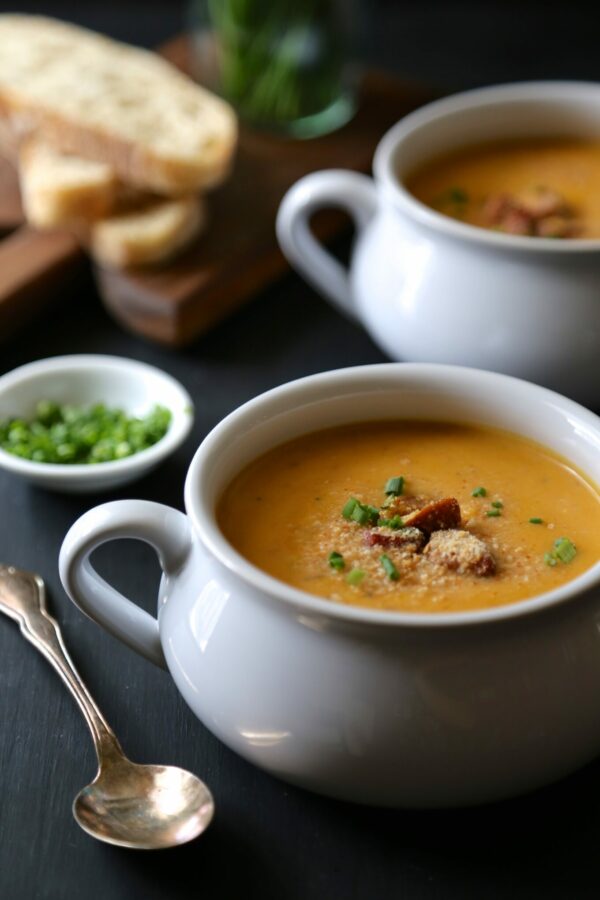 I feel like I am a day late and a dollar short.
Please tell me you feel this way sometimes?
Phew. Okay, please tell me you feel this way about pumpkin soup? Nope? Wait. Not even a little? Dang it. I knew you were way ahead of the game.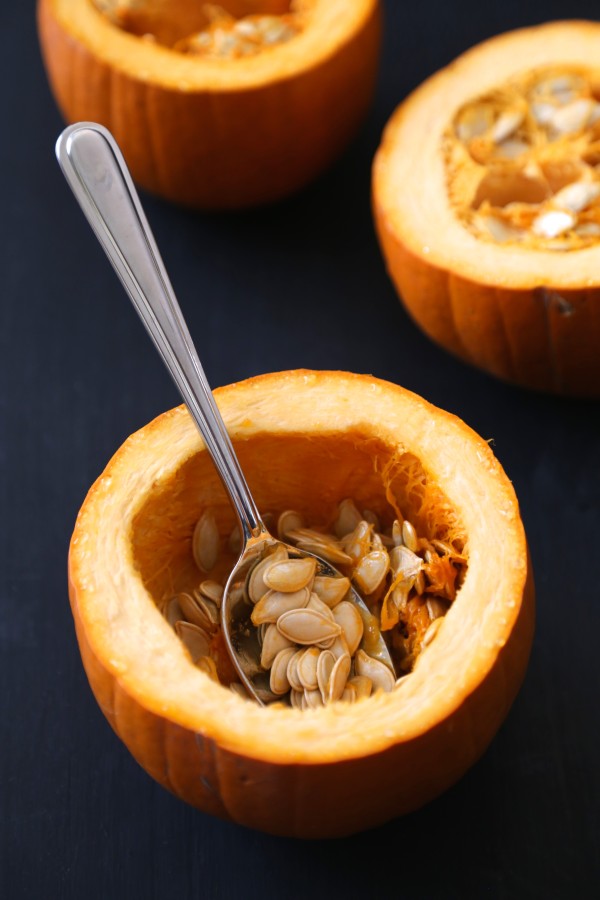 You'd think over the past two years I have been blogging about food and shenanigans, I would have burped up a pumpkin soup recipe. I've got carrot, sunchoke, lentil, but no pumpkin. I feel as though I should be tried in a food blogger courtroom for failing to provide a standard seasonal soup.
Well, better late then never (which I honestly feel is the saying to help people recover from being a day late or a dollar short). Am I right? So this pumpkin soup isn't your standard Campbell's soup variety. SURPRISE. Y'all know me buy now that I've got to fiddle with the averages. Or better yet, I've got to CGM-iz-it.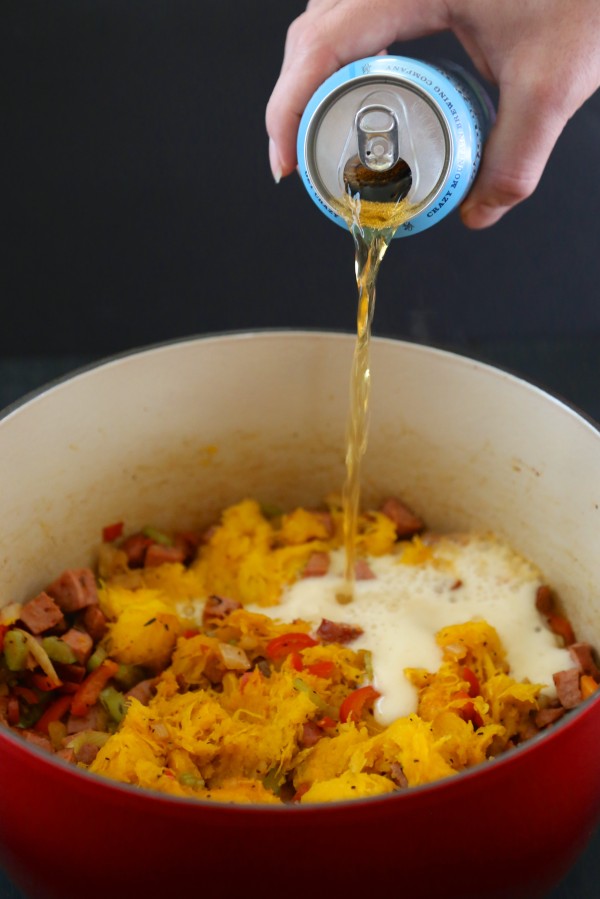 This soup is a take on one of my favorite dishes, gumbo. It has all the flavors – andouille sausage, Cajun seasoning, and veggies. The only thing that's missing is the roux. But I feel the buttery, spicy breadcrumbs make up for it.
Now, someone pass me a George Washington and bowl of this soup.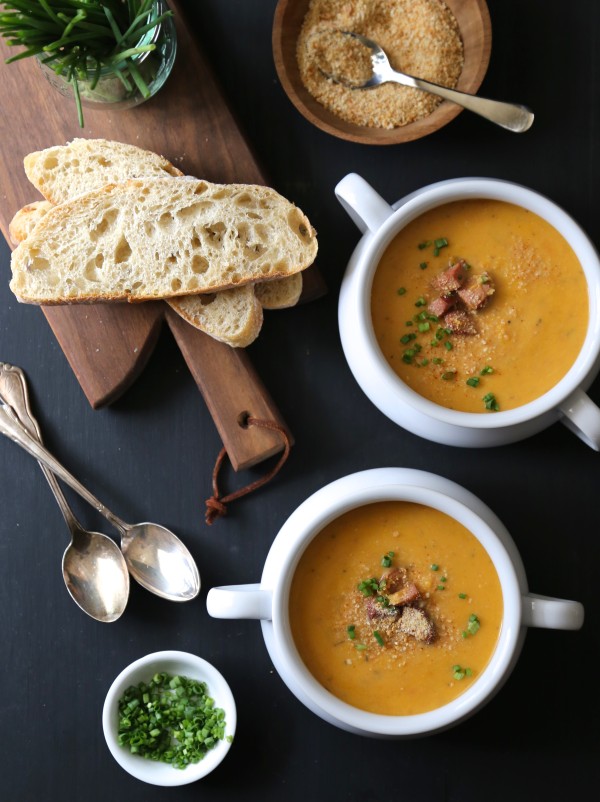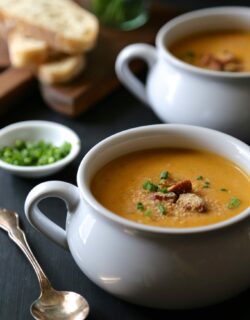 Cajun Pumpkin Soup with Andouille & Spicy Breadcrumbs
Ingredients:
4 sugar pumpkins, halved, seeds removed
2 tablespoons olive oil
3 tablespoon unsalted butter
1 yellow onion, diced
1 red pepper, diced
2 small celery stalks, diced
1 1/2 cups andouille sausage, diced
2 garlic cloves, minced
1 tablespoon cajun seasoning
1 cup beer
4 cups chicken stock
1/2 cup creme freiche (+ more for garnish)
1/2 cup breadcrumbs, toasted
1/2 teaspoon cayenne pepper
salt and pepper to taste
Directions:
Preheat oven to 350 degrees.
Place pumpkin halves on the sheet and drizzle tops of pumpkins with two tablespoons olive oil, salt and pepper. Wrap each halve with foil and bake for about an hour or until softened. Remove from oven and let cool slightly before scooping out flesh into a bowl.
In a large pot, melt butter over medium-high heat. Next, add the onion, garlic, pepper, celery, andouille sausage, and cajun seasoning. Saute for about 5 minutes or until the onions have softened. Then add in the cooked pumpkin and 1 cup of beer. Keep cooking until the beer has reduced by half. Add about 4 cups chicken stock to the pan and simmer for about 20 minutes.
Using an imersion blender, puree the soup. Add the creme freiche and continue pureeing the soup. If you need to add more stock do so until you have you desired consitensancy. In a bowl, combine breadcrumbs with caynee pepper.
To serve, ladle soup in bowl. Garnish with spicy breadcrumbs and more creme freiche.
All images and text ©