Stuffing Waffles: Perfect Thanksgiving Leftover Idea
Are you ready to elevate your Thanksgiving leftovers above and beyond the turkey sandwich? Stuffing waffles are the answer. They've got turkey. They've got stuffing. And I've topped them with a fried egg and rich, creamy gravy for a unique Thanksgiving brunch idea. Droooool.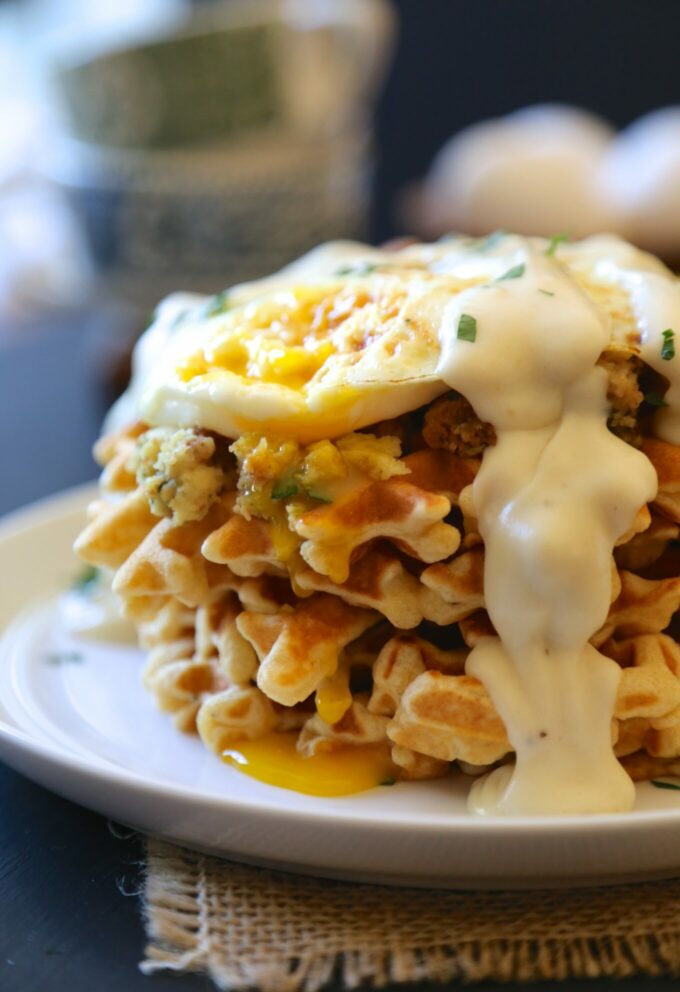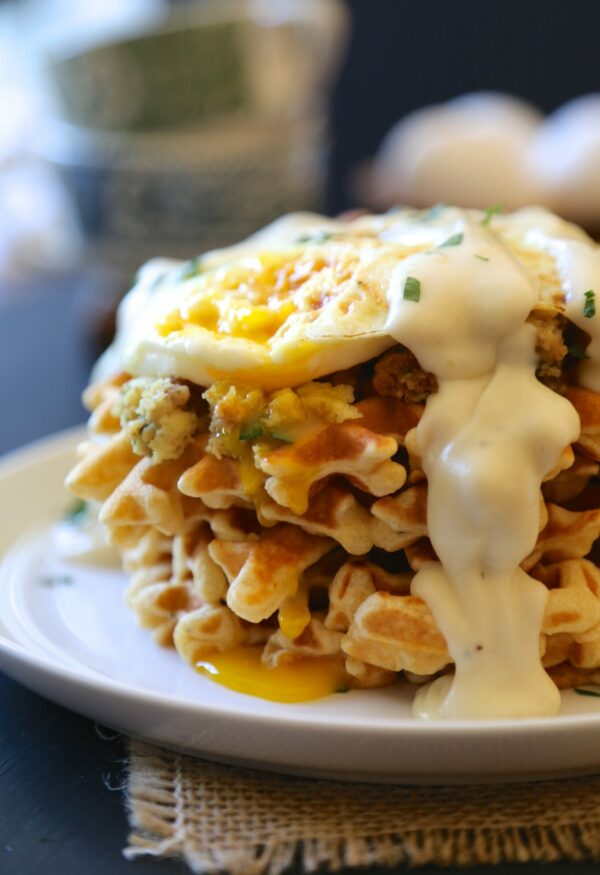 Thanksgiving leftovers. How do you feel about 'em?
Are you a leftover enthusiast like Mr.B? Eating a cold dish continuously for three days with Tabasco on top like it's your job? Or, does hearing the word leftovers make your tastebuds cry in despair?
I tend to fall on the side of despair. Unless it's cold pizza the next day. I could eat the s%$t out of some cold pizzzzza.
More than anything, I hate the lack of ceremony with leftovers. I know, mega strange. I really enjoy making dinner every night (okay, almost every night… sometimes a girl needs her Chipotle to survive!). I love how the house perfumes with spices and seriously, you can't beat the sight of freshly melted cheese.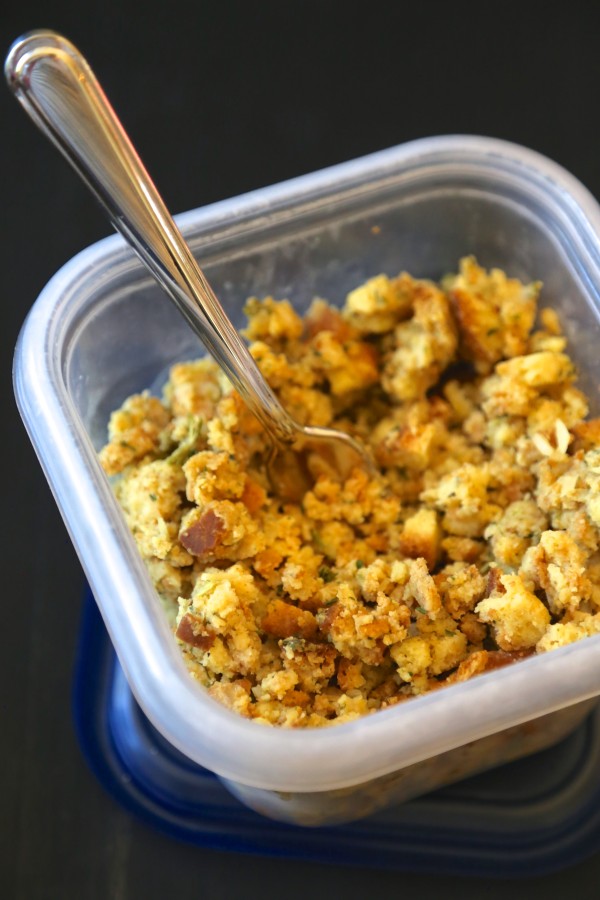 Thanksgiving Leftover Ideas
With Thanksgiving in t-minus five minutes, leftovers are unavoidable. Now I don't mind the occasional post-turkey-day turkey sandwich, but I'm always looking for a Thanksgiving leftover recipe that I can really transform in the kitchen.
To help the leftover-lovers and leftover-haters find neutral ground, I created these stuffing waffles. Yes, they will use your leftovers, but there's just enough cooking involved to make them feel like a brand-new meal.
Perfect for dinner or brunch, you can make these stuffing waffles your own in so many ways. And they are off the golden charts in flavor!
You might also want to try these fun Thanksgiving Leftovers in a Blanket.
Inside the waffles I've added turkey, carrots, celery, and onions, but you can use whatever you have on hand. Might I suggest adding green bean casserole to the batter? HEY! It could work. Maybe.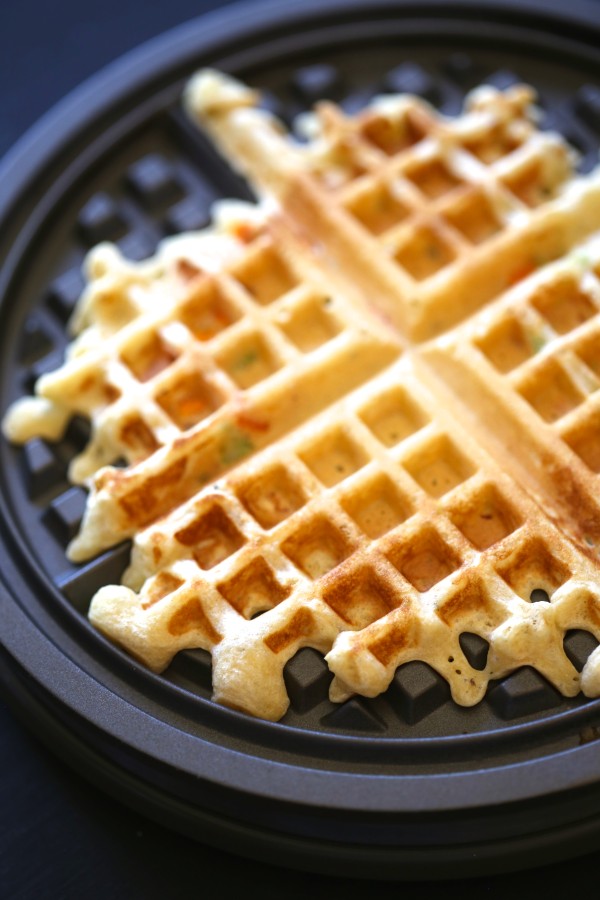 Stuffing Waffles for Thanksgiving Brunch
To make stuffing waffles, you'll need waffle mix, vegetable oil, eggs, milk, carrots, celery, onion, and leftover turkey. Combine your ingredients in a large bowl and mix well.
Preheat your waffle maker, then ladle in about 1/4 cup of the batter and cook until golden brown. Repeat until you've used all the batter.
You can add any leftover you want on top of these waffles. For an amazing Thanksgiving brunch idea, top your waffle with more stuffing and a fried egg, then drizzle with savory gravy and enjoy!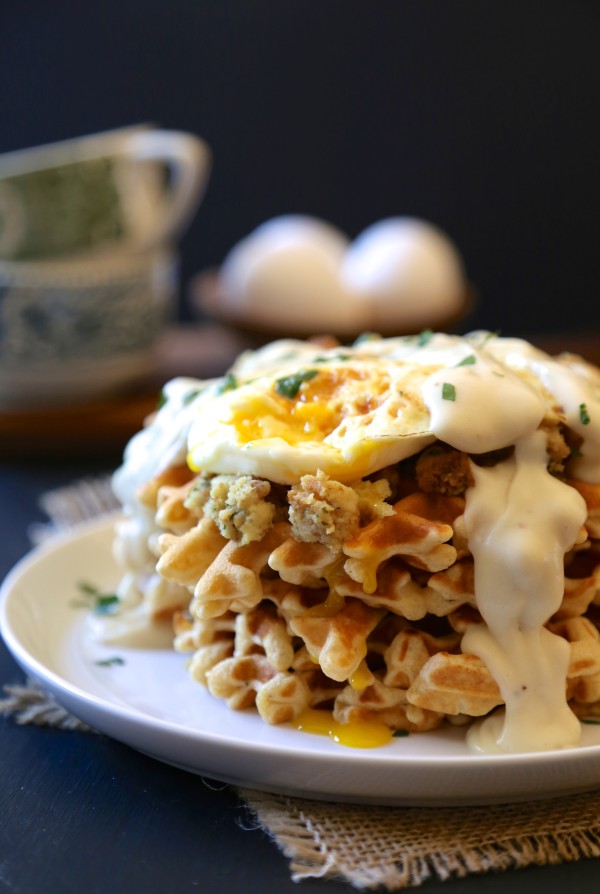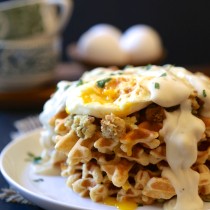 Stuffing Waffles with Fried Egg & Gravy
Are you ready to elevate your Thanksgiving leftovers above and beyond the turkey sandwich? Stuffing waffles are the answer.
Ingredients
For the waffles:
1 cup Bob's Red Mill's Waffle Mix
2 tbsp vegetable oil
2 eggs
3/4 cup whole milk
1 cup leftover turkey, diced
1/4 cup carrots, diced
1/4 cup celery, diced
1/4 cup onion, diced
Leftover stuffing, garnish
Parsely, garnish
For the fried egg:
4 large eggs
1 tbsp olive oil
For the gravy:
3 tbsp unsalted butter
3 tbsp all-purpose flour
1 cup whole milk
salt and pepper to taste
Instructions
Waffles: In a large bowl, combine first eight ingredients. Preheat a waffle maker. Ladle about 1/4 cup of the batter into the waffle maker and cook until the golden brown. Repeat process until all the batter has been used.

Fried egg: Preheat a skillet to medium heat. Add the olive oil and then crack four eggs into the skillet. Cook for a couple of minutes, carefully flip and then cook until the desired consistency.

Gravy: In a medium saucepan, melt butter over medium heat. Add flour and continue to whisk until the flour has cooked out and a roux forms; about a minute. Gradually pour in the milk and continue to whisk until thickened. Add a little salt and pepper.

To serve: take a waffle and place it on a plate. top with stuffing, fried egg, and pour gravy over top. garnish with parsley. serve immediately.
Did you make this recipe?
Please leave a comment below and share a photo on Instagram with the hashtag #thecuriousplate!