foodie fridays: cool cantaloupe gazpacho with goat cheese & crispy bacon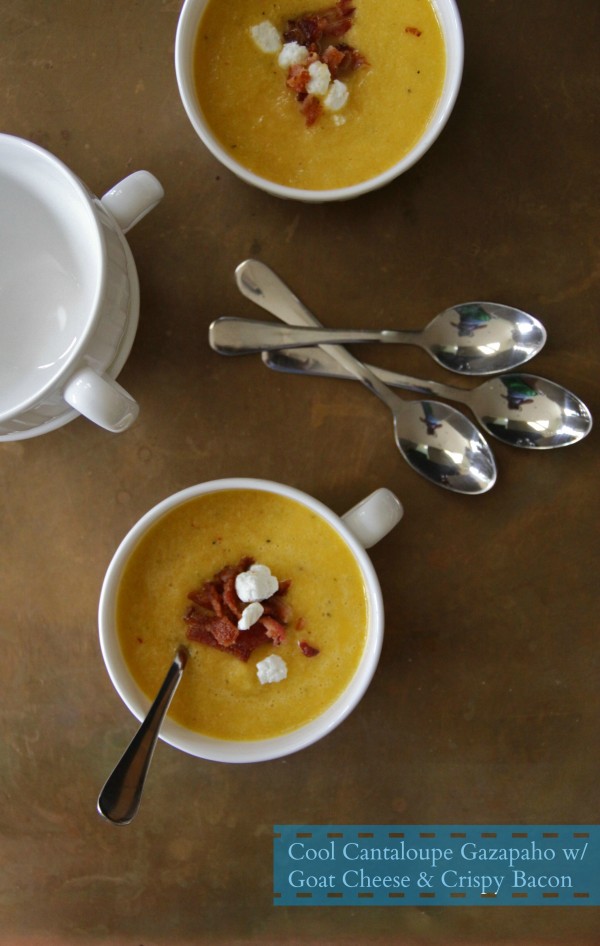 Hold the go-go inspector gadget arm for a sec!
I about had a mini heart attack as I walked into Target yesterday and noticed all the back to school supplies glistening on the shelves. Pens, markers, folders, backpacks, and Lisa Frank stickers were everywhere. At first, I was giddy because I hold a special place in my little OCD heart for office supplies. If I were to have a dream home, it would be Container Store mixed with a little Office Max. After my giddiness subsided, I began to freak out because back to school supplies = summer is almost over. WHERE DID THE TIME GO?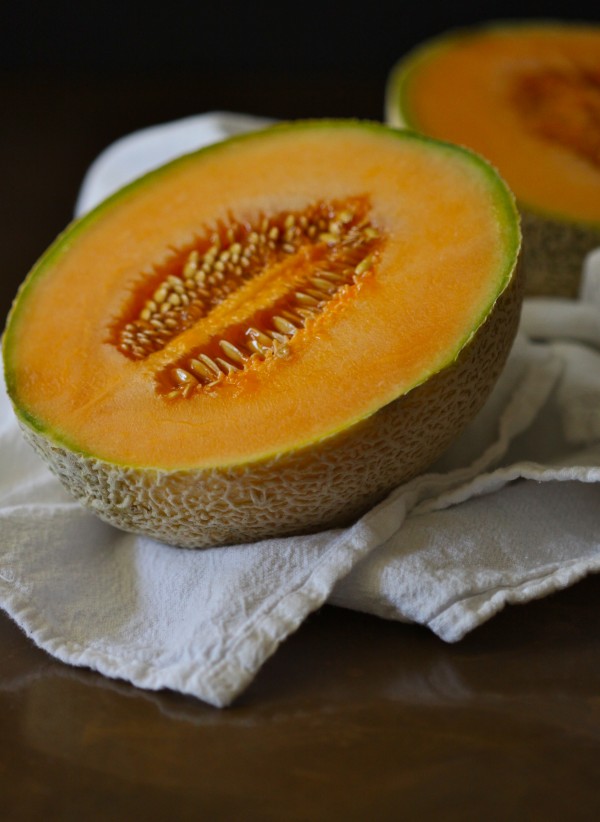 Between us, I secretly wish fall was here – can I get some fist pump action for pumpkin lattes, scarves, and boots? Sure, I try to remind myself to be happy in the moment; to enjoy summer's produce, festivals, and late night chit-chats on the patio with friends. Yes, it stinks that we must endure 100 + degree weather; but, if we didn't go through the extreme heat, we wouldn't fully appreciate the brisk fall air and foliage to come.
So, here's my plan to soak up the rest of summer – make super simple, flavorful dishes that don't require sweat and tears. Truth: I've never been a big fan of gazpacho. Something about the texture and sipping cold soup doesn't jive with me. Plus, it reminds me of bottled V8 juice, which I despised as a kid.
Thankfully, I've grown up and have been shown the foodie ways, because when I found this recipe on Bon Appétit, I was instantly smitten. I adore cantaloupe. Why people fancy  honey dew or watermelon is beyond me. Cantaloupe is the sexiest of the melon group. Back in ancient days you could find cantaloupe growing in Turkey, Egypt, and Iran. Today, California is largest producer of cantaloupes in the U.S. Here is an important little factoid for you – when you bring a cantaloupe home, put it in the refrigerator. Most store picked cantaloupes are ripe, which requires refrigeration in order for it not to spoil. Also, to tell if it is ripe, smell the bottom end of the cantaloupe. You'll look a little weird sniffing a cantaloupe's rear-end, but if you smell something sweet, it's ready to be served!
Okay, where was I? Oh, yes, gazpacho. Instead of the standard ol' tomato-based gazpacho, I thought it would be fun to make it with cantaloupe. This dish takes 2.2 seconds to make, it is cool, and sparks with a spicy kick from the red pepper flakes. Plus, you can't beat a little goat cheese and crispy bacon action.
So, whip up this gazpacho and spend more time with Miz Summer. Trust me, she's a gem.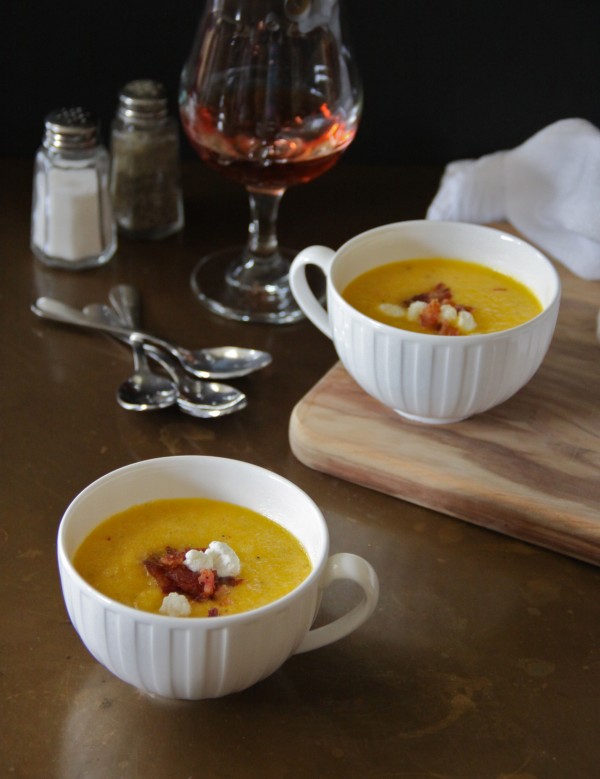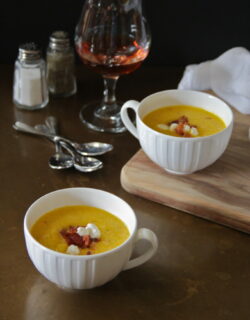 Cool Cantaloupe Gazpacho with Goat Cheese and Crispy Bacon
Ingredients:
1 medium ripe cantaloupe, seeds and skin removed, chopped
1 medium cucumber, seeds and skin removed, chopped
1 small red onion, chopped
dash of red pepper flakes
1/3 cup water
Salt and Pepper
1/2 extra virgin olive oil
goat cheese crumbles, garnish
bacon crisps, garnish
Directions:
In a food processor, place cantaloupe, cucumber, red onion, red pepper flakes, and water. Pulse a few times. Stream in olive oil until fully combined. Pour gazpacho into a bowl and add salt and pepper to taste. Pour into four serving dishes and garnish with goat cheese and crisp bacon.
recipe from Bon Appetit
All images and text ©