sweet potato tater tots with sriracha aioli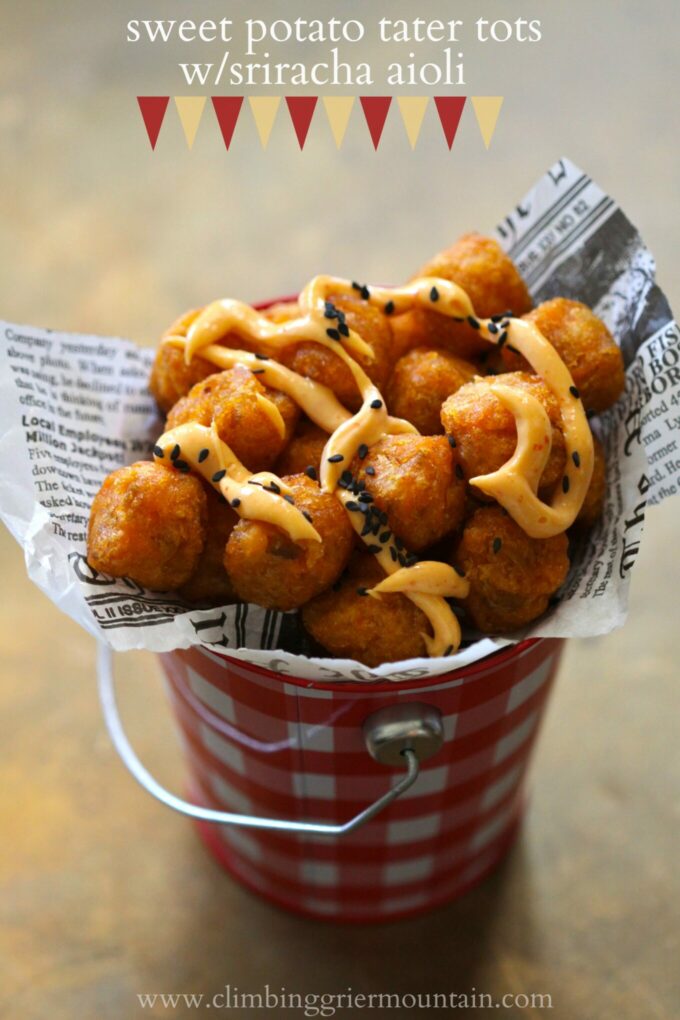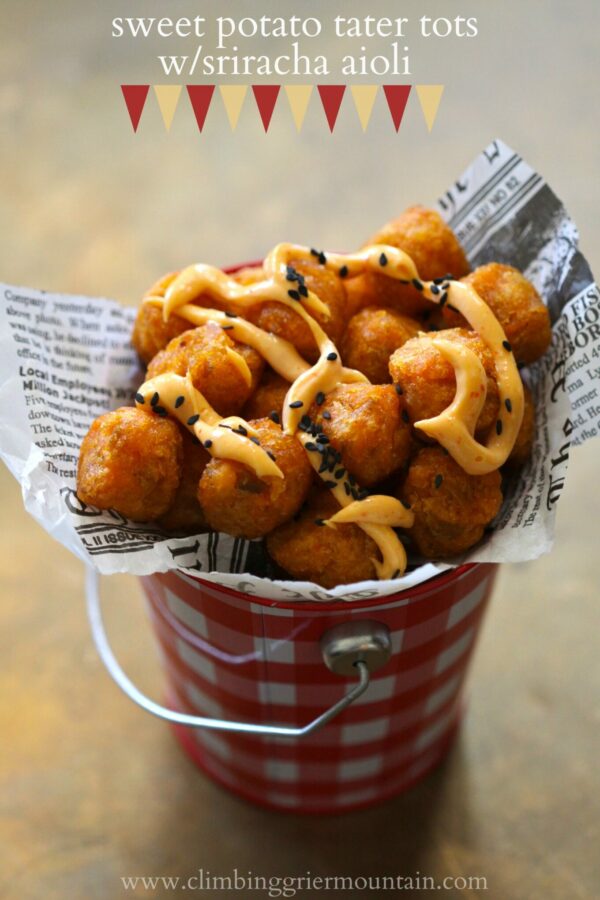 Last October, Mr. B and I moved into a new area of town called LoHi.
LoHi (or Lower Highlands) is a neighborhood pocket just north of downtown Denver. It's a whole 3 miles from our last place in LoDo. Can you guess what that LoDo means?  Yep, Lower Downtown!
If you've ever experienced an in-town move, you know it's the worst kind. Instead of just loading up a big ol' moving van, you end up making 4,276 trips between the old and new place just shuffling crap. Not only was this a drag on FOREVER type of move, it came at the worst possible time ….actually, is there ever any good time to move your shiz? I was nearing the end of my marathon training, Mr. B was getting ready to transition to new a job, and our five year anniversary was quickly approaching. To tell you the truth, how we managed to get everything done and remain married baffles me to this day.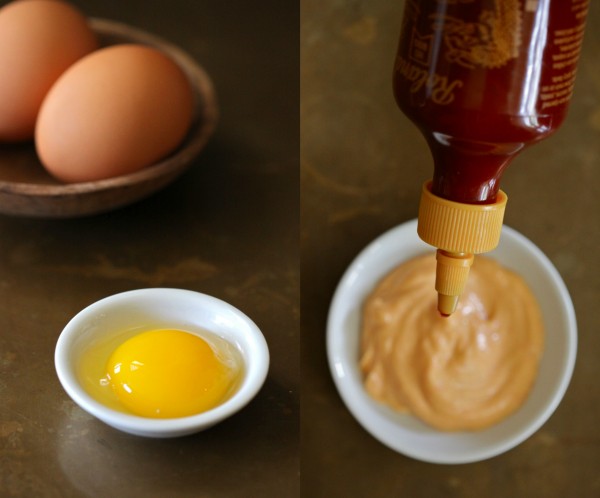 But! I am firm believer that despite what seems to be a never ending struggle leading to no good, usually  turns out to be the best thing for you. After all of the shuffling and re-organizing, running twenty miles, and saying yes to a new job, we now have more space for our stuff – my shoes, a garden, and a yard, all within an actual neighborhood. Praise the Lord! Plus, our place is a couple blocks down from the foodie mecca of Denver!
This brings me to the main point of today's post. Last week I posted a picture on Instagram of tater tots with sriracha aioli. Y'all went tater tot bananas over these little fellows. Rightfully so, of course. I found these sexy of a gem tater tots at Uber Sausage (located in the foodie mecca) that opened up last month. They sell every kind of brat under the grill and the most delicious sides, my favorite being the tots. Now, being a good foodie and friend, I naturally had to re-create these bad boys so you could make them at home.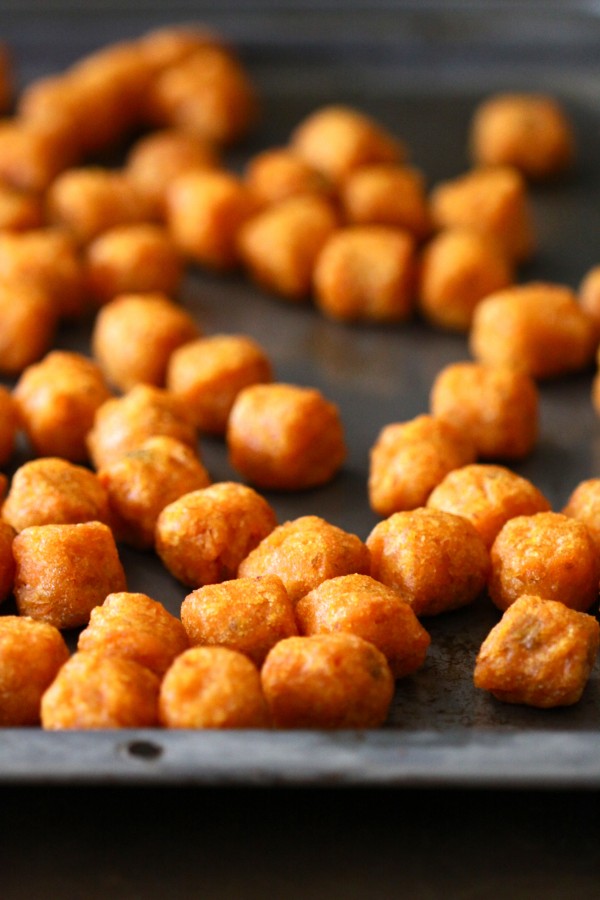 Instead of traditional tots, I subbed in sweet potato tots. But the pièce de résistance is the sriracha ailoi. This my friends is where the magic happens. And yes, this recipe I'm giving you today is the real deal Holy-egg-field. A raw egg isn't scary so put on your big mitts or panties and dewwwwww it. I promise you won't be disappointed.
Now, take your tater tot, dip it or roll it in the sriracha aioli, and remember that life tastes good!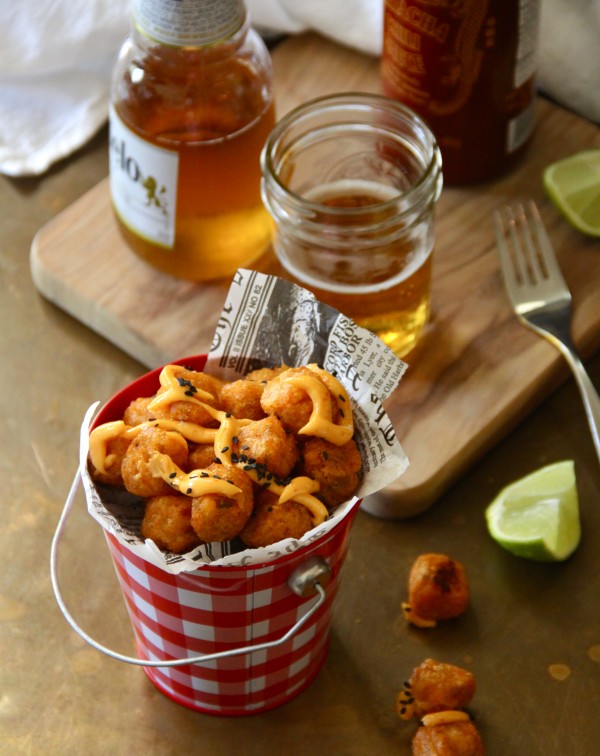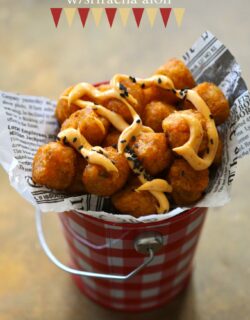 Sweet Potato Tater Tots with Sriracha Aioli
Ingredients:
1 package frozen sweet potato tater tots
1 tablespoon black sesame seeds
3 egg yolks, room temperature
1 1/2 teaspoons Dijon mustard
1 tablespoon white wine vinegar
Dash of salt and pepper
2 cups extra virgin olive oil
4 to 5 teaspoons Sriracha (depending on heat level)
Directions:
Preheat oven to 425 degrees. Spray a baking sheet with non-stick cooking spray. Spread tater tots evenly on baking sheet and bake for about 25 minutes or until golden brown.
Meanwhile, make your aioli. Combine egg yolks, Dijon, vinegar, and salt/pepper in a food processor. Pulse a few times and then stream in 2 cups of olive oil until thick and mayo like. Remove aioli from processor and add to a bowl. Add Sriracha, stir to combine. Put tots on a serving platter and drizzle aioli over top and garnish with sesame seeds. Serve immediately.
aioli adapted from Jacque Penin Complete Techniques
All images and text ©