foodie fridays: coq au vin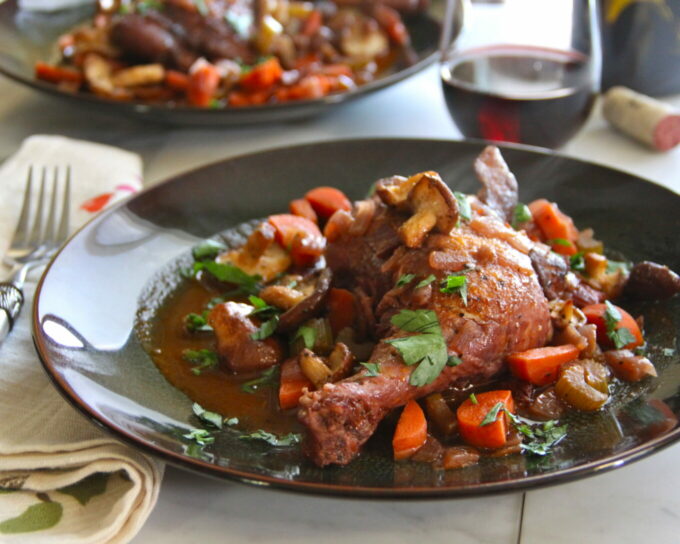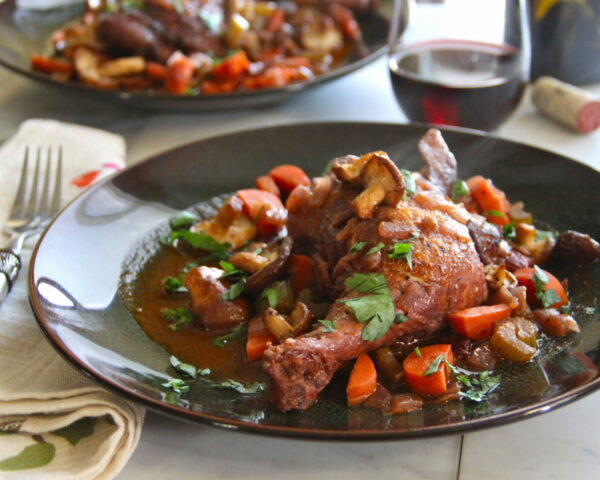 Do you remember the movie, The Mask, starring Jim Carrey?
It's one of my favorite 90's movies. There are many great one-liners in the movie! Please tell me you still say, "Ssssssssssmokin'?" No? Just me? Fantastic. Now that I think about it, I'm pretty sure it was also a break-out role for Cameron Diaz. Wow, her appearance has certainly changed over the years. Can you say nose job?
Anyway, one of my favorite scenes (besides the Conga dance with the cops) is when the Mask and Cameron Diaz are in the park on a date.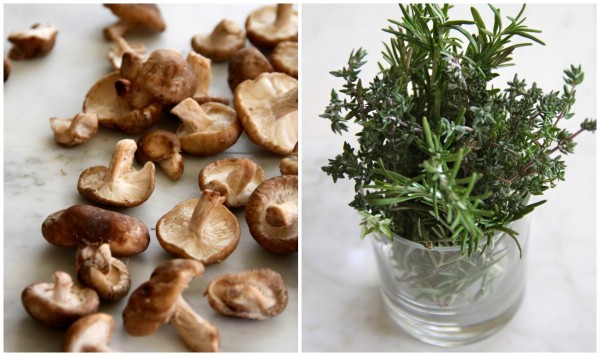 He says to Cameron in a thick French accent, "Hello, Cherie. We meet again. Is it fate? Is it meant to be? Is it written in the stars that we are destined to fraternize? I'd like to think so." Then he blows smoke from a cigarette out of his nose that forms a heart with an arrow through it. I die laughing every time I watch that scene. Only Jim Carrey can pull off a French accent while wearing a green mask.
The good news is, I won't be asking you to wear a green mask while cooking this famous French dish. Coq au vin simply means chicken cooked/braised in wine. Most folks have heard of this recipe because of the gracious Julia Child. She first brought this recipe to America's attention back in the 1960's with her book, Mastering the Art of French Cooking.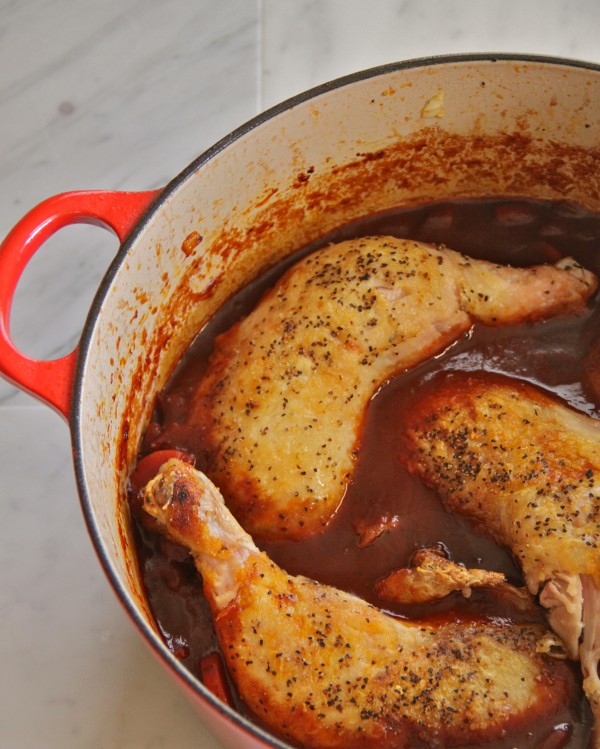 I was little skeptical at first because I thought it would be a complicated dish to make. But! However, as I read through the instructions, I figured I could make this dish blindfolded. No wonder Julia Child was a big promoter of this dish.
All you need to do is cook some chicken thighs with bacon, onions, carrots, and mushrooms, then braise it with an obscene amount of wine. How hard can that be? A one pot meal? Yes, please!
Just make this dish; and I promise before you know it, you'll be down a half a bottle of wine and doing the conga around the kitchen.
Julia and Jim would totally approve.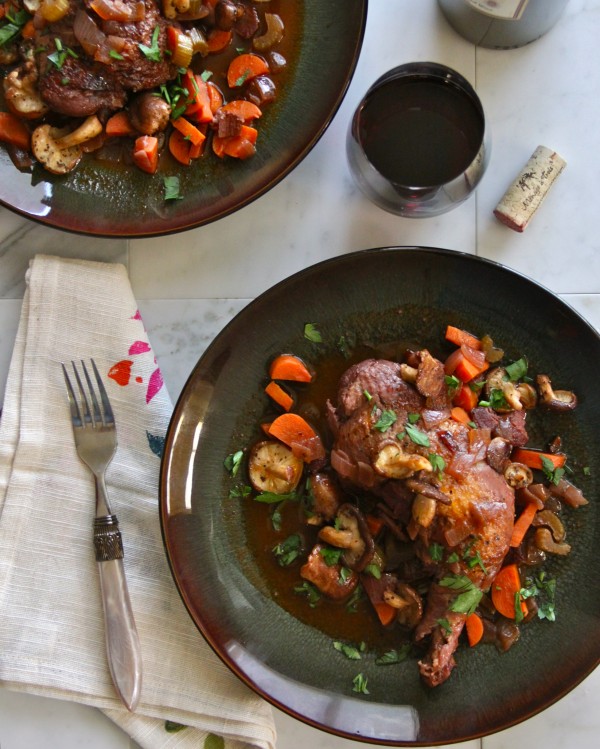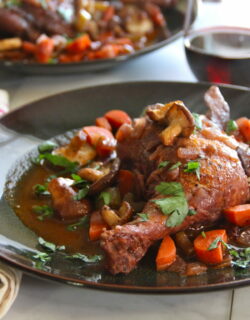 Coq Au Vin
Ingredients:
3 tablespoons olive oil
4 skin-on, bone-in chicken legs
4 pieces bacon
3 carrots, chopped
3 celery stalks, chopped
1 yellow onion, chopped
3 cups red wine
1/2 tomato paste
1 large container chicken broth (more if needed)
6 springs thyme
3 springs rosemary
1 1/2 cups shittake mushrooms
Salt and Pepper
parsley, garnish
Directions:
Preheat oven to 350 degrees.
In a large dutch oven, heat 2 tablespoons olive oil over medium-high heat. Salt and pepper chicken legs. Brown chicken on both sides until brown. Remove and set aside.
Add bacon and cook until crisp. Remove with slotted spoon. Set aside on plate lined with paper towel.
Add carrots, onions, celery, salt, and pepper. Cook until softened about 5 to 7 minutes. Stir in wine and tomato paste. Simmer for about 3 minutes. Add additional 2 cups of wine and boil until reduce by half. Return chicken legs to dutch oven. Add chicken broth, bacon, thyme, and rosemary. Bring back to a boil and then cover with lid and place in oven for about an hour.
Once chicken is done, pull from oven and set aside. In a medium skillet, heat 1 tablespoon olive oil and saute mushrooms with a little salt and pepper.
To serve, place one chicken leg in bowl. Top with mushrooms and carrot mixture. Garnish with parsley. Enjoy with wine!!
recipe from Bon Appetit
All images and text ©