the ultimate bloody mary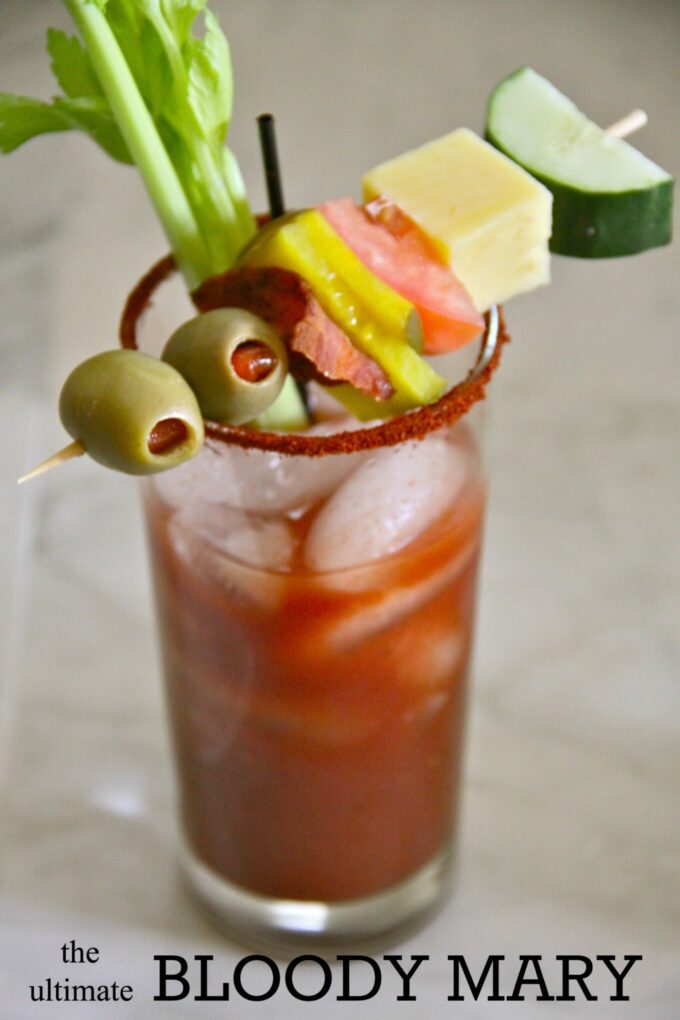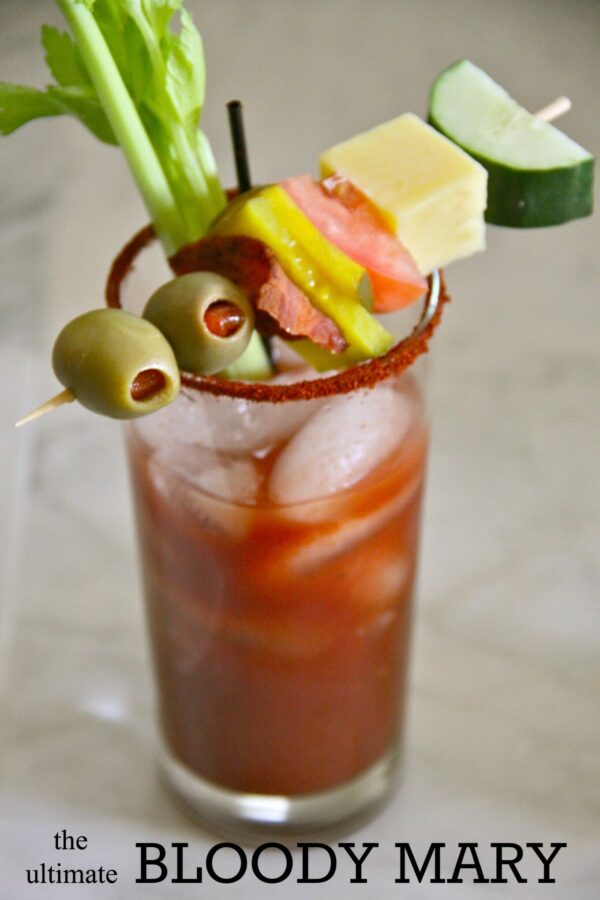 I didn't grow up around snow skiing.
Snow, mountains, chair lifts, and "shredding the nar" were not in my vocabulary.
I was more of a lake girl. My family would spend a week every summer down at Table Rock Lake in Shell Knob, Missouri- boating, water skiing, and soaking up the sun. My Mom told me I used to run around the entire time in a yellow polka dot bathing suit. I may or may not have actually slept in that bathing suit. Hey, you can't blame me. I'm a Pisces after all.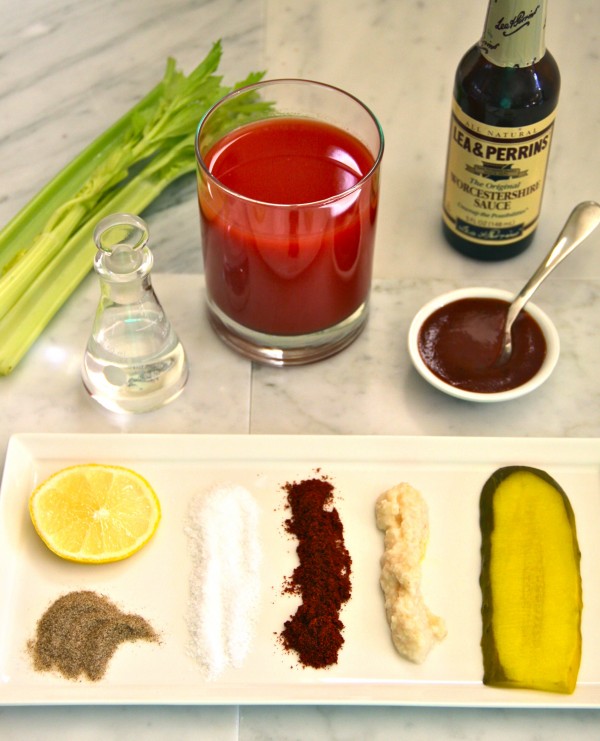 So, imagine the cultural shock when I moved to Colorado. Everyone kept asking me, "What kind of setup do you have? Are you a powder or all mountain skier? Have you "hucked your meat" in the park lately?" At first, I was freaked-the-eff-out. What is this "hucking of the meat"? Do I bring meat? Am I killing something in the park and then "hucking"  it?
Then my wonderful husband, who grew up snow skiing, informed me, "Lauren, it means jumping off a kicker or rail with your skis." Ohhhhhh…that makes more sense. Wait. YOU JUMP OFF THINGS WHILE WEARING SKIS????
Fast forward five years later, I'm still not "hucking my meat" off anything. I still take ski lessons, and the thought of skiing down a double black diamond makes me want to pee my pants like a second grader. BUT! I will tell you, the one thing I'm really good at, "apre ski."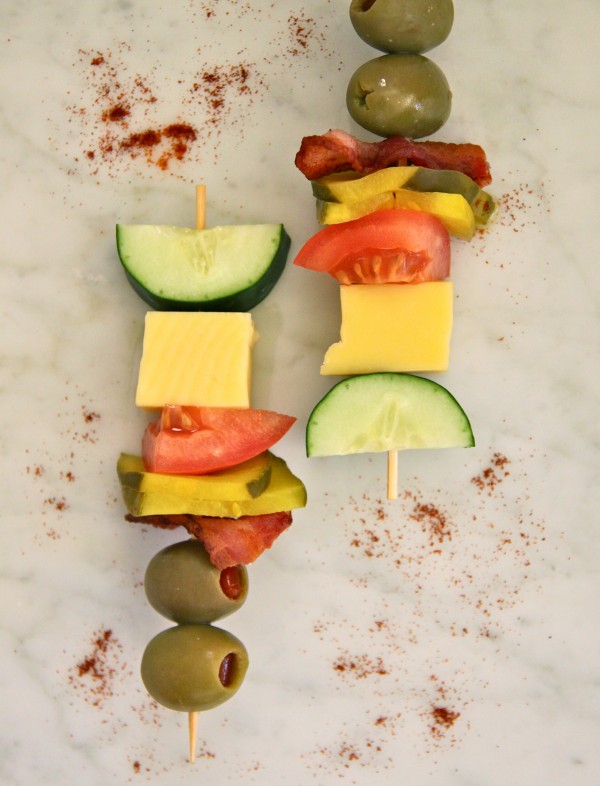 Oh, yes. Apre ski is the bee's knees. I would much rather ski for two hours and then sit on an Adirondack chair sipping a Blood Mary. And speaking of Bloody Marys, today's recipe is inspired from one of my favorite ski resorts, Beaver Creek. At the base of Arrowhead, they serve the best Bloody Mary's hands down. Why, you ask? Because, it's all about the garnishments they put on the skewer! Bacon, olive, tomato, cucumber, celery, pickle, and CHEESE!!!
No matter how many times I've fallen (and can't get up), lost my pole, or have face planted in the snow, this Bloody Mary always makes things right. There's something about tomato juice and vodka that can distract you on a cold day; especially, if you're wearing a yellow-polka dot bikini.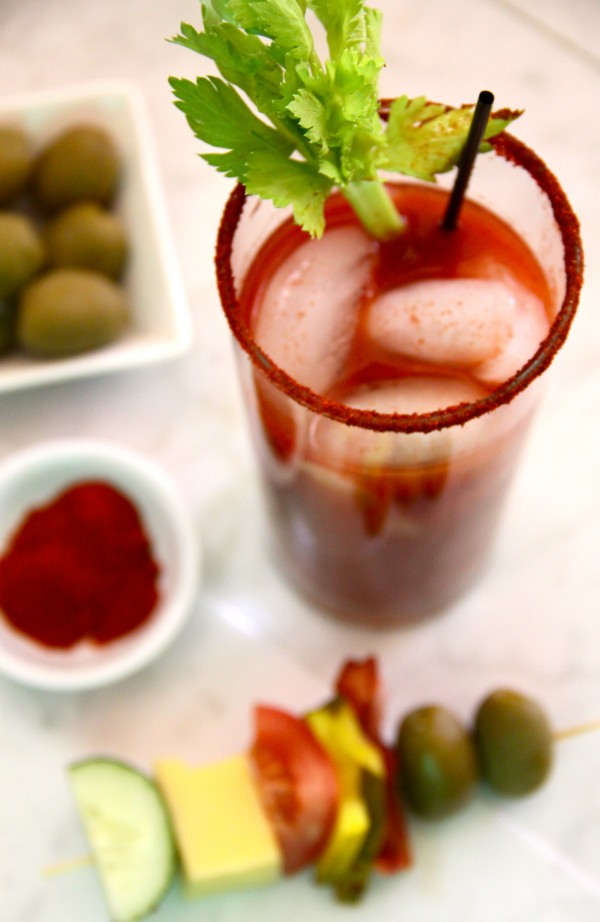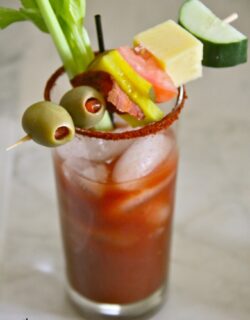 The Ultimate Bloody Mary
Ingredients:
1 teaspoon kosher salt
1 teaspoon paprika
2/3 cup tomato juice
1 shot vodka
1 tablespoon clam juice
2 teaspoons plain barbecue sauce
1/2 teaspoon worcestershire sauce
1/2 teaspoon dill pickle juice
1 dash hot sauce
1/4 teaspoon prepared horseradish
1 pinch celery salt
1 teaspoon lemon juice
ice
celery stalk, garnish
olives, garnish
1 piece bacon, cooked, garnish
cucumber, garnish
tomato, garnish
pickle, garnish
cheddar cheese
Directions:
Take a drinking glass and wet rim with lemon. Dip top into paprika and salt to make a salty rim.
In a cocktail shaker, add all ingredients (minus garnish). Shake to combine. Pour into glass with ice filled halfway. Add garnishes and get ready to cure your hangover!
recipe from Rachel Ray Magazine
All images and text ©