foodie fridays: double chocolate frozen banana tarts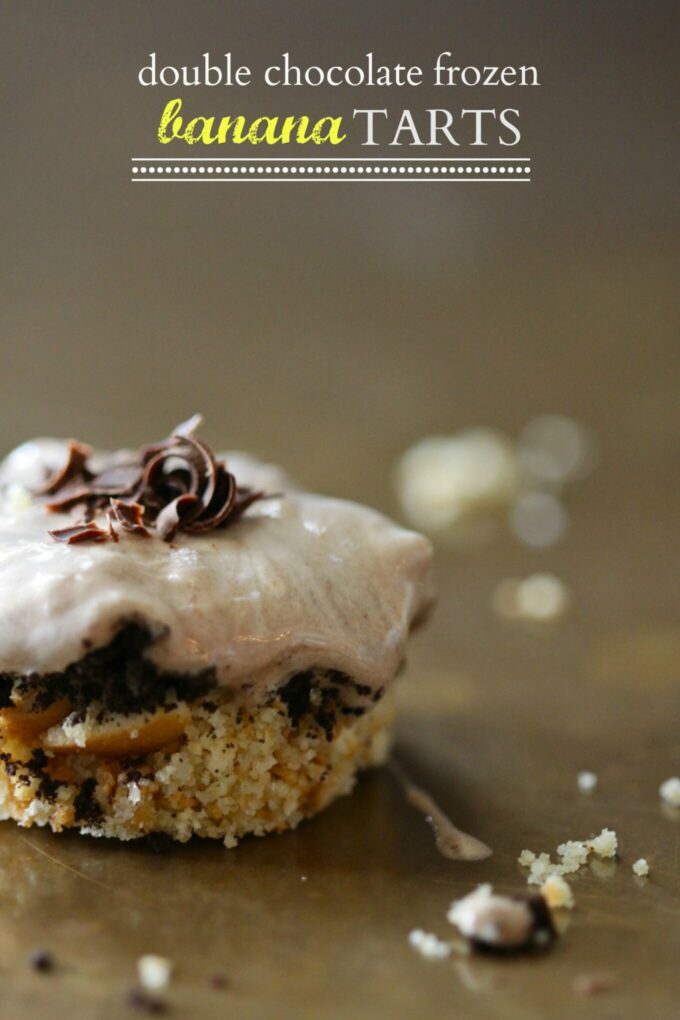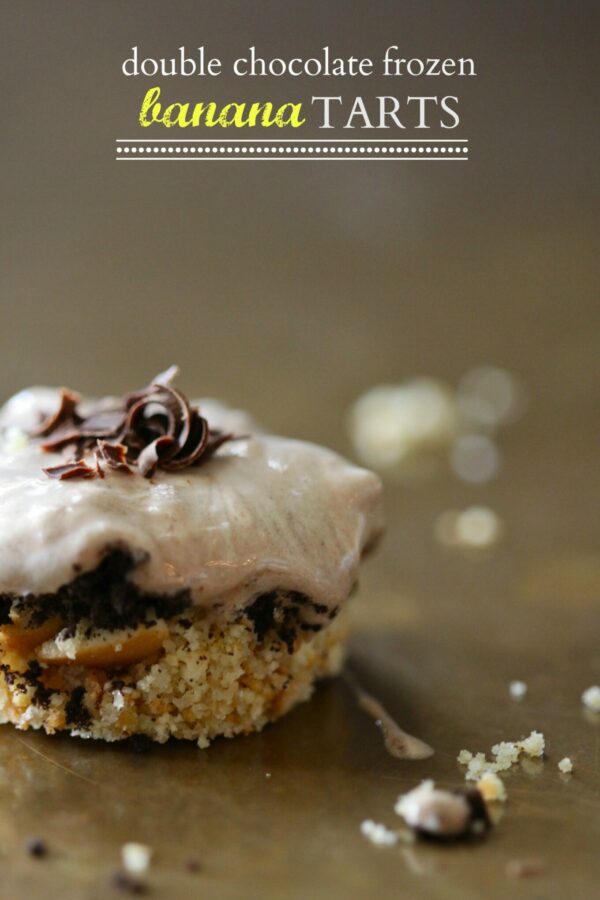 Howdy, friends!
I am currently deep in the Mark Twain National Forest….well, according to Google Maps, that is. Or, for you Midwesterners- The Ozarks. Yep, yep! I am spending the week with family at one of my favorite places in the entire world, Table Rock Lake.
We have been coming here as a family since I was a little girl. Can you believe that I learned how to water ski on wooden skis?  Would it even be crazier if I told you that I skied on them last year? Your mind is blown isn't it? Anyways, Table Rock Lake is beautiful, tranquil, and clear. My parents' house is located right off one of the main lake channels, which provides the perfect getaway vacation. Check out that view!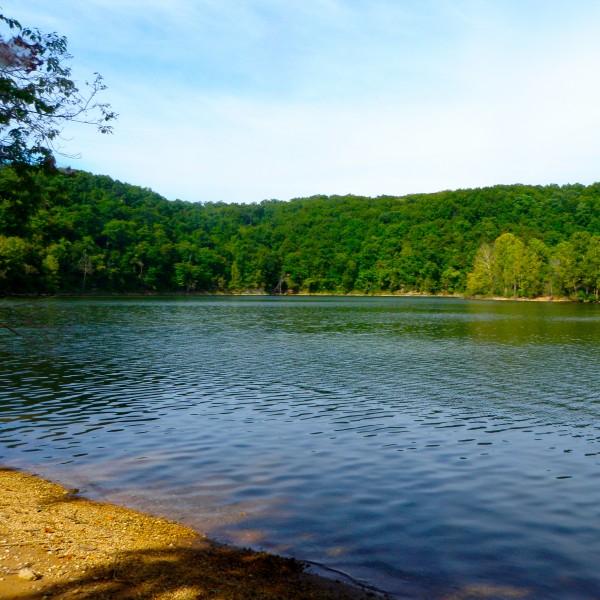 As much as I love the mountain life, it's nice to be around WATER for a change. Yes, there are rivers and small lakes in Colorado, but it's just not the same. Plus, the water is hella cold in the mountains compared to down here.
We have lots of fun activities planned for the week – water skiing, barbecuing, fishing, kayaking, jumping off cliffs, and of course, floating in the water with a beer in hand. The only thing I could live without is the humidity. It's a little thick down here. But I say, the only way to beat the heat is with a sweet treat. Total rhyme fest (sorry about that).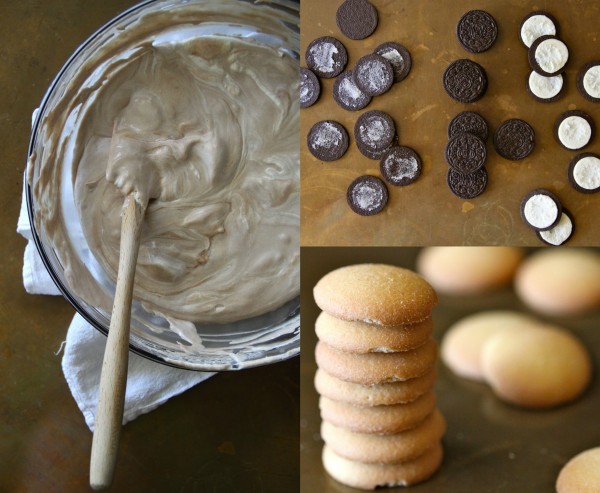 This is a spin on an old tried and true recipe, frozen banana cake. Usually this cake is made in large loaf pan, but that is so 1956. I thought it would fun, especially for my little niece Josie, to eat something mini. She could walk around with this chocolate banana tart while the ice cream melts and lick her fingers all the while enjoying a sugary rush. If that isn't pure summer bliss, I don't know what is.
Have a great weekend, friends!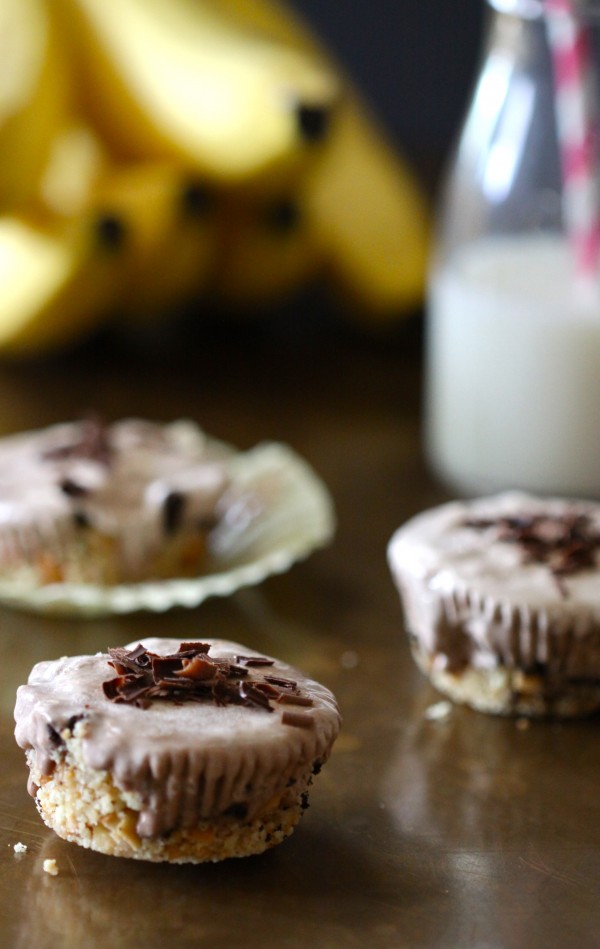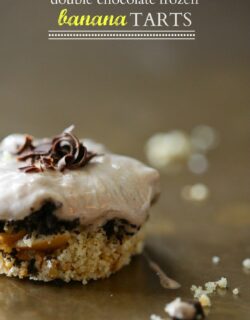 Double Chocolate Frozen Banana Tarts
Ingredients:
15 Oreo cookies, icing removed, crumbled
30 Wafer cookies, crumbled
1/4 cup granulated sugar
1/4 cup unsalted butter, melted
1 14 oz can sweetened condensed milk
2 ripe bananas, mashed
2/3 chocolate syrup
2 cups whipping cream, whipped
Chocolate curls for garnish
Directions:
Line a 12 cup muffin tin with cupcake liners. In large bowl, combine vanilla wafers, granulated sugar, and melted butter. Press about 2 tablespoons of the vanilla wafer crumb mixture into the bottom of each liner. Next, take about a tablespoon of the Oreo crumb mixture and put it on top of the vanilla wafer mixture. Gently press down. In another large bowl, combine milk, syrup, and bananas. Gently fold in the freshly whipped cream. Ladle a small amount of the chocolate banana mixture on top of each crust. Place muffin tin in freezer for at least an hour. Once set, remove liners and garnish with chocolate curls. Repeat process until all crumbs and batter have been used.
adapted from Roder Family Cookbook
All images and text ©